By Len Johnson – Runner's Tribe
Watching one of the post-world championship Diamond Leagues, something jarred in the commentary.
Specifically, it was the introduction to the sprint fields. At one meeting – the Birmingham IDL, I think it was – the announcer kept referring to the competitors as "gold medallists". Seeing there was not even a world championship sprint finalist in the field, I wondered what I could have been missing.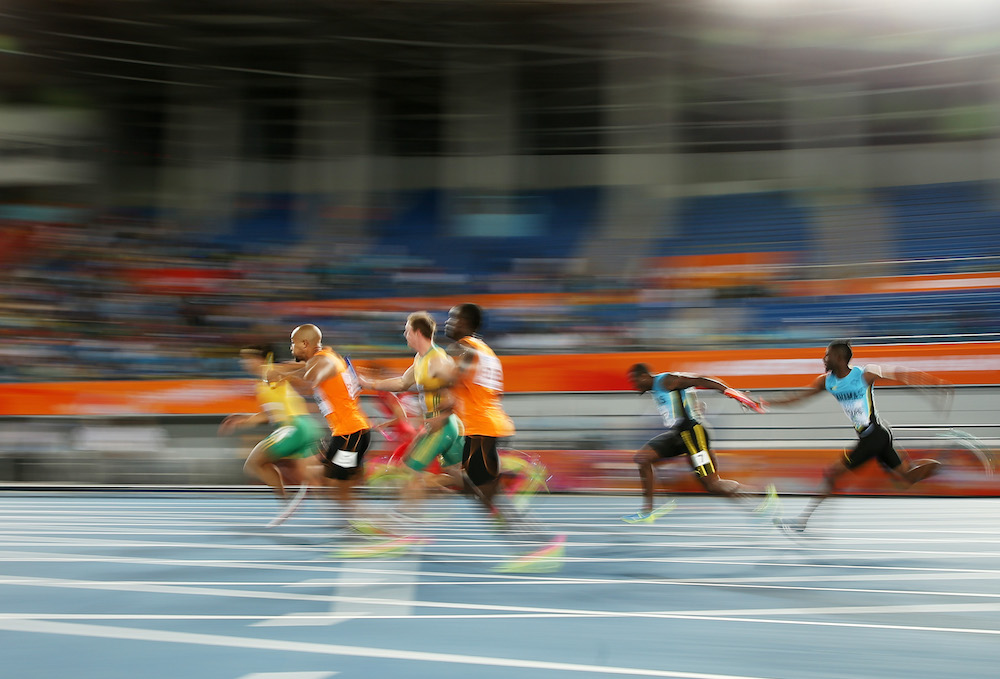 Then, the penny dropped. The announcer was referring to relay gold medallists. Both the men's 100 and 200 metres fields contained two of the winning British London 2017 4×100 relay team C.J.Ujah and Adam Gemili in the 100 metres, Daniel Talbot and Nethaneel Mitchell-Blake in the 200.
No disrespect, but relay medals are for team effort, not individual effort. They also go to all members of the squad who run either a heat or final, so some relay gold medallists are not even adjudged to be in their nation's best four.
None of the men's world championships 100 medallists – Justin Gatlin, Christian Coleman and Usain Bolt – were in the Birmingham 100 field. Individual 200 champion Ramil Guliyev was in the 200, but minor medallists Wayde Van Niekerk and Jereem Richards were not.
Of course, gold medal relay teams commonly include the individual champions. Jesse Owens, Betty Cuthbert, Marjorie Jackson, Carl Lewis, Donovan Bailey and Usain Bolt are among the many individual sprint champions to have augmented their medal haul with relay gold. And, of recent times, the Jamaican men's 4×100 has included multiple individual medallists and finalists.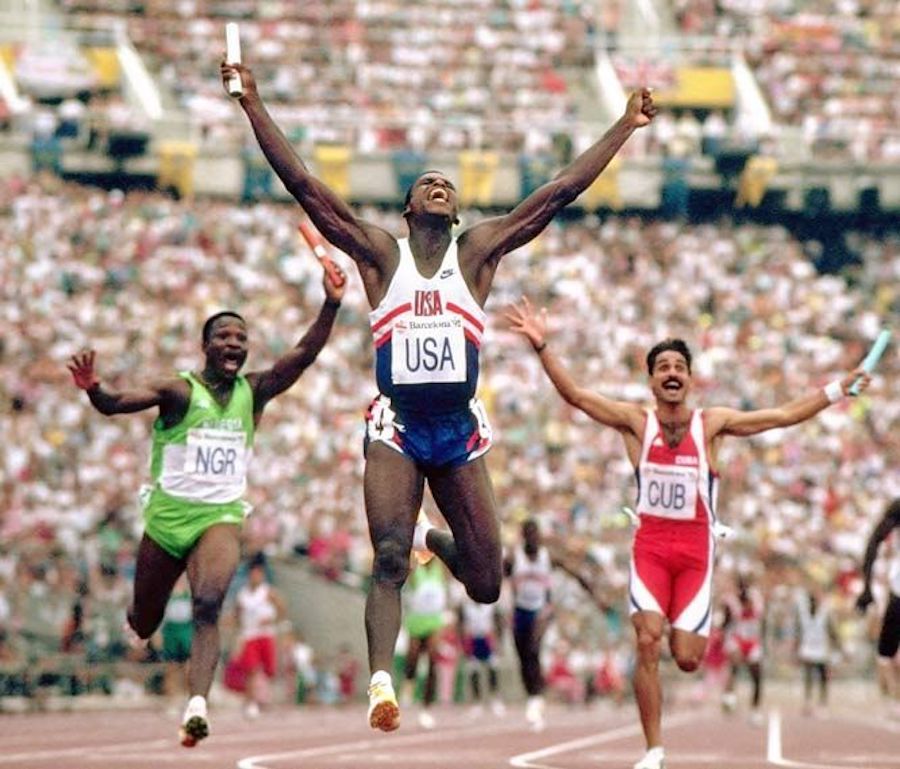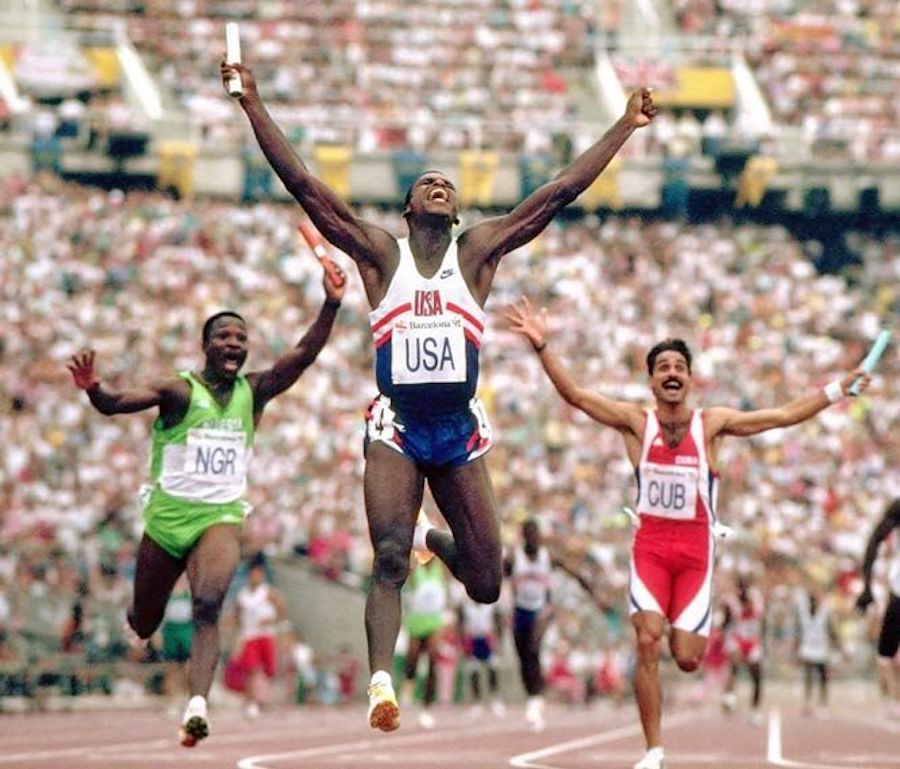 But it's still a team medal, a tribute to talent in depth rather than individual excellence. As the USA has learnt over and over in the recent past, it's of little use having some of the fastest runners if they can't get the baton safely around the track.
In any case, having the world's fastest man or woman in the relay team doesn't make their lesser teammates any better as individual sprinters. One of my learned colleagues – British journalist and blogger Pat Butcher – pointed out in a post-London column that where a superbly drilled relay team made up of 'ordinary good' sprinters wins a gold medal the credit should probably go to the coach rather than the athletes.
While conceding that relays are usually great entertainment, Butcher reckoned they had no place in the Olympics or world championships.
I would not go that far. My dream is that relays would be comprised of randomly-selected teams. Put the names of all who want to run into a pot and draw out teams of four. Maybe seed the fastest runners so they are spread as evenly as possible. Team Bolt would run against Team Gatlin, Team Thompson against Team Felix, etc, etc.
It's only a crazy dream which I acknowledge is unlikely ever to be realised, but there are straws in the wind.
Athletics is already half-way towards adopting this principle with the introduction of mixed relays which have been seen this year at Australia's Nitro Athletics, the world cross-country and the world relays, among other competitions. The IOC seems to be ahead of the IAAF on this one, announcing the addition of a mixed 4×400 as an extra 4×400 to the Tokyo 2020 program, though at the same time slashing track and field's competitor quota by 105 athletes. Other Olympic sports are falling over each other in their rush to come up with mixed competitions.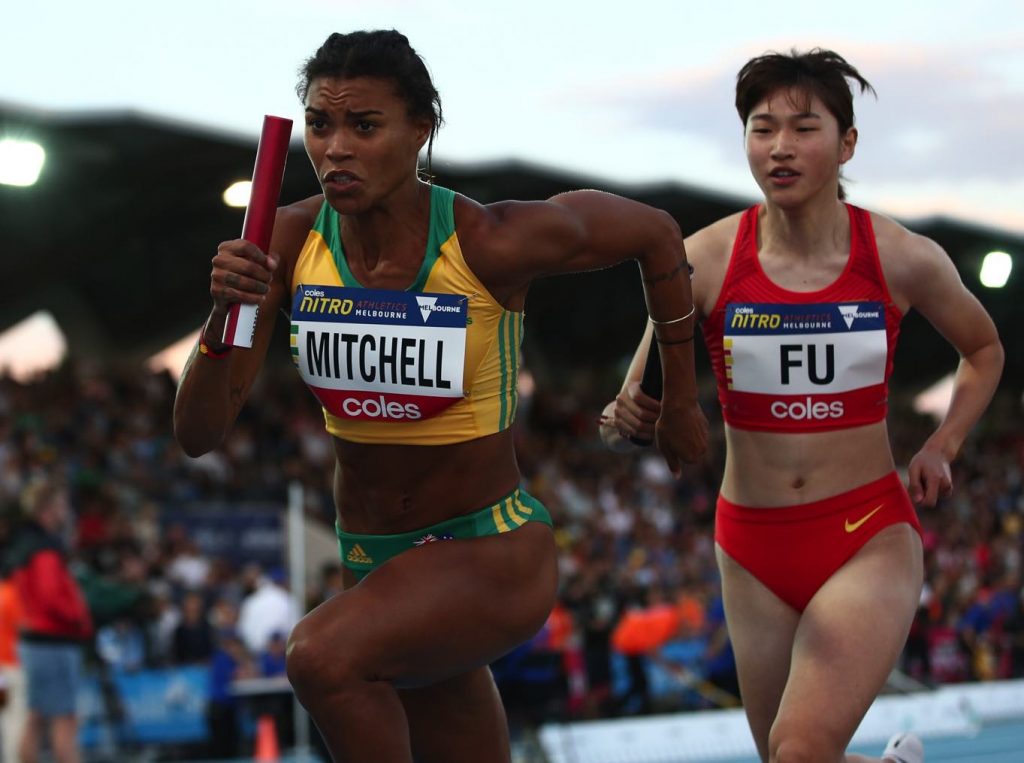 Anyway, back to the worth of relay medals. As a distance runner, it has always stuck in my craw that Jesse Owens and Carl Lewis with their 'four' gold medals in Berlin 1936 and Los Angeles 1984, respectively, are regarded as having had a greater single Olympics than Emil Zatopek with his distance treble in Helsinki in 1952.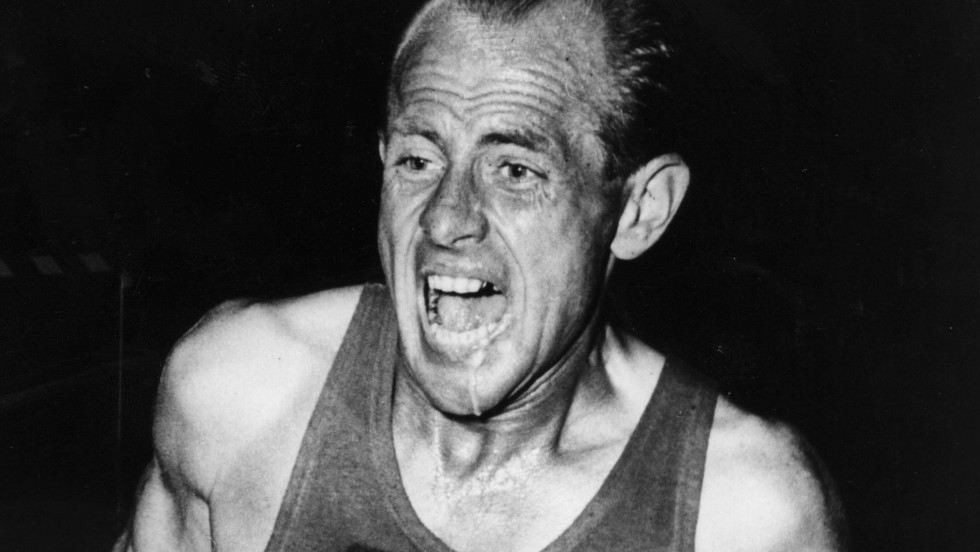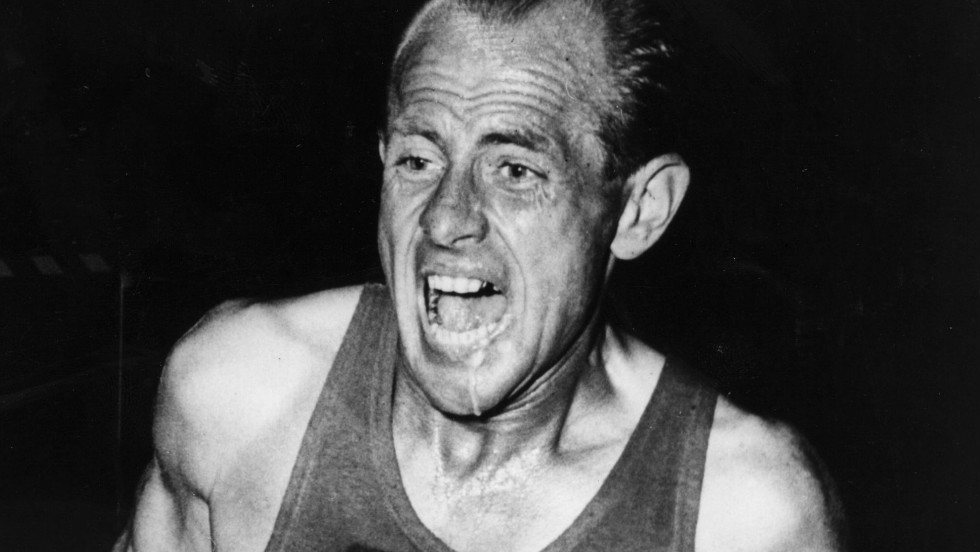 My take is that all three of these great Olympians are equal. Each won three individual gold medals. Owens and Lewis were then afforded a luxury unavailable to Zatopek – the anchor runner for relay teams which only had to get the baton around to add a 'fourth' gold medal. My argument is, and always has been, is that this is a different category of 'gold medal' and should not be counted in an individual comparison.
Allyson Felix perfectly illustrates the case for considering relay medals as a separate category. I don't have to say, but I will, that Felix is one of my favourite athletes. Her performances over a long career speak for themselves.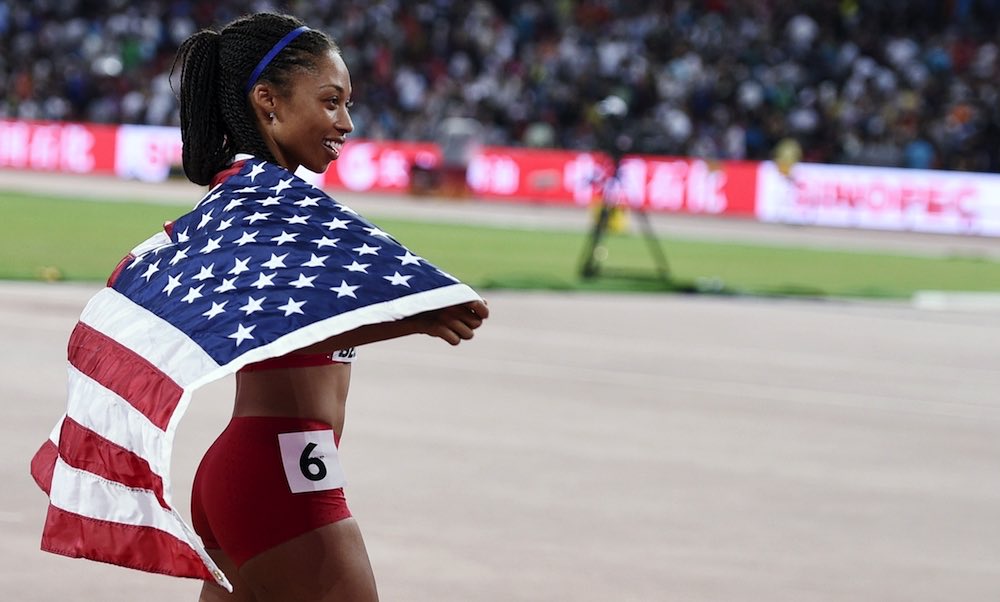 But one the consequences of the final two days' competition in London was that Felix broke out of a tie with Usain Bolt to become the greatest medal winner in world championships history. The USA's gold medals in both women's relays, along with Felix's bronze in the individual 400, took her tally of medals to 16. Bolt's bronze in the 100 took him to 14.
Felix has amassed 11 world championship gold medals, three silver medals and one bronze; Bolt 11, two and one, respectively.
That's overall; the individual event statistics tell a different story. Bolt has seven individual world championship gold medals; Felix, four. Bolt has one individual silver and one bronze; Felix, one and two.
The greatest gold medal winner in women's world championships history is Tirunesh Dibaba with five. Felix is one of six with four, the others being Gail Devers (100/100 hurdles), Valerie Adams (shot put), Vivian Cheruiyot (5000/10,000), Shelly-Ann Fraser-Pryce (100/200), Jackie Joyner Kersee (heptathlon/long jump) and Brittney Reese (long jump).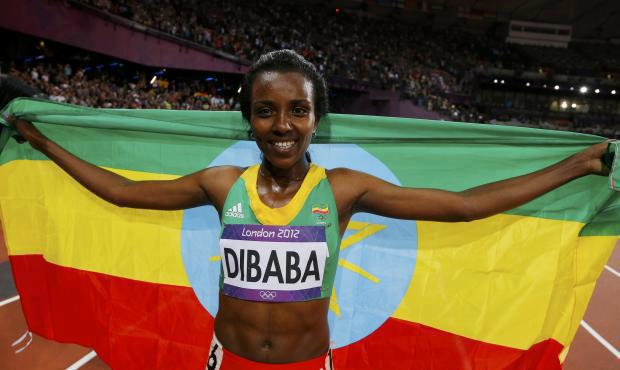 On the men's side, Bolt has seven gold medals, Mo Farah (5000/10,000), Sergey Bubka (pole vault) and Michael Johnson (200/400) have six, and Carl Lewis (100/200/long jump), Kenenisa Bekele (5000/10,000) and Lars Riedel (discus) all have five.
When the tally is confined to individual gold medals, all event groups come into play – sprints, distance, hurdles, jumps and throws, and we get a broader picture of our sport's highest achievers than a medal count inflated by relays.
End
About the Author-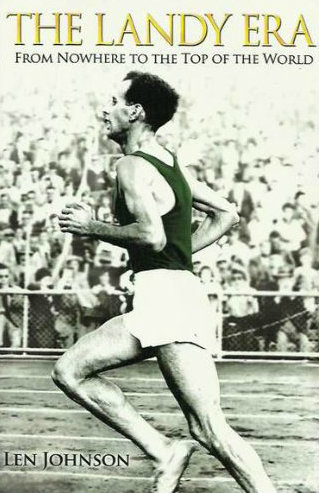 Len Johnson wrote for The Melbourne Age as an athletics writer for over 20 years, covering five Olympics, 10 world championships, and five Commonwealth Games.
He has been the long-time lead columnist on RT and is one of the world's most respected athletic writers.
He is also a former national class distance runner (2.19.32 marathon) and trained with Chris Wardlaw and Robert de Castella among other running legends. He is the author of The Landy Era.