Len Johnson Reporting from the World Champs, London – Runner's Tribe
Day six at the world championships and it was one of those this way, thataway, haven't we been here before scenarios so beloved of film directors. Sliding doors, chances taken, chances missed – that sort of thing.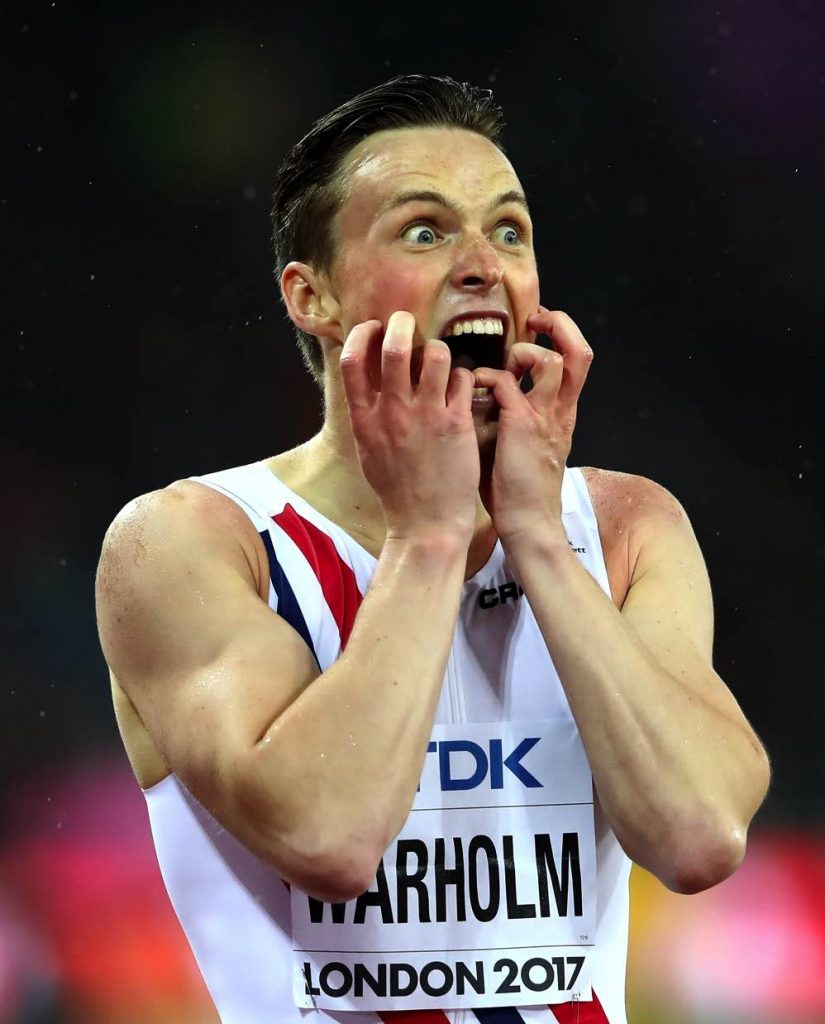 One place we definitely hadn't been before was into the cupboard where the rain jackets are kept. After tolerably good weather so far – this is London, after all – things turned feral on the weather front. What started as drizzle around 9am persisted as rain for much of the rest of the day. Making matters worse, London and the south-east was about the only region of England where it was raining. Dry everywhere else, it was.
Personally, I got through the day courtesy of a rain jacket and then, a poncho purchased for seven quid at the Tate Modern. The garment was extremely effective at keeping more water out, but almost equally as effective at keeping what had already seeped through in. Still, small mercies and all that kind of stuff.
Keeping the minimalist trend going, London 2017 organisers had scheduled just three finals for the night – the men's 400 metre hurdles, the women's 400 metres and the women's shot put. This time they got away with it again, but only through the appearance of one M.Farah in the heats of the 5000.
Both one-lap events turned dramatically at almost exactly the same spot, in the main straight, some 50 metres from the finish line. It had a Bermuda Triangle-like effect.  People entered the zone and their winning chances mysteriously disappeared.
If you've been following the 400 metres hurdles this year, you will be aware of the emergence of Karsten Warholm, a young Norwegian former decathlete who had switched to a non-decathlon event. He won in stirring fashion at the Bislett Games, so spent that he proceeded to lie prone on the track for most of the rest of the night's program (and they are long nights in Scandinavia at that time of year).
Warholm went out like complimentary Carlsberg in the final and entered the straight well clear of Kerron Clement and several other pursuers. He looked a bit rubbery at hurdle eight and stuttered into hurdle nine. Clement, Abdelrahman Samba and Yanis Capello, running at him almost in line, were suddenly right on Warholm's heels.
Then came hurdle 10, and they entered the Triangle. Warholm summoned something from deep within and cleared it cleanly. Clement stuttered, losing the ground he had just gained. His chance was gone. Capello did the same. Samba's fate was even worse – his hit the hurdle with his leading leg and stumbled badly off it.
Warholm won, a Viking helmet was found – thank Thor someone thought to bring it – and he went off on a whacky lap of honour after a finish line interview conducted by a Welshman and featuring something shouted in Norwegian.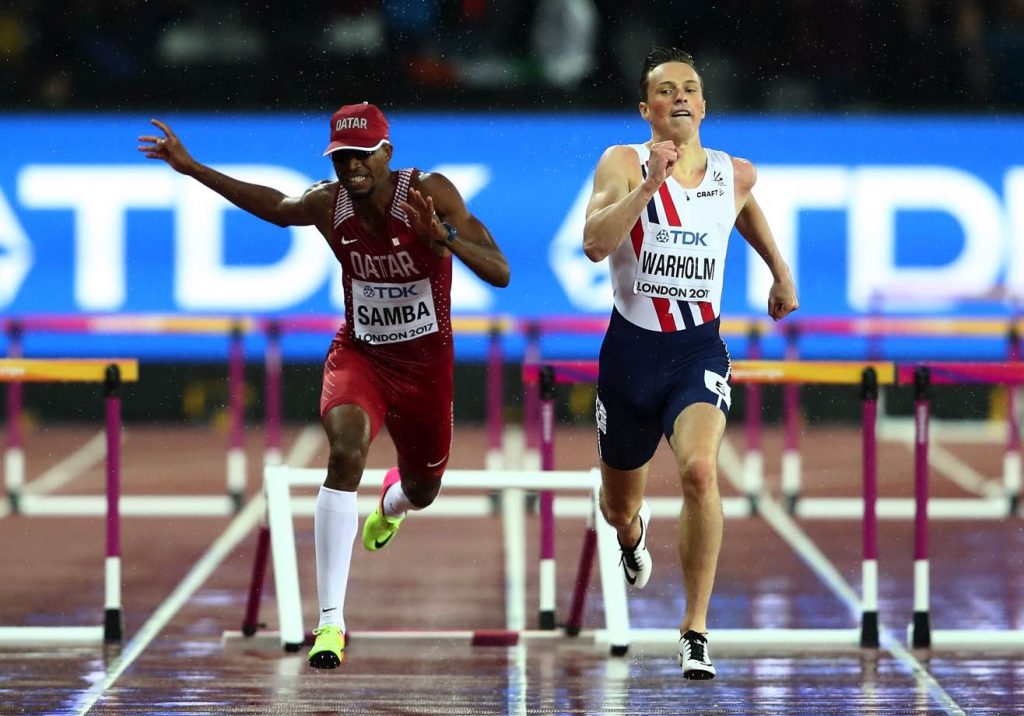 Blow me down if 10 minutes later, the women's 400 turned on its head at virtually the same point. Shaunae Miller-Uibo, who dived to the Olympic gold medal in Rio last year, looked as if she had a world championships one already around her neck. Having seen off Allyson Felix's early pace, she was in control and seemingly cruising.
Never think you are cruising when in Bermudan waters would seem to be good advice. Suddenly, out of nowhere, Miller-Uibo faltered – a stumble, cramp, who knows. By the time she had recovered, Felix's teammate Phyllis Francis had gone past to win and Salwa Eid Naser and the fading Felix to take the minor medals.
Francis won in a personal best 49.92. Naser ran 50.06, giving the 19-year-old a PB in each round, Felix 50.08. Miller-Uibo staggered in in 50.49, amazing given what had just occurred.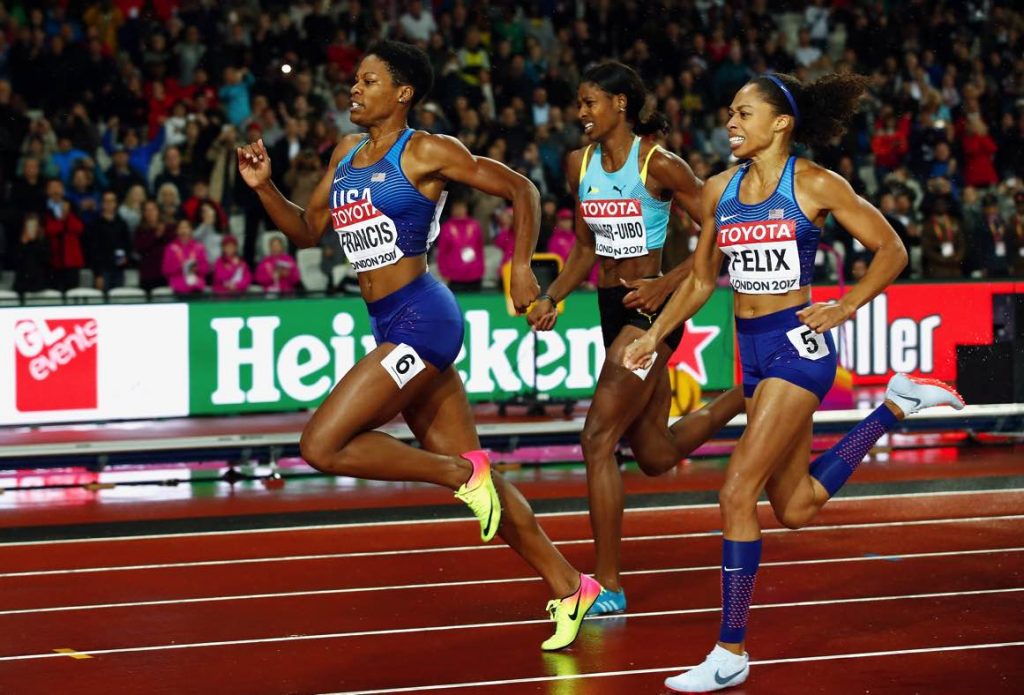 Patrick Tiernan also had a life-changing kind of run to make the 5000 metres final. Four laps from home, about the same time his race in the 10,000 fell apart, he took control of the second heat, moving to the front and ensuring the pace remained well under the finishing time of the first heat.
Ultiamtely, he did not have to bother, finishing fourth to secure one of the automatic spots in the final. But I hope places six to 10 took up a collection for him, because Tiernan dragged them through into the final as well.
It was a bold race from an athlete who admitted he had been in a bad place after his performance in the 10,000.
Tiernan has carried all before him since he returned to Australia to win the Zatopek 10,000 last December. Now, he has shown the resilience to bounce back from a demoralising performance. It is hard to run well, but each good race makes the next one that little bit easier. It is a lot harder to come back from a disappointing run, especially when you have just a few days to re-group.
Hats off to Tiernan for doing just that. Although they did not go through, both Morgan McDonald and Sam McEntee had strong runs in the first heat.