Why Zatopek remains relevant: A Column By Len Johnson
Ron Clarke hailed Emil Zatopek as the greatest distance runner who ever lived, not only for his performances, but also for his personality.
Four Olympic gold medals – the 10,000 metres in London in 1948 and the unprecedented, and unequalled, distance treble of 5000, 10,000 and marathon at the Helsinki Games four years later – and numerous world records are testament to the performances, but it was the influence of Zatopek that spoke as much to his greatness.
It is often said that someone is a man, or woman, of his or her times. Zatopek was often a man who seemed at odds with the prevailing views. His background was entirely parochial – born into a large family in what was then Czechoslovakia, apprenticed to the local Bata shoe factory, he came to athletic maturity while running, training, but most of all surviving in his Nazi-occupied homeland.
As the post-war world ossified into two competing blocs during the Cold War era, Zatopek was a practising internationalist. In Helsinki, where the eastern bloc athletes were housed in a different Village from the rest of the athletes, Zatopek virtually conducted open house. He trained and chatted with whomever could be bothered to make the trek out to his accommodation.
Zatopek had few training secrets other than hard work and ambitious goals, but he shared willingly of his ideas. His attitude seemed to be: "Here is what I do. Come, do it with me if you like. And if you can do it better than me, good luck to you."
Zatopek retired after finishing sixth in the Melbourne 1956 Olympic marathon to become a revered figure in his home country. The Communist regime which had pressured him to maintain his extraordinary performance levels during his career, now made him one of its exemplars. But he fell into obscurity after the Soviet Union crushed the Prague Spring reforms of 1968, which Zatopek had vociferously supported to the extent of speaking critically of the Soviet 'liberators'.
Sent into internal exile, Zatopek worked as an itinerant labourer in the mines, drifting dangerously towards alcoholism. Eventually he was rehabilitated. At first he was allowed to travel as a Czech hero – including to the first world championships in Helsinki, where he won his famous treble, in 1983, and also to Melbourne in 1985. But it was not until the fall of the Berlin Wall and the subsequent Velvet Revolution in Czechoslovakia in late 1989 that Zatopek was fully welcomed back.
Emil Zatopek died on 22 November, 2000, the forty-fourth anniversary of the opening day of the Melbourne Olympics, his third and last Olympic Games, and likewise the year of the Sydney Games, the second Olympics hosted in Australia.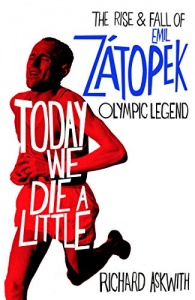 Three books have been published on Zatopek in 2016. All three cover similar terrain but Quicksilver: The Mercurial Emil Zatopek is the one I have read. It was written by Pat Butcher, a long-time colleague in press boxes around the world. For a thorough telling of the Zatopek story. I can recommend it for those who know the Zatopek name, but not much more than that.
In Australia, Zatopek's influence has never gone away. The annual Zatopek 10,000 metres track race, which started as the Victorian Marathon Club championship, will be staged for the 56th consecutive year in Melbourne on 8 December.
When many of the foundation Percy Cerutty group – Les Perry, Don Macmillan, Bob Prentice, John Landy – went to the Helsinki Olympics, Perry was the first to seek Zatopek out. He went to the Czech Village and ran with Emil. It got too late to return to the Australian Village, so Perry slept on Zatopek's floor.
A couple of days later, Cerutty followed in Perry's wake, though the coach accepted Zatopek's kind offer of a bed for the night – his! Zatopek slept on the floor this time, a few days before the Olympic 10,000.
Although all the Australians split up with Cerutty over the next couple of years, Zatopek's influence on them all remained. In subsequent years, both Dave Stephens and Geoff Warren visited Prague, staying and training with Zatopek and the great runner's visit here for the Melbourne Olympics helped bind the ties even more closely.
What all these men absorbed from Zatopek was his willingness to share knowledge and experience with others and his courage in tackling competition. Cerutty and others had founded the Marathon Club in 1946 and the Zatopek spirit was infused into Australian distance running.
We've been the better for it.
In His Own Words
Zatopek was a rich source of inspirational quotes on distance running – including many he actually said. Some examples from the books:
"A runner must run with dreams in his heart, not money in his pocket."
"It's at the borders of pain and suffering that the men are separated from the boys."
"When a person trains once, nothing happens. When a person forces himself to do a thing a hundred or a thousand times, he develops in ways more than physical. Is it raining? That doesn't matter. Am I tired? That doesn't matter either. Willpower becomes no longer a problem."
The Zatopek books:
1.Quicksilver: The Mercurial Emil Zatopek, Pat Butcher, Globerunner
2.Endurance: The Extraordinary Life and Times of Emil Zatopek, Rick Broadbent, Bloomsbury
3.Today We Die a Little: The Rise and Fall of Emil Zatopek, Olympic Legend; Richard Askwith, Vintage Publishing
We'd like to play a melody, Bird on a Wire
About the Author-
Len Johnson wrote for The Melbourne Age as an athletics writer for over 20 years, covering five Olympics, 10 world championships and five Commonwealth Games.
He has been the long-time lead columnist on RT and is one of the world's most respected athletic writers.
He is also a former national class distance runner (2.19.32 marathon) and trained with Chris Wardlaw and Robert de Castella among other running legends. He is the author of The Landy Era.