A Column by Len Johnson – Runner's Tribe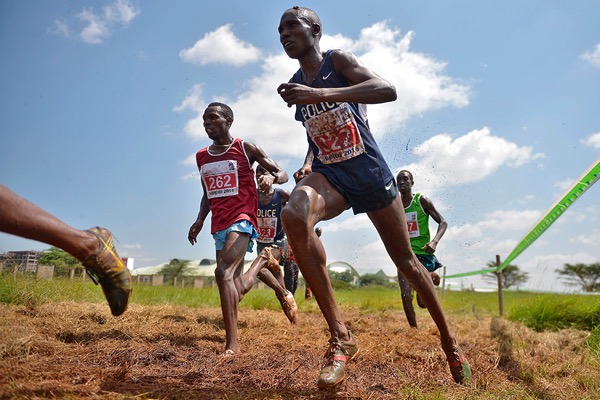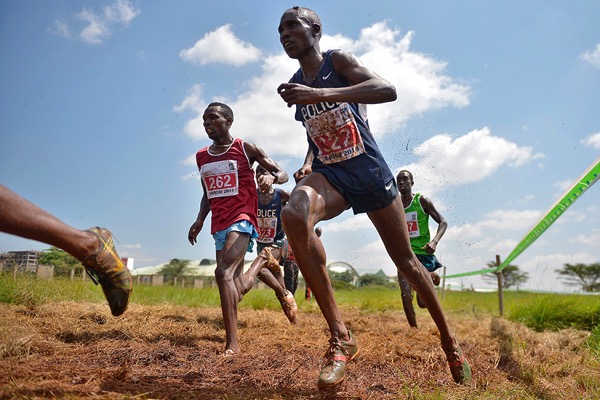 Cross-country: something for everybody. Just step outside and run.
Invented by cave-dwellers fleeing mastodons, cross-country simply involves running as fast as you can – faster than a pre-historic predator, in any case – for as long as you can, over whatever terrain confronts you.
Once omnivorous predators were no longer a threat, the sport gradually evolved over thousands of years. As that erudite chronicler of all things long distance, Roger Robinson, once pointed out, Pheidippides of marathon legend was not a road runner at all. He was a cross-country man. No roads back then; military couriers, of which Pheidippides was one, carried their messages over the country.
What we now largely think of as cross-country originated in the English schools in the 18th century as relatively privileged students emulated on foot the horseback hunting pursuits of their fathers. One or two runners would be sent off as 'foxes' laying a paper trail as 'scent' for the 'hounds' to follow.
Other formal early forms of cross-country were based on the steeplechase, originally riders on horseback racing between churches in neighbouring villages.
How ironic that one of the most democratic forms of athletics evolved – in part, at least – from the practice of privileged students imitating the pursuits of their upper-class parents.
Andrew Boyd Hutchinson, an historian, educator, coach and runner, has compiled a complete history of cross-country running. Like cross-country itself, this is a labour of love, no doubt replete with its own versions of "the plough", the "up hill and down dale, the field and the ditch" so beloved of a certain type of cross-country purist.
At this point, most of us would fast forward to the cross-country we know today, as participants, or consumed vicariously through coverage of the world cross-country championships.
Hutchinson, instead, takes us on the journey. You may have read some accounts of early cross-country events elsewhere – the hares and hounds races at The Royal Shrewsbury School, the historical impact of the fictional Tom Brown's Schooldays, the foundation of the Thames Hare and Hounds, the world's first harriers' club – but not brought together in one place.
Hutchinson analyses the development of international cross-country. Exclusive private American schools soon adopted the sports pioneered at Shrewsbury and Eton. The first English national cross-country in 1876 was eventually followed by the Cross des Nations (1898) and much more quickly by the first International Cross-Country Championships (in Scotland in 1903).
The first ICCU championships were contested by the four UK home countries. France was admitted in 1907 and other continental European countries in the 1920s. Tunisia entered in 1958, the first African nation to compete. New Zealand came in the 1960s, a few years before the previously unsanctioned women's event was recognised. ("Well, we've got Kiwis," you can almost hear some old blazer saying, "might as well have the women, too.)
Finally, the IAAF took over the championships in 1973, staging the first world cross-country at Waregem in Belgium. The event did not get off to an entirely satisfactory start, the men's race being disrupted by IRA protesters who forced some of the leading runners into a ditch. The next big development was the entry of the East African nations, whose dominance of the event shows little sign of diminishing.
Hutchinson goes through this history chronologically, his chapters dotted with 'event spotlights' detailing the more significant races. If you have seen or read of many of the selected races you will enjoy re-living them all over again. There's the great battle between Steve Prefontaine and Gerry Lindgren at the 1969 Pac-8 cross-country, the 1983 world cross-country when six men, including Robert de Castella, slugged it out in the final lap and Lynn Jennings' hometown win at Boston in the 1992 world cross-country.
Those of us lucky enough to have been at a world cross-country have our own cherished memories. Mine include Carlos Lopes and Zola Budd's memorable victories in Lisbon in 1985, John Ngugi and Kenya's absolute domination of the 1988 men's race on Auckland's Ellerslie Racecourse and Steve Moneghetti and Jackie Perkins finishing fourth and fifth, respectively, over the mud-heap that was Stavanger Golf Club a year later.
More recently, there was the 2009 championship in Amman, Jordan, where the country raced over bore no resemblance to either purists' notions of cross-country, or our own expectations of what the Bisharat Golf Course would entail.
But that is one of the things most easily forgotten about cross-country. You race over the terrain that's there. Jordan's countryside was rocks and sand, even where you might expect smooth grass fairways.
One of the most famous cross-country races – Italy's Cinque Mulini – has a couple of ditches, some fields and a section along a river-bank, but mostly winds through stony farmyards and across wooden bridges in historic working mills. Hills? Not even a spirit level could detect significant rise and fall. Grass? Yeah, there's a bit at the finish.
You might question the timing of talking about a history of cross-country virtually on the eve of the track and field world championships. But, of course, it is winter in the southern hemisphere and we are just a month away from the Australian cross-country championships.
When the book comes out in January, Australia will be experiencing summer and on the verge of the Gold Coast Commonwealth Games. No matter: if you buy it then, you can read it during some of the Games' quieter moments. Trust me, there will be some.
"The Complete History of Cross-Country Running" will be released in January, 2018, on Amazon in both hardcover and e-book. It can be pre-ordered on this link.
Andrew Boyd Hutchinson's website, has more information, including testimonials.