(c) Runner's Tribe
The oldest running shoe company of them all, Saucony, have landed their latest high mileage trainer, and it does not, repeat, does not, disappoint.
Saucony states the following about the Triumph 17:
'First-class long runs are lighter than ever.
For those who crave the ultimate in protective cushioning, the Triumph 17 is our most cushioned shoe, giving you everything you need to cruise through the longest of runs. Make running hangovers a thing of the past.'
So, are Saucony's claims accurate, is this shoe worth the $250 investment?
Runner's Tribe took the Triumph through the paces, and below is our unpaid for review.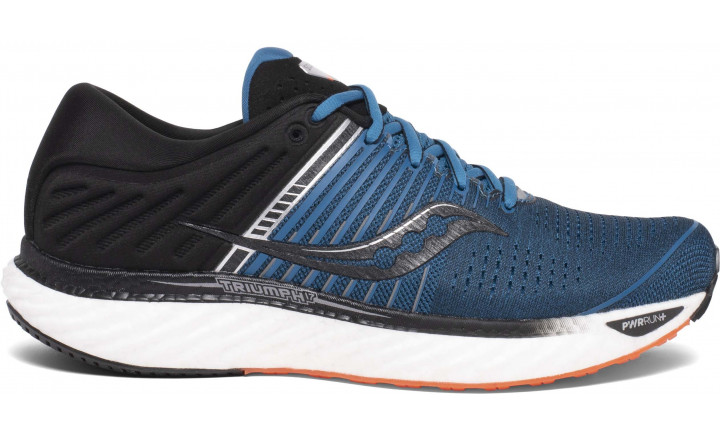 Specs
Km's run during testing process: ~90k for each runner = ~180km total.
Testers: Two road/track runners.
Surface: Road or very light trails.
Purpose:  Highly cushioned high mileage trainer. Good for long runs or easy runs.
Pronation: Neutral.
Stack Height: 33mm heel. 25mm forefoot.  These stack heights were verified by Saucony Australia's website. The Triumph provides loads of cushioning under your feet.
Heel-to-toe-drop/pitch: 8mm.
Weight: Moderate to heavy (see the below table for brand comparisons)
Men: 305 grams for US9.  328 (11.6 ounce) grams for US11.
Midsole: Thermoplastic polyurethane TPU (same material as in Adidas Boost).
Upper: Thick Mesh.
Outsole: Rubber.
Feel for the road:  Low, this shoe is designed for those who love a lot of cushion.
Flexibility: Moderate.
Toe Box:  Standard/traditional shaped toe box.
Durability: Very durable.
Density of midsole: Soft.
Heel cushioning: Soft.
Forefoot cushioning: Soft.
Responsiveness:  Excellent.
Heel counter: Hard/rigid, doesn't collapse easily.
Fits: True to size.
Marketing Hype: Low.
Does it live up to the hype: Sure.
Price: $249.95 AUD at Saucony Australia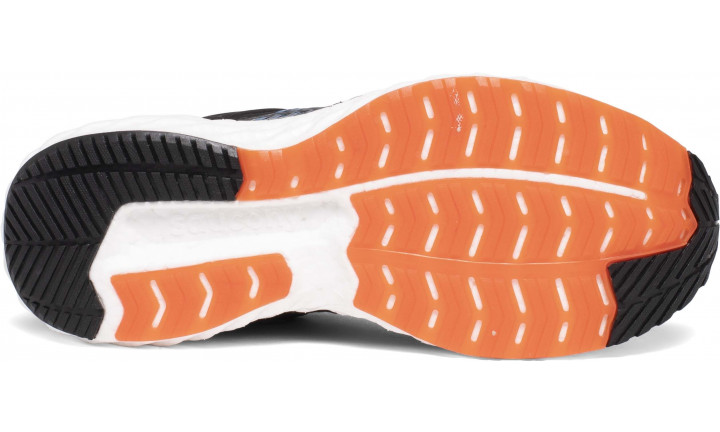 Against some rivals
| | | | |
| --- | --- | --- | --- |
| Shoe (all size US 9 Men) | Weight (grams) | Drop(MM) | Stack Heights (forefoot/heel cushioning) |
| Saucony Triumph 17 | 305grams | 8mm | 33mm/25mm |
| Hoka Rincon | 210grams | 5mm | 29mm/24mm |
| Hoka Clifton 6 | 255grams | 5mm | 29mm/24mm |
| Nike Vomero | 281grams | 10mm | 27mm/17mm |
| Nike Pegasus | 266grams | 10mm | 28mm/18mm |
| Adidas Solar Boost | 301grams | 10mm | 28mm/18mm |
| Asics Nimbus | 315grams | 10mm | 31mm/21mm |
| New Balance 1080 | 283 grams | 8mm | 30mm/22mm |
| Mizuno Wave Rider | 289 grams | 12mm | 32mm/20mm |
| Brooks Glycerin | 309 grams | 10mm | 32mm/22mm |
| Brooks Ghost | 286grams | 12mm | 29mm/17mm |
| Nike Epic React | 224grams | 10mm | 28mm/18mm |
Compared to rivals the Triumph has:
More forefoot cushioning than all the above rivals (including the Hoka Clifton). Note:  I went for a run with a Hoka Clifton 6 on one foot, and the Saucony Triumph on the other. I would be stunned if this is accurate. I did some digging and talking with some shoe dogs; the consensus is that the insert (footbed) is included in the stack height measurements for both these brands.  However, Saucony seem to use much thicker footbeds than Hoka, so the actual midsole foam stack heights in the Hoka Clifton is probably still just greater than the Triumph (I would need to cut up both shoes to prove this, no way that's happening).
A high 8mm drop, just lower than the traditional drop of 10mm used by Nike.
More weight than most other shoes (with the exception of Asics Nimbus and Brooks Glycerin).
Cool things about this shoe
Comfort: The use of a soft, thick, high quality feeling mesh makes the shoe incredibly comfortable. It feels a bit like a slipper it is so soft and padded.  Everything from the upper, to the tongue is thick and soft. And the inbuilt sock-like inner hugs your feet.  Our longest run was 30km and the comfort level was incredible.
PWRRUN+ midsole: Saucony have really upped their game in terms of their midsole material. The PWRRUN+ midsole (legit try to pronounce that – not easy) reminds me a lot of the Adidas Boost midsoles. It even looks the same.  A bit of investigation explains why. Both the Adidas Boost and the Saucony PWRRUN+ midsoles are made using Thermoplastic polyurethane (TPU).  The PWRRUN+ is a very soft ride, yet it retains great responsiveness. It is a huge improvement from the Everun midsoles and seems to be lighter than previous models too.  It is one of the better midsoles on the market.
Durable: The combination of a thick, high quality upper with the use of a TPU midsole (which is famous for its durability), means the Triumph is a very durable shoe. We only took our pairs through 90km each, so we cannot attest to how many k's they last. However, after 90km they are as good as new.

The Triumph's durability comes with trade-offs, as always. It's thick upper weighs more than a thin upper, and its generous use of rubber on the outsole combined with a thick TPU midsole, all adds to its weight.  Runners just need to weigh it all up. What matters more? durability and comfort or being 40grams lighter.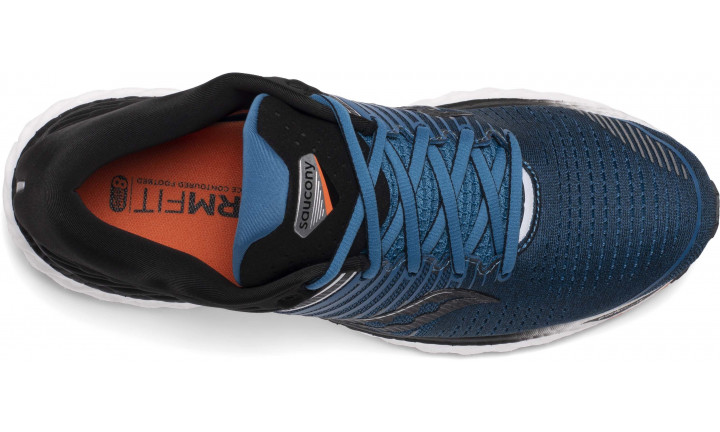 Uncool things about this shoe
A bit bulky: This isn't really uncool; it just depends on who you are and what your preferences entail. For lightweight runners out there, this shoe might not be for you. If you are 60kg and have zero body fat, the shoe could potentially feel a little bulky. Its high stack heights combined with its thick upper, makes it a lot of shoe.  However, for those normal sized/bigger runners out there who enjoy bulkier shoes, then this has to be one of the best options on the market.
Looks: Once again, this is a subjective trait. But it would be a stretch to call these awesome/cool looking shoes.
To buy or not to buy?
The Saucony Triumph 17 is a highly cushioned, built up, comfortable, and durable high mileage trainer. It's midsole foam  is brilliant and is as close to the perfect mix of softness and responsiveness as it gets.  For those runners who don't mind a slightly bulkier shoe, or who desire a shoe with exceptional durability, then the Triumph is one hell of a good option.
Disclaimer:  We were not paid a cent for this article. However, Runner's Tribe were given a pair of Triumphs for free, booyaa.
Written by Sam Burke for Runner's Tribe