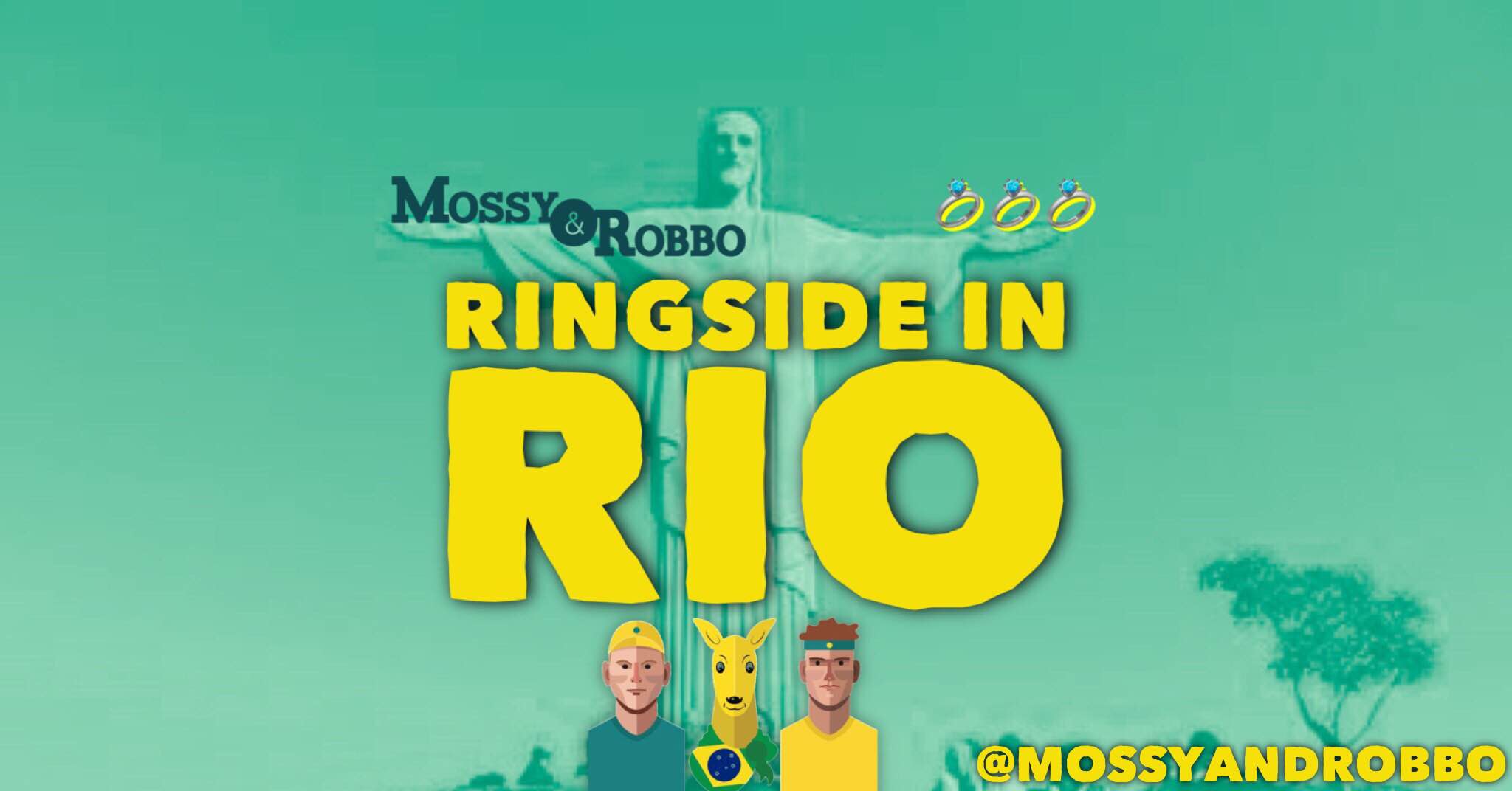 Most recent post up top. Keep refreshing as this page is updated constantly as the Aussies perform and people tweet, post etc…
That's all from Day 5 of #Athletics at #Rio2016 . Hope you enjoyed our Aussie updates. Until the next session. https://t.co/RtBgdRCOCq

— RunnersTribe.com (@runnerstribe) August 17, 2016
Pumped for the #PrincessOfThePit? earning the little q to book her spot in an Olympic Final! @athsvic @VicInstSport pic.twitter.com/4Wqf4iKzg0

— 〽️ossy and Robbo (@MossyandRobbo) August 17, 2016
Congratulations @brookestratts making the final of the women's long jump #Olympics We'll be watching. #whatalegend https://t.co/Pkr5JQHVsu

— RunnersTribe.com (@runnerstribe) August 17, 2016
I DID IT!! Through to the Olympic Long Jump final. Watch me from 10.15am AEST Thursday morning! ??

— Brooke Stratton (@brookestratts) August 17, 2016
Day 5 of #athletics done and dusted.
A great day for the Green & Gold.
Full #Aus results: https://t.co/3uc4rlGgtk pic.twitter.com/nerzemxRxT

— Athletics Australia (@AthsAust) August 17, 2016
Kathryn Mitchell makes 2nd consecutive #javelin final – an #Aus achievement only matched by McPaul in 92 & 96 pic.twitter.com/D5GsRArSir

— Athletics Australia (@AthsAust) August 17, 2016
ATHLETICS: Kathryn Mitchell is in to the javelin final with a mark of 61.63m. Congratulations! #OneTeam

— AUS Olympic Team (@AUSOlympicTeam) August 17, 2016
OH MY GOSH! So so so proud of you @trackjenny!!! You ran that which such poise. So smart. BRONZE MEDAL!!!! ????????????????????????????????

— emma coburn (@emmajcoburn) August 17, 2016
Kenya's Faith Kipyegon destroys Genzebe Dibaba to claim 1500m gold.
USA's Jenny Simpson takes bronze. #Rio2016

— RunnersTribe.com (@runnerstribe) August 17, 2016
Can Dibaba hold it?

— RunnersTribe.com (@runnerstribe) August 17, 2016
.@ellanelson200 a star on the rise!

Fastest #Aus 200m time since @MelGTaylor in 2000 and 4th greatest for Aus ever pic.twitter.com/HpFnRd9ikW

— Athletics Australia (@AthsAust) August 17, 2016
Omg 0.01!!!!! So so close to that final spot @ellanelson200 #needabiggerbra

— Anneliese Rubie (@annierubie) August 17, 2016
It's official @ellanelson200 has finished 9th overall in the #RioOlympics2016 women's 200m. #whatalegend #superstar pic.twitter.com/Nv6F0TPhGF

— RunnersTribe.com (@runnerstribe) August 17, 2016
Correction from Olmypic to *Olympic on the last post. To excited to spell correctly. @ellanelson200 #whatalegend https://t.co/9sL5Zi0pKv

— RunnersTribe.com (@runnerstribe) August 17, 2016
Rising #superstar @ellanelson200 runs 22.50 (pb) in #200m Olmypic semi-final. #whatalegend https://t.co/RtBgdRCOCq pic.twitter.com/Tgoq23iwoM

— RunnersTribe.com (@runnerstribe) August 17, 2016
PB!!!!!!!!!!!!!!!!!! Yeah @ellanelson200 – looked amazing out there ❤️???⚡️?✨??

— Genevieve LaCaze (@GenGen_LaCaze) August 17, 2016
Oh my goodness @ellanelson200 that was impressive!! We are so incredibly proud of you. What a finish @AthsAust @7olympics

— Mel Gainsford Taylor (@MelGTaylor) August 17, 2016
Go @ellanelson200 ‼️‼️‼️

— Steven Solomon (@stevesolo10) August 17, 2016
Go time for @ellanelson200 in the women's 200m semi-finalhttps://t.co/RtBgdRCOCq pic.twitter.com/Avj5cciBKQ

— RunnersTribe.com (@runnerstribe) August 17, 2016
Hello @Doctor_Roe hope you have a lovely evening #Athletics #Rio2016 pic.twitter.com/m4YY2O3sKD

— Melissa Breen (@Melissa_Breen) August 16, 2016
#NED Dafne Schippers wins semi-final 1 of the women's 200m in a lightning fast time of 21.97! #Rio2016 https://t.co/N9waUchrlV

— 7Olympics (@7olympics) August 17, 2016
Dafne Schippers wins the first 200m semi-final in 21.96 #Rio2016

— RunnersTribe.com (@runnerstribe) August 17, 2016
Been watching the Riohearsal on TV? Imagine experiencing it live. #GC2018 https://t.co/GBAp9wlEGX

— Gold Coast 2018 (@GC2018) August 8, 2016
ATHLETICS: @brookestratts has jumped 6.56m with her third attempt and looks good for the long jump final. Confirmation to come. #OneTeam

— AUS Olympic Team (@AUSOlympicTeam) August 17, 2016
Chelsea Jaensch furthers mark to to 6.41m in final attempt.
She finishes 17th and will not progress to the final pic.twitter.com/SFpePJKtLF

— Athletics Australia (@AthsAust) August 17, 2016
????#RingsideInRio Ep 8 ~ 'Advance Brastralia Fair'

➡️ https://t.co/67SiKgijtD pic.twitter.com/Ldm2jzBbm4

— 〽️ossy and Robbo (@MossyandRobbo) August 17, 2016
It's Australia day a the Olympic Athletics. Ella Nelson is racing soon in the 200m semi-finals. Go Aussies! https://t.co/rv459ij2m2

— RunnersTribe.com (@runnerstribe) August 17, 2016
?? So proud @Loz_Wells ? 2x Olympian & 2x Semi Finalist 400m Hurdles @AUSOlympicTeam #OneTeam #Rio2016 #Athletics pic.twitter.com/uOaryL1vDr

— Melissa Breen (@Melissa_Breen) August 17, 2016
UP NEXT: @ellanelson200 in the 200m semi-final 2. Get your cheer on #AUS !#OneTeam #7Olympics pic.twitter.com/7BSGsKFcnQ

— Athletics Australia (@AthsAust) August 17, 2016
UP NEXT: @thatjavelingirl
in javelin qualifying gp B. Let's go Kelsey!#OneTeam #7Olympics pic.twitter.com/XvrXURoDcZ

— Athletics Australia (@AthsAust) August 17, 2016
UP NEXT: Kathryn Mitchell in gp B of the women's javelin qualifying#OneTeam #7Olympics pic.twitter.com/Wp3fuMNdVO

— Athletics Australia (@AthsAust) August 17, 2016
Slight improvement for Stratton on 2nd long jump attempt, recording 6.46m.#OneTeam pic.twitter.com/OHvZB3dERn

— Athletics Australia (@AthsAust) August 17, 2016
#AUS @brookestratts jumps 6.46m with her 2nd jump. Currently in 11th position in the qualifying round of women's LJ. https://t.co/2wt1I0q3Bf

— 7Olympics (@7olympics) August 17, 2016
#AUS @chelseajaensch leaps 6.35m in the qualifying round of the women's LJ. She's currently in 18th spot. #Rio2016 https://t.co/gWAhe5dcpj

— 7Olympics (@7olympics) August 17, 2016
@chelseajaensch 6.35m with her 2nd attempt in long jump qualifying #Rio2016.

— RunnersTribe.com (@runnerstribe) August 17, 2016
A tough run for Lauren Wells who gave it a real go down the back straight. She finishes 7th in semifinal with 56.83m pic.twitter.com/EKwiJ5sehM

— Athletics Australia (@AthsAust) August 17, 2016
#AUS @Loz_Wells finishes seventh in the 400m hurdles semi-final. LIVE NOW on Seven & Olympics on 7 app. #Athletics https://t.co/cSVeF9lkKL

— 7Olympics (@7olympics) August 17, 2016
ATHLETICS: 56.83 for @Loz_Wells in the semi-final of the 400m hurdles. She won't progress to the final, but has been gallant at #Rio2016.

— AUS Olympic Team (@AUSOlympicTeam) August 17, 2016
LET'S GO LOZ! ???? @kerrymboden @mattybdept https://t.co/7kPH2QcrUG

— 〽️ossy and Robbo (@MossyandRobbo) August 17, 2016
Women's LJ @chelseajaensch 6.20m on opening jump then @brookestratts with 6.40m. 2 on the board early. More to come pic.twitter.com/1rYyqDnzYb

— Athletics Australia (@AthsAust) August 17, 2016
Ouch, it's graphic! #AUS Kim Mickle dislocates her shoulder on her final throw in the javelin. #Rio2016 https://t.co/r9Ydwgn4bj

— 7Olympics (@7olympics) August 17, 2016
Stirring rendition of 'Hino Nacional Brasileiro' in the Estádio Olímpico for Thiago Braz Da Silva's #GOLD! #BRA pic.twitter.com/hq1AVLdkuS

— 〽️ossy and Robbo (@MossyandRobbo) August 17, 2016
Warm up for @ellanelson200 Soon on @MossyandRobbo @AthsAust pic.twitter.com/pTBXrfjasg

— Steve Nelson (@stevej_nelson) August 17, 2016
@brookestratts goes 6.40m in her first attempt in the long jump qualifying round. #Rio2016

— RunnersTribe.com (@runnerstribe) August 17, 2016
Oh my goodness !! Poor @kimmickle looks like she has dislocated her shoulder. She is so unbelievably tough!!

— Mel Gainsford Taylor (@MelGTaylor) August 17, 2016
If anyone wants to see how badly someone wants it…just watch Kim Mickle there! In obvious pain, still throws, and dislocates her shoulder!

— Tim Rosen (@timrosen35) August 17, 2016
@chelseajaensch goes 6.20m on her first attempt in the women's long jump qualifying. #Rio2016

— RunnersTribe.com (@runnerstribe) August 17, 2016
@Brandonstarc93 fails 3rd attempt at 2.25m, bows out of the High Jump,
Awesome effort making the Olympic final. ???? #whatalegend

— RunnersTribe.com (@runnerstribe) August 17, 2016
Go Sally! https://t.co/o1QeAgkJTh

— RunnersTribe.com (@runnerstribe) August 17, 2016
And the crowd goes wild as #BRA @ThiagoBrazPV receives his #Gold in the men's Pole Vault! What a moment for #BRA! https://t.co/ydCeguenPO

— 7Olympics (@7olympics) August 17, 2016
Giving our LIVE update on @mstarc56's brother on @EONSportsRadio!? pic.twitter.com/f3n4PbCUV4

— 〽️ossy and Robbo (@MossyandRobbo) August 17, 2016
Well said @CookeBrad https://t.co/XNSROhgNJS

— RunnersTribe.com (@runnerstribe) August 17, 2016
UP NEXT: @Loz_Wells in the 400m hurdles semi final 3. Let's go Lozza! #OneTeam #7Olympics pic.twitter.com/TgSWNtaeNI

— Athletics Australia (@AthsAust) August 17, 2016
Kim Mickle fouls her second throw in the Javelin qual. Still in 10th place#OneTeam #7olympics pic.twitter.com/tdMHH0UDqB

— Athletics Australia (@AthsAust) August 17, 2016
Brandon Starc misses second attempt at 2.25m high jump final, needs to nail next jump to stay in the competition.#Rio2016

— RunnersTribe.com (@runnerstribe) August 17, 2016
UP NEXT: #AUS record holder @brookestratts in the women's long jump qualifying round #OneTeam #7Olympics pic.twitter.com/bUubvaWHzd

— Athletics Australia (@AthsAust) August 16, 2016
This is awesome! https://t.co/Hi9qveQpGV

— RunnersTribe.com (@runnerstribe) August 16, 2016
This photo is from the Kakuma refugee camp. #Olympics have set up screenings of the Games #RefugeeOlympicTeam pic.twitter.com/nIvHSzkvky

— Olympics (@Olympics) August 16, 2016
Last #Olympics medal in the high jump for the Aussies was won by Tim Forsyth in Barcelona 1992 (Bronze) 2.34 m pic.twitter.com/qUKQmOCbJx

— RunnersTribe.com (@runnerstribe) August 16, 2016
Brandon Starc misses first attempt at 2.25m. #Rio2016

— RunnersTribe.com (@runnerstribe) August 16, 2016
Brandon Starc clears 2.20m on his second attempt in the high jump final. #Rio2016

— RunnersTribe.com (@runnerstribe) August 16, 2016
@kimmickle opens javelin qualifying with 57.20m. #Rio2016 Go Aussies!

— RunnersTribe.com (@runnerstribe) August 16, 2016
1st semi-final in 110m hurdles, 1 out 3, #rio2016 https://t.co/RtBgdRCOCq

— RunnersTribe.com (@runnerstribe) August 16, 2016
So pumped to see @brookestratts and @chelseajaensch jump into the stratosphere today! Good luck girls. #Athletics #Rio2016

— Tim Rosen (@timrosen35) August 16, 2016
Brandon Starc misses first attempt at 2.20m in men's high jump final. #Rio2016 No big deal. Onto the next one. Sensing a PB from Starc.

— RunnersTribe.com (@runnerstribe) August 16, 2016
Go time for @Brandonstarc93 ready to fly high. Long jump final #rio2016 Live nowhttps://t.co/RtBgdRCOCq

— RunnersTribe.com (@runnerstribe) August 16, 2016
UP NEXT: @kimmickle
is back and we can't wait to see her throw in the javelin qualifying round#OneTeam #7Olympics pic.twitter.com/CZwpMf0Dwp

— Athletics Australia (@AthsAust) August 16, 2016
Get to know #AUS @BrandonStarc93 ahead of his high jump final! LIVE on 7TWO at 9.30am AEST! #Athletics #Rio2016 https://t.co/6encnSpyik

— 7Olympics (@7olympics) August 16, 2016
Go @Brandonstarc93 !!!!!!!!! raaaaaaaa I'm so excited!! ‼️‼️#aus

— Steven Solomon (@stevesolo10) August 16, 2016
@Brandonstarc93 will be looking for big PB today in the high jump final to stay in touch with top guys #Rio2016 https://t.co/RtBgdRCOCq

— RunnersTribe.com (@runnerstribe) August 16, 2016
DON"T MISS: The Aussie javelin throwers get going in the javelin qualifying round#SpecialKs #OneTeam #7Olympics pic.twitter.com/YddvlYX4gM

— Athletics Australia (@AthsAust) August 16, 2016
ATHLETICS: There's a big session coming up with Australians ?? to start in javelin, long jump, high jump, 200m and 400m hurdles. #OneTeam

— AUS Olympic Team (@AUSOlympicTeam) August 16, 2016
We're ready for the nail-biting action. Good luck! #OneTeam #SHARETHEDREAM https://t.co/4cHhJ6o0vv

— Gold Coast 2018 (@GC2018) August 16, 2016
I am so looking forward to watching @ellanelson200 run. I am feeling nervous for her !! https://t.co/3ioMGqvFXA

— Mel Gainsford Taylor (@MelGTaylor) August 15, 2016
DON'T MISS: Men's high jump final with @Brandonstarc93 #HouseStarc #OneTeam #GOT pic.twitter.com/QX0DwFnPQU

— Athletics Australia (@AthsAust) August 16, 2016
RIO TODAY: So much action, inc @Brandonstarc93 in the HJ final, @Loz_Wells & @ellanelson200 in their semi-finals pic.twitter.com/sIglVeitHm

— Athletics Australia (@AthsAust) August 16, 2016
Some Aussie athletic highlights coming up on 7 from this evening's action. #Rio2016 #pumped pic.twitter.com/IDgkCi7amN

— RunnersTribe.com (@runnerstribe) August 16, 2016
Evening session in Rio (Wednesday morning in Australia)
Brandon Starc (NSW) soared into the men's high jump final with a season best 2.29m on his final jump in the qualifying round.
Coached by Alex Stewart, the 22-year-old will be looking to fly even higher in the final, to commence at 9:30am AEST. Tim Forsyth is the only Australian to have ever jumped higher at an Olympics, which he did in 1992 to win bronze and 1996 to place 7th.
Starc, the first Australian athlete to make the men's high jump final in the 20 years since Forsyth, said of the achievement, "It's a great honour. Hopefully I can inspire some younger guys in Australia to pick up high jump and maybe make the Olympics one day."
On his aspirations for the final, Starc continued, "Anything can happen in the final. It should be interesting.
"I think I'm in good shape to jump well, I'm hopefully better than last year. I think I've matured and grown as an athlete since then."
The Special K's – Kim Mickle (WA), Kathryn Mitchell (Vic) and Kelsey-Lee Roberts(ACT) are up in the qualifying round of the women's javelin throw. Mickle is back after serious shoulder surgery following last year's world championships, and the Commonwealth Games champion and 2013 world championship silver medallist is eager to show she has made a strong recovery. Mitchell has been in great form in Europe and Roberts is also looking to make the next step in her international career. All three are capable of securing a spot in the final.
Olympic debutants Brooke Stratton (Vic) and Chelsea Jaensch (Qld) line up in the women's long jump. Jaensch, a star junior, won her first nationals title at 14. Returning to the sport after a nine year break, the 31-year-old has been 'all systems go' since 2012.Stratton's PB is an Australian record at 7.05m, set in March this year. After a strong world indoor campaign where she finished 5th, a spot in the final is the immediate goal for the 26-year-old who is coached by her father Russell.
Lauren Wells (ACT) will race the women's 400m hurdles semi-final evening race, looking for a fast time a spot in the final.
Ella Nelson (NSW) will run in semi-final 2 in the women's 200m event after her impressive heat run yesterday. A challenge has been issued to Australian record holder Melinda Gainsford-Taylor to post a video of her cheering for Ella this time.
END
Check out today's Rio Aussie Athletics Feeds by clicking bellow-