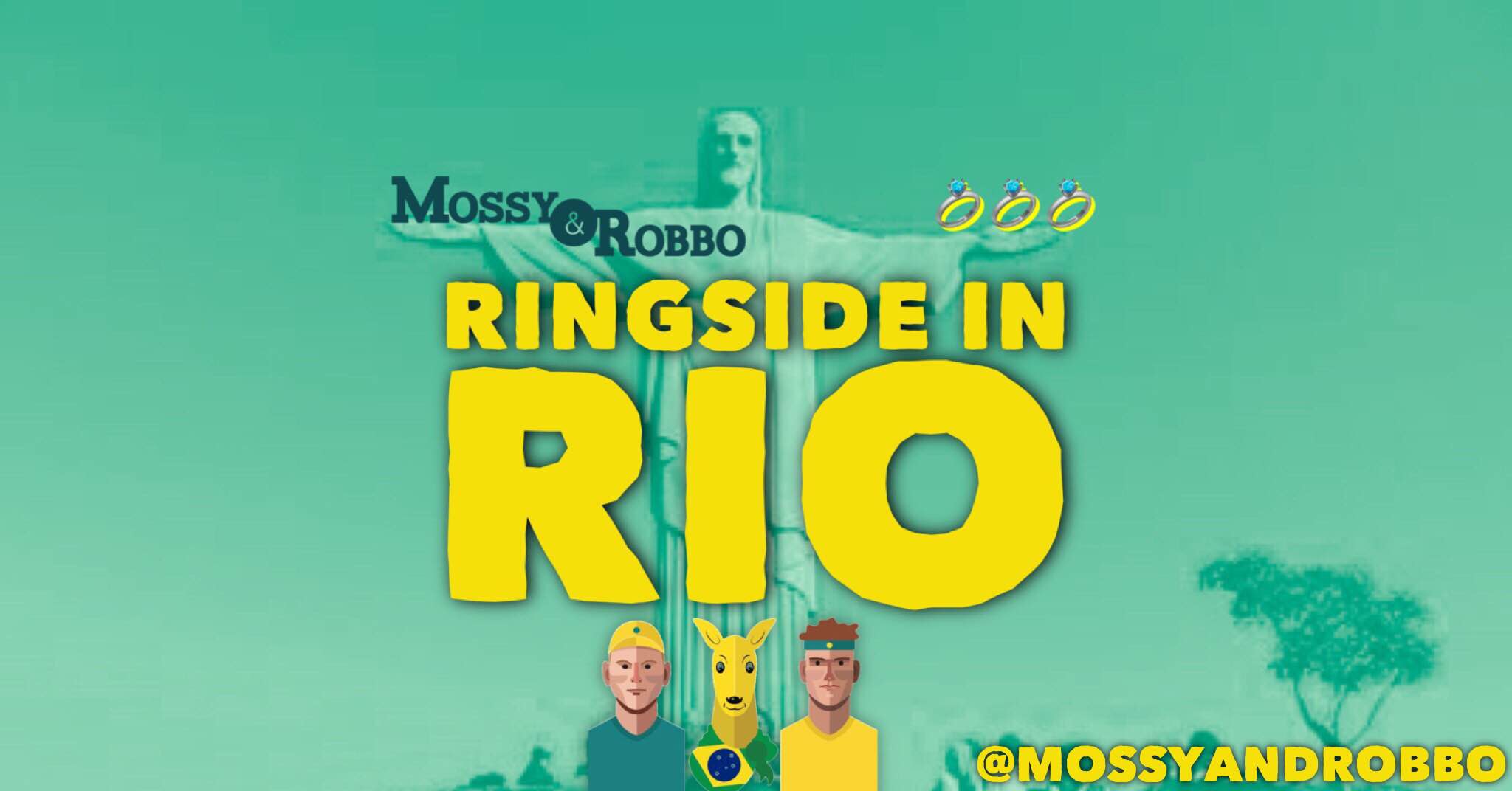 Most recent post up top. Keep refreshing as this page is updated constantly as the Aussies perform and people tweet, post etc…
Hear @JimWilsonTV chat to 'Mr Olympics' Bruce McAvaney on a historic night at #Rio2016. https://t.co/eCfy8xGa8R

— 7Olympics (@7olympics) August 15, 2016
Starc's clearance confirms his spot in the high jump final! – Wednesday 9:30am AEST pic.twitter.com/KfC944QWRP

— Athletics Australia (@AthsAust) August 15, 2016
STARC CLEARS!

Over on his 3rd attempt at 2.29m!#HouseStarc #OneTeam pic.twitter.com/rXBaVeqtjg

— Athletics Australia (@AthsAust) August 15, 2016
Starc fails over second attempt at 2.29m
One jump remains to clear#OneTeam #HouseStarc pic.twitter.com/Yv51J4vkYS

— Athletics Australia (@AthsAust) August 15, 2016
THE CHAMP IS HERE! Usain Bolt wins third-straight gold in 100m. WATCH: https://t.co/E4sUb5CxgW #Rio2016 #7Olympics pic.twitter.com/uXS29Q0Ns3

— 7Sport (@7Sport) August 15, 2016
@usainbolt makes history and wins 3 x #100m #Olympics #Gold in #Rio2016 https://t.co/lrTuGppfgl pic.twitter.com/QBKFdNAJhR

— RunnersTribe.com (@runnerstribe) August 15, 2016
HE DID IT!!!! @usainbolt #Rio2016 pic.twitter.com/JNmuTJzZJx

— RunnersTribe.com (@runnerstribe) August 15, 2016
#COL Caterine Ibargüen has won #gold in the women's triple jump with a leap of 15.17m #Rio2016 #Athletics https://t.co/4C4sLfnGVG

— 7Olympics (@7olympics) August 15, 2016
High jump update: Brandon Starc clear over 2.26m high jump qual A#HouseStarc #OneTeam

— Athletics Australia (@AthsAust) August 15, 2016
Wayde Van Niekerk is trained by his great grandmother. That is all. And that is awesome. https://t.co/Oa2EDYNGM9

— Joe Posnanski (@JPosnanski) August 15, 2016
Queen of the Triple Jump#Rio2016 pic.twitter.com/PsSdRFWTHj

— SPIKES (@spikesmag) August 15, 2016
WORLD RECORD! #RSA Wayde Van Niekerk breaks the 400m WR and wins #gold from lane 8! #Rio2016 https://t.co/7J0uaIdD4Y

— 7Olympics (@7olympics) August 15, 2016
New #400m #WorldRecord 43.08!! From Lane 8 #Rio2016 @WaydeDreamer https://t.co/lrTuGppfgl pic.twitter.com/i4dBU9g304

— RunnersTribe.com (@runnerstribe) August 15, 2016
Can't wait. This is going to be massive! https://t.co/TzTovR93sS

— RunnersTribe.com (@runnerstribe) August 15, 2016
Well done @JennBlundell! Great running and terrific attitude all round in #Rio2016

— RunnersTribe.com (@runnerstribe) August 15, 2016
Despite a slow heat, @Linden_hall's time 4:05.81 ranks as #AUS 3rd best at the Olympics in this event#OneTeam pic.twitter.com/GQm2HPrqUv

— Athletics Australia (@AthsAust) August 15, 2016
"I gave it everything, just didn't have the legs, but I'm happy and had a great time." Blundell sees the bright side pic.twitter.com/hXOQcCn915

— Athletics Australia (@AthsAust) August 15, 2016
Great effort @JennBlundell – every reason to be proud of that performance! https://t.co/7fkdZCe4iy

— Run For Your Life (@r4yl) August 15, 2016
#KEN Kipyegon wins semi-final 1 of the women's 1500m #AUS @Linden_hall 8th and @Zoebuckman 9th https://t.co/3KzuOLCdOo

— 7Olympics (@7olympics) August 15, 2016
Blundell takes it up to the field but gets blown away from WR holder Dibaba's move and finishes in 11th in 4:13.25 pic.twitter.com/0RebIe8RIr

— Athletics Australia (@AthsAust) August 15, 2016
"Got clipped on the heels, got pushed around, all great experience… unfortunately didn't quite pan out" – Hall pic.twitter.com/EBw68Ajv6x

— Athletics Australia (@AthsAust) August 15, 2016
Joel Baden unfortunately bails out of high jump qualifying clearing 2.17#OneTeam

— Athletics Australia (@AthsAust) August 15, 2016
Go time for @JennBlundell #Rio2016 #1500m semis pic.twitter.com/ESzU1ZgKu3

— RunnersTribe.com (@runnerstribe) August 15, 2016
UP NEXT: @JennBlundell fights for a place in the final the second semi-final of the women's 1500m#OneTeam pic.twitter.com/XMdWpob9tB

— Athletics Australia (@AthsAust) August 15, 2016
Tough tactical race @Linden_hall & @Zoebuckman #1500m #Rio2016 both left it all out on the track, won't progress. https://t.co/lrTuGppfgl

— RunnersTribe.com (@runnerstribe) August 15, 2016
Go time for @Linden_hall #Rio2016 #1500m pic.twitter.com/UbtTXAIBcn

— RunnersTribe.com (@runnerstribe) August 15, 2016
Joel Baden fails first attempt at 2.22m

SB is 2.24m#OneTeam

— Athletics Australia (@AthsAust) August 15, 2016
Brandon Starc clear first attempt over 2.22m.#HouseStarc pic.twitter.com/OzAetT3LQJ

— Athletics Australia (@AthsAust) August 15, 2016
ALSO: @Linden_hall about to join Buckman in the first 1500m semifinal#7olympics #OneTeam pic.twitter.com/J0xqyCrVXV

— Athletics Australia (@AthsAust) August 15, 2016
UP NEXT: Aussie @Zoebuckman goes for broke in the 1500m semi-final#OneTeam #7Olympics pic.twitter.com/aVaLu56j8b

— Athletics Australia (@AthsAust) August 15, 2016
Bolt, De Grasse, Gatlin, Vicaut, Meite, Simbine, Blake and Bromell make the men's 100m final.

11:25am AEST on @7olympics

— Athletics Australia (@AthsAust) August 15, 2016
Definitely backing @usainbolt for 3 x #Olympics #100m #Gold in #Rio2016 https://t.co/lrTuGppfgl pic.twitter.com/wjffsfhF5w

— RunnersTribe.com (@runnerstribe) August 15, 2016
#HighJump update: Starc and Baden both clear over 2.17m on second attempts

— Athletics Australia (@AthsAust) August 15, 2016
9.86 @usainbolt in semi-final #Rio2016 WOW!! Bring on the Final #100m #Olympics #athletics pic.twitter.com/ATjl71s2Hx

— RunnersTribe.com (@runnerstribe) August 15, 2016
Nerves through the roof watching the #Athletics. #Rio2016

— Tom Robertson (@TomCRobertson) August 15, 2016
⚡️ The man of the night @usainbolt is running right now! He's racing in the 100m Semifinal for a place in the Final at 22:25 (BR time)

— Rio 2016 (@Rio2016_en) August 15, 2016
Women's 1500m: Three Aussies in the semis! Looking for fast times, switch to @7olympics from 10:30 AEST#7olympics pic.twitter.com/ol8ZLtmmmb

— Athletics Australia (@AthsAust) August 15, 2016
SO PROUD! Finished 6th in her semi & produced her second and third fastest times EVER here at the Olympics. You're all class @annierubie ?

— Ella Nelson (@ellanelson200) August 14, 2016
Well done @annierubie – a great first Olympics in your individual event. Now go gather up @morganmitch2 & @jessthornton98 for the 4×4! #aus

— Steven Solomon (@stevesolo10) August 14, 2016
#USA legend @allysonfelix 1st, #BAH Shaunae Miller 2nd in semi-final 3 of the 400m. #AUS @annierubie 6th #Rio2016 https://t.co/voJi171rt1

— 7Olympics (@7olympics) August 14, 2016
@stevesolo10 @morganmitch2 @annierubie @Brandonstarc93 @Channel7 what a fantastic race by Annie Rubie 51.56 secs ????????

— Seb conway (@seb_anthony2010) August 14, 2016
"There's a lot of planning to do, but hopefully next year I'll be fitter and stronger"
Better things to come for MM pic.twitter.com/8jWTAdQErB

— Athletics Australia (@AthsAust) August 14, 2016
Good effort @morganmitch2 – very proud #aus

— Steven Solomon (@stevesolo10) August 14, 2016
ATHLETICS: A tough race for @morganmitch2 in a world class field. 8th in her semi (52.68). Great effort Morgan. #OneTeam

— AUS Olympic Team (@AUSOlympicTeam) August 14, 2016
Happy to have made the semi, Mitchell finished below her best with 52.68 in 8th, and won't progress.#OneTeam pic.twitter.com/hihpcMSiKJ

— Athletics Australia (@AthsAust) August 14, 2016
@annierubie & @morganmitch2 teammates, friends, and both in the race of their lives. Women's 400m finals 9:35am AEST pic.twitter.com/rtHGhnz1N5

— RunnersTribe.com (@runnerstribe) August 14, 2016
#Athletics Day 3 | Evening Session about to get underway!
Big night for HJ boys, 400m & 1500m girls! Plus #Bolt⚡️ pic.twitter.com/MnZ6wtMQtH

— 〽️ossy and Robbo (@MossyandRobbo) August 14, 2016
SHORTLY: Tune in to see our 400m stars fight for a place in the women's final from 9:35am AEST#OneTeam #7olympics pic.twitter.com/R6x6KIJbYh

— Athletics Australia (@AthsAust) August 14, 2016
@morganmitch2 , @annierubie and @Brandonstarc93 on the track at 9am on @Channel7 ??? #AUS #goodluck!

— Steven Solomon (@stevesolo10) August 14, 2016
Good morning #athletics fans! First Aussies in #Rio2016 evening session are high jumping duo, Starc and Baden! pic.twitter.com/oehP7lM9Vg

— Athletics Australia (@AthsAust) August 14, 2016
A casual chat after a 42km run with @JessTrengrove ?, @millyjane14 and @LisaWeightman: https://t.co/3poHDnBGOY https://t.co/u6vTKsxCwz

— 7Olympics (@7olympics) August 14, 2016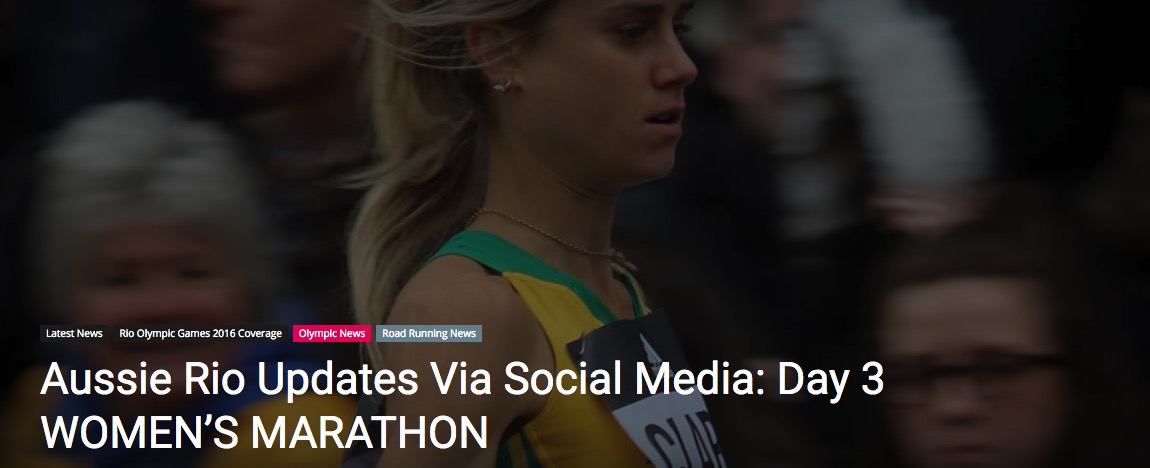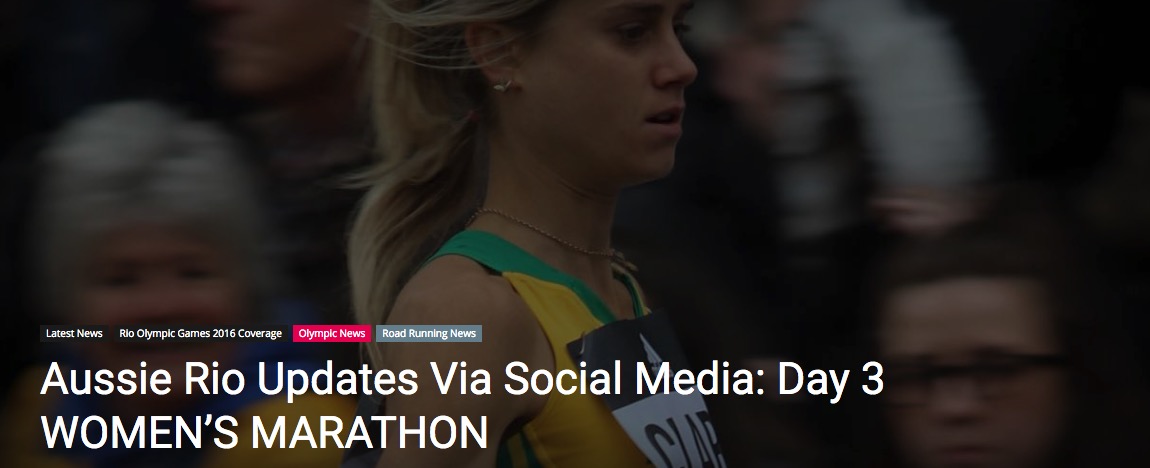 Evening session in Rio (Monday morning in Australia)
The first event in the field, the men's high jump qualifying will feature Australian young guns Joel Baden (Vic) and Brandon Starc (NSW). Leaving it to the last minute to qualify, Baden, at just 20 years old, makes his Olympic debut after gaining experience at last year's world championships in Beijing. Starc (NSW) is the best high jumper Australia has had since Tim Forsyth. He reached the final in last year's world championships, and will be seeking a similar passage here. His brother Mitchell is in great form, taking his 100th test wicket a couple weeks ago… now it's Brandon's turn to shine.
Morgan Mitchell (Vic) and Anneliese Rubie (NSW) are back to continue their hunt for a spot in the final in the women's 400m final.
And it's semi-final action for all three women's 1500m representatives, after Linden Hall(Vic) and Zoe Buckman(Vic) finished in the top 6 in their heats to auto-qualify in 4:11.75 and 4:06.93 respectively, with Jenny Blundell(NSW) running 4:09.05 to progress on time. The athletes will be in the hunt for fast times and a spot in the final.
Monday morning Australian time the world stops to watch the men's 100m final – the last event of day three at the track. Alas no Josh Clarke who had to withdraw before the Games, but with Usain Bolt and Justin Gatlin racing for glory, it promises to be an epic showdown.