MUNICH // A World Anti-Doping Agency report said Thursday that corruption was "embedded" at the world athletics body piling pressure on its new leader Sebastian Coe.
IAAF leaders must have been aware of the full extent of doping in Russia but did nothing to stop it, and the track and field organization itself was riddled by corruption, a report by a World Anti-Doping Agency panel said Thursday.
"It is increasingly clear that far more IAAF staff knew about the problems than has currently been acknowledged," said the report, written by former WADA head Dick Pound and presented at a news conference in Munich.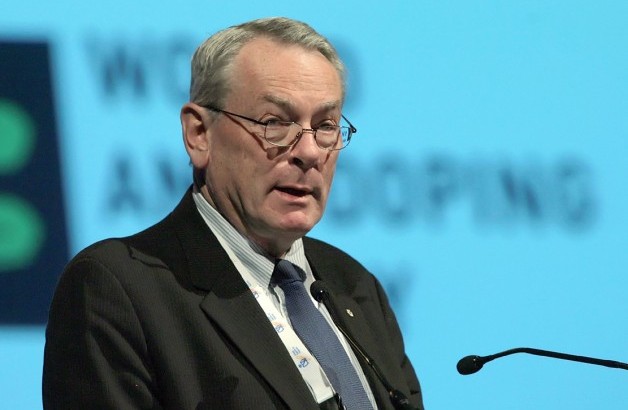 But Dick Pound, the former Wada president who wrote the report, said that Coe, who took over the IAAF in August is the best person to lead reforms of the world body.
Pound still produced a litany of accusations against the IAAF.
It was not tough enough with "several countries" including Russia, the report said, indicating that doping scandals were not limited to Russia.
Diack faces criminal charges in France over allegations that he took more than €1 million (Dh4m) in bribes from Russian athletes and officials to cover up failed drug tests.
His two sons and several aides have also been accused in the scandal. Some also face charges in France.
"The corruption was embedded in the organisation," Pound said in a damning comment on the IAAF's handling of drug abuse.
Pound said there was a "complete breakdown of governance structures and lack of accountability" at the IAAF.
"It cannot be ignored or dismissed as attributable to the odd renegade acting on his own," he said of the corruption.
Pound said the IAAF governing council, which included Coe, had to be aware of the corruption.
"The IAAF Council could not have been unaware of the extent of doping in athletics and the non-enforcement of applicable anti-doping rules," Pound said.
Former British running legend Coe, who took over the IAAF leadership in August when Diack stood down, sat in the audience as the report was presented.
And when asked about reforms to the world body, Pound said: "As far as the ability of Lord Coe to remain at the head of the IAAF, I think it's a fabulous opportunity for the IAAF to seize this opportunity and under strong leadership to move forward out of this.
"There's an enormous amount of reputational recovery to do here and, descending to personalities, I can't think of anyone better than Lord Coe to lead that. So all our fingers are crossed in that respect."
The first part of Pound's report, released in November said there was a "state-sponsored" doping system in Russia, which has since been suspended by the IAAF.
The new report said Diack had told a lawyer he would need to make a deal with Russia's president Vladimir Putin to ensure nine Russian athletes accused of doping would not compete at the 2013 IAAF World Championships in Moscow.
The report told of a sudden increase from US$6 million to $25 million (Dh22m to Dh91m) for Russian rights to televise the 2013 world championships. This was provided by a Russian bank.
Diack handpicked a lawyer to handle Russian doping cases even though he had little experience with anti-doping measures, the report added.
Richard McLaren, a lawyer who was part of the investigation commission, said that Diack's adviser Habib Cisse deliberately held up sending warning notices to Russia about drug failures.
He said the extortion "went beyond sporting corruption and may have been criminal in nature".
Cisse is facing charges in France along with his former boss, Diack's son Papa Missata Diack and Gabriel Dolle, the former IAAF anti-doping doctor.
According to McLaren, Cisse and Papa Massata Diack put up a "formidable barrier to the effective operation" of the IAAF's efforts to clampdown on doping.
Several IAAF staff have said they sought to draw attention to the doping abuses to leaders but were ignored.
"There was an evident lack of political appetite within the IAAF to confront Russia with the full extent of its known and suspected doping activities," the Pound report said.
Coe took over the IAAF last August when Diack stood down. The veteran Senegalese power broker was only charged by French investigators later.
He has insisted he knew nothing about the corruption and that there was no cover up even though internal IAAF correspondence indicates athletics leaders expressed concern about problems in Russia as far back as 2009.
"I don't think it was a huge surprise that we were concerned about Russia," Coe said Thursday.
"The escalating number of positive tests that the IAAF Council commented on during my time was clearly a concern.
"But the issue is simple: were all abnormal readings followed up? The answer is yes. Were sanctions imposed and made public? Yes. Was there a cover-up? No."
Pound warned ahead of the release of the report that the IAAF scandal could be worse than Fifa's bribery storm.
"You get to see how some scumbags operated," he said in one interview.