Weightman Delivers Rio Qualifier in Houston
Race Report from the Chevron Houston Marathon
What started off as runaways Sunday in the Chevron Houston Marathon by Poland's Artur Kozlowski and Australia's Lisa-Jane Weightman, turned into a pair of Ethiopian victories.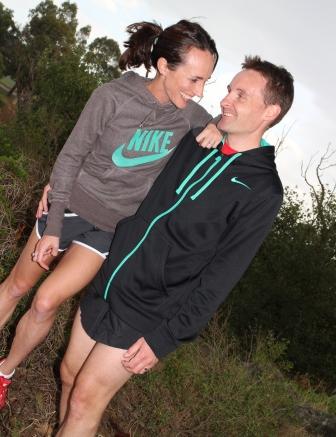 Last year's men's runner-up Gebo Burka passed Kozlowski after the 35K mark, making up a 1:01 deficit from 30K as he ran stride for stride with countryman Girmay Gebru. The duo passed 40K together, and with less than a half-mile to go Burka pulled ahead and went on to win at 2:10:54. It was the eighth straight Houston win for Ethiopia.
Defending champion Birhanu Gedefa was third at 2:11:53, and Kozlowski ended up fifth at 2:14:11. Two-time winner Bazu Worku was sixth.
Kozlowski had a 20-second lead by 10K and added 19 seconds to that over the next 5K. He passed the half at 1:04:58, more than 50 seconds ahead of the chase pack that included Daniel Vargas of Mexico along with Gebru and Worku.
Gedefa was second at 25K, 58 seconds behind the leader, and by 30K he was 1:02 back, just behind Burka, Gebru and Yitayal Atanfu. Over the next 5K that group cut Kozlowski's margin to 19 seconds, passing him for good just after that.
Weightman ran alone at the front of the women's race until just before the 30km point, where Biruktayit Degefa pushed past her and pulled away to win at 2:26:07. Degefa was third last year after a fourth-place finish in 2014, and she ran the second half of her race in 1:12:20, 1:27 faster than the first half of the marathon. Her win was the 10th in a row for Ethiopia.
Degefa was a minute back at the half, running with three other women, but the quartet made up 15 seconds over the next 5km.
After losing her lead, Weightman dropped back by 27 seconds over the next 5km and fell even farther behind by 40km. She held on to take second at 2:27:35 and 2015 fourth-placer Sechale Dalasa moved up one rung to place third at 2:28:43.
After the race Weightman said on Twitter "So proud of my husband @LachlanMcArthur and so blessed to have such an amazing family who have helped us qualify! #LittlePete
The two references were that of her husband, Lachlan, who paced her through most of the race and Pete – Lisa's little boy who was born in December 2014. Both have been an integral part of Weightman coming back to the marathon and recording an Olympic qualifying time for the 2016 Rio Olympics.
Weightman's Achievements – Pre the birth of Pete
Two-time Australian Olympic Representative, (2008 & 2012)
Equal highest Australian place, all-time in Olympic Marathon (London, 2012)
Commonwealth Games Bronze Medallist, Marathon (2010)
5th fastest Australian all-time, Marathon (2:26.05, Melbourne, 2013)
Australian Half Marathon All-Comers Record (69:00, Gold Coast, 2010)
Winner, Nagano Commemorative Marathon (Japan, 2010)
Course Record Holder at Gold Coast Half Marathon, Gold Coast 10km, Perth City to Surf 12km
Houston Marathon Results: Women

| | | |
| --- | --- | --- |
| Place | Runner | Time |
| 1 | Biruktayit Degefa | 02:26:07 |
| 2 | Lisa Weightman | 02:27:35 |
| 3 | Sechale Dalasa | 02:28:43 |
| 4 | Margarita Hernandez Flores | 02:29:53 |
| 5 | Jovana De La Cruz Capani | 02:31:33 |
Hunter Track Classic – Hot Fields for First Classic of Summer
The provisional start lists have been posted and we are in for some fantastic early season competition on Saturday 30th January at the 2016 Hunter Track Classic.
Just some of the mouth watering action to be played out:
Women's 1500m – featuring the likes of Melissa Duncan, Bridey Delaney, Genevieve LaCaze and Madeline Hills
Women's 100m Hurdles – featuring Michelle Jenneke vs. Abbie Taddeo
Men's 100m – featuring Josh Clarke and teenage sensation Jack Hale
Men's 3000m – featuring Ryan Gregson, Sam McEntee, Zak Patterson, Josh Wright and Jordan Gusman just to name a few
Plus individuals such as Anneliese Rubie (800m), Morgan Mitchell (400m), Matt Denny (discus) and Eleanor Patterson (high Jump)
What more could you ask for in the first major meeting of 2016!