2015 Melbourne Marathon: The vital steps!
~ A race day recount ~
4.15am on October 18th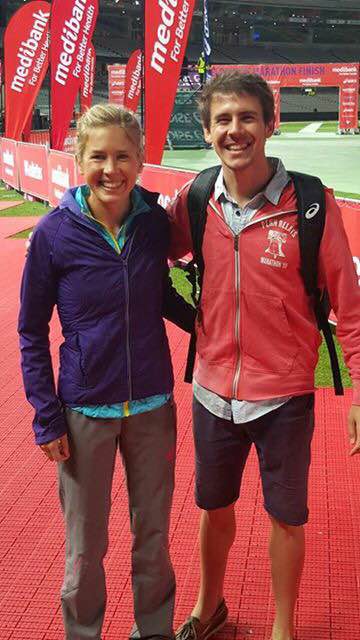 The phone alarm goes off but I have been lying awake for the past hour – I'm not too concerned about my lack of sleep as I recall only getting a few hours of quality zzz's before my last marathon in Glasgow. I climbed out of bed feeling pretty fresh from the taper and scurried into the kitchen to complete my 2-day carbohydrate-fuelling blitz. I have some toast, a banana and a pod coffee. It wasn't the time to indulge in a cappuccino with frothy milk as I would on any other day but instead I sipped black coffee between mouthfuls. After a quick 'wake-up' shower I pulled on the pink Asics kit that I had laid out with my energy gel, anti-chaffing gel, bib and race flats/bag the day beforehand. My boyfriend Dylan had offered to wake at the crack of dawn and drive fellow runner, Josh Harris and I to the MCG. I have experienced driving to races with nerves before and was admittedly a hazard on the road.
We arrived at the Melbourne Cricket Ground in darkness. There was an unfamiliar quietness and sense of peace at the iconic stadium that had been bustling with fans rugged-up in navy and red during my last visit. As Dylan and I walked up the chute to scope out the finishing area, an image of Kerryn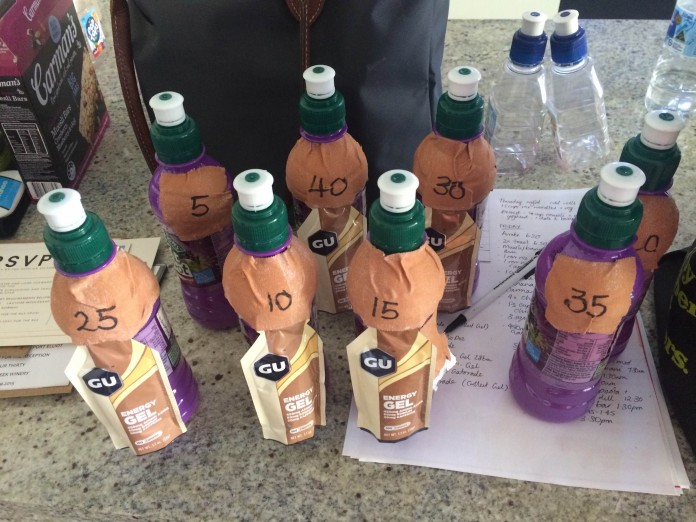 McCann entering the stadium in 2006 flashed into my mind. The noise and emotion during that moment will stay with me forever. It was hard to imagine that I would be crossing that finish line in a couple of hours and I wondered how I would be feeling. Next stop was a quick chat to coach Didyk, who has been with me for the pre-race day jog and to support me on course for all five marathons to date. We checked over my pop-top bottles that I had filled with a dilute Gatorade solution the night before and had covered in physio tape to attach my gels. I ducked into the physio room for a short spinal mobilization treatment session from Chris at Sportspinal Health. Ironically, I had been working for Chris in Hawthorn as a Physio on a part-time basis for the previous 8 months so it was nice to have another familiar face there on race day.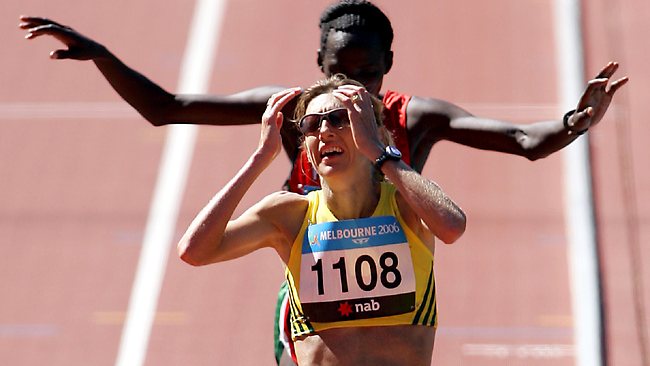 After a short warm-up jog and some stretching, a group of us set off towards the start area on Batman Avenue. A few drills and strides later, we were stripping off our final layers and toeing the line. I had spotted my brother and his girlfriend near the start line and managed to exchange a few nervous but excited words with them. Bang. We were off. Thirty thousand runners were rolling, about to put their physical and mental preparations to the ultimate test. A slight rise to Flinders street was followed by a long stretch along St. Kilda road. The reality of running my first Australian marathon hit home as familiar voices and scenery helped me ease into a comfortable rhythm. I was happy to spot my coach in his fluoro vest at 5km and swept my first water bottle out of his hand. Mastering the consumption of fluid on the run is a skill in itself – a few quick gulps were enough here.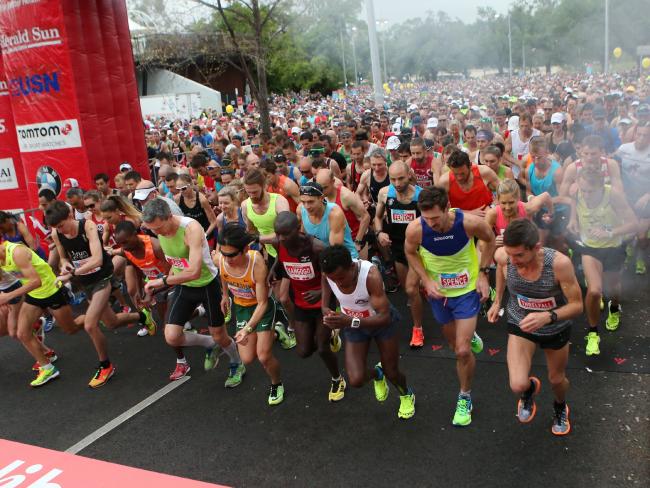 As we neared Fitzroy street, I looked and listened for my parents who had travelled from Adelaide to support me. After a late-night arrival, I hoped they would wake to their alarms!
A minor stitch-sensation started to form in my upper abdomen, which was unusual but a pain that I was confident I could deal with. A pack of five of us rolled into the very familiar Albert Park, a regular training location of mine throughout the year. I was excited to spot training partner and friend Kelly Hetherington along Albert drive as promised and a number of other training partners and friends throughout. As the reality of the distance I would be covering this morning set in, I felt fortunate to be among a pack of familiar faces and voices. Craig Mottram, who I had done numerous long runs with throughout the year, Matthew Fenech, a fellow Team Tempo athlete from Adelaide and Josh Harris from Tasmania were members of this group. It was comforting to be able to exchange words of support with them throughout the early stages. Shane McGregor, a big supporter of athletics and athlete development in South Australia had carefully planned out a route that would enable him to see the runners nine times during the race. He impressively appeared to be everywhere and his regular cheers were also much appreciated.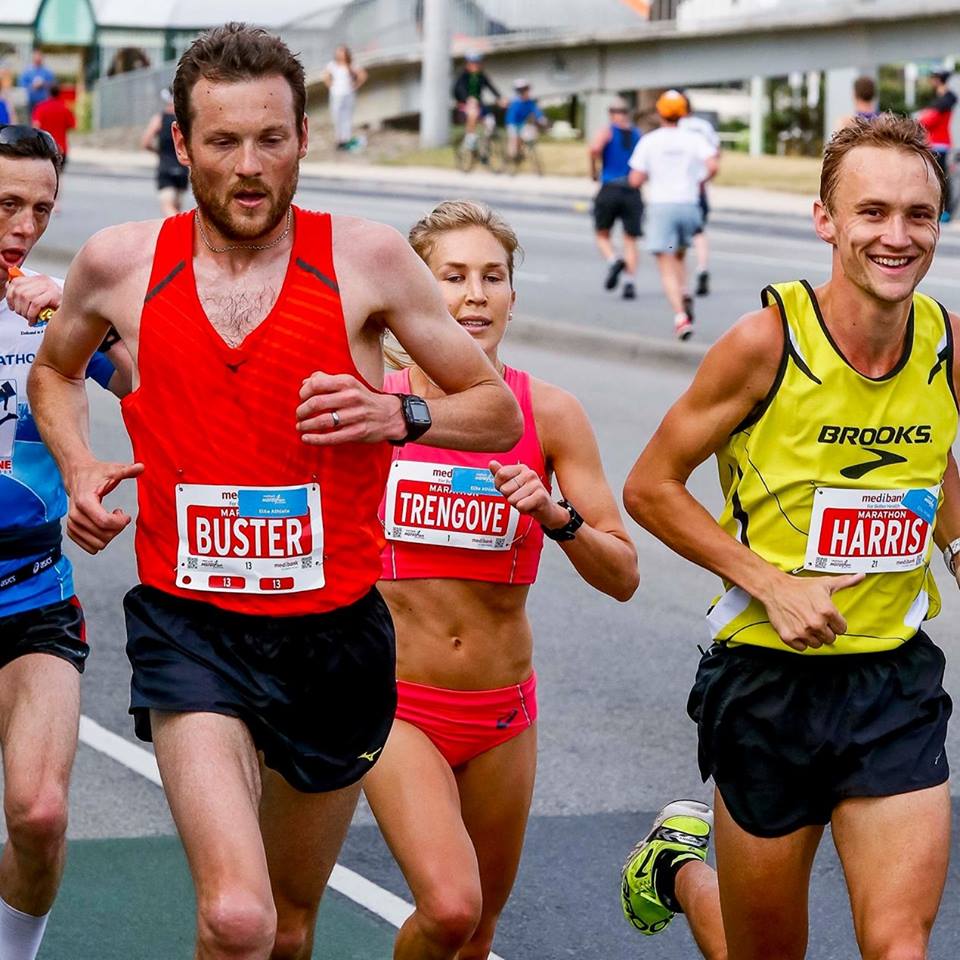 At about the hour mark we reached some more well-known territory, the Esplanade. Fellow Team Tempo runner Jon Milne had accompanied me on the bike for a few long tempo runs between Elwood and Port Melbourne, so I knew of the gusty winds that this coastal stretch could produce. Fortunately today was not as brutal as others. I was reminded of my half marathon experiences on the Gold Coast as runners excitedly shouted words of support to fellow participants across the road. As we neared the half-way mark, I felt happy with how my legs were handling the pace. The effort was solid but comfortable. Approaching Elwood, I sighted my parents and I felt a rush of excitement as we ran past. The 25km mark tends to be a mentally and physically challenging point in the marathon. Whilst a greater sense of fatigue had started to set in, I reminded myself that this was just part of the game. I knew there should be a tail wind along St Kilda road and I looked forward to this boost after a steady climb up Fitzroy street. Typically, this advantage didn't feel as strong as the backwards push from the earlier head wind!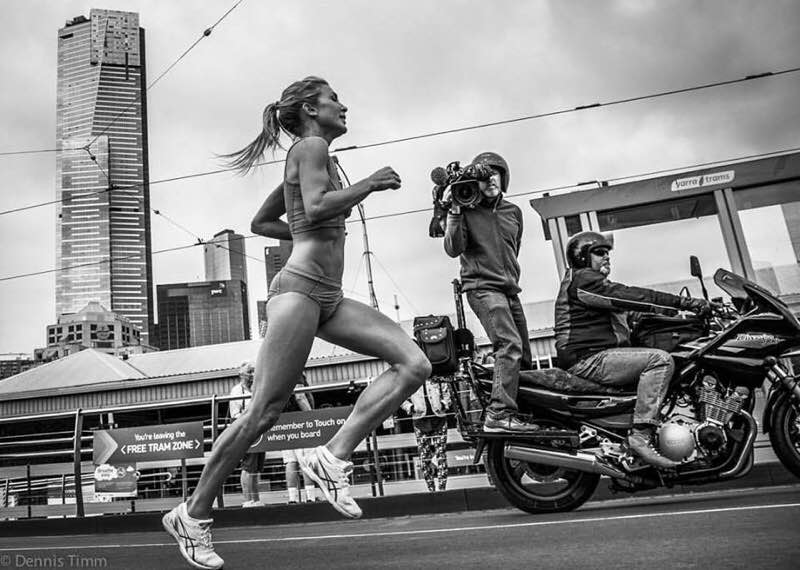 To this point I had taken a swig of diluted Gatorade or water at every 5km point other than one I missed at 20km. I had also had two Gu gels within the run and one beforehand. I knew I had sufficient fuel on board to help me through the tough times. The stitch had dissipated and now it was just a matter of staying focused to keep up the pace as my body and brain started to feel more fatigued. I reiterated that I had pushed through these thoughts and feelings in training and marathons before and that my preparation for this marathon had been consistent, thorough and of a higher quality than previous ones. My personal bests this year had shown me that I was stronger athlete.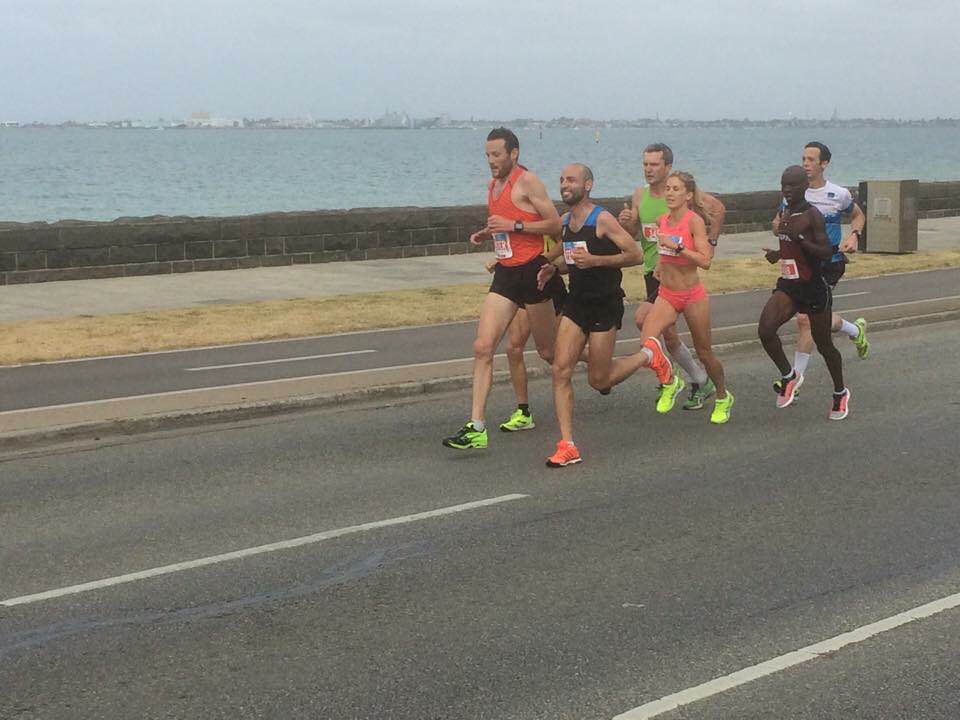 At 33km into the race, a seat somewhere on the camera motorbike beside me looked very tempting and even the cold, metal tram-stop seats had a renewed appeal! I mentally broke the rest of the run into sections; under the bridge – the top of the Tan – past Central station and to the MCG entrance. I knew the incline through the Tan would be a challenge and thought of this section as a 'sustained 5 minute effort' – something I had done in training many times before. This part of any marathon is where I draw on mental strategies that I have learnt over the years. Repeating a catchy song in my head for the final ten minutes helped me to stave off feelings of stress and focus on the very basic action of running which suddenly takes a lot more concentration at the end of a marathon. My brother laughed when he heard what I was singing so I'm too embarrassed to write it here!
Excitement flooded over me as I entered the 'G' and saw a number seven after the two. It suddenly occurred to me that I was about to achieve my goal of running a personal best, a Rio Olympic qualifying time and hopefully win the honourable Kerryn McCann trophy. The exhilaration as I neared the finishing tape pushed any feelings of discomfort into the background. My coach, Adam Didyk was waiting on the other side. No gesture or words could sum up my feelings of appreciation enough. It was fantastic to watch fellow marathoners cross the line, experiencing the same set of emotions and to see that Australian, Brad Milosevic had won in an Olympic qualifying time. The hugs with family and friends in the stands after an event that we had thrown so much energy into were priceless. I would like to thank the Melbourne Marathon for providing this opportunity and to congratulate everyone involved in the event. I would also like to say a special thank you to Derek Froude from Posso Sports and Fiona Nash from Stride Sports Management for their incredible support on all levels since 2012.
I guess a long race makes a long story – thanks for reading!
Jess : )