A Finish is a finish: By Emma Kraft
I want to share a story with you all; however some of you may already be aware through Facebook of what happened during my race at the World Mountain Running Championships in Italy on the 14th September 2014. I think sharing my story and getting it down on paper will also help me realize what I really went through…..so here it is:
Wow. Where do I start. I could have sooo easily quit, took the easy option and gone down in the ambulance. I mean, I was clearly in a state where my body was fighting against the task I had set out to do. But could I really live with this choice when I was actually in the worse state of mind to make a logical decision? However, somehow being in the worse state of my life, allowed me to make the right decision. I do not want your sympathy, nor to be hailed a legend. And I know many people have and would have done the same. I have seen many YouTube clips of marathon runners, or triathlete, cross the finishing line, with their body shutting down on them, looking like skeletal robots, or sometimes they are on their hands in knees, literally crawling across that line. When I see this (YouTube or real life), I get a bit emotional and promise myself if this was me, I would finish. No matter what. Well on Sunday 14th September I had the opportunity to go through what I have always promised myself I would do. This happened at the World Mountain Running championships in Italy about 1.5km from the finish. Until then, I was going ok and was probably travelling in the top 60. There is nothing I can put my finger on to why this happen, except that I have a medical condition to do with my blood sugar levels. I was in top shape, my nutrition and water intake was spot on, and I also made sure I didn't go out too hard. My lead up to the race was normal; rest, sleep, food, hydration, relaxed but kept the body active. I'm not going to lie, the course was brutal and was labeled the 'Toughest World Mountain Course in 30 years!' but it wasn't the course that made my body do what it did, it was my body.
Looking back at it now, there were a few things that weren't quite right when I was racing, such as being really really hot and sweaty and also losing my balance at one stage and slipping down the side of a narrow part of the track but all of a sudden it happened so quickly. I remember the flat bit on the course, which I was both looking forward too and not. I wanted it to end, so I could be that little bit closer to finishing, but I also didn't want it to end, as I knew the course then involved more steep climbing and I was already thinking at that stage, "How the hell am I going to do this?" Nek minut, things changed rapidly, I was delirious, going in a zig-zag pattern, stumbling up the mountain, my body almost going backwards if not tripping over, having tunnel vision, spectators on the course were handing me water, but as it's a World Championship, you can't take water from spectators/coaches. I kept saying no, and eventually people physically stopped me, and made me sit on some marble rock and give me some water and I must have taken my 2nd gel (Glucose). (I had one just before the race). People were shouting out 'Medics' I then decided ' I was fine' said Thank you and tried to keep going. By then my body and mind was shutting down. I was delirious and honestly thought I was being filmed and Warner's Brothers were going to make a movie out of me!
I went on a bit more and was in a pretty bad state with the paramedics coming to me. First I think the 4WD ambulance came, and they wanted me to get in. I said in an Italian voice ' no no no, I finish', I'm fine I thought. I wasn't jumping in No ambulance! I kept trying to walk up the Mountain, I had another gel and some water, nek minut, spewed it all up. At that stage I knew things were pretty serious. I sat down for a bit, with the medics near me, had some tests and observations done and was pretty much told that I need to go to hospital. Again I said ' no no no, I finish' it might take me all day, but I will finish. There were a few signs I recognized, delirious, shaking, sweating, spewing, getting aggressive (as I didn't want any help) then emotional, but I then promised myself, with all my body functions shutting down, I wasn't going to Sh*t myself lol.
I had to make a pretty tough decision when I wasn't in a state to even talk, but I knew I wanted to finish. I had to finish. I thought about all the kids back in Alice Springs, what would they think of me if I didn't finish? That I gave up? Chucked it in? Just because my body didn't want to continue? I thought of all my sponsors who have invested so much money, time and belief into me. I thought about can I live with having a DNF after my name and my country? I also thought how was I going to tell my parents? They came all the way to Italy to watch and had no idea at this stage I was "dying", as when I passed them, I was fine. I kept thinking, how would I let them know? I wear the Green and Gold with pride. This was a lifetime dream of mine for the second year in a row. How lucky was I! There are only a few fortunate people to get to represent their country in a sport that they love doing, so I believe if you ever get this amazing opportunity, hold on to it with both hands and don't let go, no matter what!
I kept looking up at the 1.5km I had left to go, and thinking, I can do this! Nek minut, I'm thinking, how the hell am I going to do this? After a rest for about 30 minutes with paramedics on the side of the course I decided to get up and finish this race. I remember seeing this lady with walking poles, and I begged her if I could use them. But again I would probably get disqualified, plus she couldn't speak English! I somehow got up and got going again. I have no idea how. The spectators who got an Award Winning Performance from me, started clapping and saying 'bravo' when I finally got up from my 'little' rest. I thought to myself "just put one foot in front of another and keep going up". Good in theory but I took a wrong turn and started going down the wrong way lol, but kindly got redirected by the lovely spectators.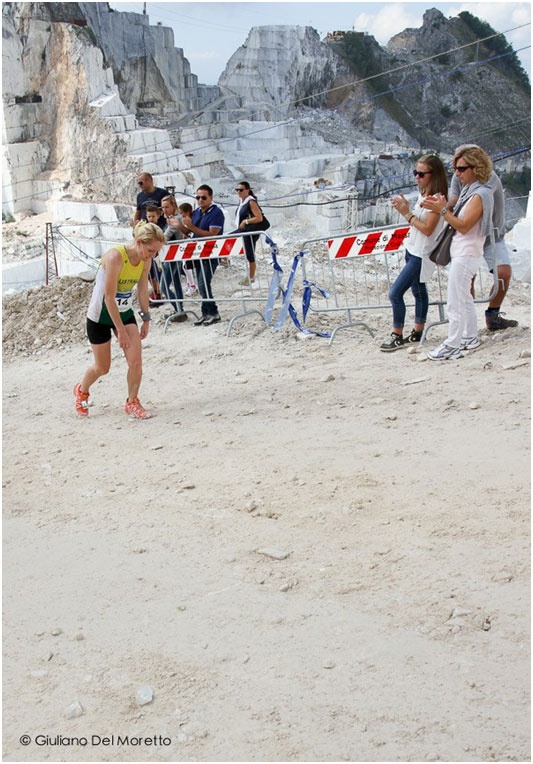 Just casually walking up the Mountain once I got going again. I don't think I was quiet 'All There' at this stage. Photo courtesy of Giuliano Del Moretto
I kept walking and climbing up the mountain, another person gave me another gel, and I took it. I got a bit further and saw one of the junior boys (Reuben Caley) in our team, and told him that I'm am very sick. He then ran ahead and got the other Aussies girls in our team and they came and walked with me to the finish line. If you ask me, it can't get any Aussie then that!
Aussie Team Captain, Katie Seibold walking me to the finish line, doesn't get any more Aussie then that! The man on the Right Vittorio Bertuccelli is one of the medical volunteer who followed me all the way to the finish line, I wasn't even aware of this until I saw the photo.
I came last. And I came last by quite some time. I knew this would be the case, so I needed to ask myself if I wanted a finishing time next to my name and country and have to live with the embarrassment of the finishing time for everyone to see or a DNF in which maybe I could hide behind. How would I gain more sponsors and support with this time? How would I inspire the Youth and other runners with this time? "I came last kids!" I had so many things going through my head, but I made a promise to myself that if this ever happened to me. I would finish. No matter what, even if it killed me!
It's in my genes to finish something that I started despite really, really wanting to take the easy and sensible option, which would have been going down the mountain with the medics. I pretty much could have laid down and gave up but you 'gotta walk the walk'! I think it's important, I guess it's one of my morals. We had juniors on the team and I also didn't want to let them down or to teach them that it's ok to QUIT. I also want to explain to you guys how important it is to be proud of whatever you do, it doesn't matter if you win or come last, it important that you finish. Yes, it may be shame for a while and hard to explain to people what happened that day, but I finished what I set out to do. I have also learnt people will probably respect you more finishing and coming last rather than quitting. The race was won in 45:07 by Austrian Andrea Mayr with the second last person (80th place) clocking 1:10:29. I finished in 81st Place in a time of 1:36:24 which was DEAD last and by quite some time, this was out of 83 starters, with 2 of them being DNF.
Back in Australia I had some test done which came back fine, again this is extremely confusing and disappointing for me, as I will never really know what happened. How can I be sure it won't happen again? I guess this also makes me a little un-easier now with my training and racing as I just don't know what my limits are or WHEN this will happen again. My aim again was to race Zatopek, but unfortunately I had to withdraw due to a little niggle in my back, which is pulling on my leg and glute which hasn't allowed me to train to the extent I need to. I have also had a few bush trips with my work, which has taken me to some beautiful places. This includes the remote Indigenous community; Mutitjulu at the base of Uluru. I have decided to have an active rest for the remainder of 2014 and see the Sports Doctor. I was lucky enough to be the recipient of the Athletics NT Female Athlete of the Year, which is a huge honor but also a surprise. In 2015 I am aiming for the World Mountain Running Championships again, despite my Granny encouraging me to 'Give Up the Mountains and stay on the flat', but she just doesn't understand! Lol. I am also looking into racing the Australian New Zealand SkyRunning Series, targeting a race in New Zealand in March, so watch this space!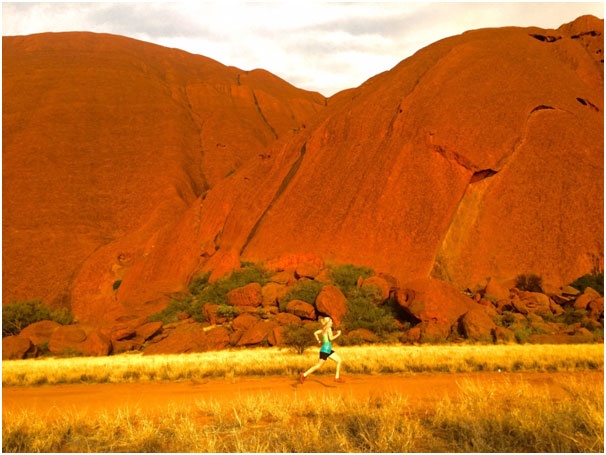 My Training Ground au Uluru when I have to visit the remote Indigenous Community Mutitjulu! Not a bad place to train!
I hope everyone has reached their goals for 2014 and had a great year! And I hope that you have some new goals and aspirations for 2015! I know I have definitely learnt a lot about myself and my limits. Thanks for following me; you can also find me at Emma Kraft Athlete on Facebook or @EmmaKraft2 on Twitter. Again I would like to thank Runners Tribe for the opportunity, my coach Adam Didyk from Team Tempo and all my sponsors: Alice Springs Running and Walking Club, Athletics NT, Team Tempo, Adidas Eyewear, EyeCare Plus Optometry, Centralian Sports, Alice Springs Town Council, Alice Springs Physiotherapy & Sports Injury Clinic, TDC Refrigeration and Electrical, Matt Conlan MLA & NT Department of Sport & Recreation, Robyn Lambley MLA, GTNT, Lone Dingo, Eastside Pilates & Cafe, Quest Alice Springs Serviced Apartments, Harvey Norman Alice Springs, NT Link, Zodiac Business Services, St Philips Collage, JANDA Carpentry & Builders, Alice Springs Massage & Yoga, Jac Traders Embroidery, Alice Springs Community Bank; Bendigo Bank, Piccolo's Café, Expose This Photography, ABC783 Alice Springs Radio, Crystal Palm, Coleman Printing, Desert Sport Foundation, Alta Sports Specific Training and Hip Pocket Alice Springs.
Emma Kraft x