Anaemic to sub 30 | RT Journal By Nick Earl
Anaemia
I'm standing on the start line of the AV Shield Final 5km at Lakeside Stadium 12th April 2014 thinking, "Is sub 16:30 possible?" With a season's best standing at 16:22 from 3 months earlier it was certainly possible but with training getting worse every session my confidence was at an all-time low. I was thinking back to the glory days of 2012 in the UK before my move to Melbourne (and Melbourne Uni AC) where I not only breached sub 15 for the first time but smashed the barrier with a PB of 14:41 and I was wondering "What the hell has happened to me?" The gun goes off and I start the race in the middle of the 35 man pack running tough 78s laps (way off PB pace) and as the laps go by, the familiar feeling of 'blowing up' rears its ugly head. I lose form and slip back through the field, getting lapped by a good chunk of them and finish dead last in a miserable time of 17:44 and a quarter-life crisis to go with it!
"My athletics career is over! Should I quit? I can't quit. What would I do with an extra 1-2 hours a day? Could I ever really be a non-runner again?"
But why the drop off in pace and fitness? I couldn't put my finger on what had changed so dramatically. I decided to Google it. "Why am I so slow now" seemed like a valid search!
Google unearthed some possible reasons including exercise induced asthma, different training regimes and the Aussie climate, but none could explain such abominable times. A few people had mentioned iron deficiency to me before, but Google informed me that this is a problem for teenage girls, not 29 year old blokes. My GP sister told me that exercise induced iron deficiency is "bullshit". I ran it past a GP who is a member of MUAC and he was also sceptical but suggested I stop by his clinic and get a blood test to rule out anything obvious. I felt fine physically but I went to get myself checked out anyway just so I could start eliminating possible reasons. A few days later the doc gave me a call and laughingly said, "Mate, you're severely anaemic! You should be sleeping all day rather than trying to race 5kms!" With a Ferritin level of 5ng/mL and a Haemoglobin (Hb) level of 88g/L, I had the bloods of a cancer patient, but to me this was great news! I finally had an answer!
Infusion
I started on iron tablets immediately and since my Hb levels were so low I qualified for an iron infusion at St Vincent's Hospital rather than having to suffer through iron injections like those who are iron deficient (low iron but good Hb levels). The doctor was still sceptical about exercise induced anaemia and pursued other medical reasons for which I could be anaemic. I was being bounced around the specialist clinics at St Vs but still nobody had any answers. I self-diagnosed exercise induced anaemia and figured this must be a diagnosis provided when all other avenues have been exhausted.
Within days my training sessions were unbelievable. The times I ran were about 15s per km faster than the week before and motivation was through the roof! I travelled back to England in July to visit the family and did another 5km at the British Milers Club meet in Oxford. Just 3 months after the disastrous AV shield final, I ran 14:46 to win the C race. Almost 3 minutes faster and it felt easier!
Sub 30 goal
My sessions were always building on each other and I felt invincible! So now the question was, 'how good can I get?' Ever since my first 10km race in 2007 in London (36:30) I wondered whether I'd ever be able to run sub 30 and so it became a lifetime running goal. I had put this goal well beyond reach during the disastrous 2013/14 season but during the winter 2014 season I lined up for the fast XCR'14 Albert Park 10km and managed to hang on to the lead pack until the 8k mark and ran 30:35, just 35s to take off.
Parkville Project
Having trained solo and bounced around a couple of training groups during 2014 and start of 2015, I decided to train myself based at my home track at Melbourne Uni and the iconic Princes Park. The formula: 2 hard sessions – one longer (e.g. 3 x 10min off 2 min), one shorter (e.g. 8×1 km off 200 jog) and a tempo per week: a total of 110+kms. I soon found that others at the club were interested in my training philosophy and started joining me during the week. 2015 has been a very successful year for our group, fondly named 'The Parkville Project', with PBs from almost all of the athletes at numerous distances. For me progress continued again at the Albert Park 10k XCR'15, this time sticking with the lead pack until the last 500m finishing in 30:11. Just 11s to go! This qualified me for the legendary Zatopek 10, 5th December 2015.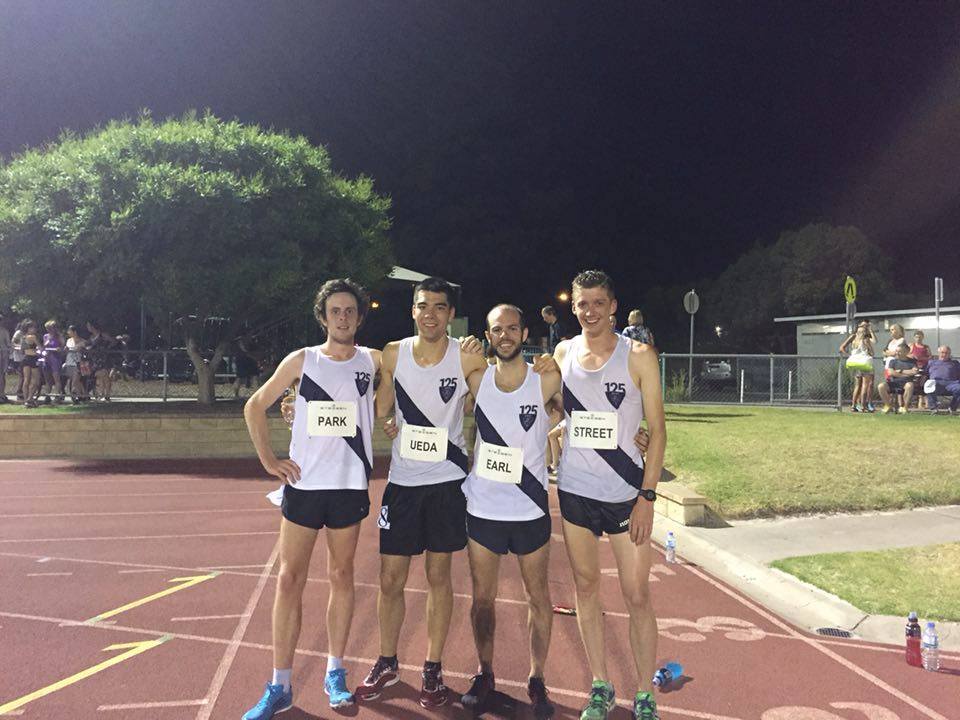 Zatopek 10
Some pre-race athlete stalking unearthed the somewhat undesirable news that I was the slowest in the field, and I think, the only person to not to have broken the 30 minute barrier. This affected my race tactics as I figured that the back end of field would be aiming for the 29:30 mark. I didn't want to run solo off the back for 10km so I decided to stick with the pack for as long as possible and hope the pace wasn't too suicidal. The start of the race went as expected and I hung off the back going through 3km in 8:43. I felt OK but when the guy in front, Daniel Wallis, dropped back from the pack I decided not to pass him as I was way under pace. We went through 5km in 14:46 and I still felt OK, however with 11 laps to go Wallis stepped off the track leaving me about 60 metres adrift of the nearest athlete. I was still about 13s under pace so thought "Just hold form and push in hard the last km". Kms 6-9 were a real struggle but I went through the 9km mark in 27:05, so knew it was still possible. I collected the bell (while Dave McNeil was celebrating his magnificent win in the outer lanes) in 28:52 so had to do a 67s final lap. I gave it absolutely everything and approaching the line the only number I could see was the 2 on the far left and all I was thinking was "Please don't change!" With 10 metres to go I could see the whole clock reading 29:56 and knew I'D DONE IT! I ran 29:58.29 and celebrated through the line despite coming 2nd last and the winner having been finished for nearly 2 minutes. I didn't care, I'd won my battle against the clock!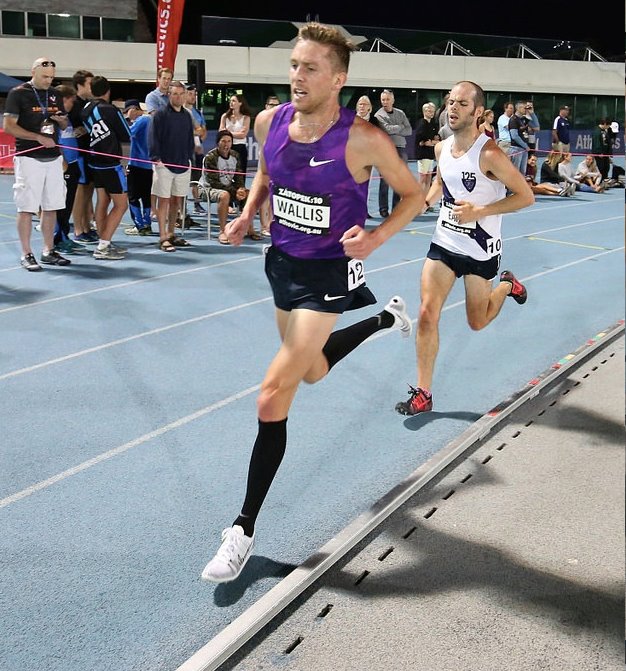 2016 goals
Work hard, expand Parkville Project, stay healthy (keep taking the iron tablets!), do what I can to avoid injury and keep chipping away at the times. Next big target, sub 14 minute 5k!
Advice
Exercise induced iron deficiency and anaemia can happen to anyone! Unexplained bad form? Get a blood test!