Listen to Runner's Tribe Radio whilst reading this article if you like. Just press play on the RunnersTribeRADIO player on the side panel of this article. Mobile listeners and or to listen on Itunes or your music player click here (opens externally).
Berlin Marathon 2016: RTJournal by Josh Harris
As always I woke up before my alarm on race day excited for what the day had in store. The forecast was for a max of 23 degrees and as seemed to be the case in Berlin, minimal wind. I went through my pre- race routines and nutrition timing like clockwork and left to find the elite hotel at around 7am. The bus took all of the big players to the start line where we were escorted into a special little area with plenty of toilets (of great importance) and a big tent to relax and prepare.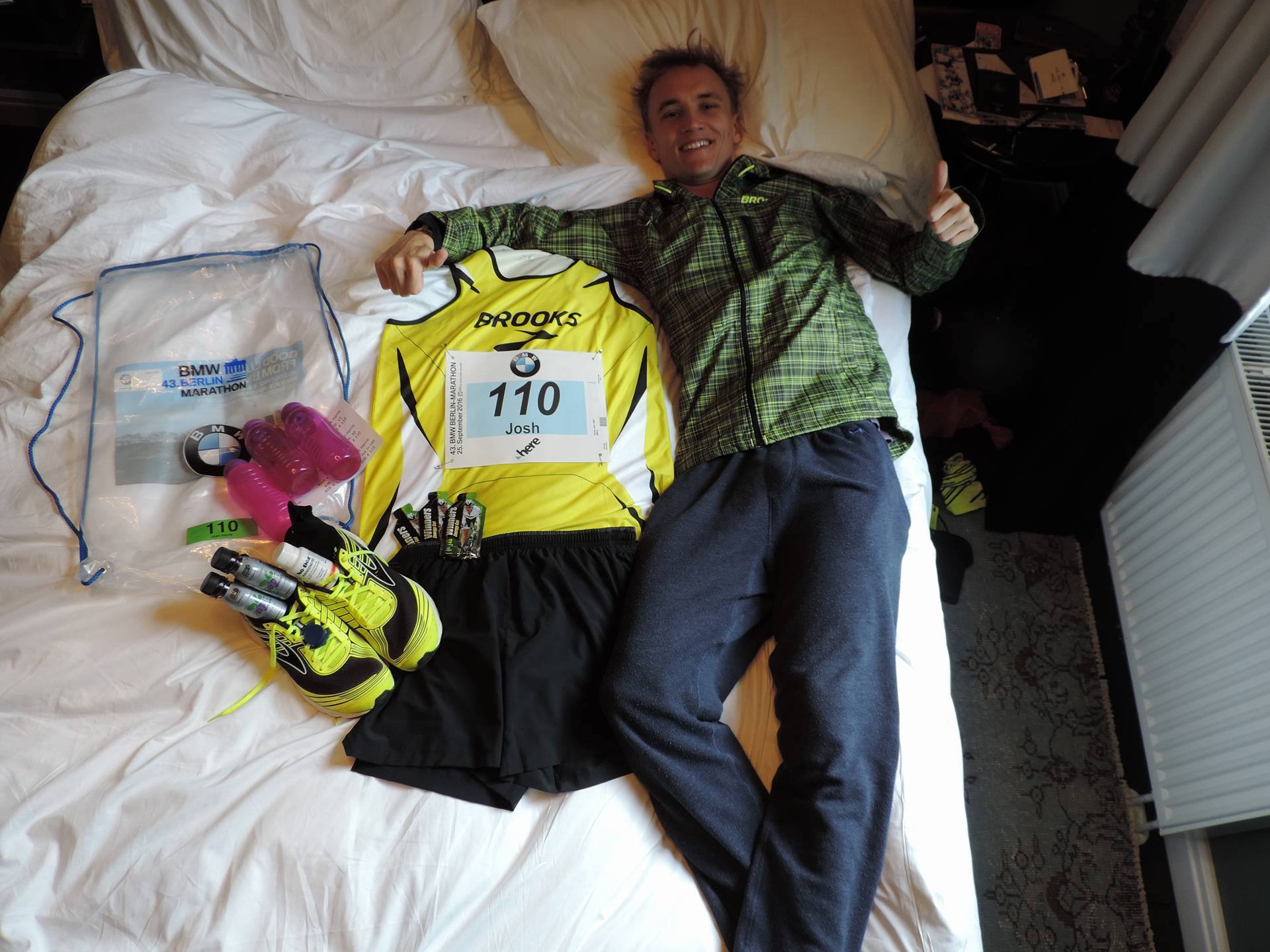 I began my warm up a few minutes after the huge group of Kenyan athletes. Watching from a distance, something I found incredibly interesting was the incredibly slow pace at which they warm up. They probably ran for 20 minutes at 6:00/km. I was feeling good and stress free about the start as this was the first international marathon i'd done where I was given the elite treatment.
Several of the sub elite runners watched in awe of the 5km and 10km WR holder, Kenenisa Bekele. His crew attended to his needs, as he put on his freshly opened shoes and meticulously placed timing chip prior to the race. It was also interesting seeing a couple of Kenyan guys drinking red bull 20mins before the race. Boys you know you can take caffeine pills without the extra volume of the Red Bull, right? Anyway, they are the best so who can question them?
We were paraded out to the start and given a chance to do some last minute run throughs before marshalling on the start line. The crowd was excited and the first straight was a brilliant spectacle down past the Victory Column at the Tiergarten roundabout. All in all, it was a stress free morning and a great experience to sit 4 seats away from arguably the best distance runner of all time.
The Race:
My plan was to go out comfortably and set myself up for a chance to run the IAAF qualifier (2:19:00) but also a PB and sub 2:20 if I couldn't quite hang on. I didn't care if I was on my own or in a group to be honest, as I probably feel more comfortable running my own rhythm after my last marathon experience. I cruised through 5km in 16:30, about 2 seconds slower than the required pace which wasn't concerning with 37km left, and I was near 3 other guys who were sitting on me for the most part.
Not much changed as we went through the 10km split in about 32:58 (2:19:10 schedule), and I was happy with this. I wanted to hit 30km to go feeling like I hadn't done any running and did a quick calculation of what was required for that 30km to hit my goals. I needed 1:38:45/1:39:45 for 2:19 & 2:20, compared to my 30km track race of 1:36.39 in July, this was a comfortable buffer I thought. 10-15km was a bit quicker and we got onto a group of about 10 athletes and ran a 16:25 5km split to put us right on 2:19 pace.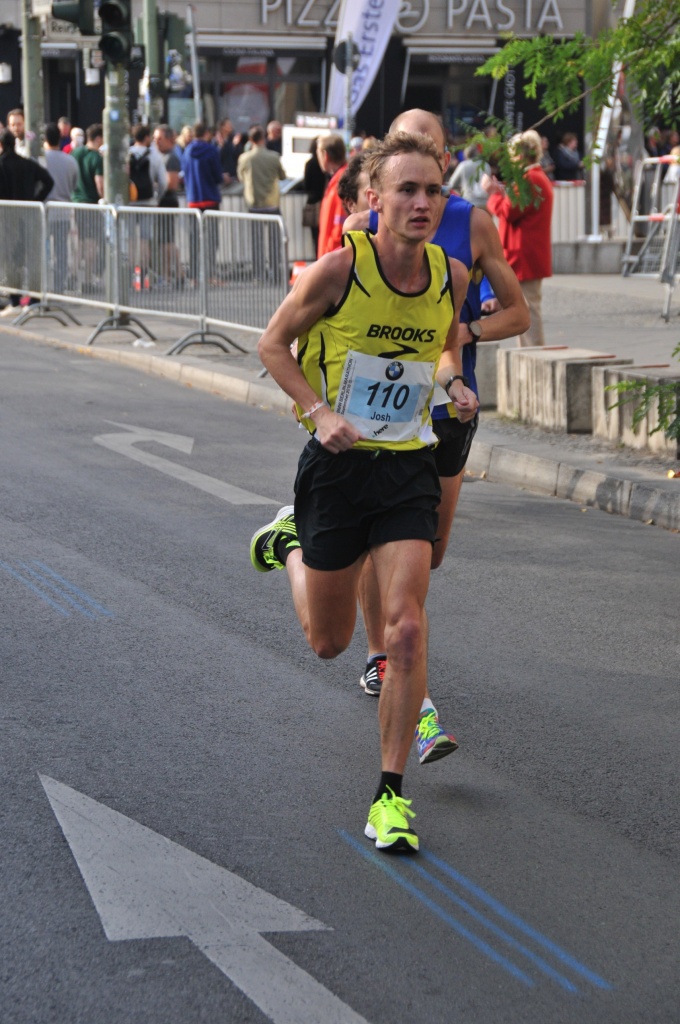 Things were relaxed, and I sat at the tail of the group ticking off my own rhythm, before I started to see the cars and bikes escorting the lead women and pack coming up behind us. I thought it was unusual for the girls to be on sub 2:20 pace early in a race, and had hoped if they wanted a quick time they might be able to get me going late in the race. By the 19km mark that group had joined us and all of a sudden there was a group of about 20 of us, and things just seemed a little bit more hectic being surrounded by them. The half marathon split rolled around and it was 1:09:27 (2:18.54 schedule) so I was exactly where I wanted to be time wise, and probably slightly off how I wanted to feel.
Fellow Aussie Brady Threlfall was just off the pack at this stage and I didn't feel confident enough to be rolling sub 2:18 pace at this point. We had a quick chat and asked how we were both feeling and both stated that we were on for our goals and didn't want to be on the limit until after the 30km mark. This was so relaxing for me, as things had just started to get a bit hectic, I didn't feel like I had a the huge finish in me, but I was able to relax, stick to just under 3:20 km splits and stay on pace.
By the 1hr 20 mark time was starting to go slowly and my heart rate was just starting to drift upwards as the sun started to become evident in the race. I was very glad I had a week in Italy and a few 30 degree runs, as coming off a tassie winter it had been a long time since I'd ran in near 20 degrees. I told myself to relax until the 1hr 50 minute mark and then re-assess once I got there.
By this point Brady and I were running within 30m of each other, both at our own tempo and having a few helpful words here and there. The projected time had started to drift out of 2:19 favour and the hope of sub 2:20 was also hanging by a thread, depending on the last few km. A 16:47 and 16:51 set of 5km splits now had me on about 2:20:30 schedule at the 35km mark, and although I wasn't feeling like the wall would come I didn't feel like I could maintain that to get a PB.
My thoughts started to become more negative, and now I was hoping to maintain my form for a 2:21, so I kept ticking the km splits off trying to stay under that pace. I maintained around 3:25/km pace, but my heart rate was drifting up and up and it got harder and harder as the race was nearing an end. I was catching the lead female, the cars and motorbikes though which gave me something to focus on at this point, although I could now see every single second tick by on the car timer.
Compared to Fukuoka this part of the race didn't hurt quite as much, but I was starting to think the marathon may not be the best event for me after this was going to be just another ok run. I didn't have a heap of issues with soreness & restrictions in the body like I did in Japan, but I just couldn't go any quicker. I got to 40km in 2:13:14 and as you do, I allowed a worst case scenario of 8 mins to cover the last 2.2km. I was getting closer and closer to Kebede and the cheers from the thousands of spectators lining the streets. In a sense I felt like a hero and imagined I was taking down the race leader in the last minutes of the race, but I also felt like a douchebag coming past a woman when I devote my life to this stuff, knowing the elite men were well and truly finished.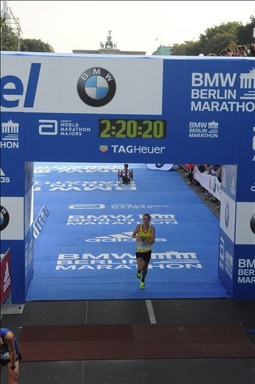 When I caught her at about 41.4km, I knew I had to go straight past her as I didn't want to be in her way when she took the glory of the win, and I thought that it would be televised to people back home as the elite men had finished. The crowd was amazing and before I knew it I was near the Brandenburg gate, running across the cobbles with sore feet. I caught a glimpse of the clock as it was approaching 2:20 and once again, just like Fukuoka was disappointed at what could have been, before crossing the line in what I thought was about 2:20.20 on the finish clock and 2:20.24 on my watch. So I thought I had just done an official PB (2:20.27). Then I realised when I got home I missed my official PB by 1 second, somehow! Ah well, not disappointed with that aspect as I didn't really care unless it was sub 2:20.
I waited for Brady to finish not long after in a really good 2nd Marathon in 2:21.50, and tried to get him back to life as he was pretty well done at that point. I was stoked for him, and had mixed emotions about my run. I know the marathon can go so wrong, so to run a mediocre one is something you can't be super unhappy about I think. It's annoying making no progress towards that 2:19.00 though as I think there is an opportunity in 2017. That time ranks me 5th so far in 2016 behind Adams, Hunt, Shelley and Milosevic and who knows if WC17 is on the agenda for some of them with GC comm games in early 2018, so I feel like its a bit of a missed chance.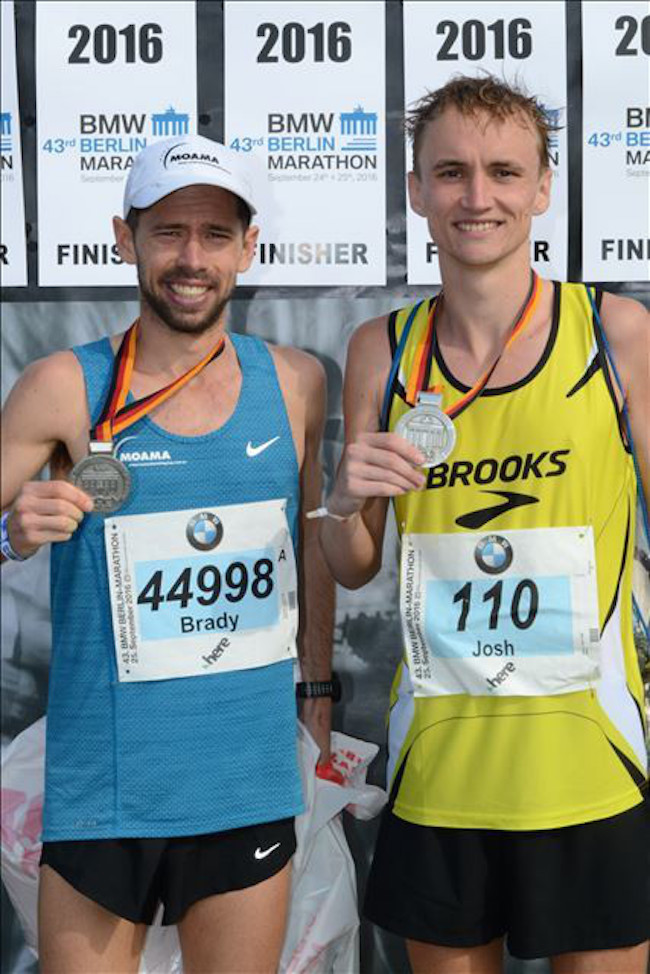 2 seconds per km is all I need to find, but I don't think i've had anywhere near the right day yet. The difference in pace when I run like Berlin in a half marathon, compared to being paced & focused on someone's back is at least 1 minute, so I don't see why I can't be 2 mins quicker when I get a scenario like that. Maybe I need to ask a good mate that I trust in their pacing to take me to 25-30 km in the future.
The rest of the day was basically spent being unable to walk but thoroughly enjoyable with Laurel, Brady and his partner Carley. Such great company is what it's all about and another reason why I've enjoyed this trip way more than Rotterdam.
My plan is to now lose a bit of fitness, eat lots and enjoy the rest of the holiday and then re-assess what is next. Early thoughts are Lake Biwa in March 2017 will be my next Marathon, as I liked racing in Japan quite a lot. It's a bit of a dead patch for me as I'll definitely do a long stint at falls creek, which will mean there won't be many races between now and March. I'm hoping Flotrack get some word out about their annual mile world champs, because if that's in December then that's definitely next for me, before getting ready for another crack at the 42km!
Basic Stats-