2k16 | It's the little things that make a big difference
As many of you would have heard in December last year I relocated to Melbourne to base my training there with the St Kevin's boys under the guidance of Justin Rinaldi. The move has been smooth with everything coming in place including the weather, which has been quite similar to back home. Without the help of AMP and Justin the move could've been a whole lot different and I'm blessed to have this support. As I reflect over last year and the track season I don't know how I feel or what to expect to run this year. I just know that I'm moving in the right direction to running great times. Whether this will be early or late in the season, it's just going to happen and I look forward to it. Last year I had the perfect season up until February, where not only my performance level dropped, but I completely lost interest in competition. This resulted in making the decision to withdraw from nationals, a decision I later deeply regretted. The goal for 2016 is to finish the season on a high. Coming out and running fast at the start can be motivating, but the plan is to ensure we have something left for the rest of the Australian season and future international races. After all who wants to train all winter to only miss the most important championships?!
Training
I'm not one to really report on my training, however lately training has been going extremely well. In all fairness, training has always been a tough one to explain and lately being with a group of guys with similar distances makes it all a little more enjoyable. One of the biggest positives has been always having a group of people to train with. As individual as running is, it hasn't felt that way lately, and personally I think that's a good thing. I've never really had to run reps alone since moving and there is always someone to train with on any given day. The running culture here differs from WA, for one Melbourne certainly has a larger running population and hence the motivation is always there. One question that always seems to pop up between athletes and none athletes is "how do you train?" Well… while it Is safe to assume that continuous laps every day around the track make up a big part of a distance runner, we tend to mix things up a little bit. We'll just say that most runners do more than run around circles. Training can consist of bodyweight exercises, strength and conditioning, massages and easy recovery runs. Running does make a huge part of it, but it's the simple small things that we do before coming into sessions and after leaving a session that make a difference between coming back the next day healthy and ready to roll. There's no secret to our training program and I believe most distances runners tend to do similar running workouts, but someone always seems to be just a little bit faster. I think the secret lies outside the track.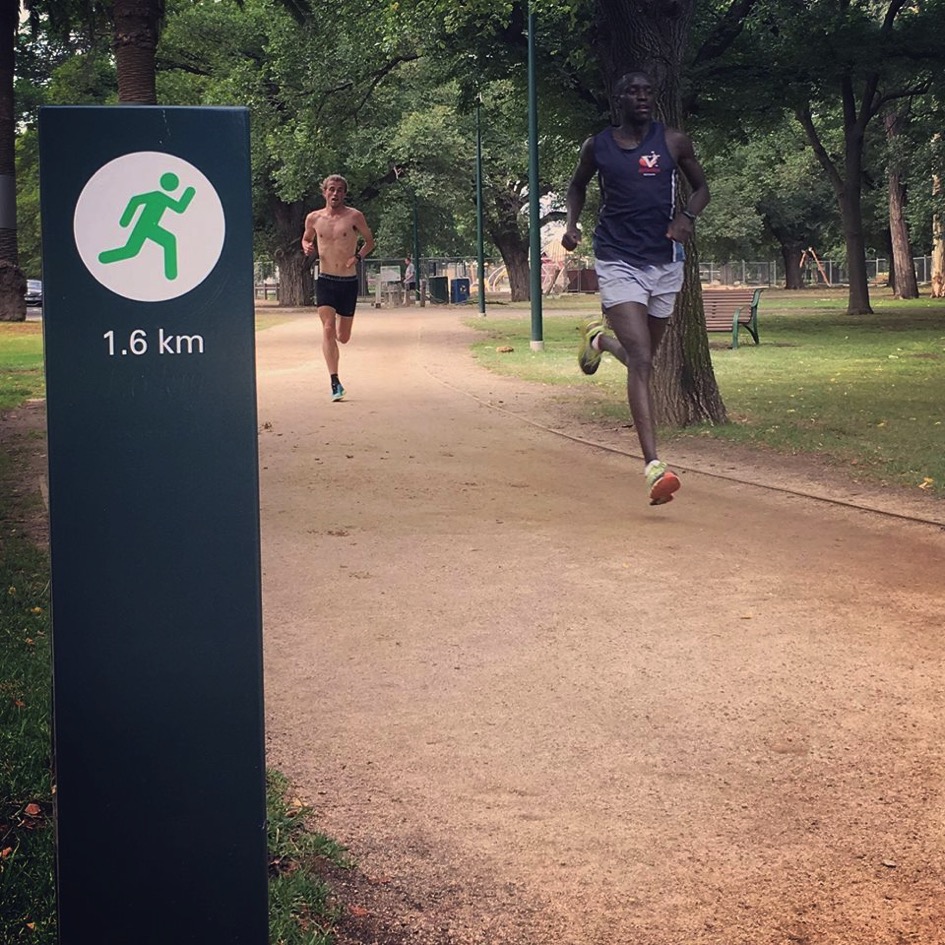 Below I'll outline a basic typical week of training and two workouts that I found tough and enjoyable at the same time. With that been said Justin does a great job in keeping a record of all training, drills and recoveries on his online training diary. To access these, follow Justin Rinaldi on the SWEAT app where you'll have access to almost all of my training or shoot me a message. I'll be glad to share!
Workout
4 sets of 2 x 200m with 45-30-15 seconds recovery and 4 minutes between sets
This is a great session and I enjoyed it. It doesn't seem too difficult but the recoveries do start to hurt by the 3rd set. We performed this drill on grass with flats at about 29/30 seconds for the 200s.
1000m (4min) 800m (3min) 600m (2min) 400m (1min) 200m.
The brackets represent recoveries after each rep and this drill was performed on the track with spikes. The target times were 2:40 1000m, 2:00 800m, 1:30 600m, 54secs 400m, 25secs 200m. Although the drill looked impossible and while certainly one of the toughest ones I've had so far, it was great to complete.
Monday: Speed- with Justin Rinaldi and Steven Hooker at AAMI Park
Tuesday: AM: Massage PM: Intervals on at St Kevin's with JR
Wednesdays: Medium run + Gym
Thursday: Track Session at Albert Park
Friday: Massage + Gym
Saturday: Long reps at Princess Park
Sunday: Long run
(Justin coaches every session and we are fortunate enough to have both Steve Hooker and Justin on the Mondays for speed sessions)
This is the same program I've been on since commencing with JR in July/August. The only difference was I was performing the majority of the sessions alone one to two times a week mixing with Steven Purser's distance group back home. As you can see all sessions are performed at different locations and that way training doesn't really feel repetitive. This off-season period has been the most consistent training period I've had and I believe mixing it up at different locations (even in Perth), made it enjoyable. Rather than training becoming a task it has become fun and majority of the times I'd look forward to train.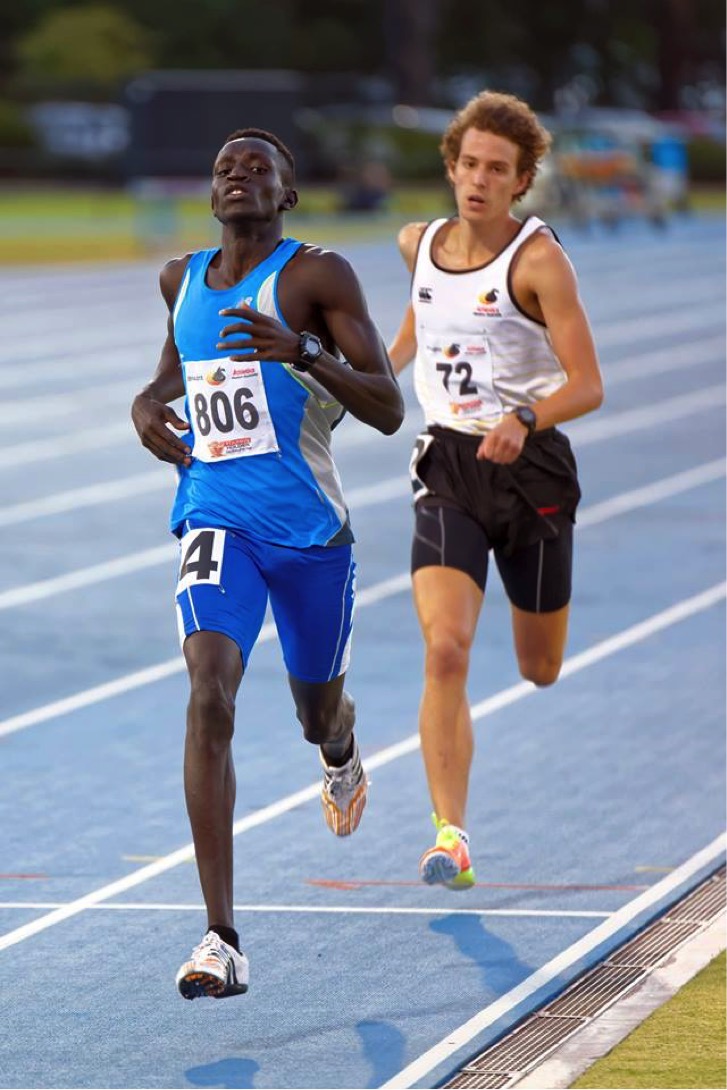 Competitions
This is will be the first season where I commence competition later than the past seasons. The truth is you are only going to be in peak form a few times a year and previously I would use races as competitive training, however now there is no need as I belong to a team of strong athletes and the pace can be pushed when needed. With that been said my first 800m competitions kicks off on the 30th of January, following that the schedule gets a little busy and would look something like this.
19th January– 1500m Box Hill Milers
30th January– 800m Hunter Track Classic (NSW)
20th February- 800m Adelaide Track Classic (Adelaide)
26th February- 400m Melbourne
5th March- Melbourne Track Classic 800m
19th March– Sydney Track Classic 800m
31st March- Nationals Olympic Trails 800m (Sydney)
PBOL: Good luck on the 2k16 Journey