Started from the Bottom, now I'm here….
RT Journal by Emma Kraft – Runner's Tribe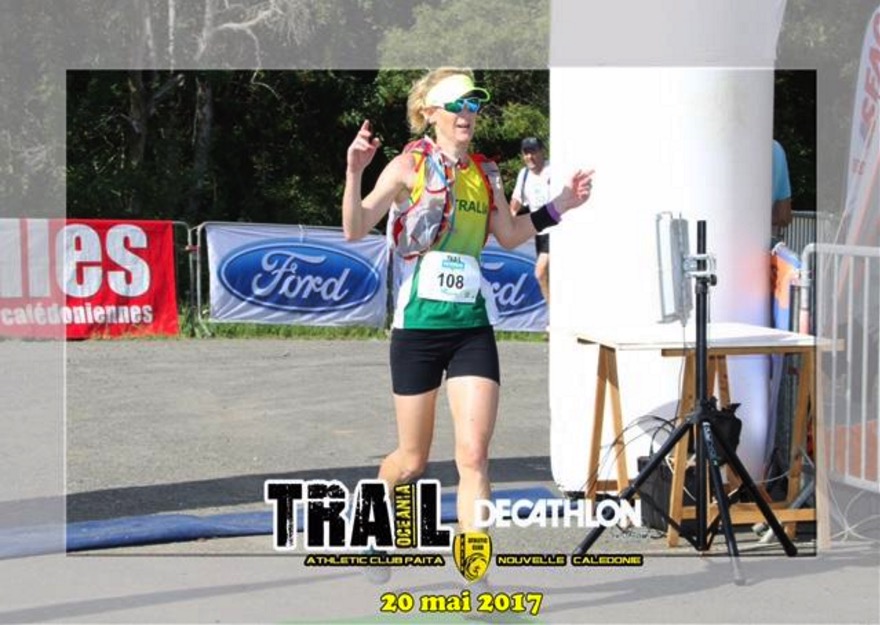 I started writing this blog for Runner's Tribe over 1 month ago and I honestly have no idea why it has taken me so long to finish it and will probably only take you 5mins to read! Anyway, I am committed to getting this done today as it has been on my 'to do' list for way too long!
I did try and write a bit on the plane to New Caledonia for the Oceania Trail Running Championships, but of course when you haven't had the chance to sit down and watch a movie for donkey's years, your flights turn into a 'smorgasbord' of movies and all your plans go out the window into the Pacific lol.
Just to fill my RunnersTribe fans in, during 2015 I was not only injured (lower back) but was going through a range of different tests to sort out why I would always have 'Hypos' (low blood sugar levels) especially during exercise. It was tough. I was sad, and very unhappy, I lost the one thing that really made me happy and gave me an 'identity'. 2015 was the same year my Fiancé Brad White made the Australian Mountain Running Team in Wales. I was happy for him of course as he reached his lifelong dream in representing Australia but at the same time, it was so hard for me. I was happy for him, but sad. We talked about this openly which really helped, it was definitely character building. I turned this negative into a positive and went over to Wales with Brad and the Aussie Team as team Manager, where I could offer another bunch of skills and expertise to the Aussie Team especially the new ones who made the team for the 1st time.
In early 2016 I declined lower back surgery (thank goodness!) as things weren't as painful, I could run more comfortably but didn't set any 'race' goals as I honestly thought I was never going to run at a competitive level again and didn't want to get disappointed. Therefore I just ran every day (which I was very thankful for!) and then eventually started introducing some weekly sessions and my long run on Sundays. After about 6 months' worth of running I thought about running in the 2016 Melbourne Marathon (my 2nd Marathon) as this was also Nationals, and being in October, I had a good few more months to train and see if my body could handle it and the weather in Alice Springs was perfect to train in, especially the long runs. Before I knew it (Nek Minut) I was lining up with 6000 other runners to run the Melbourne Marathon. Like everyone I secretly had a goal time in my head of breaking the magic 3hr mark and believe it or not, I ran a 2:59:59! (Gun time 3:00:03) And I tell you what, I needed every second of it! It was pretty cool time I must admit, I knew things were going to be pretty tight! But not that tight. When I entered the MCG, the announcers were counting down the clock to run under the 3hrs mark. I had 40 or so seconds to run the 250-300m inside the MGC. I then had to turn into Bolt and sprint my heart out, so much so that I didn't even care what I looked like, lol.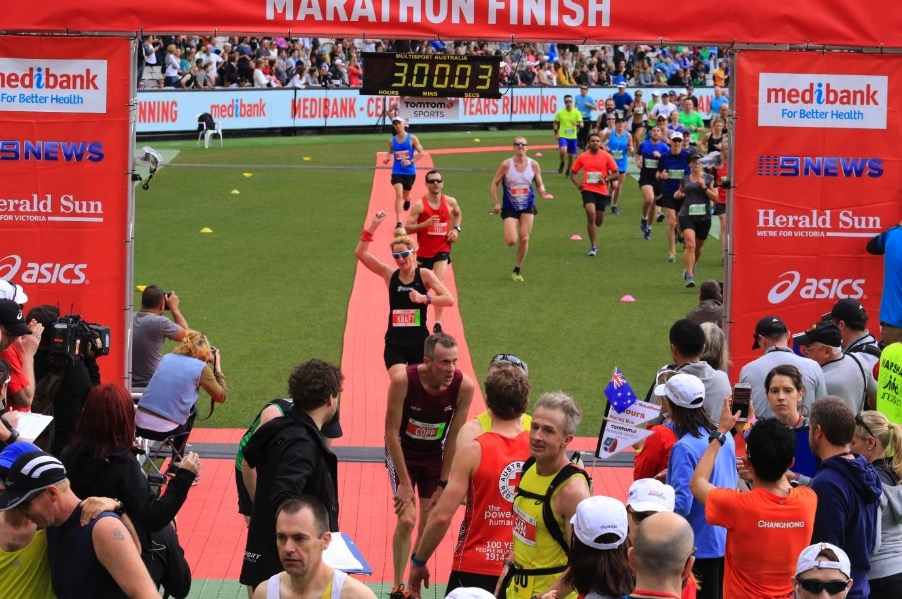 Anyway, I did it! I can't believe, I think I had more 'facebook likes' than I would have if I won the darn thing, lol. This was definitely a highlight of the year, actually of my running career! During 2016 I experimented with distance from a Mile to a Marathon!  Races included the Mitchel St Mile (Darwin), Barrett Drive Mile (Alice Springs), Run Larapinta (4 stage Namatjira Trail run, around Alice Springs), Melbourne's City 2 Sea, Victorian 5km Champs, (B race)….. giving me some confidence again.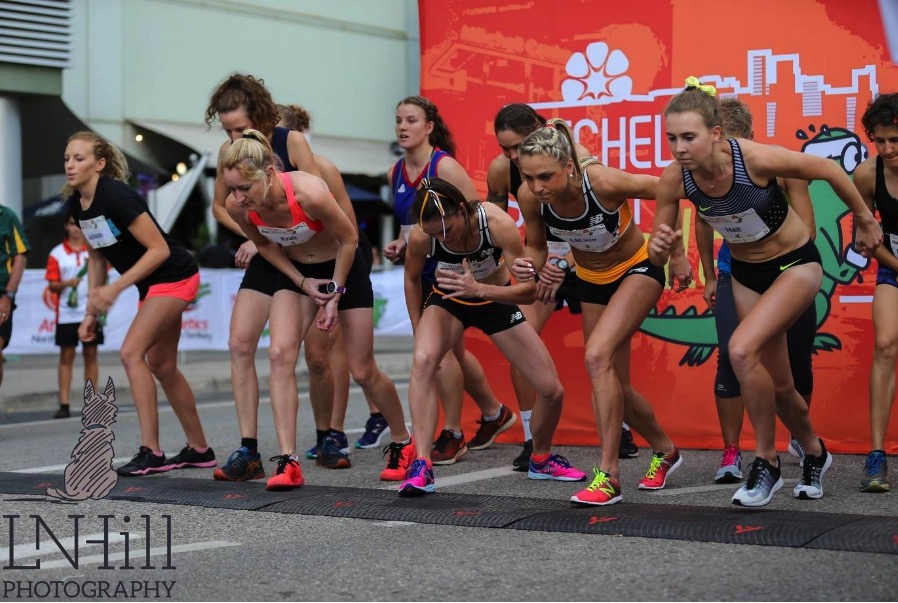 The Start of 2017 was HOT again in Alice, reaching 42C most days, even getting up early in the morning, by the time you finish it was hot!!! So I normally take January off (just jog) and target races later on in the year. I also had my dream set on 'possibly trying-out' for the Australian Mountain Running Team again, which was held in Adelaide's Amber Ridge in April which was 13km of an Up/Down course.
In February, I went back out the Mountain (in Alice Springs) where it all began with my water, hat and sunnies, starting with 1 rep and then another, literally 'started from the bottom'. Over the weeks I built myself up and before the race, I got up to my goal of 6 x reps, which is what I got up to in 2014, which was a feat in itself.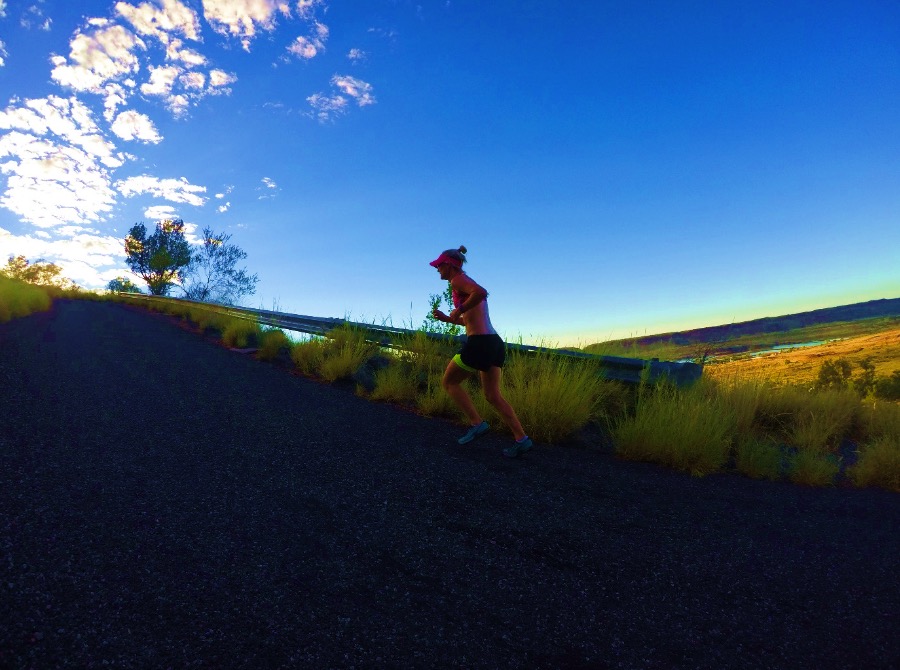 On Sunday 9th April, I ran at the National Mountain Running Champs at Amber Ridge (Black Hill) Adelaide. This also doubles of the Selection Trails for the Australian Team for the World Mountain Running Championships Italy. I finished in 4th Place. They take 4 females, but still there was no guarantee when I crossed that finish line I would be going. I was lucky and only had to wait about 24hrs to find out that I made the team so I was only (more) irritable for 1 day.
Heading to Italy for the World Mountain Running Championships is honestly a dream come true! I'm so lucky that this will be my 3rd time representing Australia (2013, 2014 and 2017) (2015 Reserve) at World Champs and after being injured in 2015 I honestly never thought I would get to do this again. Actually I never thought I would be able to even run competitively again! I am very happy and I look forward to representing Australia alongside Senior Women: Elizabeth Humphries (ACT), Micarla Sexton (SA) and Jasmine Sargeant (NSW). Reserve: Audrey Amiya-Hall (NSW). Senior Men: Michael Chapman (ACT), Robin Whitely (NSW), Etienne Blumstein-Jones (ACT), David Osmond (ACT). Reserve: David Barton (QLD). Junior Men: Tim Vincent (QLD), Eligh Morris (NSW) and Junior Women: Chelsea Saw (Vic)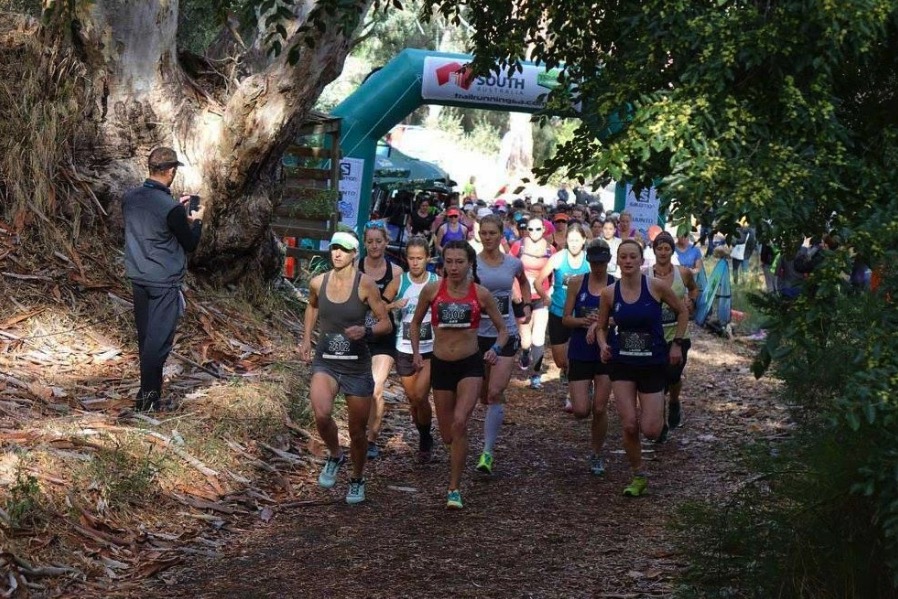 Italy is an Up/Down race with a total distance of approx. 13km with 890m of ascent, but starting at approx. 900m above sea-level. 2017 is the first year to bring it in line with the Men's race, making it equal distance, similar to World and National XC. (The Women's race used to be approx. 8-9km).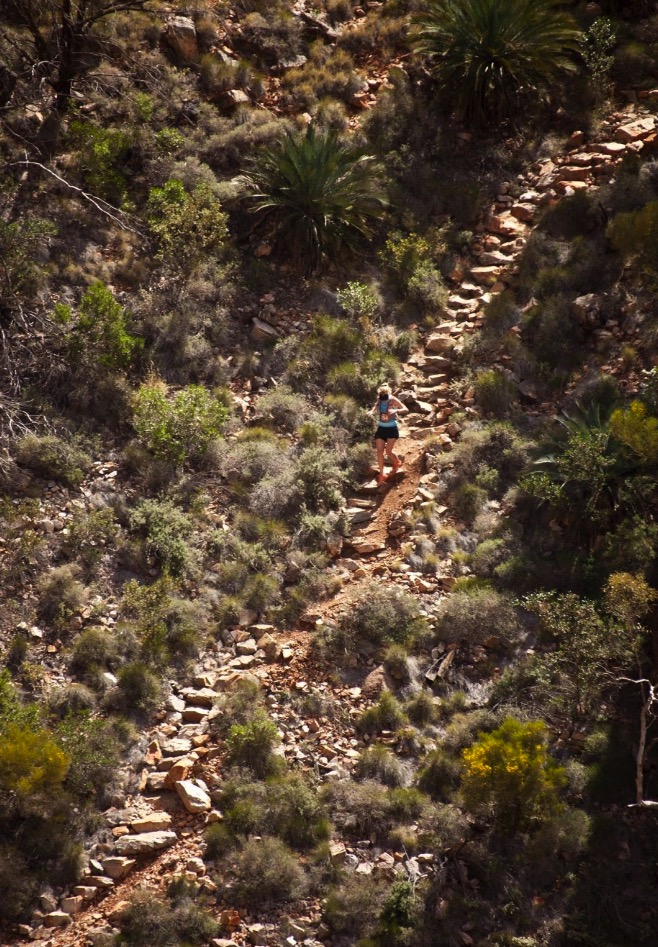 Now that I have had time to catch my breath (completed this blog!) and let my body recover from New Caledonia, I will be starting my next big training block before I head to Italy for Worlds and will mix my training up a bit with the types of hills I train on. In Alice Springs (Central Australia) we have great trails and ranges including the famous 'Larapinta Trail', which is approx. 230km so no I haven't done it all, but will have to use some of this trail into my training between now and July, which may mean a (romantic) camping trip with my fiancé Brad over the long weekend to practice my foot work on trails and terrain like picture above. We will also get the chance to train up to Mt Sonder (1380m) and about 8km from bottom to top, so approx. a 16km return trip.
Back to the beginning of the blog, I was sitting on a plane to New Caledonia for the Inaugural Oceania Trail Running Championship part of 'Trail Decathlon' (Decathlon is the Sponsor of the race and is a massive Sports shop in the Pacific)! Thank god, as I didn't really want to do 10 events, lol.  This great event was hosted by Athletics Club Paita. The race was directed by the club's president, in Nordine Bonfedda, whom I met at the 2014 at Gold Coast Marathon. He was over in Australia for the Oceania Marathon Championships.  I wanted to target another trail/Mountain run in the lead up to Worlds and this race, which doubled as the Oceania Trail Running Champs, was on a 22km course with approx. 1000m of climbing. Perfect, so I thought! (Sorry this is hard to see, but the highest point was 260m).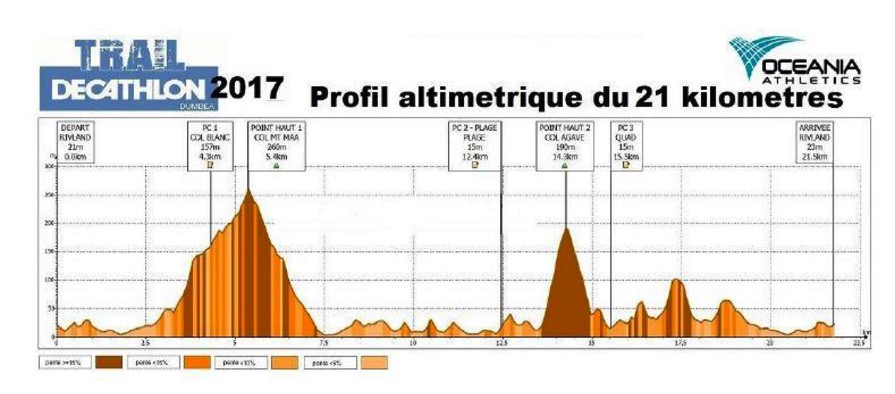 The 2nd Mountain (cliff!) at about 13.5km was the worst! It was insane! And then on the downhill, sometimes I wonder how I am still here, lol. I was very exhausted and gave it everything I had. It took me 2hrs:26mins to completed the course, and I was fortunate enough to finish in 1st place!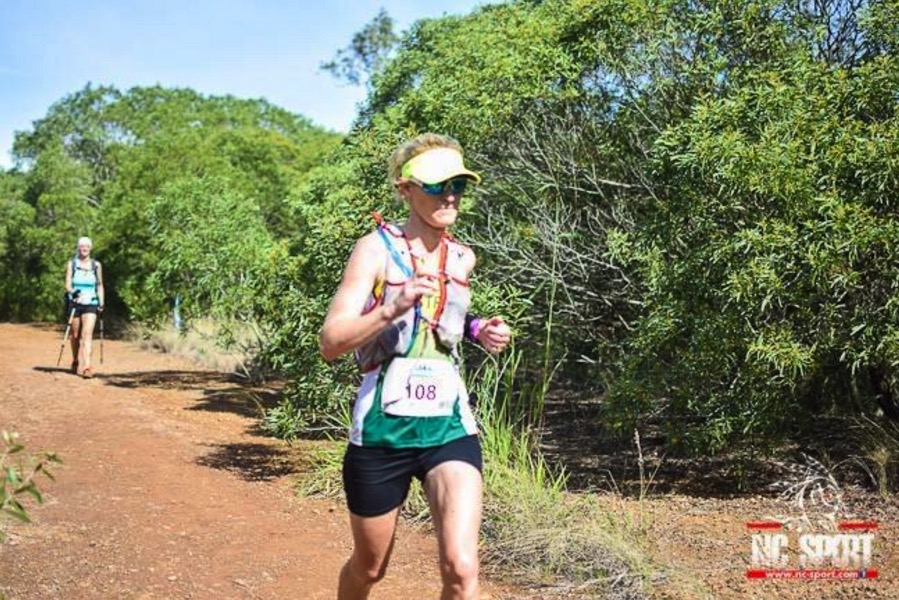 The good (and bad) thing about this type of race, or any race at all, is I know what need to improve on and also change if I ever do this again. Eg: I'm never wearing ankle socks again in this type of race. Crossing that line, felt like a huge weight of my shoulders, it made everything worth it in which I was just so thankful for. I also met some really nice people from the NZ Team; James and Dulia with which we hung out most of the time over there. I honestly think that sometimes the best thing about a race, or trip is the amount of amazing people you meet and come across. I literally gained another 20 facebook friends after this trip! Lol.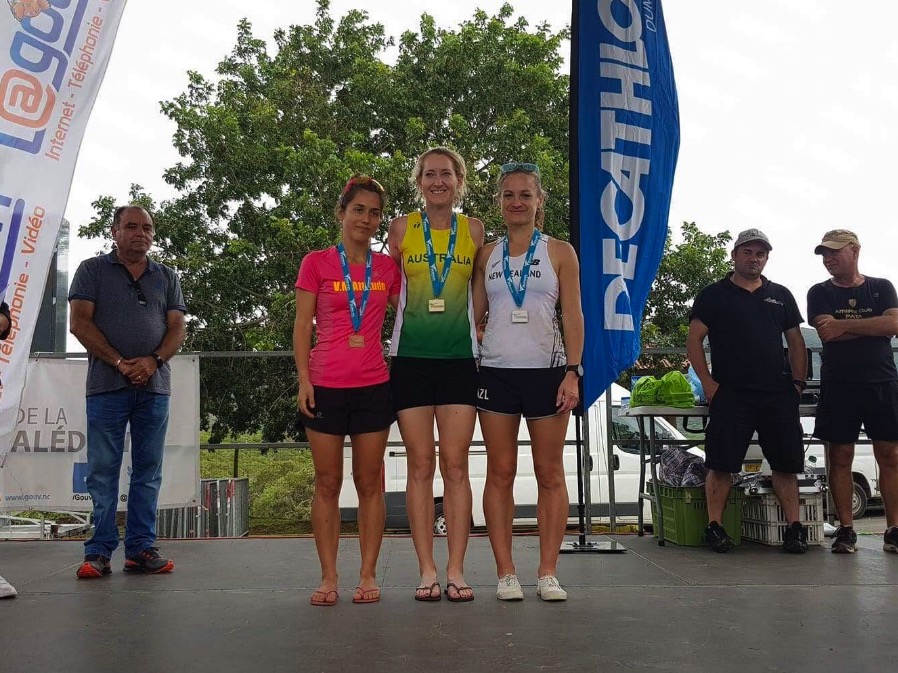 Anyway, thanks for reading! Just to let you know it took me about half a day to write, so you better have enjoyed it! I will write another one (hopefully) after World Mountain Running Champs in Italy. You can follow me @emmakraft2 or Emma Kraft ?
P.S: I just thought I would include this picture of my Shoerobe which also featured in the NT's Resident Magazine. It was an honour to be one of 25 Terrific Territorians. Article by Nannette Holliday and Picture by Oliver Eclipse.