By Chris Lotsbom, @ChrisLotsbom
(c) 2017 Race Results Weekly, all rights reserved
EUGENE, Ore., USA (10-Jun) — Oregon's Raevyn Rogers didn't settle on making history by becoming the first woman to win five NCAA 800m titles indoors and out. The junior from Houston, Texas, revived the Ducks' national title and triple crown hopes thanks to a collegiate record win in the 4×400 meter relay to close a spectacular NCAA Division I Track & Field Championships here at Hayward Field. Coming down to the final event, Rogers took the stick and ran with gusto, battling USC back and forth before prevailing at the line in 3:23.13 after a 49.77 split. With the win, Rogers and her Duck teammates became the first school in history to secure the NCAA Cross Country, Indoor, and Outdoor titles in the same academic year.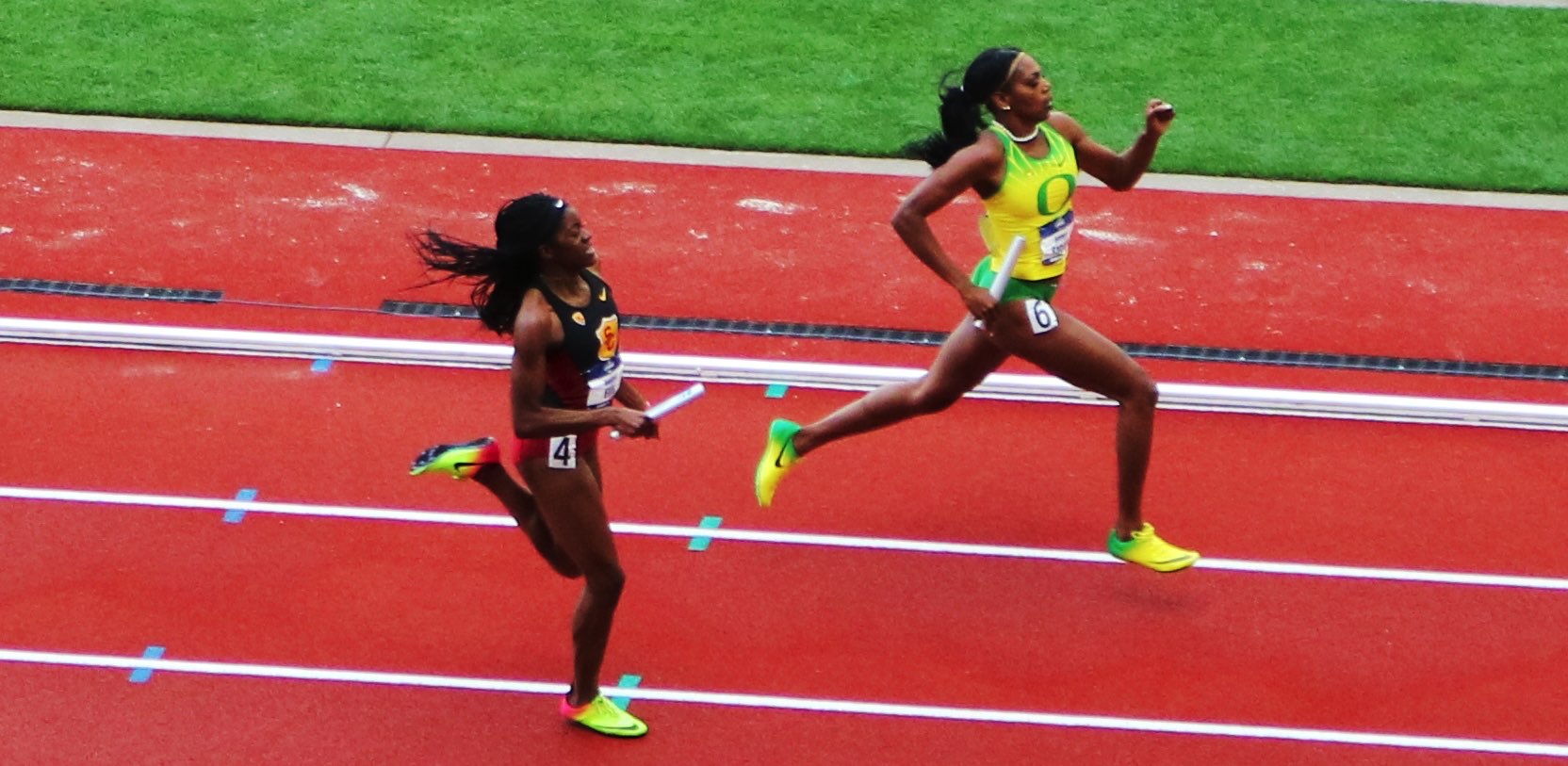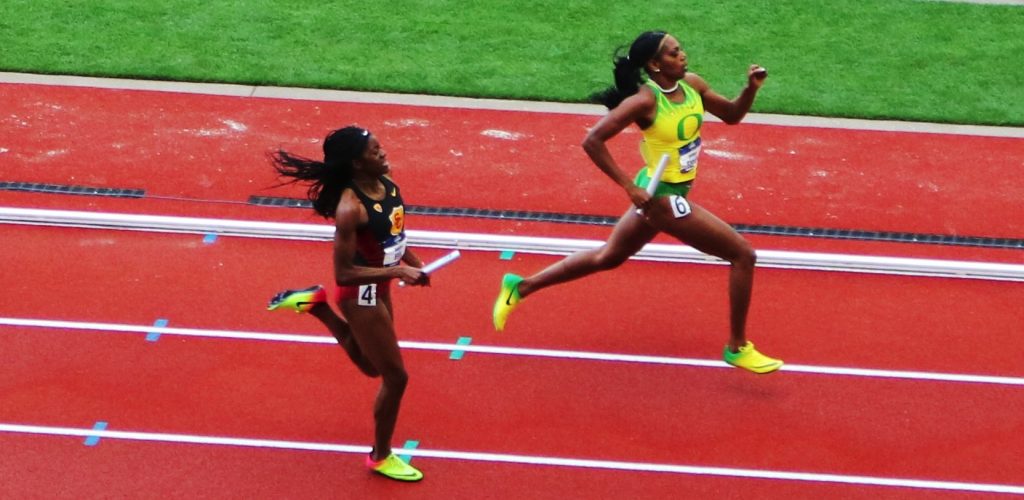 ACT I: WINNING THE 800M
Rogers first took to the track in the 800m and executed a perfect race to win in 2:00.02. Combined with teammate Brooke Feldmeier's surprising third place finish, the Ducks' netted a valuable 16 points, propelling the team into the lead over field events powerhouse Georgia. Yet it wouldn't last (more on that later).
Rogers fought with BYU's Shea Collinsworth for the pole thru 200m, but let the Cougar senior get a slight edge. Rogers drew even at the bell in 58.33, and edged ever so slightly ahead as she passed the famed TrackTown USA sign on the backstretch. From there on it was a question of how fast Rogers could run.
The title was hers in 2:00.02, giving the Oregon junior her third outdoor win in as many years (1:59.71 in 2015; 2:00.75 in 2016). "The 800m went really well. Man, it was good," she said. "I ran it comfortably."
Virginia Tech's Hanna Green was second in 2:01.32, holding off the fast-finishing Feldmeier (2:01.54). The Oregon faithful's cheers were loud for Rogers, but even louder for Feldmeier as she moved from mid-pack to third down the straight. Her time was her first 800m outdoor personal best since May 2015, but more importantly counted for six points.
"I think I executed the race plan really well, and I got a huge PR," said Feldmeier, from Olympia, Wash., whose previous best was only 2:03.13. Entering the meet she merely wanted to make the final and score for her Ducks; she came out with a third place, All-American honor, and assisted the Ducks in completing the triple crown. "I really haven't slept the last two days, I've just been really excited. I knew there was more left, so I'm glad I got to see some of it today."
ACT II: THE 5000M
Though Oregon took the lead after the 800m, it wouldn't last long. A dramatic 200-meters saw Oregon's Ariana Washington take second, but the Ducks squandered more points because Olympian Deajah Stevens fell to the track about 15 meters from the finish line (she would be disqualified for being assisted to her feet, according to Ducks coach Robert Johnson). Meanwhile, Georgia was completing a strong field event showing with Kendell Williams winning the heptathlon, Madeline Fagan and Tatiana Gusin placing first and second in the high jump, and Keturah Orji claiming the triple jump. Georgia re-gained the lead, but Oregon had two runners in the 5000m. Any points would be clutch.
Mid-way through the 5000m, Missouri's Karissa Schweizer took off. A 72.5-second lap leading into the 3000m mark was too much for anyone to handle, and the junior was gone for good. By winning in 15:38.93, Schweizer became only the fourth woman in NCAA history to win the distance triple crown in the same academic year: NCAA cross country last November, the indoor 5000m last March, and the outdoor 5000m here, matching the accomplishments of Jen Rhines (1994-1995 with Villanova), Amy Skieresz (1996-1997 with Arizona), and Sally Kipyego (2007-2008 with Texas Tech).
"I just wanted to go out there and make it an honest race. I didn't want it to come down to the last bit and it was a little nerve wracking for me to be out in the front," she said. "I don't normally race like that, but I trusted my coach and trusted my fitness and went for it."
Behind Schweizer, there was a memorable battle for second. Among the contenders were two Oregon Ducks: Samantha Nadel and Lilli Burdon. Second and sixth at the bell, it appeared Oregon may be able to gain some valuable points in the event and relieve some pressure from the 4x400m team. But a wild last lap saw Eastern Michigan's Alsu Bogdanova surge to finish second (15:43.84) followed by Indiana's Katherine Receveur (15:44.80) and Boise State steeplechase winner Allie Ostrander (15:46.18). Oregon's Nadel and Burdon were shuffled to eighth and ninth down the stretch, only earning the Ducks one point, not what Coach Johnson had hoped for as he met with his 4x400m team.
ACT III: ROGERS RETURNS IN THE 4x400M
After the 5000m, Georgia led the Ducks 62.2 to 54. Coach Johnson gathered his 4x400m team in a medical tent, explained the point situation, and how critical it was for the Ducks to come out with the win. A win would complete the triple crown; any worse and they'd be second to Georgia. As he described it, he wasn't adding pressure to the experienced squad. He was motivating them.
The gun fired and it quickly turned to a two-team race: Oregon and USC. Over the first three legs, the Ducks and Trojans traded the lead. Oregon's Makenzie Dunmore, Deajah Stevens, and Elexis Guster combined to give Rogers the stick in front by a step. Nobody was sitting in all of Hayward Field.
Making a rare inside pass on Rogers within the first 50 meters of the fourth leg, though, was USC's Kendall Ellis. Rogers didn't panic; she simply sat ready to pounce when it came time to do so. That was around the Bowerman Curve.
In a final 100 meters that will go down in Oregon history, Rogers tucked on the inside and gave meaning to Hayward Magic. She held off Ellis, who has a personal best of 50.45, to win 3:23.13 to 3:23.35, closing in 49.77 seconds. Oregon's time was a collegiate record and walk-off meet winner.
"I was hoping they didn't catch me 'cause my legs were going all over the place. I was just trying to get to the finish line," said Rogers with a million dollar smile.
During the week, sports psychologist Darren Treasure used triple crown racehorse American Pharoah as inspiration for the team. Rogers channeled that spirit this afternoon.
"He had the biggest heart out of the other horses. We wanted to go into NCAA's with a big heart and not being selfish and doing it for each other," she said.
With the pressure on, Rogers delivered to give Oregon the win 64 points to 62.2. But Oregon wasn't immediately crowned champion: Georgia protested twice, once for Oregon allowing Deajah Stevens to compete (denied because Stevens was DQ'd and not DNF'd in the 200m, nullifying the NCAA's honest effort rule) and the second protest for questionable running with USC (disregarded by officials, according to Ducks Coach Johnson).
"This is what we train for. Just to be able to bring everything together and show it off in the 4×400 was something remarkable for us," Rogers said. Bigger than Rogers alone, the program had made history by achieving the triple crown by the slimmest of margins.
"Is that a way to end a track meet or what? Is that a way to end a freakin' track meet or what?!" Johnson said, meeting the media. "We're getting good at winning by one point, harkening all the way back to cross country. Great job by those girls."
BOISE STATE'S ALLIE OSTRANDER STRIKES GOLD IN STEEPLECHASE
An hour and a half before Boise State's Allie Ostrander was fourth in the 5000m, she gave a dominant and surprising performance in the 3000m steeplechase, winning her first NCAA title.
Through half of the steeplechase, nobody wanted to test the pack's talent. That all changed when Ostrander sprinted out to the lead with about 1600m to go, fearless in only her fourth collegiate steeplechase. Ostrander's grit and confidence was rewarded by winning the national title going away in 9:41.31. The Alaska native would have to fight over the final circuit for glory, though.
Ostrander and New Hampshire's Elinor Purrier battled together after dispatching with Colorado's Madison Boreman, and hit the bell together. That Purrier was able to keep pace and even surge with 400 meters to go was impressive considering one of her shoes had come untied with three laps to go, then the other untied a lap later. Distracted but not deterred, Purrier tried to zap the kick from Ostrander down the backstretch.
Chopping her steps over a barrier in front of the east grandstands, Purrier lost two steps to Ostrander. Mentally it threw Purrier off; the New Hampshire Wildcat couldn't recover.
"That's never happened to me in a race before. I'm not really sure what caused [the shoes to come untied], but it was definitely a little distracting," Purrier said. "I don't think that was the only reason the race ended the way it did… In the end, Allie won and that's great. Congratulations."
Ostrander was firing on all cylinders and sprinted through the line first in 9:41.31 before collapsing to the track in euphoria. She began crying, and cried even more after seeing her parents.
"It was awesome today, to just give stress fractures the middle finger and go out there and do it finally," Ostrander said, referencing her many injuries in the last two months, including a pair of stress fractures to her tibia and sacrum. "Shock, excitement, happiness. No matter what the emotion is, if it's strong I start crying and that's what I did."
Purrier ran out of energy after the final barrier, and relinquished second place to Colorado's Boreman in a PB of 9:46.48, a USA U20 record. Third was Penn State's Tori Gerlach (9:46.76) while Purrier came across fourth in 9:48.26.
MICHIGAN'S PHELAN FLIES TO FIRST 1500M TITLE FOR MICHIGAN
Michigan's Jaimie Phelan was last at the bell of the 1500 meters, but didn't panic. Five abreast and squashed into four lanes, Phelan's kick was best of all and earned her the first 1500m title in school history. That's a very impressive achievement considering the Wolverines and coach Mike McGuire have produced a number of world-class milers, especially in recent years.
The race was a thriller with the entire pack clumped together lap after lap: 69.85 at 400m, 2:19.97 at 800 meters. Notre Dame's Jessica Harris, Mississippi State's Rhianwedd Price, and Samford's Karisa Nelson –the NCAA indoor mile winner– all took turns at the front. Nelson, Colorado's Dani Jones and Arkansas's Nikki Hiltz were the ones to go at the bell, yet none managed to gap the field; Phelan meanwhile was in last.
Still crowded entering the Bowerman Curve, it was Phelan shooting from the rear of the field to first, taking everyone by surprise. Phelan went to her arms down the stretch but was joined by a quartet of competitors. Oregon's Katie Rainsberger had steadily moved up; Jones and Nelson were fighting for position; and charging from lane four was Hiltz. Five wide, four lanes, one champion: it was Phelan in 4:13.78.
Phelan's time was just two one-hundredths of a second up on Hiltz (who held her position and finished in lane four), with Nelson, Rainsberger and Jones crossing in 4:13.96, 4:14.20, and 4:14.35, respectively.
"As soon as I started feeling someone on my shoulder I just wanted to dig a little bit deeper and keep the legs rolling and finish strong," said Phelan, a Canadian from Kitchener, Ontario. "I know I was giving it everything I could so I just tried to keep focusing on myself and get to that line as fast as I could."
Making Phelan's victory all the sweeter was the fact that she could do it at Oregon's Hayward Field. After being nipped at the line at the NCAA Cross Country Championships by Oregon's Maggie Schmaedick, Phelan's miss-step had cost Michigan a national title by one point to Oregon. Phelan muscled out a national victory here on the Ducks' home turf, a bit of deja vu.
"For cross country, our whole team, we didn't expect to be runner-up at all at nationals either. In that moment with Oregon right beside me, I had no idea it came down that close until hours after the race," said Phelan, sporting the block M on her cheek. "I was just focusing on the same thing as cross country, just get to the line. It's been an awesome experience this weekend."
PHOTO: Raevyn Rogers of the University of Oregon holds off Kendall Ellis of USC in the last leg of the 4x400m relay at the 2017 NCAA Division I Outdoor Track & Field Championships in Eugene, Ore. (photo by Chris Lotsbom for Race Results Weekly)