Tani Ruckle is Australia's 12th fastest female marathon runner of all-time.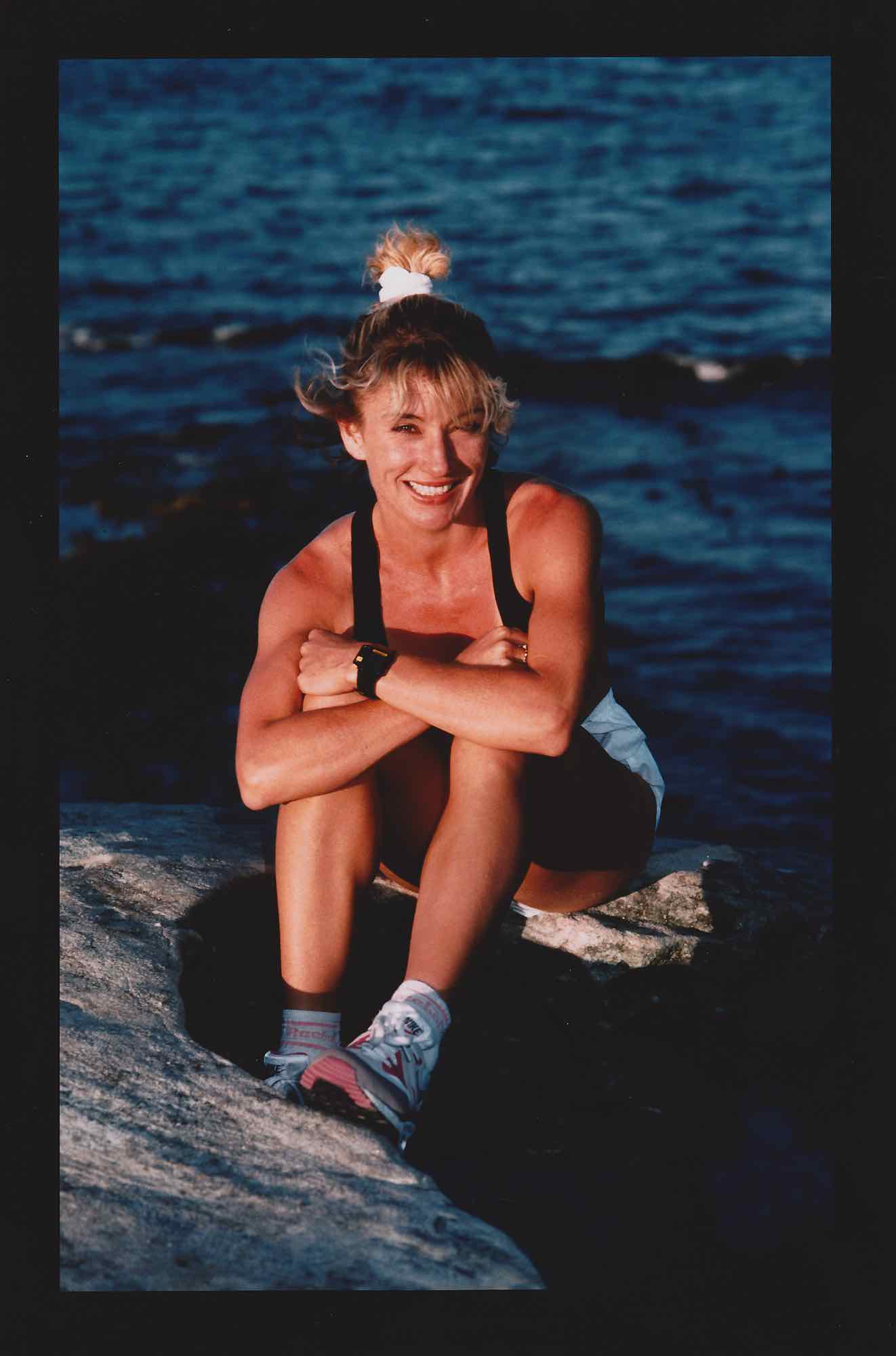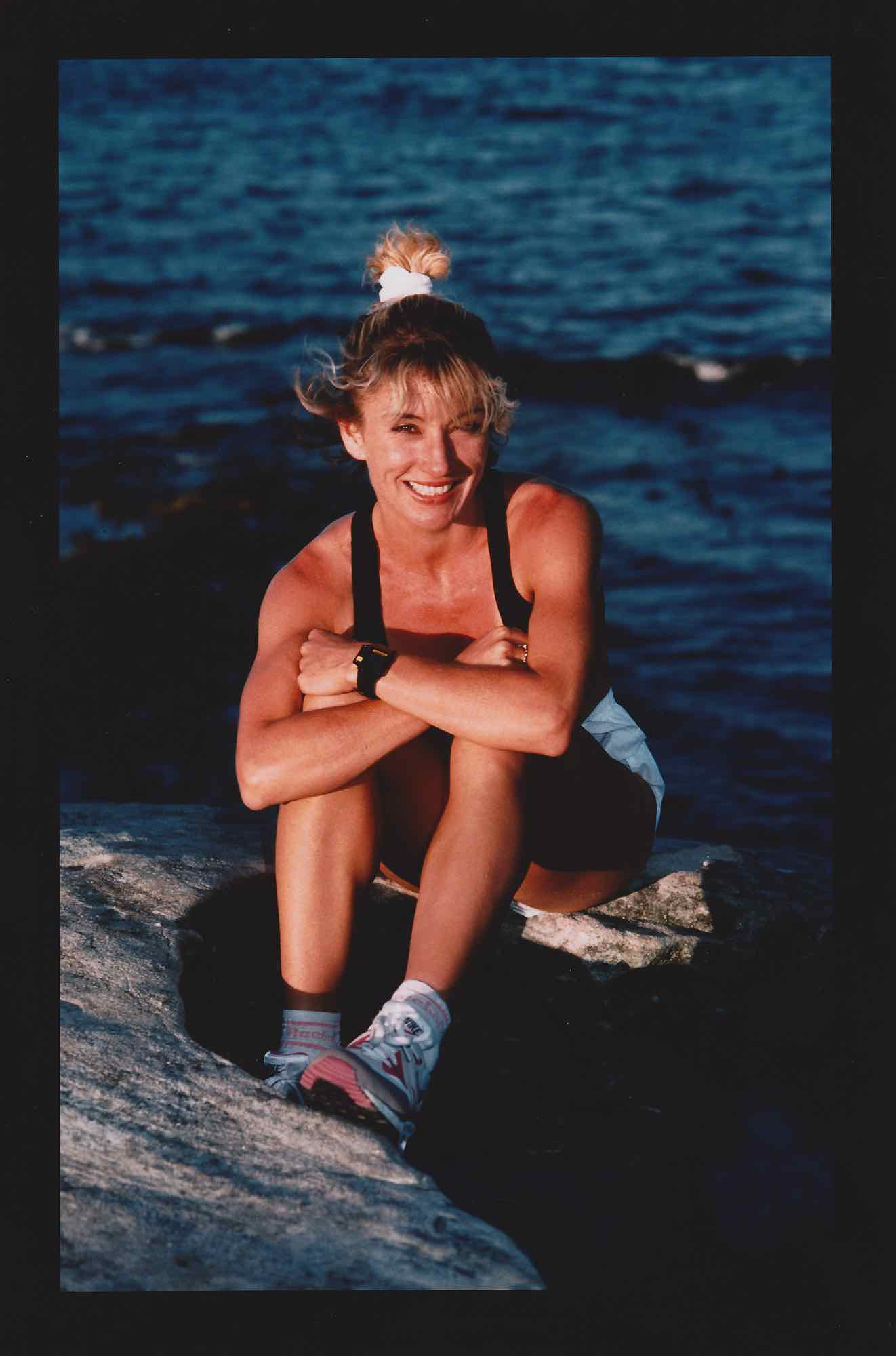 Introduction by Len Johnson
First, she couldn't run. Then she couldn't run without outside pacemaker assistance.
Then – well, OK, she could run, but she was just some slightly wacky Canadian fitness trainer with the crazy ambition of representing Australia. Running in maple-leaf shorts, for gosh sake.
It took mainstream Australian running some time to come to terms with Tani Ruckle. Perhaps that was understandable given her exotic background. The first running boom had barely hit Australia back in 1985 and, although elite runners had suddenly emerged from non-running backgrounds elsewhere, it hadn't happened in Australia yet.
So, when Tani Ruckle progressed rocket-like from a 2:50:03 debut in the 1985 Australian Marathon in Sydney, via a 2:36:06 in Melbourne 16 months later – making her second-fastest all-time behind only Lisa Ondieki – to a ninth place in an IAAF world women's road race championship behind the great Ingrid Kristiansen in early 1988, some found it a little hard to absorb.
For the serious running fans, it was probably the world championship run that confirmed Ruckle's talent.
The world women's road race championships were an IAAF initiative to hasten the development of women's distance running. The first edition was in San Diego in 1983, the year of the first women's marathon at a world championships and a year before the first Olympic women's marathon in Los Angeles. Lisa Ondieki finished tenth in the first championship, which was over 10 km.
In 1988, a happy coincidence brought the championships to Adelaide. The IAAF had already awarded that year's world cross-country championships to Auckland, New Zealand, the first, and only, time the championships have been staged in the southern hemisphere. To help boost both events, it was decided to stage the women's road race in Adelaide a week earlier.
The distance was now 15 km. Kristiansen won in 48:24, going on to win her one and only cross-country title the following weekend. Ruckle was ninth, just over two minutes behind the best distance runner in the world. She could run alright. Later in 1988, she split two of Australia's all-time best – Lisa Ondieki and Carolyn Schuwalow – in the City to Surf.
Ondieki won in race record 45:47, Ruckle ran 47:19. Ondieki was on the way to the Seoul Olympics where she won a silver medal in the marathon. Schuwalow was a finalist in the 10,000 metres. Clearly, Ruckle was no mug.
Ruckle's best performances were on the roads. She didn't really dabble in cross-country – she says in her interview she was capable of tripping over her own shadow: perhaps that explains why. But she did perform pretty well on the track, finishing third in the 1989 Zatopek behind Susan Hobson and Jenny Lund and second in 1990 in a PB 32:56.44 behind Lund. She carried that Zatopek form to Japan, running a 32:47 10 km leg in the Chiba Ekiden Relay a couple of weeks later.
After her debut in Sydney in 1985, Ruckle made incremental improvements in the 1985 Melbourne marathon and then a win in 2:46:58 in Manila in January 1986, which, given the conditions, was probably worth a good deal better. In any case, nine months later she made a significant jump when she was the first woman home in Melbourne in 2:36:06. Only Lisa Ondieki had run faster.
But it was Ruckle's return to the Australian marathon in Sydney in June 1987, which ignited a fierce controversy. She won the race in 2:37:53, but was initially disqualified for outside pacing assistance. An unofficial entrant had allegedly joined her mid-race and run with her over the closing stages. She finished suffering from dehydration and facing an investigation.
A day later, it was announced Ruckle had been disqualified. "It makes me look like a cheat," she said. "Life goes on, I suppose. But I lose the Australian title; I lose $10,000 (the winner's prize); I lose eight months of training; and I lose my Olympic qualifying time."
Race sponsors compensated Ruckle and, ultimately, the disqualification was overturned on appeal.
Ruckle did not get to the Seoul Olympics, but she did the next best thing – her next marathon brought another substantial time breakthrough, to 2:31:19 in finishing fourth in Chicago. Despite missing the Games, this added to her world road race top-10, her City to Surf performance and two half-marathon personal bests – 1:13:57 in finishing second in Sapporo, Japan, and 1:13:28 on the Gold Coast – to make it a memorable year.
Almost 15 months to the day later, 31 January 1990, Ruckle donned the Australian uniform for her most significant championships to date when she joined Ondieki in the Commonwealth Games marathon in Auckland.
This was always going to be two races. Ondieki, the Olympic silver medallist, was head and shoulders above anyone else and showed it with a magnificent solo run to win in 2:25:28. Ruckle made it three races, finishing over three minutes clear of the rest in second place in 2:33:15. Again she got the wobbles approaching the finish line. She wound up sprawled on her backside but with a huge smile spread across her face.
Later that year, Ruckle ran her third world women's road race, finishing 18th in Dublin to add to her ninth place in Adelaide and 24th in San Diego in 1989.
Although Ruckle made the 1994 Commonwealth Games team, her marathon performances generally went into decline after 1990. She ran the 1992 London marathon, finishing 17th in 2:40:39, but two years later in Nagoya, she turned back the clock in finishing fifth in 2:34:29. It was enough to clinch selection for her second Commonwealth team, fulfilling an ambition to run the '94 Games in her native country.
The race, however, was a disaster – barring the fact that Ruckle showed tremendous courage just to finish. In trouble from the start, she finished in a distressed state in 3:06:27 and was carried into the recovery area. Safe to say it was not the home return she wanted. Onlookers may admire the courage demonstrated in such circumstances; athletes would much prefer to be remembered for something – anything – else.
Ruckle's last serious marathon was a 2:40:01 in the Sydney marathon in 1996, a North Sydney to Homebush course which was basically the one used for the Olympics four years later.
From unpretentious beginnings, harbouring ambitions only she thought attainable, Tani Ruckle built a career as one of the best Australian marathoners of her era. With three world women's road race appearances, topped by her ninth place in Adelaide, and solid performances on the track, she contributed across the board.
Profile
Coach:

Stan Johnston and Pat Clohessy

Date of birth:

25 June 1962

Hometown during career:

Sydney

Date of retirement from running

: March 2000

Personal best

: 2:31

Career highlight:

Commonwealth Games Auckland silver medal
Let's start with the memories. Looking back, what is the most memorable moment of your career?  
The 1990 Commonwealth Games. After sustaining a back injury 10 days before I really wasn't sure I could even run let alone get silver behind the great Lisa Ondieki
Above video: 1990 Commonwealth Auckland Marathon Women
What about the most miserable memory?  
The death of my coach, friend and mentor Stan Johnston.
How important a role did Stan play?
I quite simply would not have even taken up running without Stan, his encouragement and guidance. Then for Stan and I to have the opportunity to liaise with a legend like Pat Clohessy was amazing for both of us.

Your favourite big city marathon race? And why?
Chicago; my PB. But also Nagoya because my coach was there to see it.
What did a typical weeks' worth of training consist of on a day to day basis during a hard training phase?
Monday: Easy 15-18 km
Tuesday:
AM:  8-10 km

PM:  Track/speed work
Wednesday:  Out and back run up to 30 km
Thursday:  
Friday:
AM: 8-10 km

PM:  Track/speed work
Saturday:  15-18 km
Sunday:  Long run 35-36 km
Throughout my career, I was also an aerobics instructor and would teach up to 15 classes/week

Did you make an attempt to do some of your long runs on the road or were a lot done off road? Did you prefer them to be hilly?
I almost always ran on the road as I am very clumsy and tend to trip over my own shadow. I think this was a mistake as I now suffer terrible knee pain.
My runs always had hills I didn't mind them and I think they made me stronger
If you had to choose one favourite session that you believed really worked for you and got you fit, what would it be?
The out and back session on Wednesday was very tough as the goal was to run out to a pre-determined point at a relatively high intensity and then turn around and try to come home faster. It was physically and even more mentally tough but really beneficial especially when the total distance was built up to 30 km.

Did you ever have rest days?
Definitely had rest days…not nearly as many as I have these days though! ☺

What pace were your easy/recovery runs done at?
Probably just a bit slower than 4 min/km pace.
Did you ever go on altitude training camps?
No, I didn't. I know a lot of runners used to go to Falls Creek to train and I wish I could have joined them but I was a little shy amongst these great runners and always felt more comfortable on my own.
Favourite training location?
Just around my home suburb of Mosman. It's so beautiful!
Did you incorporate core stability exercises or weights into your program?
Yes, I did a lot of exercise other than running particularly during my aerobics classes.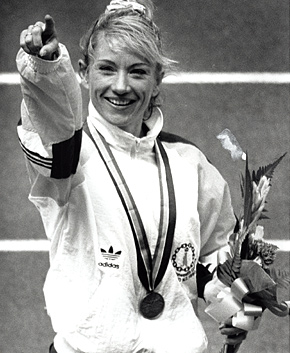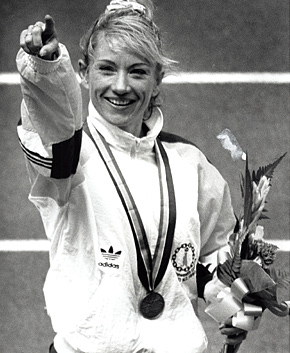 Hardest run/session you ever completed?
That would have to be any track session as I don't think I have natural speed. I can run for a long time at one pace but the speed work used to kill me.

How far out from a major marathon did you start to taper your training?
About 2 weeks.
How did you recover post-race? For how many weeks did you relax before returning to a normal workload?
It always depended on the race and what was coming up next. I used to love to go on long bike rides as marathon recovery. The best being a 5 week tour in France and Italy after the Commonwealth Games in 1990
What was your nutritional/energy intake regime during the marathon? And during the week leading into the race?
I would simply use an energy replacement drink that I would take every 5 km and pre-race I would always carbo load…and enjoy it!!!
If you had your time over again, is there anything you would do differently in regards to training?
I would have trained more with other people and developed more of a support network amongst runners so that when times were tough I would have had other runners who understood my situation rather than relying so much on Stan, my coach alone.
Just how taxing was your training. Did it take away from every other aspect of your life?
Definitely, I really had very little time or energy for much else.
Was there a typical point in every marathon where the mental battle really began?
I think I was mentally tougher than I was physically so I felt very well equipped to deal with the mental challenge. I also had the privilege of working with two amazing sports psychologists, Sue Jackson and Jeff Bond, they taught me so much and skills that I use to this day.
What is it about the marathon that appeals to you?
The challenge of the distance has always been a lure for me.
If there is indeed a 'secret' to success. What is it?
I used to do some presentations with schools and the formula as I saw it was a+B+C3+D2=SUCCESS: Small 'a' for ability as everyone needs a little talent but you need so much more than talent, 'B' for belief in yourself and your program, 'C3' for  commitment/consistency/coaching, and 'D2' for desire (you've got to want it) and determination.
Favourite training partner?
My coach Stan would ride his bike alongside me…I'd love that. I trained with a few guys on some occasions that made me work hard so I appreciated them as well.

Any funny stories worth sharing?
Nagoya marathon. Stan was in the coach's enclosure with the other coaches watching the runners on a screen approach the final stages. All the coaches were very proper and rather unemotional…Stan on the other hand was very emotional and upon seeing me on screen and that I was about to qualify for the Commonwealth Games in Canada couldn't stand it anymore and raced out of the coaches' room to the final stretch of road in the marathon and ran alongside screaming encouragement and jumping up and down with excitement like a little kid at Christmas. It was a great moment for both of us as I'd had a heart virus in 1992 that almost ended my career and sadly meant I missed out on the Barcelona Olympics. So this was a special success.
Do you still run? What are you up to these days?
Only if I have to run away from someone☺. My knees are not good I have osteoarthritis so I think my running days are behind me…but you never know with medical science…and I 'd never say never.
These days I still teach classes at the gym and am now into my 30th year of teaching.
I teach spin classes and I am a personal trainer. I continue to have a great passion for an active lifestyle and am most grateful to be able to make a living out of this passion.
I enjoy bike riding for my fitness and am currently considering riding the 3 Peaks (230 km) event in the beautiful Victorian Alps in March.

Do you think the 2 hour 10 minute mark will ever be broken?
Sure why not…'Go the Girls'
Favourite marathon runner of all time and why?
That's really hard…but because of my era I'd be hard pressed to go past 3 great runners Deek, Mona and Kerryn McCann and not just because they are all great runners but because they have always been supportive to the wider running community, always incredibly approachable and great role models. I love what Deek is trying to achieve with our Indigenous community at the moment.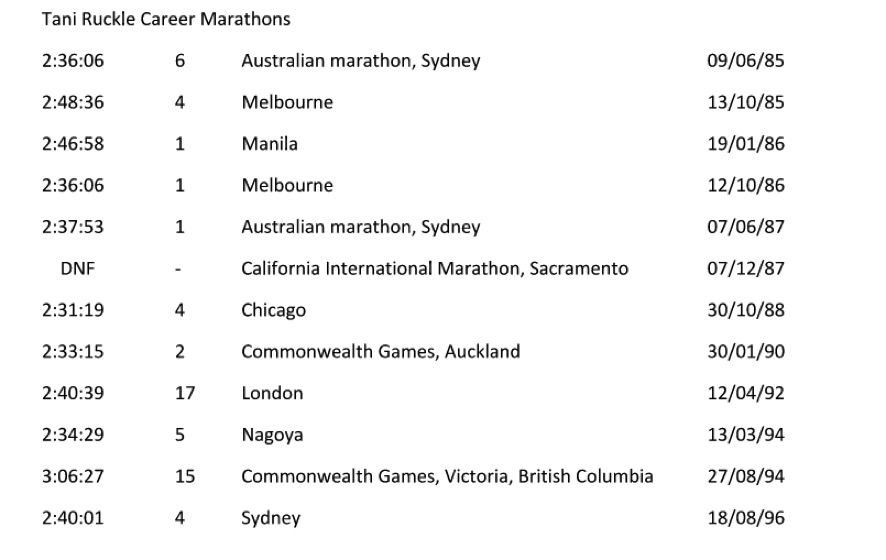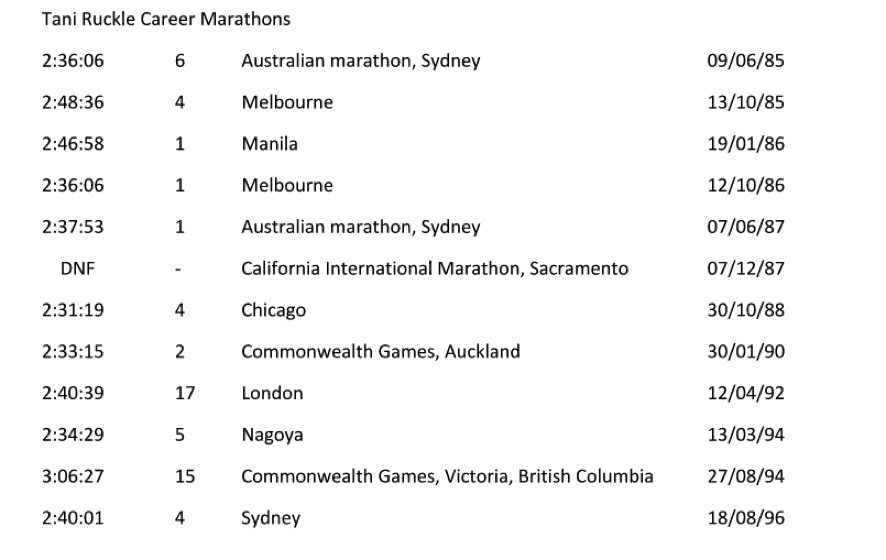 COMING TO THE RUNNER'S TRIBE STORE IN TIME FOR CHRISTMAS – 6 YEARS IN THE MAKING – 'AUSTRALIAN MARATHON STARS' – A BOOK BY RUNNER'S TRIBE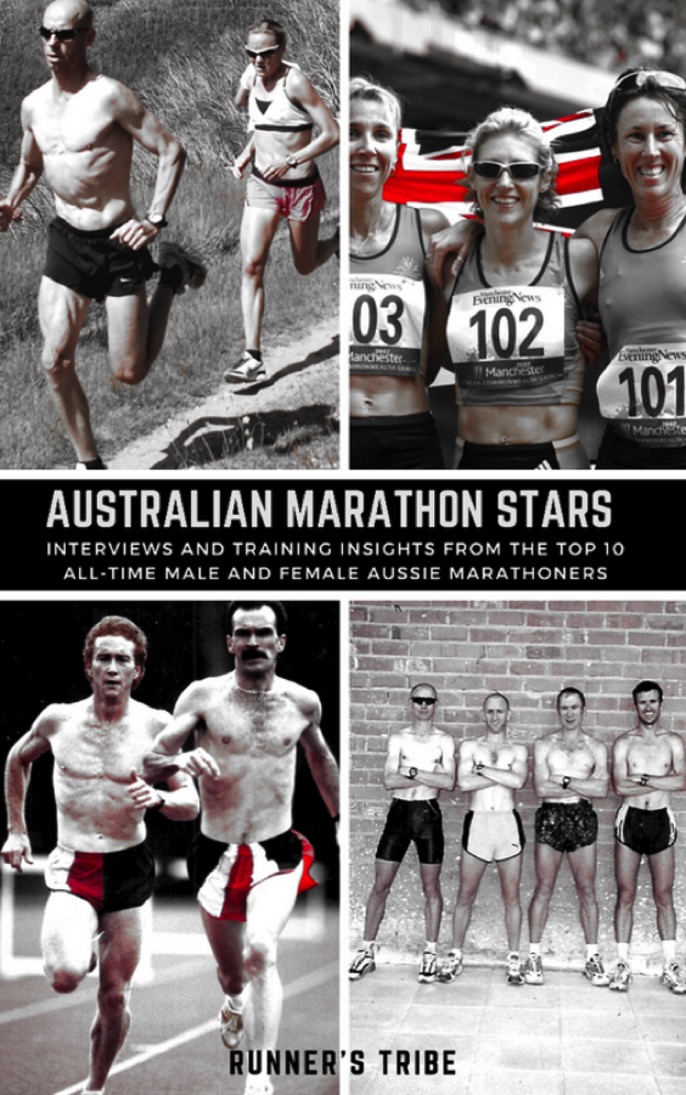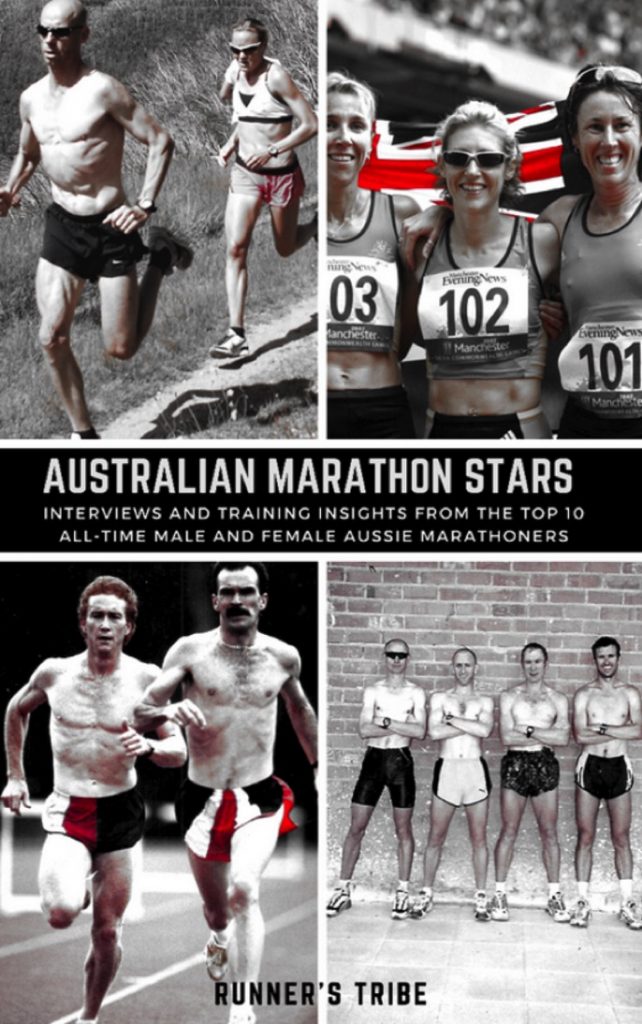 Video: Tani Ruckle – Profile 1990