By David Monti, @d9monti
(c) 2017 Race Results Weekly, all rights reserved
BERLIN (21-Sep) — While Kenenisa Bekele, Eliud Kipchoge and Wilson Kipsang battle each other for the world record at the front of Sunday's BMW Berlin Marathon here, Ryan Vail of Portland, Ore., will running several minutes behind waging his own personal battle against the clock.
Vail, the lone American man in the elite field here, is trying to re-start his marathon career after a series of injuries kept him off the field of play for half of 2015 and most of 2016.  The Brooks-sponsored athlete hasn't completed a marathon since November, 2014, when he finished ninth (first American) at the TCS New York City Marathon.  It's been a frustrating period for the 31 year-old athlete who ran for Oklahoma State during his NCAA career.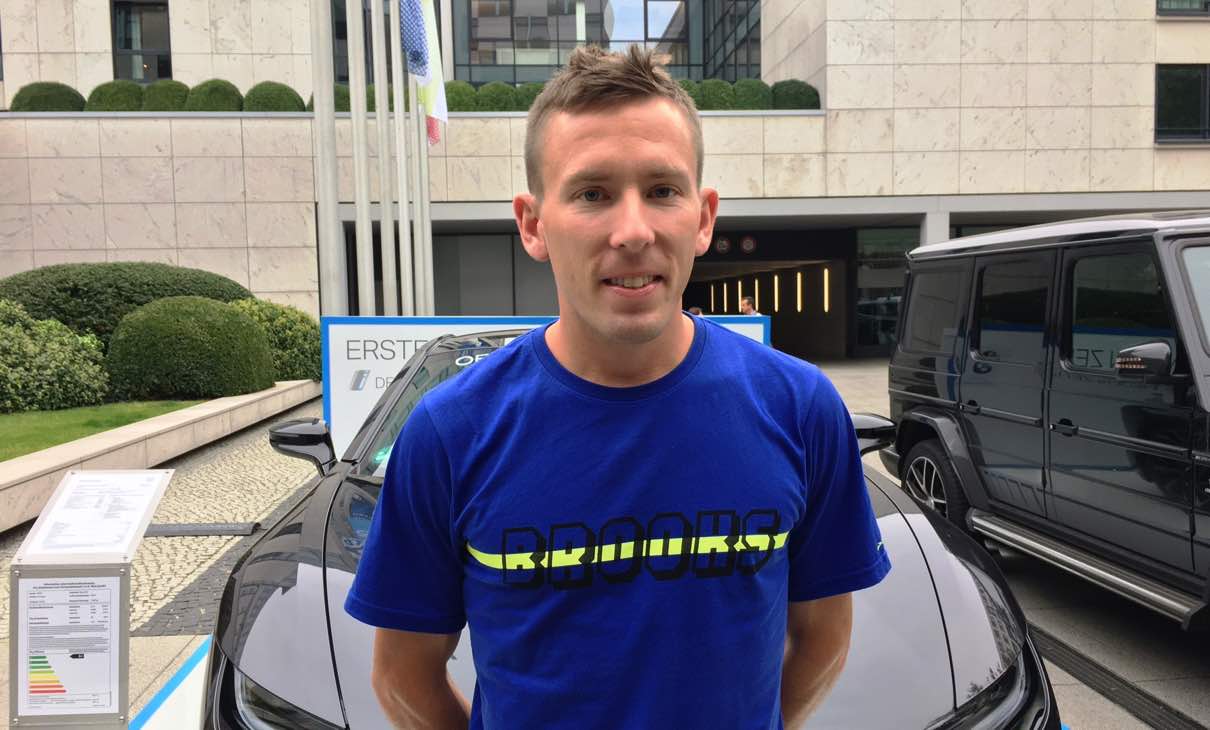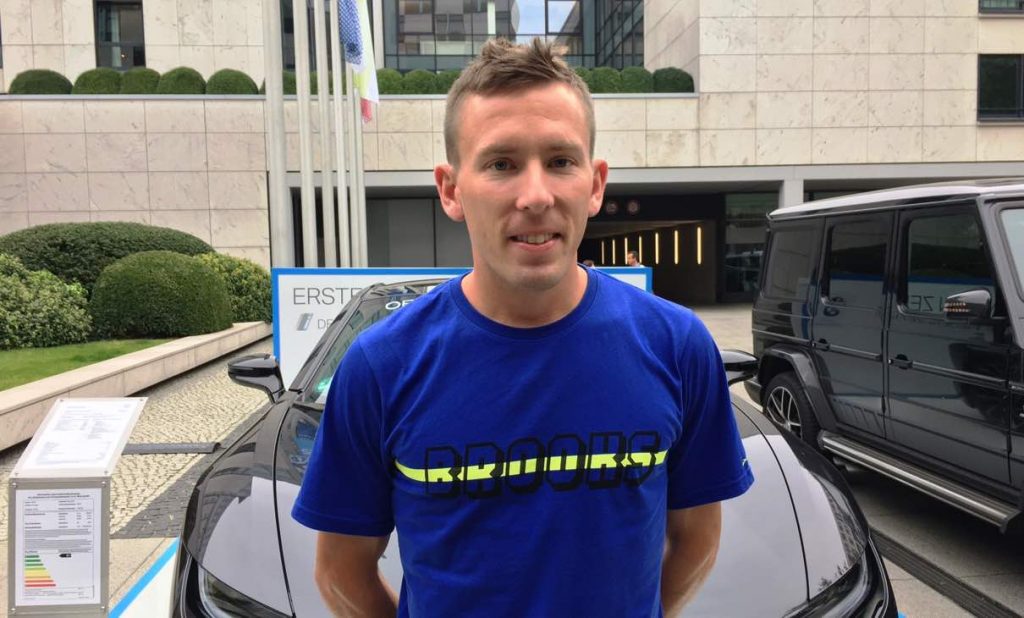 "Starting in 2015 right after the U.S. 10-K Champs I had a navicular stress fracture or stress reaction, we're not exactly sure, to a stress fracture in my opposite sacrum and right femur," Vail told Race Results Weekly in an interview in the press center here.  "That was almost a year and a half of getting a little bit fit, getting hurt, getting a little bit fit, getting hurt."
Vail, who emphasizes road running and cross country in his competition choices, had finished fifth on the track in the 10,000m at the USA Track and Field Championships in June, 2015, the trials meet for the IAAF World Championships.  When he walked off of the track, he had no idea that he would not put on a race number again for another 16 months when he finally lined up at the 2016 TCS New York City Marathon.  Frustratingly, the 2:10:57 marathoner was forced to drop out.
Vail's injury woes continued into 2017 when he was struck by a torn plantaris muscle last winter which caused him to abandon his spring racing plans, including the always competitive USA 15-K Championships at the Gate River Run in Jacksonville, Fla.
"It only took me out for a couple of weeks, but made me miss Gate River and the NACAC Cross Country Champs," Vail lamented.  "So, I didn't get to meet my goal which was to race a lot this spring, and just kind of get back into it mentally."
But since that setback, Vail has enjoyed consistent training.  He placed ninth at the USA 10-K road running championships at the AJC Peachtree Road Race last July with a respectable time of 29:06.  He knew then and there that he was ready to try another marathon, and Berlin was his first choice.
"I decided, actually, immediately after Peachtree," Vail explained.  "It was a pretty quick turnaround.  That was 11 weeks from the race coming this weekend.  I was still debating something like Frankfurt with the Flagstaff guys (Hoka Northern Arizona Elite team who are running there), or Berlin, which seemed a little bit close, but the conditions are always great.  I just wanted to take out all the variables and just have a solid performance."
Vail hopes to better his previous best from the Virgin Money London Marathon in 2014 where, despite running the final third of the race alone, he still managed to run sub-2:11 in windy conditions.  Here, he is hoping that a group will form for a 65:30 first half, which would line up well with his current fitness and goals.  He's not looking to knock it out of the park, but rather lay down a credible mark he can build on for the 2020 USA Olympic Trials Marathon.
"Just get back on the right track for 2020," Vail said.  "It doesn't need to be an outstanding performance, but something to put one foot forward at this point."
Vail began his Berlin training block alone in the southern Czech Republic during July while vising his wife Eva's family.  After returning to the States, he joined up with Canadian Olympian Cam Levins back in Portland, another athlete who was coming back from injury.
"When I got back I was actually able to hook up with Cam Levins in Portland for my last five weeks of training," Vail revealed.  "That was all just in my usual neighborhood and territory."
Vail got up to 130 miles per week (210 km).  Although below some of his previous totals during marathon training, it still more than adequate for running a good race here.  He took one day off a week, and averaged 20 miles a day for the days he did run.  His longest long-run was over 25 miles (40 km), he said, on difficult terrain.
Interestingly, this will not be Vail's first time running here in Berlin.  In 2014, he paced Shalane Flanagan as she tried to run an American record (she ran 2:21:14).  Vail ran nearly the whole course, going past 40 km, so he knows it well.  He likes the emphasis on details here which can potentially shave valuable seconds from his time.
"They just do everything they can to make it fast," Vail said.  "The pacing cars are in front of you.  For some of the athletes, they are handing the water bottles out to you.  They have so many different pace groups I knew I could slide into one of them no matter what my fitness was like."
At the athletes' hotel, Vail feels the excitement of the world record attempt, but has to stay focused on his own race and remember why he's here.  As a fan of the sport, he knows he'll be missing something special, at least while it's happening.
"It's almost disappointing that I won't get to see how that plays out until later because I know it's going to be fantastic," he said.