4 Runs a Day as a Child – The Training of Lydia Cheromei
© 2019 Runner's Tribe, all rights reserved.
"I had to run to school because I was usually late leaving the house. If I arrived late there would be a caning for me" – Lydia Cheromei.
Sources
'Train Hard, Win Easy. The Kenyan Way. By Toby Tanser. We highly recommend this classic book to anyone who is yet to read it. 
The late Frank Horwill, founder of the British milers club and legendary British coach, used to lament British distance runners over their work ethics. He commonly compared their training programs to that of a girl in Kenya who reportedly trained 3 times per day. It is not clear who Horwill was referring to, but it could have very well been Lydia Cheromei. Her story is typical for Kenya and shows just how hard Kenyan kids work, and how much mileage they accumulate, from a very young age.
Cheromei's career spanned from 1991 to 2013.
Cheromei rose to fame at the age of thirteen with a win at the 1991 IAAF World Junior Cross Country Championships. She then placed 3rd in the same race the following year.
Cheromei enjoyed success over cross country, on the roads, as well as the track.
Profile 
Date of birth: May 11, 1977. Tonrongo, Kenya.
World Junior Cross Country 1st 1991 and 3rd
Kenyan National Junior Cross Country champion 1991 and 1992.
Kenyan and World Junior record holder over 5000m (1995).
1997 World Championships 5000m 5th
2000 World Cross Country Championships, 4th.
2000 Sydney Olympics 5000m 6th.
2001 World Cross Country Championships, 3rd.
2004 World Half Marathon Championships 2nd.
Winner of Amsterdam Marathon 2008.
2012 World Half Marathon Championships 4th.
Personal Bests

1500m: 4:13.06 min (2000)
3000m: 8:29.14 min (2000)
2-mile: 8:13.45
5000m: 14:46.72 min (1997)
10,000m: 31:41.09 min (1992)
Half marathon: 1:07:26 hrs (2012)
Marathon: 2:21:30 hrs (2012) 
Training During Her School Years
Cheromei started young. She had to run school, home for lunch, back to school, then home again. 5km each way - resulting in 20km of distance covered, 5 days a week, even during her primary school years.
Cross Country Training – All about Quality
"It is better to run with runners who can push you" - Lydia Cheromei.
Self coached, once Cheromei's school days were behind her she started a more structured training regime. All of her training was done at Iten, altitude 2300m. She preferred to remain on dirt roads as much as possible.
Cheromei did no junk mileage, every run was quality.
A typical week of training leading into a major cross country race is outlined below:
Day 1

M: 45 minutes fast
Midday: 30 minutes fast
M: 6km fast
RUNNER'S TRIBE PAYS OUR WRITERS & FILM MAKERS TO CREATE EXCITING & ENTERTAINING CONTENT. HELP SUPPORT THESE PROFESSIONALS AND JOIN RT PREMIUM NOW.
TO VIEW THIS CONTENT PLEASE SIGN-UP TO RUNNER'S TRIBE'S MEMBERS ONLY PREMIUM CONTENT. WE HAVE SOURCED THE WORLD'S TOP WRITERS AND FILM MAKERS TO DELIVER ANY ATHLETE, COACH, PARENT OR FAN THE ULTIMATE PORTAL FOR ATHLETICS EDUCATION, ENJOYMENT AND INSPIRATION.
$9.95 AUD Monthly ($6.59 USD)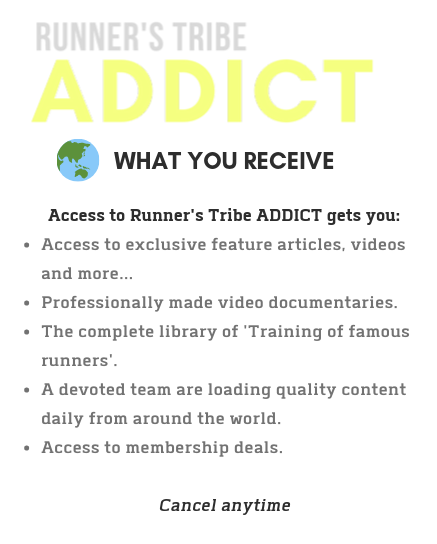 Yearly Plan (Worldwide) - BEST VALUE
$89.95 AUD Yearly ($59.56 USD)

$2.95 AUD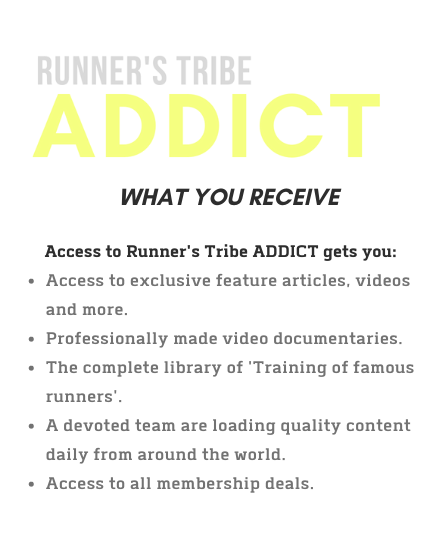 ALREADY A MEMBER? LOGIN BELOW