Jordan Gusman – DATE OF BIRTH – 30 JAN 1994
Personal Bests to date
DISCIPLINE
PERFORMANCE
WIND
PLACE
DATE
RECORDS
200 Metres
25.75
-1.5
Gold Coast (AUS)
19 JUN 2011
300 Metres
36.15
Gold Coast (AUS)
25 NOV 2011
400 Metres
48.89
Sydney (AUS)
14 OCT 2012
600 Metres
1:20.17
Gold Coast (AUS)
24 FEB 2012
800 Metres
1:48.65
Canberra (AUS)
16 APR 2016
1500 Metres
3:37.97
Huelva (ESP)
14 JUN 2017
One Mile
3:57.29
Sydney (AUS)
23 DEC 2017
3000 Metres
7:52.82
Sydney (AUS)
11 NOV 2017
5000 Metres
13:48.56
Canberra (AUS)
11 MAR 2017
10,000 Metres
29:06.01
Geelong (AUS)
17 DEC 2016
10 Kilometres
28:39
Burnie (AUS)
23 OCT 2016
How's training currently going under the guidance of your legendary coach, Dick Telford?
Trainings going well. Unfortunately, my sickness throughout the trials period forced me to take a few weeks off and I am just starting to get back. Still not quite 100% but enjoying training nonetheless.
What's the racing calendar look like for the next few months?
Over the past year or so I had been so fixated on competing at the commonwealth games that I really only raced 1500m. The next few months I will get to run a few 10ks, some cross country before heading back to Leonora. Undecided on plans for Europe just yet but if training is going well then that is not out of question.
Can you please outline your current training week from Monday to Friday with sessions?
Training is pretty straight forward at the moment. Last week's Monday to Friday is as follows:
Monday – AM 15km, PM 10km + gym and strides
Tuesday – AM 5km easy, PM 5km warmup, 16×400 on a 2min cycle (starting at 64, finishing in 57), 5km warm down
Wednesday – AM 20km over hills, PM 10km + gym and strides
Thursday – AM 5km easy, PM 5km warmup, 5km steady around Stromlo (14.20), 4min jog recovery, 3×100 on, 100 jog, 200 on, 100 jog, 300 on, 200 jog (reps at 16s 100s, floats in 20s 100s)
Friday – AM 10km very easy + gym, PM rest
There's little doubt at some point in the future you will make an Australian team. You've had some tough luck at Nationals over the years, but as you said, it's a tough sport. How much does the thought of one day wearing the green and gold push you in day to day training?
I wouldn't say that representation as such is what motivates me day to day, but more so my individual improvement. I love seeing my day to day progression and that really helps me stay focused and working as hard as I can. I would obviously love to run at a major championship but for me it isn't the be all and end all of this sport. I really just want to get the best out of myself in the event I enjoy running the most, the 1500m. If I manage to do this, I don't see why I couldn't run low 3.30s and qualify myself for teams.
What does your strength and conditioning program currently look like? Do you do much?
Over the past year I have gradually incorporated more of a gym specific routine into my program. It consists mostly of body weight exercises and plyometrics, followed by sets of weighted squats, step ups, bench press and some more plyometrics.
Would you say you nail the little 1%, like diet, sleep etc..?
I'd like to think so. Some may argue I overdo it in some aspects. I just like to keep things balanced. A good, healthy and natural diet, a decent night sleep and I'm usually pretty well recovered for the next run or workout.
I could use a massage or some more stretching once in a while, but I never really get injured or fatigued so it doesn't seem so necessary. I may regret those words one day though.
Have you ever contemplated getting an altitude tent?
Years ago I did. Until I started going to high altitude for training camps. My physiological adaptations actually went backwards from my few stints at altitude and I realised it probably wasn't right for me. In saying that, I think sleeping at altitude (in a tent) yet training etc at sea level, or lesser altitude in Canberra could be a happy median.
What's the meatiest session you've cracked out in the last few months and what were your splits?
I can't look past the few sessions I completed in the 10-day period leading into the trials this year and think what would have been if I were healthy. The session that stands out the most was 8 days out from the 1500m heats. It consisted of – 4×400 with 200 float recovery, lap jog (3min), 4×300 with 100 float, lap jog (3min), 800m (descending 200m), lap jog (4min), 6×150 with 50 jog. The idea was that by the time we got to the 800m we would be feeling somewhat similar to the last 800m of the national final. In hindsight, the feeling at that point of the session was probably much worse. The splits were as follows:
Set 1 – (starts with float) 40, 62, 39, 61, 39, 60, 38, 60
Set 2 – (starts with float) 20, 44, 19, 44, 19, 43, 20, 42
Set 3 – (200 splits) 30, 28, 27, 26 (1.51.00)
Set 4 – (starts with jog) 10, 20, 10, 20, 11, 21, 11, 20, 11, 20, 13, 19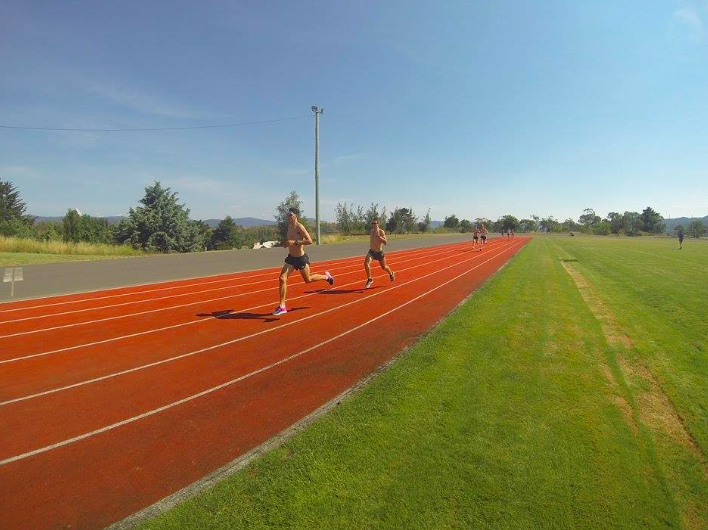 So you'll be heading back to Leonora to defend your title in June. You've stated that it's possibly your favourite event on the racing calendar, why is this?
I am really looking forward to Leonora again this year. I can't quite pinpoint what it is exactly about the event that makes it stand out so much for me. I think the experience as a whole is unlike any other event I have run. That experience differs for everyone and in a way, I have been lucky enough to have experienced both ends of the spectrum. My first year I travelled to Leonora I got to run, eat, sleep along-side some of my childhood idols such as Jeff Riseley and Roffy. Now in my fourth year, yet a lesser version of the previously listed athletes, I am now seen as a role model for the younger generations. It's also got a giant mine and the local community are very supportive and welcoming.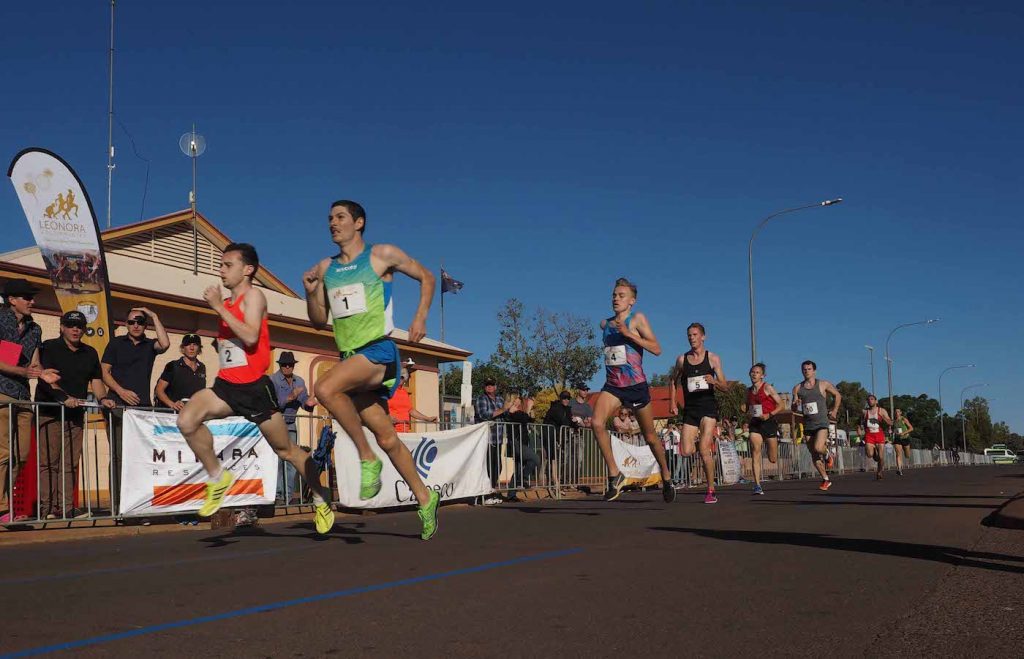 End
Elites wishing to enter this year's Leonora Mile please email info@runnerstribe.com asap with a short bio. Travel assistance is available. Note: Very few spots remain. 
We'd also like to offer Western Australian Athletic Clubs travel assistance to compete in Leonora. Please get in touch with Runner's Tribe at info@runnerstribe.com. We are extremely confident everyone who attends the Leonora Golden Gift will have an outstanding and unique experience. Apart from the elite mile, the program offers sprint races up to the 800m. The program will be released soon @ http://www.leonoragoldengift.com/programme/