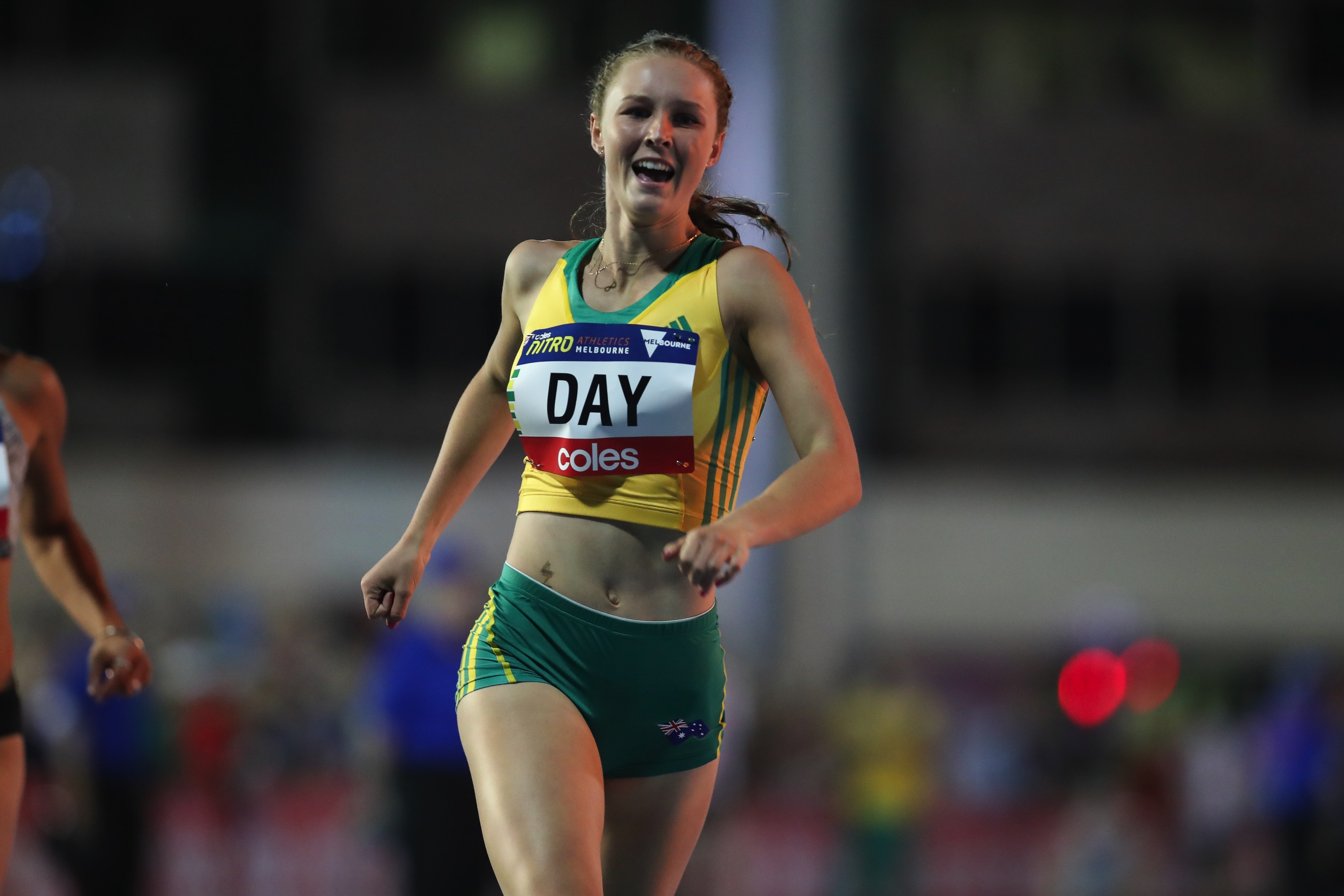 A new Day and age in Australian track and field
Written by Grace Kalac – Runner's Tribe
If you watched Riley Day's composure on night one of Nitro Athletics as she lined up on the back straight against Usain Bolt, you wouldn't have guessed that the 16 year-old's first memories of track and field involve her vomiting with nerves before every race.
On this night, not even the thought of racing the world's fastest man could shake Day. She jokingly bantered with the superstar and fixed her eyes firmly on the task ahead. It was the match-up no one saw coming, but Day stood up to the challenge and made her mark as a rising star. Over the following two nights of Nitro Athletics, young Day won our hearts with her inspiring performances and spirited personality. And for Day, it was the best experience of her athletics career so far.  
"It was everything I expected it to be and more! Nitro was definitely what athletics needed, it was an amazing atmosphere," said Day.
"For me to be 16 and a household name is an incredible feeling and a dream come true. I was so grateful to be a part of Nitro."
It all started for Day as a nine-year-old on the grass oval of Beaudesert Little Athletics. Not long after, her love for the sport was ignited, and her parents asked family friend Donna Thomas to coach her. Thomas undertook a series of coaching courses to build and refine her knowledge, and has coached Day ever since. Together, they have taken the junior sprinting world by storm. What was initially a weekend activity became much more, as Day began medalling at nationals and decided to take her training to the next level.
"The thing I love most about athletics is the sense of accomplishment that you feel after all of your hard work has paid off and also definitely the rush of adrenaline you receive before during and after the racing," Day said.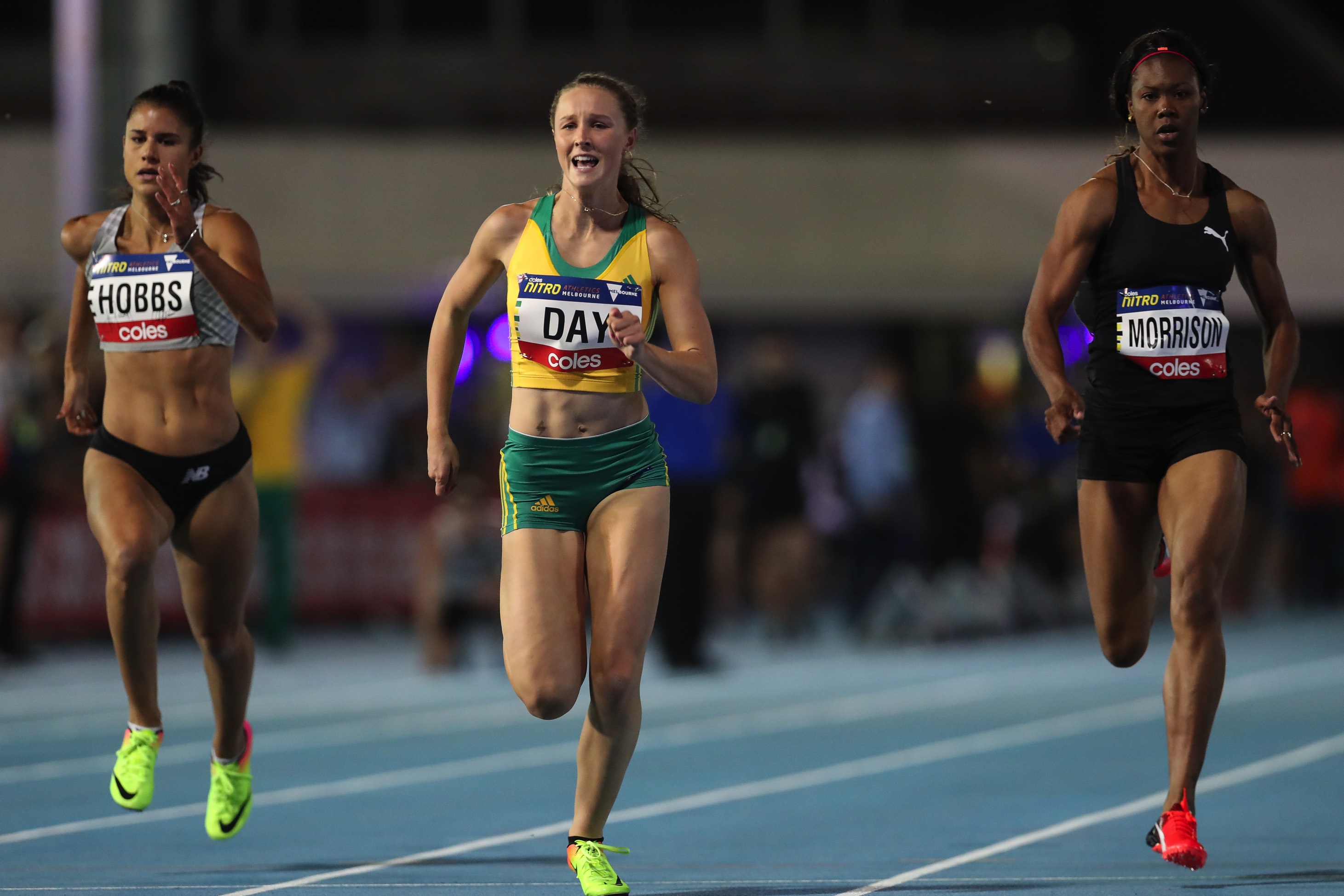 These days, Day settles her nerves by concentrating on staying calm and focused on what she wants to accomplish. The 100m and 200m specialist now holds the Under 18 All Schools meet records for the two events, previously held by legends of the sport Sally Pearson and Lauren Hewitt.
Day is one of our current teenage track and field superstars who are proving that age really is just a number. Day, alongside fellow teen sensations Matthew Ramsden and Nina Kennedy, proved their capability to contest against world-class athletes at Nitro Athletics earlier this month.
"I tried not to think about the big age gap between the other competitors and myself [at Nitro] and just tried not to focus on that, I focused on getting as many points as I could for Australia," said Day.
Now that the Nitro buzz has settled down, it's back to reality for Day, who is in her final year of high school.  
"It was very difficult flying home on the Sunday after nitro finished and then starting school on Monday, it was quite difficult to concentrate at first as all I was thinking about was the nitro experience but I'm slowly catching up on all school work and I'm glad I'm back to regular training," said Day.
While Nitro was Day's maker of stardom, it is only the beginning for the youngster, who has her sights set on the 2018 Commonwealth Games. The Games being at her home track of Gold Coast makes it that little bit more special for her. In the interim, Day will be preparing for the Australian Junior National Championships in March, where she hopes to clock personal bests and qualifying times for the Youth Commonwealth Games in the Bahamas in July.