Len Johnson – Runner's Tribe
One of the beneficiaries of the decision to compete in Moscow was Rob de Castella, who made his first of four Olympic teams in the marathon.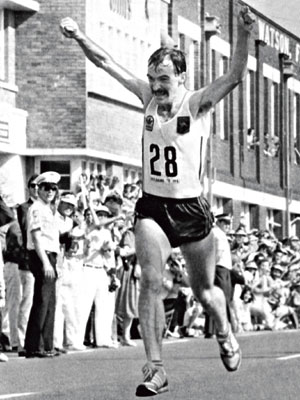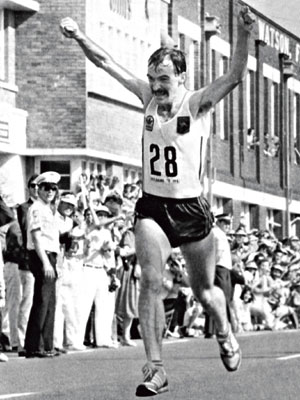 'Deek' finished tenth in the marathon in Moscow, his first experience of the surging sort of running required to win a major championship marathon. He was a quick learner: a year later he ran a world record in winning the 1981 Fukuoka marathon; a year later again he was Commonwealth champion in Brisbane; and, in 1983, he won the marathon at the first world championships in Helsinki, having defeated Carlos Lopes in Rotterdam earlier in the year in a marathon hyped as a de Castella-Alberto Salazar match race (Salazar was fifth).
Lopes turned the tables on Deek at the 1984 Los Angeles Olympics, winning as 'Deek' was relegated to fifth.
De Castella's other championship win was at the 1986 Commonwealth Games, a few months after he won the first big-money Boston marathon in a still-standing Australian record 2:07:51. He was eighth in the 1988 Olympics, 13th in the 1990 Commonwealths and 26th in the Barcelona 1992 Olympics.
Deek's other wins were in his first two marathons – the 1979 Victorian and Australian titles, and at Rotterdam in 1991, when he broke 2:10 for the eighth time. His world championship gold medal, backed up by his world record, Commonwealth golds, longevity and consistency make him Australia's greatest male marathoner and, I would argue, greatest ever (ahead of Lisa Ondieki).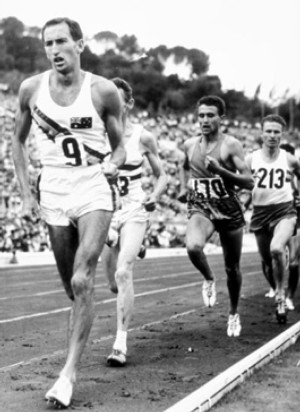 All of which is a long way of getting round to the fact that Deek turns 60 this Monday (27 February). It probably should be a national holiday, but perhaps you could celebrate by going for a run instead.
The last week in February is a landmark one for Australian athletics birthdays. Three of our all-time greatest were born in the last seven days of (a non-leap year) February. Ron Clarke would have been 80 this year, while Herb Elliott celebrates his birthday on 25 February. I won't mention his age, but Herb will be almost 20 years older than Deek.
Though his career was brief by modern-day standards, Elliott set a world record in winning the 1500 at the Rome 1960 Olympics, set earlier world marks in the 1500 and mile, won the middle-distance double at the 1958 British Empire Games and was undefeated at the mile and 1500.
Our greatest marathoner, one of the world's greatest ever distance runners and one of a handful of genuine claimants to be the world's best-ever 1500/mile runner. That's some week of birthdays.
END
Read Len's other feature article from today-

About the Author-
Len Johnson wrote for The Melbourne Age as an athletics writer for over 20 years, covering five Olympics, 10 world championships and five Commonwealth Games.
He has been the long-time lead columnist on RT and is one of the world's most respected athletic writers.
He is also a former national class distance runner (2.19.32 marathon) and trained with Chris Wardlaw and Robert de Castella among other running legends. He is the author of The Landy Era.