Age is No Barrier –  Susan Hobson Interview
© 2017 Runner's Tribe, all rights reserved.
If there was ever an example that age is no barrier for endurance athletes, Susan Hobson is it. Susan competed in her last major marathon at the Sydney Olympics in 2000, aged 42. To make her achievement even more impressive, Susan's final comeback, in time for the Sydney 2000 Olympics, was made after the birth of her second child.
Coached by famed Aussie coach Pat Clohessy, Susan is a mother who took on the hardest event possible and came away with an Olympic appearance. She is currently ranked the 12th fastest Australian marathoner of all time.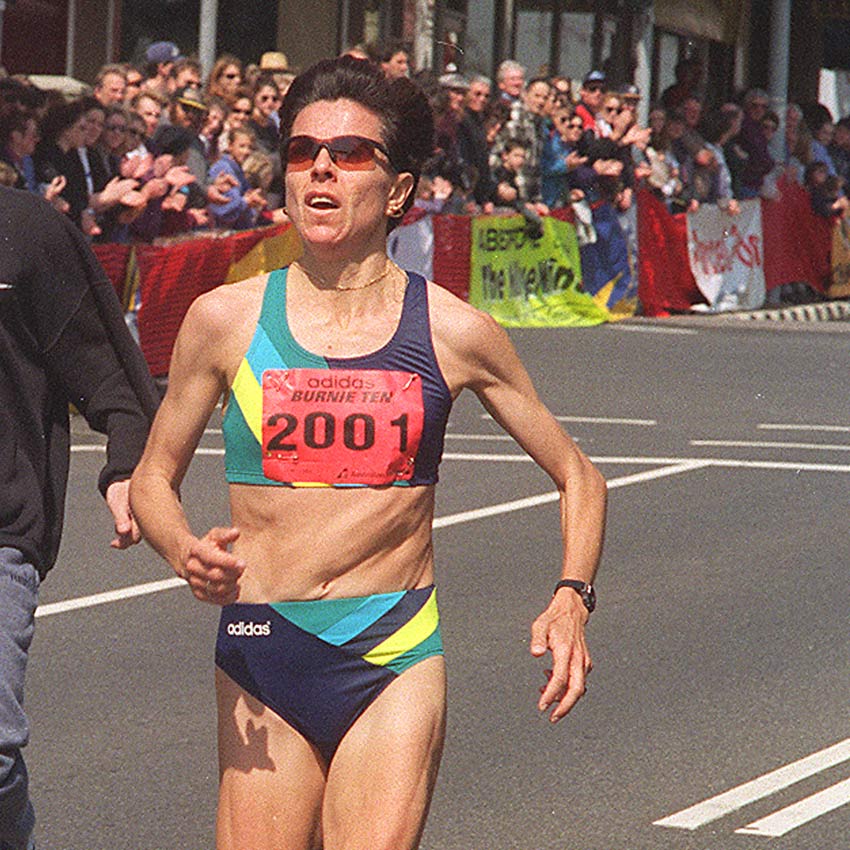 Profile
Coach:

Pat Clohessy (1988-2000); Dick Telford for 12 months in 1996-97; Geoff Moore was my first coach (1986-88).
Date of birth:

13 March 1958.
Hometown during career

: Canberra, except for 12 months in Perth leading up to the Sydney Olympics. We returned to Canberra in 2005 when I was well and truly retired.
Date of retirement from running

: 2000 from international competitive running.
Career highlight

: Running in the final of the 10,000m at the 1996 Atlanta Olympics – that was when you had to qualify through a heat six days earlier. The stadium was packed, the atmosphere was amazing and, as the race was a final, we ran as a tight pack through halfway. It was an exciting race to be part of.
Major championships medals

: Six times National Champion (Marathon, 10,000m and Cross Country) – no international medals, except a gold in the Japanese Half Marathon Championships in 1997 and silver in the Cinque Mulini International Cross Country in 1989.
What are some highlights that stand out for you?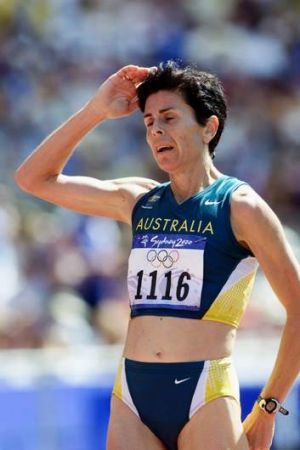 Apart from the major highlight discussed above, there are two others:
My debut marathon, the Canberra Marathon in 1994, was an amazing day – a hometown crowd supporting me, my first marathon, no real expectations and I ran a pretty decent debut time.
The Sydney Olympics – the whole two weeks – was a very special time. Even though my marathon performance is mentioned as a disappointing memory (below), when I finally got to the stadium after running 42km through people-lined streets, and ran in for that last lap, to my surprise there was a standing ovation. It is an unforgettable experience, and it did make the effort to get fit again to run a home Olympics marathon all worthwhile.
Any less than memorable moments?
Unfortunately, there are also two, both from the only two championship marathons I ran:
Having to withdraw from the 1994 Commonwealth Games Marathon at 28km with a stress fracture, while still the leading Australian, was awful. It was a pretty minor one (tibia), but my calf was cramping so much I couldn't continue. I entered the race as one of the gold medal favourites, but it wasn't to be.
I started the Sydney Olympics Marathon with a hamstring insertion problem that we couldn't resolve in time (things are pretty slow to heal when you're 42). The crowd lining the whole route was amazing, and they certainly lifted me, but it was a very tough day – a disappointing performance and not what I had in mind when I decided to make a comeback after my second child.
How important was your coach to you?
Pat Clohessy was a very wise mentor. He knew when I should push hard and when to back off in training; when to race and when it was going to be counter-productive to do so. I learnt so much from him and trusted him. The twelve months I had with Dick Telford was also very valuable. Clo practised the 'art' of coaching and Dick the 'science' of coaching. I am very lucky to have been able to have guidance from both of these great coaches.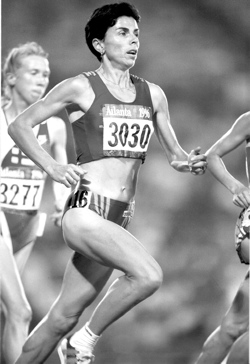 What's your favourite big city marathon race?
I loved the way you are looked after in the Japanese marathons – Tokyo and Osaka – they are such well-organised events and attract good fields. However, you can't go past the atmosphere of London and the finish up The Mall. I only ran London once and unfortunately arrived off the plane with the flu. You might be getting the idea I didn't have much luck getting to the start of a marathon healthy, which is partially true. I think I was actually a better 10k and half marathon runner.
What did a typical weeks worth of training consist of for you during a hard training phase?
145-170km per week – it seems I did better on the lower end of this. When I was marathon training I did two swims a week – instead of having a second run on Sunday and Wednesday (partly because of my age).
Typical week:
Monday – a.m. 16km plus strides / p.m. 8km
Tuesday – a.m. 6 x 1km undulating; 1min recovery / p.m. 8km
Wednesday – a.m. 25km / p.m. 30-40 min swim
Thursday – a.m. 400,400,200 x 3 track session

or

60-90sec hill repeats x 8, followed by 10 min surge / p.m. 8km

Friday – a.m. 12km / p.m. 8km
Saturday – a.m. 3 x 7 mins tempo

or

30 mins hilly tempo

or

fartlek (30 sec – 2 min surges) / p.m. 8km

Sunday – a.m. 35km / p.m. 30 min swim
How long was your Sunday long run?
2 ½ hours or 35km. I did prefer undulating long runs with a few good hills. Often I would try and pick up the last 30 minutes, and sometimes this section was on a bike path if running from home. Occasionally I would do the whole run on bike paths, especially if it was raining.
If you had to choose one favourite session, what would it be?
6 x 1km undulating, with 60 secs recovery on O'Connor Ridge. Even when doing this session alone I found I could really push myself. The other session was a 3 ½ minute loop which has a lot of uphill, with a 1 min jog downhill recovery – also x 6, and also on O'Connor Ridge.
Did you ever have rest days?
I did have a non-running day per week (swam on this day) for my first marathon – the Canberra Marathon. As this was arguably one of my best runs, maybe I should have learnt from this and repeated this plan more often. More often I would train every day, except if I was exceptionally tired and then I would swim instead.
What pace were your easy runs done at?
4.30 mins/km
How important were altitude training camps?
I didn't really ever get into altitude training. Only once, when coming back from childbirth, did I do a very short stint at Falls Creek. The summer at Falls didn't really fit in with my family for a number of reasons. Altitude training was only really becoming a lot more popular in Australia in the mid-1990s, and I think if I were training today it would definitely be a part of my program.
Favourite training location?
I loved both training and racing in Stromlo Forest in Canberra. You could do a 35km run on trails without doubling back at all. On a hot day, you could always find shady stretches of trails to run along. Unfortunately, a large part of that area is now being redeveloped as suburbs.
Noosa National Park was another favourite place to train – probably influenced by the fact that it was also a bit of a holiday and such a good place to spend some time.  The run out along the track that follows the coastline from the car park at Noosa is beautiful, and then you run back through the cool forest area. Plus, you can get a very good cup of coffee post training.
Did you incorporate core stability exercises or weights into your program?
Yes, I did. I would do circuit exercises (mainly own body weight and pilates) twice a week. I also needed to regularly stretch, and a lot of this was yoga style stretching. I attended yoga classes in the 12 months leading up to the Barcelona Olympics, and in the following years would do my own yoga stretches at home.
What was the hardest run you ever completed?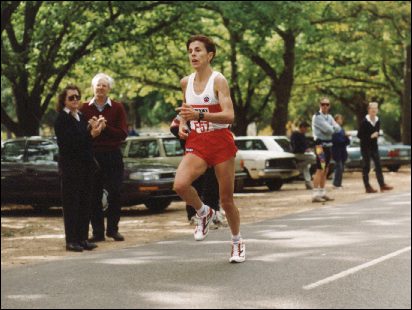 A point-to-point long run one summer morning on the Central Coast. I was running from my sister's place to another beach where we were going to spend the day and miscalculated the distance. The 32 km ended up being over 40km, quite hilly, it was very warm and humid, and I couldn't find any water for the last hour or so. Because the last part was into a national park there weren't even any house-front taps to raid.
The race I remember being particularly tough for the opposite reason was the last 10km of the Osaka Marathon. I think I was actually very close to hypothermia, as it was about 4 degrees and raining for much of the race. I can't remember much of that last half hour, except wishing someone would hand me a balaclava because my face was just so cold.
How far out from a major marathon did you start to taper your training?
My taper was usually three weeks. I would roughly follow the 75%/50%/25% taper over the last 3 weeks.
How did you recover post-race?
My marathon recovery period was usually along these lines:
Week 1

– swimming and pool running only.

Week 2

– easy running most days, nothing over an hour; 1 or 2 swims.

Week 3

– easy running every day, possibly 2 x 16km runs, no second runs.

Week 4

– almost a normal number of sessions per week, but no quality except strides; Sunday run only 20-25km.

This all depended on how well I felt I was recovering

Week 5

– back to a normal program
What was your nutritional intake regimen during the marathon, and in the week leading into the race?
I didn't ever do the depletion/load thing pre-marathon, but would load up on carbohydrates in the last three days. I would do this with food and a high carbohydrate sports drink as I found this easier than eating a lot of high carbohydrate food. Protein consumption would drop over these three days.
During the marathon, I would drink a 2-3 percent sports drink every 5km and would try and get about 150mls down at each station.
If you had your time over again, is there anything you would do differently in regards to training?
I would definitely include altitude training, most likely a block before each marathon or major championship.
I didn't train with a group as much in the later years of my career – with a young family I tended to do my main sessions in the morning by myself as it suited the family a lot better. I would ensure I still incorporated some key sessions each week with a group if I were to do it all again. I would also like to have run more competitive international 5kms on track, but the women's 5km only made its debut in 1999/2000, and I was just about done by then. I would also like to have run a few more big half marathon races.
Just how taxing was your training? Did this take away from every other aspect of your life?
I think you feel quite tired a lot of the time when marathon training, but you get used to it. I'm sure my age (late 30s – early 40s) didn't make it any easier, nor did the nights when unsettled children disturbed sleep. Our family life did have to revolve around my training and racing to a fair degree, which is why I tried to be as accommodating as I could with my training program.
Was there a typical point in every marathon where the mental battle really began?
I found this often began for me at about 25km, which meant I found I had to really focus for the last 17km – a bit longer than ideal. Many marathoners will tell you this point begins around 30km. I don't think I'm great at maintaining focus for extended periods. Maybe this is why the marathon was not my best event.
What is it about the marathon that appeals to you?
It is a very fickle event and difficult to get right. That's why it is such a buzz when you do. It is always such a special event and you have been specifically preparing for it for a few months or more. It is a great feeling to cross that finish line, absolutely exhausted, knowing you have given it your all. I ran 10 marathons and for various reasons (niggles, minor illness or rain) I only feel I ran two decent marathon races. I guess I kept coming back to it to try and get it right and run that sub 2:30 I thought I was easily capable of.
If there is indeed a 'secret' to success – what is it?
I feel the only real secret is to get the consistent training in without getting sick or injured. It is also important to look after the additional components – sleep, recovery, diet, stretching. I don't think there is a magic secret.
Favourite training partner?
I always enjoyed running with Shaun Creighton. We would go for runs, especially long runs, and talk the whole way solving the problems of the world, especially the running world. Shaun also says hello to absolutely everyone he runs past, and that can be entertaining. Kerryn McCann and I roomed together on a number of camps and teams. She was also a great training partner at these times as we did similar sessions at the same pace. Kerryn was always so easy to get along with, caring, good fun and so 'normal' – just one of those special people who is put on this earth.
Any funny stories worth sharing?
When training at Noosa prior to the Sydney Olympics a group of us went for a run in Tewantin State Forest, the scene of a pretty awful murder some years before. Lee Troop and a group of five girls were running out along a trail and went past a small group of workmen who were fixing pipes. We girls did a loop to get back to the start – Troopy was running longer so he went out and back. As he ran back past the workmen without us one of the workmen called out to Troopy, "What have you done with the bodies?"
Do you think the 2 hour 10-minute mark will ever be broken?
Yes, I do, but maybe not for another 15-20 years at least because no one else has come near Paula Radcliffe's 2:15. The next fastest all-time female behind Paula is about three minutes away. This prediction is obviously given things remain fair, and no undetectable "assistance" becomes available to endurance athletes, or it is run at Boston on a very windy day!
Favourite marathon runner of all time and why?
I think I'd have to go with Mona (Steve Moneghetti). He was an outstanding marathon runner in his day, a fierce competitor and yet very humble, encouraging of others and would give the time of day to anyone. As a role model to other athletes and kids in general, you don't get much better.