Australia and the Men's 800m – 4 part series
Part 4. Cracking the Coed
An Analysis of Seb Coe's Junior Performances and Race Selection
Did Seb Coe avoid the pitfalls Australians encounter?
From Seb Coe: "When people said, 'you've let it become an intellectual exercise', Dad's answer was, 'you're dead right!'"
Seb Coe, like Peter Snell, ran the 800m seriously for the first time at age 19.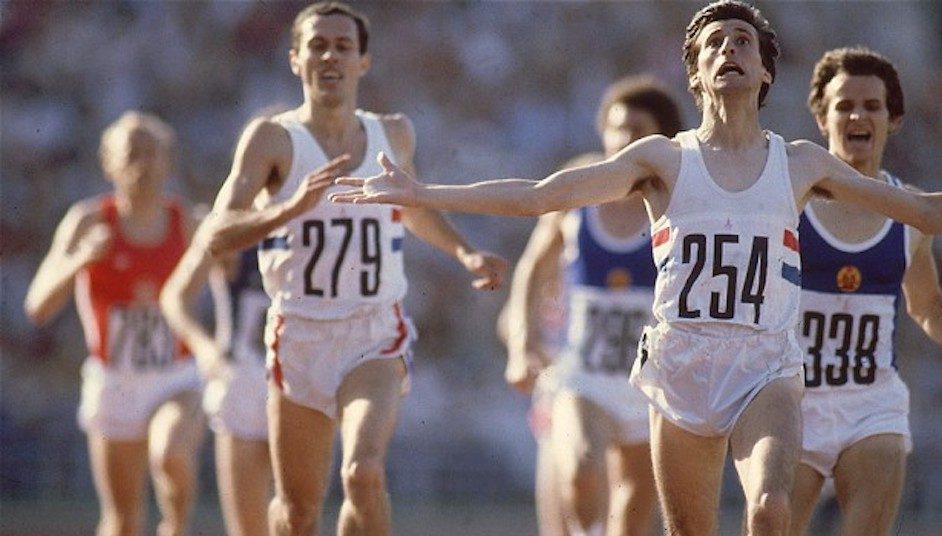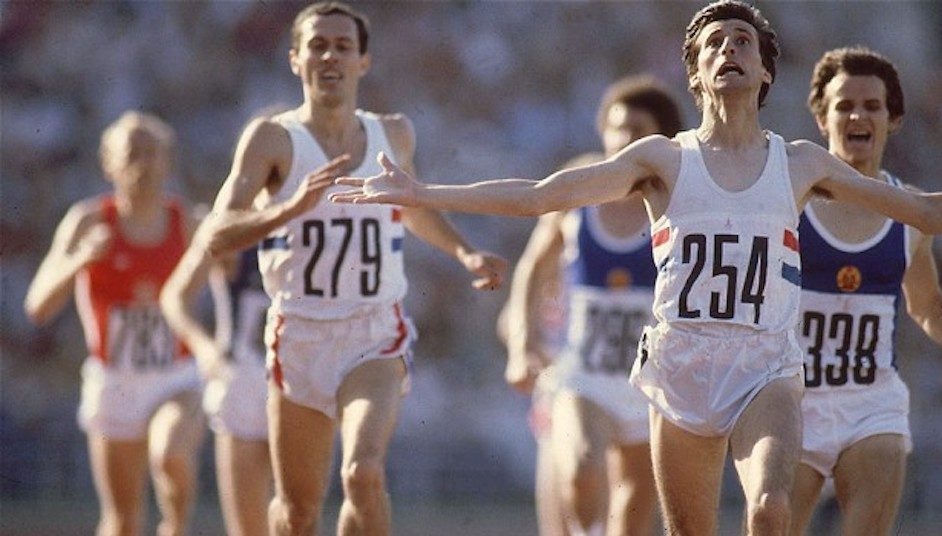 Peter Coe: "At 14, I really thought he was good. And at 16, I was certain, that if I was patient and played it right, that he'd be a world beater."
Funny word "patient". It suggests delaying something. Delaying what?
What events may have influenced Peter's 8 year training plan for Sebastian?
Allow me to take a guess.
The year was 1972 and Peter Coe wasn't happy with what the local coaches had to offer and thought he could do a better job of coaching. He was developing an 8 year training plan for his son, Sebastian. It was important to get it right. It was to culminate in Olympic Gold in 1980 in the 1500m, and a time of 3.30 (WR). What did this plan entail? It'd be like a blueprint for success in middle distance. I think the parts 1, 2 & 3 may hint at it's contents.
Let's look at the state of middle distance running (and distance running with Clarke and Halberg) leading up to Peter writing his plan.
The previous decade belonged to the Aussies and Kiwis. Herb Elliott and Peter Snell were the supermilers. Both Snell and Elliott had crushed all before them, and brought middle distance running into the modern era. Both set world records, toured America to devastate all comers, and they won Olympic Gold medals. Peter Snell, with 3 Olympic Gold Medals and world records in both the 800m and the mile, could lay claim to being the greatest middle distance runner ever. Both had coaches, Arthur Lydiard and Percy Cerutty, who demanded a long base of steady distance running and hill work.
Ron Clarke had smashed multiple world records in the distance events. Clarke had moved away from the popular interval based training to a diet of regular long and steady running. It is fair to say that Ron Clarke took distance running to a new level. Murray Halberg had run the bravest of races to win Olympic Gold in the 5000m. Halberg, too, achieved his success doing long steady running with some sharpening work. Snell and Halberg's coach, Arthur Lydiard, was considered the master coach when, in one afternoon at the Rome Olympics, his Kiwis won gold in the 800m and 5000m. There was a bronze to follow in the marathon days later. Suburban friends had become world beaters.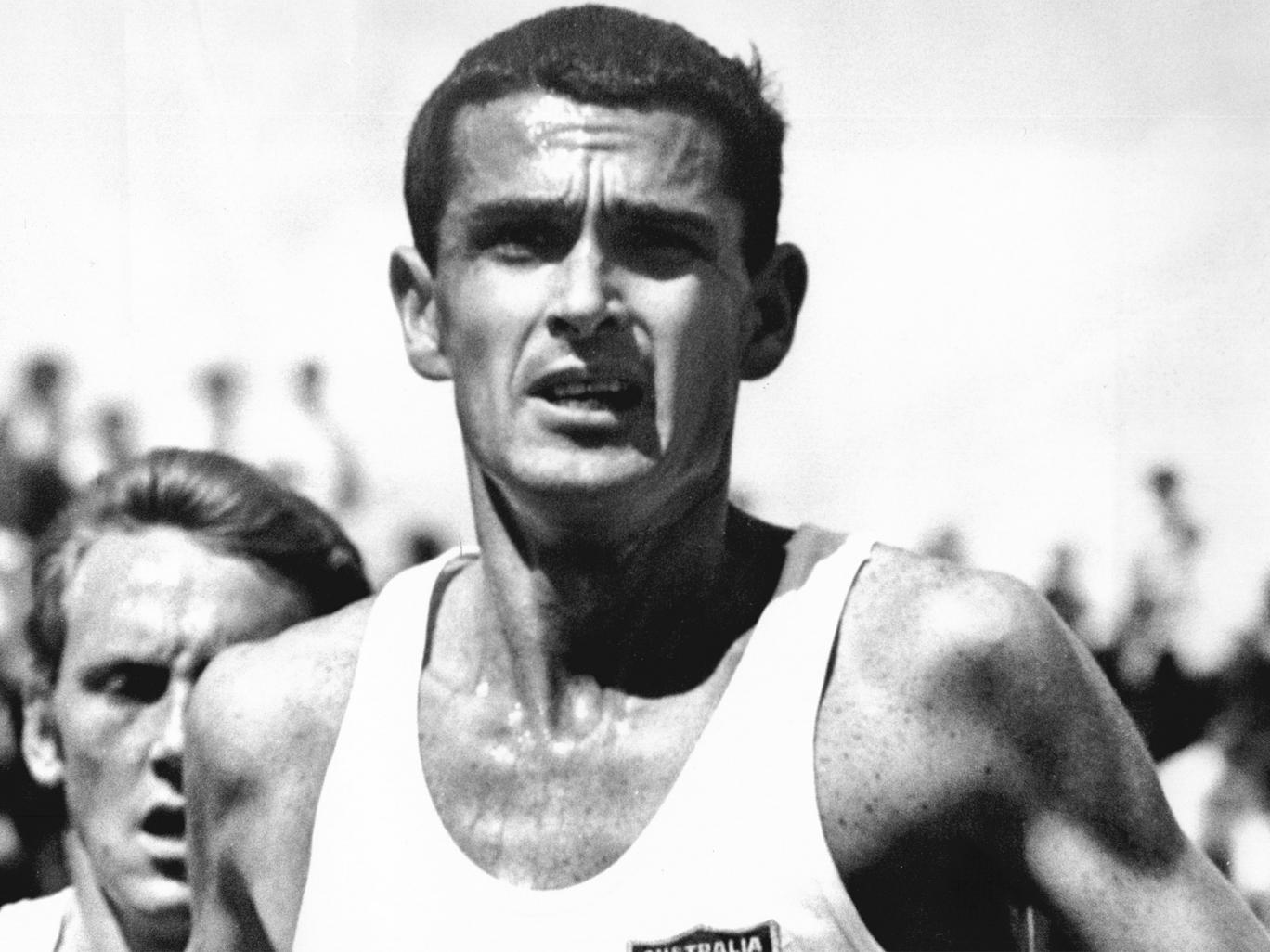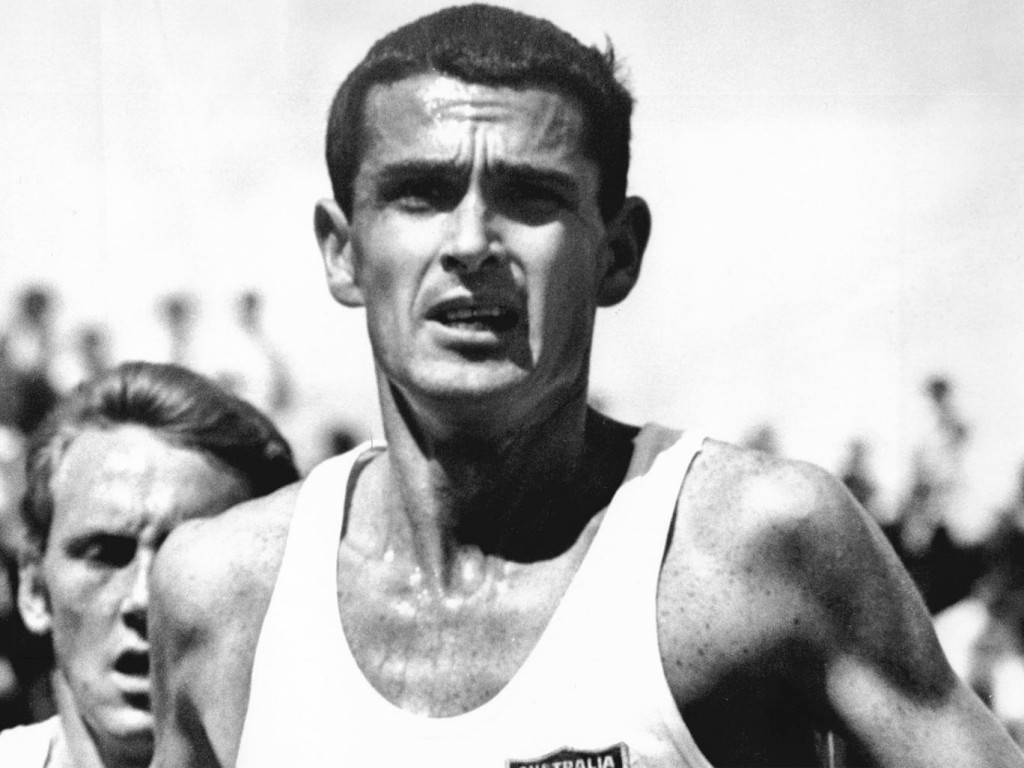 America's success must also be mentioned. Bob Schul won Olympic 5000m Gold off interval based running, and Billy Mills won Gold in the 10000m.
Arthur Lydiard accepted a role in Finland as coach to the coaches.
Following Elliott and Snell was the amazing young American, Jim Ryun, perhaps the most talented miler of them all. His training workload was phenomenal. He was trained along the lines of a swimmer – multiple repetitions (running) combined with long running and some weight work. He shone brightly but briefly. Still today, it is argued he was capable a 3.48 mile (on cinders) back in the 60s had he avoided illness and injury and run at an even pace. Ryun could run world best times off a slow first lap or two. He was great, but what made him sick? Why was his greatness fleeting? This may have played on Peter's mind.
In Mexico City, Ralph Doubell equalled the world record to win the 800m in a perfectly timed race. He had been trained in a mix of bulk repetitions and steady running by Franz Stampfl.
Despite these extraordinary athletes, Snell, Elliott, Clarke, Halberg, Ryun and Doubell, it's the performance of the Finns at the 1972 Olympics that may have captured Peter's attention the most. Seemingly out of nowhere, the Finns would dominate with Gold Medals in the 1500, 5000 and 10000 metres. This was extraordinary and topical. Lydiard coached the Finnish coaches. How significant was his assistance?
The 1500m may have interested Peter. Pekka Vasala covered the final 800m of the Munich Olympic 1500m final in 1 min 49. Interestingly, this was a similarly run race to the Moscow 1500m.
In the year leading up to the 1971 track season (a poor one for Pekka), Vasala averaged 77 km per week. Peter Coe would no doubt learn that in the year leading up to the '72 Olympics, Pekka Vasala averaged 144 km (90 miles) per week. Pekka almost doubled his mileage. Result – Olympic Gold!
Extraordinarily, in May 1972, Vasala ran an "easy" 29.06 10000m. 12 weeks later he became the European 800 metre record holder with a solo 1.44.5. I doubt this would be lost on Peter.
Dave Wottle won the 800m in Munich. It was a remarkable race where he trailed the whole field by ten metres after 200m. Wottle had been training to contest the 1500m. He'd usually ran around 80 miles per week. He decided to run the 800m at the Olympic trials in lieu of doing a speed training session. He ended up winning the 800m at the U.S. trials and the 800m Olympic gold medal!
There were a few world class Kenyans running too – Keino, Boit, Kiprugut, Jipcho. Perhaps stories of kids running to and from school had emerged.
We do know Peter Coe was meticulous. So much so, he used to get Russian athletics articles translated in order to leave no stone unturned in his quest for knowledge.
Did Peter read this from Murray Halberg's Autobiography? If so, he may have read this.
(Murray Halberg and Herb Elliott went for a 15 mile training run).
"The run developed into quite a torrid battle. Herb and Dave (Power) applied the pressure and ran faster and faster. It reached the stage where everyone had had enough, and crawled thankfully into the van – except Herb. He ran several more miles by himself. His natural strength for running was just fantastic."
Now, given all of the information above, and given Peter Coe's athlete's regular racing over 1500m/3000m and his emphasis on cross country running as a junior, it seems unlikely that he ignored the practices / learnings of the previous decade and adopted a low mileage approach. A decade where long steady running produced phenomenal breakthroughs in athletic performance.
In his autobiography, Running Free, it states in the winter of 1978/79, Coe ran "around seventy miles" (112 km) per week in the winter. Running morning and night, I'd guess it was often considerably more at times.
Some mention the 5000m training sessions. These were done in "late winter/early spring." Steady running during winter was Coe's mainstay (Running For Fitness, Peter and Sebastian Coe). Multi pace worked was said to have begun "in the essential build up phase after winter."
This focus on endurance (3000m and cross country running) as Junior explains why Coe's times for the 800m were relatively weak in comparison to other events until he was 19. His 1500m and 3000m times were superior, and, in some years, his 400m runs were superior to his 800m. It suggests that Coe's training, when young, was aerobic based and 800m specific training was avoided or limited.
My guess is a similar plan to the training plan outlined in a previous article was followed. A slow build up of mileage over the years, an emphasis on endurance, hill work / short sprints for speed development, an avoidance of 800m specific training and racing. That's what I call having patience and playing it right.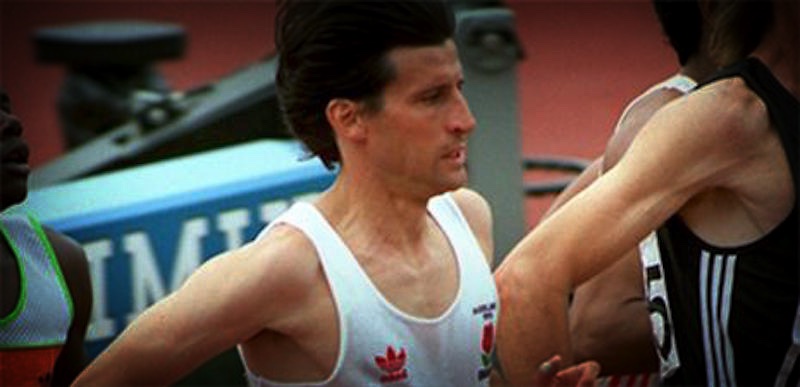 An Overview and Commentary of Seb Coe's Junior Racing
A "complete" list of Coe's track races from 1973 onwards were included in Coe's autobiographies. They can be found here too. Seb Coe's Racing Results. The link includes races for 1970-1972 too. I'll assume they are complete too, although I'll concede they may not be.
13 yrs 1970
1500m – 4.31
A focus on cross country. Note, no championship racing at age 8 as is common for talented youngsters in Australia.
Apparently, Seb came 2nd in the Yorkshire Schools 100m when he was 10 or 11, so he had very good natural speed. Many years later George Gandy would say Seb could have been a sprinter had he specialised in it.
14 yrs 1971
800m – 2.08, 1500m – 4.18
A focus on cross country and 1500m, one 800m race. 1500m performance is better than the 800m.
15 yrs 1972
800m – 1.59.9, 1500m – 4.05.9, 3000m – 8.49.9
A focus on cross country, 1500m and 3000m, one 800m race. 3000m is clearly the best event.
Seb Coe didn't run more than one 800m race in a season until he was 16.
16 yrs 1973
800m – 1.56.0, 400m – 51.8, 1500m – 3.55, 3000m – 8.34.6
Seb's 400m and 3000m time suggest an 800m time of 1.53/54, but he only ran 1.56.
The 800m is Seb's weakest event. Even his 400m is stronger.
Coe runs five 800m races this track season, plus one (heat and final) during the preseason in an indoor competition. He ran badly in that suggesting little to no 800m like training during the winter.
Seb Coe: "I started daily training at the age of 14. When I was 16 years old I was running twice a day." Although this article suggests he started doubles when he was 19. Interesting that Seb refers to "long term planning" in it.
17 yrs 1974
Injured
18 yrs 1975
800m – 1.53.8, 300m – 36.2, 400m relay – 50.5 (after an 800m est. 51.2 from the blocks), 1500m – 3.45.2, 3000m – 8.14.2
Seb's race selection towards the end of the season is interesting. Here's the scenario. The season still has two months to run. It's late June and Seb runs a 36.2 300m, and a few days later runs an 8.14 3000m. With an 800m PB of 1.53.8 (ran earlier that month), most athlete's coaches would be lining up an 800m race anticipating a massive PB and almost certainly cracking 1.50. Not Peter Coe. Seb runs three more races – all 1500m. Why not run an 800m? The 800m remains his weakest event… for now.
It's worth comparing Seb's 300m time (36.2) to his relay 400m (equivalent of a 51.2 out of the blocks). The 300m is the stronger performance. It's a small sample of races to analyse and the wind may have been a factor, but it indicates that although Coe's endurance is very good, his 300m may be better than his 400m. Interesting.
I'm guessing that most of Australia's leading 800m runners could not run the 8.14 for 3000m Seb ran as a physically immature 18 year old (after a lengthy injury the year prior). With that time, I'd guess Coe had an even money chance of winning a race like Australia's "de Castella 3000m". Imagine winning the "de Castella 3000m" one year, and not running a 3000m or 5000m the following season. Then dedicating the season after that, almost exclusively, to 800m races. Sounds like there was a plan.
Seb Coe warns about overworking young athletes.
Discussion of video: Seb successfully moved through junior ranks, following Peter's plan, culminating in Olympic Gold and WRs. Seb's lived it. He is THE expert in this area. His answer was not very clear/concise. There were generalities instead of specifics. What certain levels of physicality? What's not the only consideration? What are the other considerations? The end was a little clearer… be careful "about the level and amount of racing you would give them." Still a little vague.
19 yrs 1976
800m – 1.47.7, Mile – 3.58.3
At season's start, Seb is 19 and has run only ten 800m races in his life (with only two individual 800m races in over two years), and that includes a heat and a training run. It's amazing to think that in three years time he breaks the world record for 800m by over a second. That's what I call being patient and playing it right. By his own reckoning (30 to 40 per year), Seb would have run over a hundred cross country races. An Aussie 800m runner starting in Little Athletics may have run well over one hundred 800m races. This season Seb runs five 800m (including a relay).
By season's end his 800m performance is perhaps slightly superior to his mile. A six second improvement in the 800 from the year before. A breakthrough season for 800m? Yes, it was a breakthrough, but in reality not the astronomical improvement it appears. It is an improvement of around 2 seconds on what Seb was capable of running the year prior. I believe this improvement was due to natural maturation, a change in running training (more 800m specific work (finally)), all launched off a sound base of years of aerobic development in a hilly environment.
Important too is the weight / plyometric / circuit training program, but perhaps it is given greater significance than it deserves. Seb went to Loughborough in September 1975 where he met George Gandy. Seb was already capable of a sub 1.50 800m at that stage as a physically immature 18 year old. Initially, Gandy didn't have a lot to do with Coe (The Perfect Distance by Pat Butcher). I don't know which month he started a serious weight / circuit program.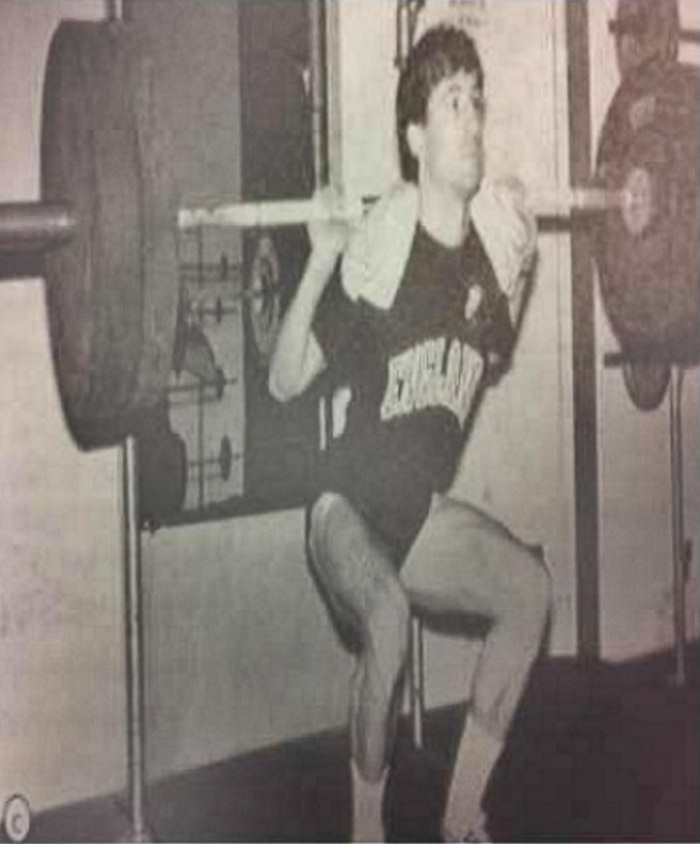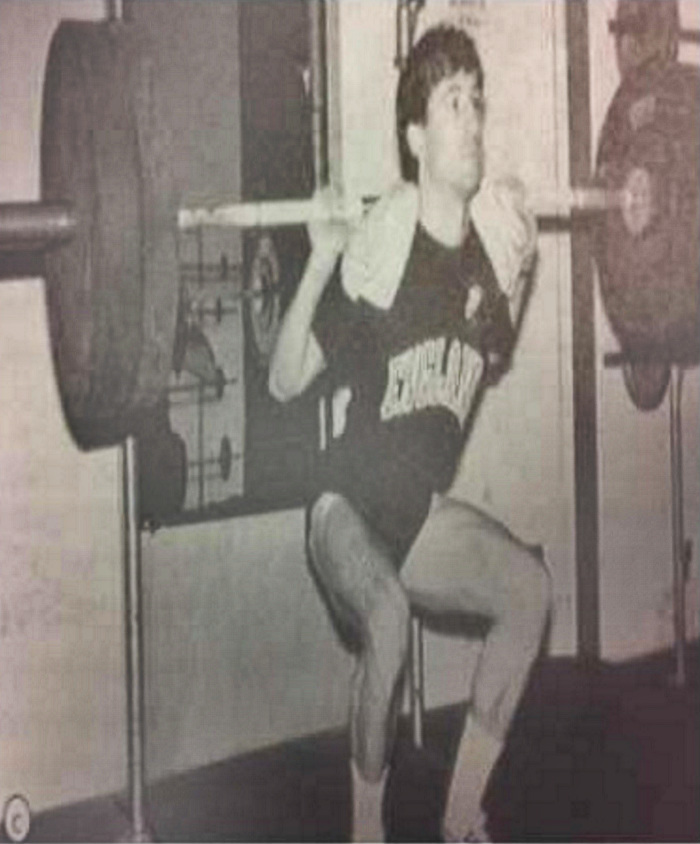 Despite recording an exceptional 3000m the year before, Seb does not run a 3000m this season. Given a four second improvement over 1500m (based on mile time), it's certain Coe would have been running sub 8 min 10 sec (likely close to 8 mins) for 3000m as a junior.
20 yrs 1977
800m – 1.44.95
This season his focus is almost solely on the 800m. Seb had run fourteen 800m races in eight years. In 1977, he runs sixteen (twelve competitions).
He has run only two 400m (one a relay) races in his life. He ran his first just before his 17th birthday. He runs a further two this season. Seb wasn't slow as a junior. Now, at 20, and physically much more mature, he is beginning to show signs of the runner he will become.
In his autobiography, Seb states that his focus was the 1500m and he was "being labelled" as a 3000m runner and wanted a "change of emphasis". Hadn't Seb been doing the multi pace work all these years? Perhaps not. How much of a change did he need? I doubt Peter Coe would worry about, and be guided by, what Seb was "being labelled" as? He would do what made sense to him and not be reactive to external noise. I'd say Seb was always pretty quick as a youngster and just needed some specific 800m training to run an excellent 800m.
Perhaps the change of emphasis was the sessions with George Gandy, whom the Coe's had already known for nearly two years, and the sprinters. It would be interesting to know just how much Seb improved over 150 / 200m around this time.
Every race in 1977 is an 800m except for one mile race and two 400m races. This is despite his mile performance the year before being as good as his 800m.
21 yrs 1978
800m – 1.43.97
Again Seb focusses on the 800m. He ran eleven 800m races (eight competitions), a mile and three 400m races (one in a relay). In these developmental years, Seb often races from the front to the detriment of his final result. Even in an 800m European Championship Final, the instructions were to "run as hard as you can for as long as you can." It seems that Olympic success was all that mattered.
Two weeks after his 800m PB of 1.43.97, Coe beats world class distance runners over a 4 mile road race.
Conclusion
"The Kenyan secret comes from years of training at the right intensity – and a few years with harder track work. Most Europeans and Americans tend to start in the other end. At very low (and slow !) mileage they do these hard track sessions that simply kill the little endurance they have from the beginning of. " Marius Bakken
Whether by design or not, Seb Coe's junior years focussed on developing his endurance with many 1500m/3000m/Cross Country races. He raced rarely over 800m and even more rarely over 400m. He ran his first 400m just before his 17th birthday, and didn't start racing 800m (more than once per year) until he was 16. Looking at Coe's times, it appears he did little 800m specific training in his early years. This is the take home message for juniors.
Seb Coe, like Peter Snell, ran the 800m seriously for the first time at age 19. Three years later (four for Snell), he would have the 800m World Record.
In Peter Coe's book, "Training Distance Runners" there is very little about training for juniors . A chapter on how to train juniors would have been a welcome inclusion. However, it does mention an attempt not to unduly emphasise endurance or speed throughout the Junior years. This suggests that Seb's pure speed development was never ignored. As a boy, Coe was better performed as a sprinter and it was decided he needed to work on his endurance.
In 1974 (in the year Seb, 17, was injured), Frank Horwill received a letter from Peter Coe asking for full details of his Multi Pace training system (which includes 400m and 800m pace training). That's not to say he hadn't been using that system already in some shape or form. Peter claims he first discussed this system with Frank in 1971 ( 3 years later he still had questions). Perhaps Peter Coe more widely used Horwill's multi pace (including hard anaerobic) training system when Seb was 18 or 19. This would be consistent with his results and with the training guide in the table in Part 3.
Coe's mileage as a Junior? When he was 18 he ran 3000m in 8.14 off a reported 28.5 miles average in winter. Running that well off an average 4 miles per day is difficult to fathom. Perhaps it is an average of 28.5 steady/hard miles run per week with some easy running. At 19, Coe reportedly ran 35 miles per week in winter with runs of average 6 to 8 miles and a long run of 11-12 miles. That's four days of running by my maths (close enough). Three rest days? Once again, perhaps it was 35 miles of steady/hard running only (for the 6-8 mile runs) and a solid longer run, with some easy recovery runs.
Peter Coe: "At 14, I really thought he was good. And at 16, I was certain, that if I was patient and played it right, that he'd be a world beater."
Funny word "patient". It suggests delaying something. Delaying what?
Post Script – Coe as a senior. From Renato Canova: "I followed PERSONALLY in the Winter of 1986 Seb Coe (in Tirrenia, Italian Olympic Venue for middle distances) when he ran 30 km at 3'22" pace (1 hr 40′) on the road, with the car of the Center, so IT'S NOT TRUE HE DIDN'T GO FOR LONG RUN. "
Read more: http://www.letsrun.com/forum/flat_read.php?thread=4030549&page=9
---
End of Part 4  of 4
Featured series 'Australia and the Men's 800m' – by Tony Wilson – Runner's Tribe
Australia and the Men's 800m – 4 part series