Although we didn't see all our top junior athletes competing in Melbourne, the Australian All Schools Championships still managed to supply an endless amount of highlights. We take a look at some of the athletes that we could certainly see wearing the green and gold at either a senior World Championships or an Olympic Games.
Sprints (100m-400m)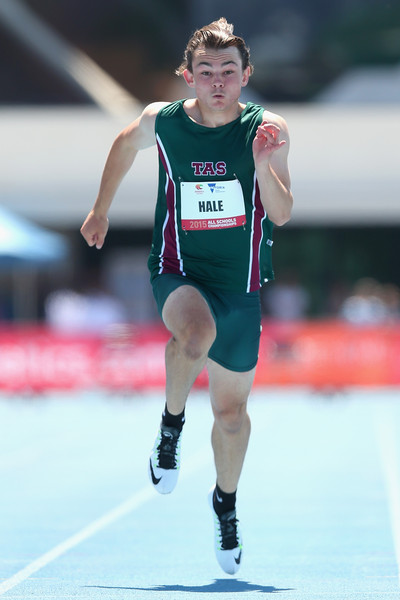 All eyes were on Jack Hale (right) in the men's U/18 100m final, and he didn't let any of his supporters down with and excellent win in a time of 10.56s. The time just missed the WJQ mark of 10.56s, although Hale already owns a qualifying mark (10.43s, when winning the Tasmanian All Schools).
Anthony Gale of NSW took silver in 10.76s, while Callum McCarthy (QLD) took home the bronze in 10.84s.
In the 400m it was all Lawson Power, easily accounting for his rivals in the U/18 event in a time of 47.98s. The performance was just outside his PB of 47.79s, and places him within reach of the WJQ mark of 47.33s.
On the girls side there were good wins to Riley Day in the U/16 100m (11.99s), while Emma Downey took out the U/16 400m in a time of 55.24s (PB).
Middle Distance (800m-1500m)
It was hard to know where to look as many athletes produced quality, and record breaking, performances. These included:
Joseph Deng handled favouritism in the U/18 800m to record a hard fought win in a time of 1.50.77. Deng held out both Christian Davis (1.51.01) and Jye Perrott (1.51.84) in what was a high quality final.
Zach Facioni, who took out the men's 1500m with a gutsy all the way win in a time of 3.54.51. He outlasted Jye Edwards (3.54.91) and Cassidy Shaw (3.55.15)
Luke Graves completed the 3000m/2000m steeple double, with a great win over Facioni over the 3000m in 8.38.45 and a very impressive meeting record of 5.52.24 over the 2000m steeple.
Lorcan Redmond continued his record breaking season with another meeting record in the U/16 3000m (8.39.56)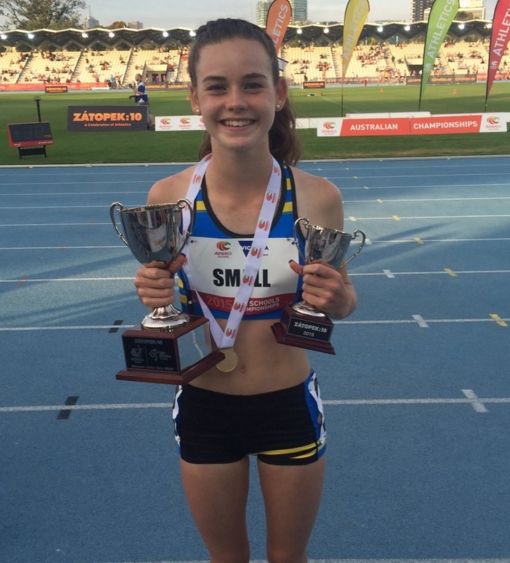 On the girls side it was Keely Small (pictured right), Amy Harding-Delooze and Abbey Rockliff who stole the show.
Small defended her Australian All-Schools title in the U/16 1500m, with the only change in the top-3 from 2014 being Rockliff and Lara Crouch swapping places 2 and 3. Small had won the U/14 event in 2014 in a very impressive time of 4.25.78, and went even faster in 2015 – winning with a PB of 4.23.63. Rockliff couldn't quite run down Small and finished with the silver (4.24.10), while Crouch took home bronze in 4.30.33.
Small backed up her win the 1500m with another gold in the girls 800m (2.08.17), this time defeating Zoe Brito-Babapulle (2.08.74 PB)
Rockliff did however get to taste gold, winning the U/16 3000m in 9.27.55 (just outside her PB set at the NSW 3000m Championships of 9.24.93). Melany Smart took the silver in a time of 9.43.36.
In the U/18 1500m it was Commonwealth Youth Champion Amy Harding-Delooze (pictured right with her sister Lily) who posted a WJQ of 4.23.68 who managed to take home the gold medal. It was silver medal for her twin sister, Lily Harding-Delooze (4.29.13), while Georgia Evans took bronze in 4.30.23.
Lily Harding-Delooze did manage to turn the tide, defeating her sister in the U/18 800m in a time of 2.10.15. Amy was second in 2.10.28.
Hurdles (100/110m plus 400m hurdles)
William Lloyd had entered the competition with a best of 14.08s over the 110m hurdles, but at the Lakeside Stadium he smashed through the 14 second barrier with a time of 13.81s. Silver went to Frank Kursea (13.86s) while pre-race favourite Jarrod Twigg taking the bronze in 14.15s.
In the boys U/16 100m hurdles Byron Hollingsworth-Desse (12.89) who just managed to hang on for the win over Adriaan Pelser (12.91s). Both were just shy of the meeting record of 12.81s.
On the girls side the Victorian captain Danielle Shaw took gold in the 100m hurdles (13.63s) – just outside her 2015 best of 13.52s.
In the longer 400m hurdles – the two Victorians in Harrison Kimpton-Moss and Matthew Harcourt battled it out for the gold medal. In a great finish Kimpton-Moss took the win – 52.71s to 52.84s, which was a PB for Harcourt.
Field Events
There were four magical highlights from the field, with a Victorian Record, a long jump that could have been anything and two Australian records being produced by four extremely talented athletes.
The Victorian record was recorded by Ned Weatherly (right) in the boys U/18 hammer throw. After a first round foul, Weatherly went onto throw 77m in round 2 before unleashing a superb 80.32m effort in round 4. Only Matt Denny can lay claim to a longer throw in Australia – with the Australian record of 81.44m.
Darcy Roper is a long jumper on the rise. The silver medallist from the World Youth Championships (8.01m PB and U/18 Australian record), Roper was again in fine form in Melbourne. The only problem was that his best of 7.66m could have been so much more, as one his fouls went well over the 8 meter mark. Either way it was WJQ, and also a warning to his older rivals in Australia that a gold medal at the Open Australian Championships is definitely on the agenda.
The Australian records were both set on the final day of competition. In the boy's U/18 javelin throw Conor Warren flew the javelin out to 77.80m in round 2 – surpassing the old record held by Joshua Robinson of 77.78m set back in 2002.
The other Australian record was achieved when Ellie Bowyer improved her own Australian U/16 javelin record with a best of 49.68m (only two weeks prior Bowyer had thrown 49.63m). Alexandra Roberts took silver with a best of 47.20m (just 30cm's short of her own PB).
In other highlights from the field John Dodds jumped 2.12m in the U/18 boys high jump to defeat Grant Szalek (also 2.12m) on a count back.
Zane Branco bettered the meeting record of 7.25m (held by Chris Noffke) with a tremendous 7.27m PB in the boys U/16 long jump. The performance was also just shy of the Australian U/16 record (also held by Noffke) which is 7.38m.
Grace Robinson continued her dominance in the girls shot put, this time taking the title with a best of 16.59m. This was a new PB with the 3kg shot for the 2015 Commonwealth Youth Champion.
In the girls U/18 high jump there was a WJQ performance from Paige Wilson (1.83m) – which was PB by an outstanding 7cm's!
Samantha Peace recorded a WJQ in the girl's U/18 discus throw, with a winning throw of 48.52m. In second place was Samantha Lenton (48.32m), which was her second WJQ performance of the year. They now join Kirsty Williams as qualified athletes for the event, with only two to be selected for the World Juniors (19-24 July, 2016).
In the 5000m walk events there were meeting records from Jemima Montag (23.13.04) and Kyle Swan (20.59.59). Montag had recently set a new PB and WJQ in the 10km walk – recording a time of 48:01 on November 29.
Zatopek U/20 3000m
Men's U/20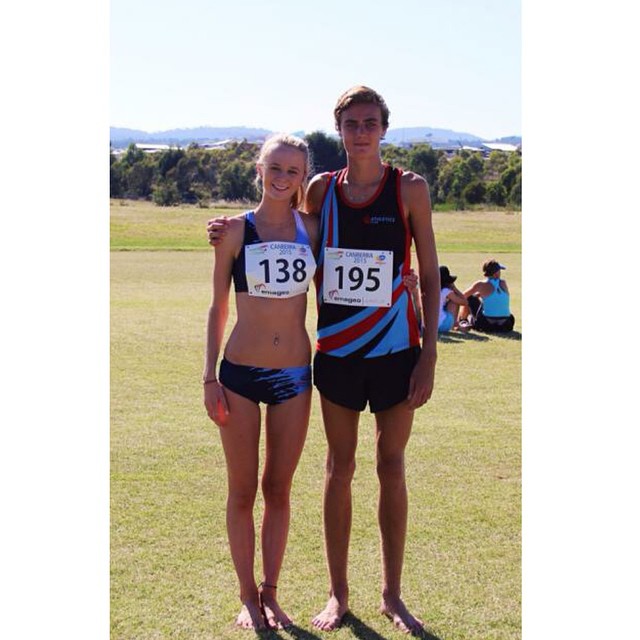 Matthew Ramsden had entered the 3000m at the Zatopek meeting already with some impressive form, most notably a WJQ in the 5000m at the Victorian State Championships (14.09.39). With all eyes on the 16 year-old middle distance star in Josh Torley, it was Ramsden who had the strength over the concluding stages to win with a time of 8.09.07.
In 2014 Ramsden had run 8.31.66 at the Zatopek event, and then went onto place 3rd at the U/20 Australian Cross Country Championships in early 2015. Unfortunately he failed to finish at the World Cross Country Championships, but after his run on Saturday night everything looks to heading in the right direction for the 18 year-old from Western Australia.
Torley hung on to record another quality 3000m time of 8.13.23 (to place 4th) – a time that was just outside his best of 8.11.84 when 4th at the NSW State 3000m Championships.
Just behind Ramsden was another 18 year-old in Oliver Hoare (8.09.93 and a 10 second PB), while William McCann took bronze in 8.12.12 (also a PB).
Women's U/20
A front running show was put on by World Championship representative in Rosa Flanagan of New Zealand. In the end she easily took the win in 9.19.23, while the first Australian across the line was Holly Campbell (9.28.20).
Campbell had placed 9th at the NSW State 3000m Championships in a time of 9.41.40, but came to Melbourne and delivered a 13 second PB. 15 year-old Katrina Robinson also took advantage of the fast pace of the race to run a 9.32.62 (which was a 7 second PB).