You're currently a Sophomore at the University of Wisconsin, what are you majoring in and how are you finding balancing your studies with your athletic commitments?
At the moment I have a double major in economics and political science. That could change as I am attempting to get into the business school and major in marketing and sales with economics. Finding a balance in my academics and athletic commitments is heavily relying on a good routine and management. To keep on top of class work, exams and missed work from athletic commitments is crucial for me. I feel when that aspect of my life is taken care of so to speak, then my other aspects, mainly my athletics is easy and enjoyable.
At the Big Ten Cross country last year you finished 40th and this year you took 1st place in the individual title, leading the team to 3rd place overall. What contributed to such a large differential in results between the two years?
The large difference for me was preparation and a good summer base/winter base back in AUS. After last year I learnt a lot and spoke to some high calibre athletes from the NCAA and they gave insight to how a major aspect to success is consistency. I feel I learnt that first hand this year. I found that if I prepare and take care of the little things such as core work, stretching, recovery from workouts and my college work, then I'd be more responsive to how I was going as a progressed in fitness.
What are some of the key differences in training at Wisconsin and back home in Sydney Australia, pre-college?
The training and facilities at Wisconsin are some of the best in the world, in my opinion. I find that training in Wisconsin is more professional and individualised.
In Australia I had some great training partners and did some killer workouts, that is very similar to here in Wisco. Training with some of the best boys in the States and having that team-based focused is also a key difference as we look after one another.
What's one of the tougher workouts you've completed in college so far that sticks out?
One of the toughest workouts, in my opinion, is an 8-mile tempo around 5:10s average or quicker and then hit the track for some 400s around 4-6 at 60 seconds.
How did you find the initial adjustment to college life?
The initial adjustment was difficult. I realised that I didn't just move out of home, I'd moved out of my country. I had to become independent and resilient with little help from friends and family back home. I was lucky though to have Morgan go through this before me and have him to sort of guide me in the right direction. College life is much more of a community-based experience than back home. Everyone moves out and socialises with each other and act as their family away from family if you can phrase it like that I like it.
When it comes to middles distance running in Wisconsin they don't get much better than Australian senior, Morgan McDonald. What's it like training and competing alongside this talented record-breaking Australian?
I live with Morgan at the moment and you could say it's pretty awesome sometimes… Morgan is like a wise young Gandalf. Not just for the apparent trendy facial hair, but also for his wise guidance he gives me and the team. Morgan is a veteran in this sport and has had a lot of experience in training preparation and the lifestyle to become a great college student and athlete.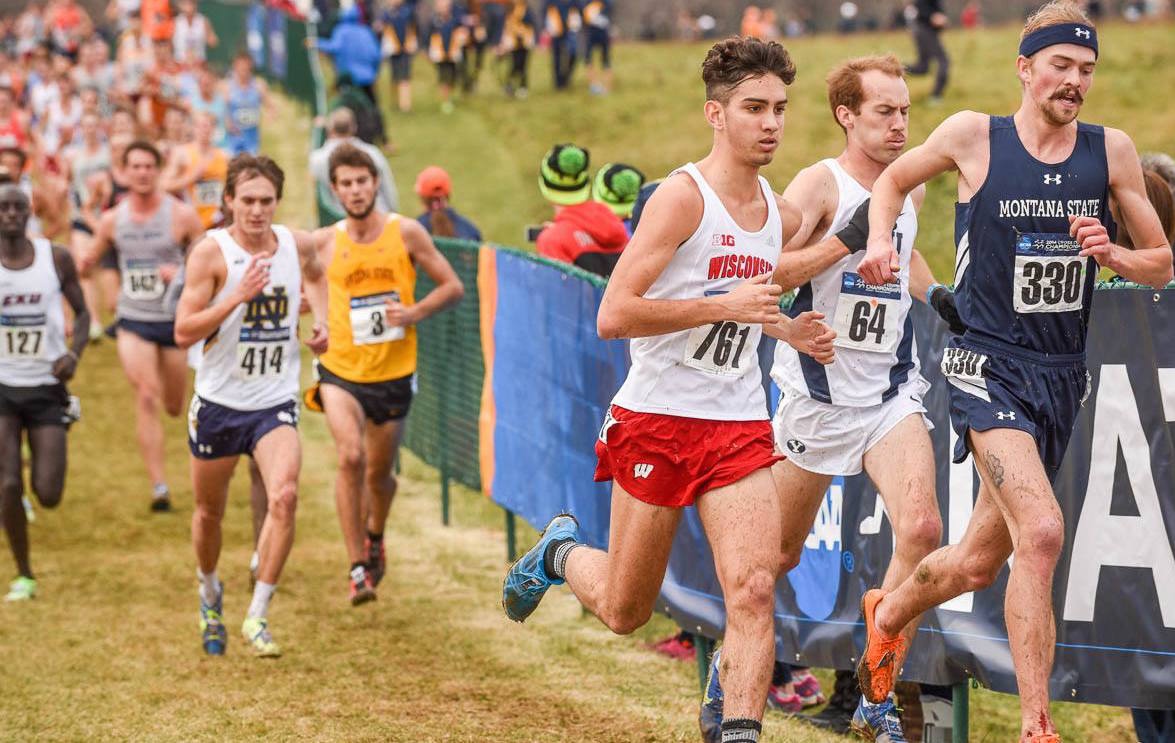 What's a typical weekday currently look like for you at Wisconsin? 
Typical weekday: I wake up early and try and get to Morgans coffee machine before he does! doesn't usually end well… Then I head off to student-athlete breakfast which we get every weekday supplied by the university for free. Then classes. After that, I head to the locker room stretch and get the body ready for what practice will be, whether it's a workout or just a run. After practice, I'll do some drills/core and then head home or head out to study. Most nights I'll cook dinner unless the team has something else planned.
What are some of your favourite things about the US and studying over there?
The campus atmosphere. The fall and change in seasons. Having a different cultural aspect on how to go about things. Meeting new people from all over the place.
Favourite restaurant you've been to in the states?
Favourite restaurant is Graze. A very hip place that sells local produce and has some amazing combinations of modern American cuisine.
Best pizza you've had in Madison, Wisconsin?
Ian's Pizza hands down one of the best pizzas I've eaten, I highly recommend it!
Last TV show you binge-watched?
'Stranger Things', It's been a large factor to my procrastination to school work.
Most played song currently?
'Turn my heart to stone- Mø'
Advice to other Aussie athletes who are thinking of going to the US for college?
If you want to be able to juggle your studies and run at a high competitive level I promise it will be the best possible thing for you. The support you get as a young athlete is crucial and if you are thinking about it do your research, communicate as much as you can with the coaches and visit before heading off or committing. Its 4 years of your life you wanna make sure you are at the best possible place for you.
Thank you and good luck in the NCAA Great Lakes Regional on Nov. 10 in Terre Haute!