Bol, Deng, Rinaldi –  James Templeton Uncut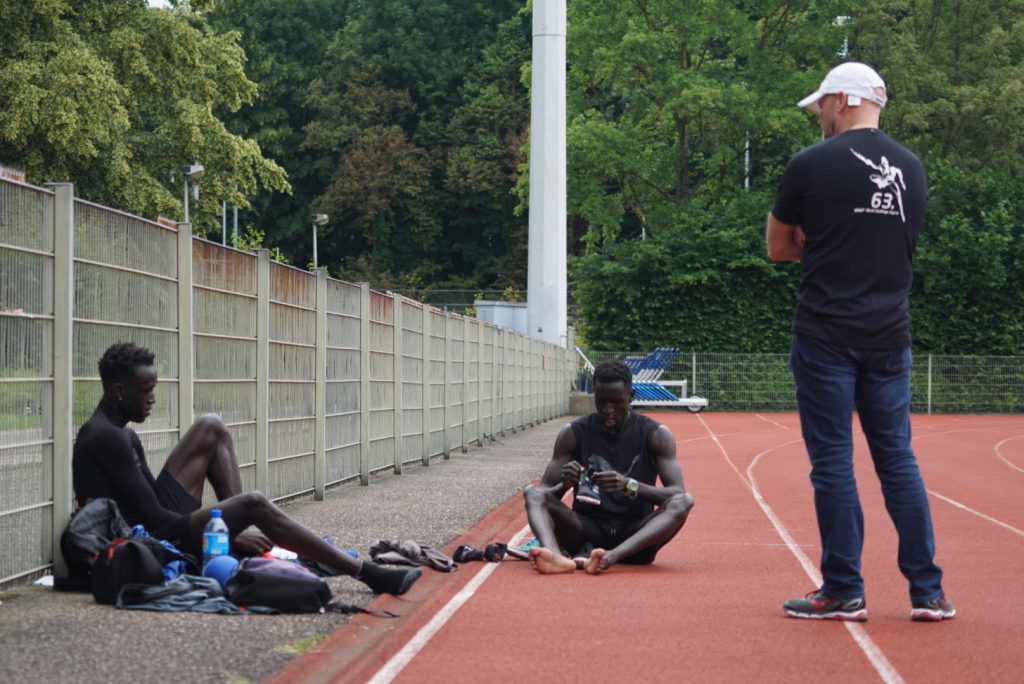 © 2018 Runner's Tribe, all rights reserved.
In February, 2017, Runner's Tribe first interviewed James Templeton in 'Rudisha's Agent – James Templeton Interview.' Over the past 10 months, much has happened. Peter Bol is now under Templeton's management, and Joe Deng has broken through, well on his way to fulfilling his potential. With the Aussie 800m record under real threat, we thought it an opportune time to catch up with James once again, to hear what is happening and to learn more how the world of elite management works.
RT: James, good to have you back on Runner's Tribe. What's the latest with you? Where are you currently at and how are your athletes going?
JT:  I'm in Leuven, Belgium with Joe Deng and Pete Bol.  All going great thanks, we're in the middle of an exciting period, nothing better when athletes are in shape and hungry for the next race.

I came over with Joe 23 May and Pete joined us in Stockholm on 8 June.  They're running five 800s each, finishing up in Monaco on 20 July.  
RT: You signed Deng at quite a young age, 16 or 17 years of age if I am not mistaken.  How did you find him and realise his talent? 
JT:   That's not quite how I look at it, I wouldn't 'sign' any young athlete, I don't think that's appropriate.  I met Joe and started helping him as a 16-year-old in March 2015. Rudisha was running in Sydney a couple of days later, he was doing a media interview while Joe was running in the Age Nationals…….I saw him running an 800 heat and said to Rudisha "look at this boy. That's what I'm looking for, look at the movement and rhythm he runs like Billy Konchellah!"
I asked a friend from QAS to introduce me to Joe and his coach at the time, Di Sheppard. The next day we met, and I took a liking to him immediately.  He was quiet and a bit shy which was fair enough, he was very young.  Here was Rudisha's manager talking of his talent and how he was prepared to help him.  I'm sure it was a little overwhelming.
Over the next two years I covered some of his costs and gave him some opportunities such as a World Junior trip in 2016 and a series of introductory races in 2017 (including against Nigel Amos in Slovakia and David Rudisha in Hungary). I didn't look upon it that I signed Joe but rather I became his friend, mentor and sponsor.  Of course, the relationship has evolved, that always happens and that's a beneficial thing.  He's no longer a boy of 16, he's about to turn twenty and is competing against the world's best.


Early last year it seemed the time had come for Joe to join a more developed middle distance group.  I can't speak highly enough of the job Di had done for him over many years nor can I commend her enough for her selfless attitude to Joe moving on to maintain his progress and maximise his talent.  Joe moved to Melbourne to join the group of Justin Rinaldi.  He had been in touch with Pete and indeed with Justin.  He had been injured (a thigh injury that was to reoccur) and I agreed to Justin's suggestion that Joe should join them in Melbourne for a three-week trial period to see how he found it and see if the group and Justin suited him.  It obviously went well.  He and Pete are great together and they're flourishing in Justin's group under his training. 
RT:  As you've just mentioned, Deng and Bol are coached by Justin Rinaldi in Melbourne.  How does the manager/coach relationship work? Do you communicate on a regular basis with Justin?
JT:  The relationship works well and that's of course an advantage.  Perhaps in ways that are underestimated.  Justin and I are kindred spirits in a way, we're both '800 guys'.   We've got similar views on 800 running as well as training.  
Yes, I communicate closely with Justin, in particular this trip when I'm over in Europe with the boys for eight weeks.  We're in touch just about every day.  It's similar to the relationship I had with Coach Li, the coach of Bernard Lagat.  We worked great together for twenty years; not treading on each other's toes just working very well together.  I think this is pretty beneficial to an athlete.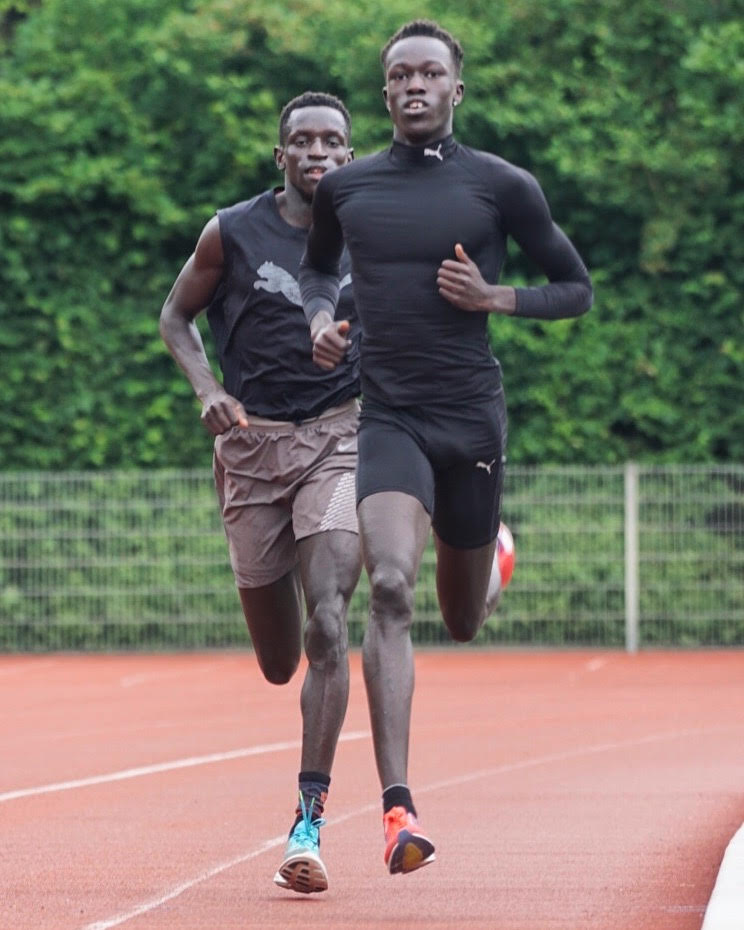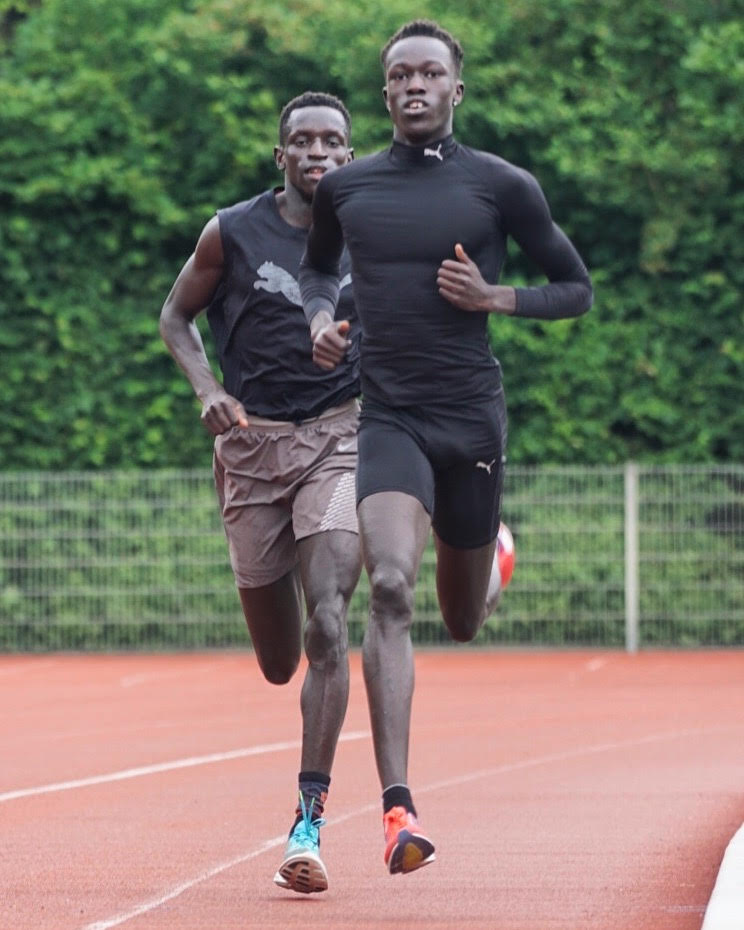 RT: Who sets the race schedule? Coach or manager?  Is it a matter of Justin advising on when his athletes will be fit, and then you figuring out the best way to make it work?
JT:  Exactly like with Lagat and Coach Li we discuss and agree months in advance when is the right time to head overseas.  Obviously, it depends on championships and what will be the right preparation.  I give an outline of the sort of races I'm planning to target and ask the coach if that's in any way not what he's thinking.  We're always on a pretty similar wavelength, if not then we'd discuss it and agree about timings etc.
To give a bit of detail (because I think a lot of people don't quite know how this works), Justin and I discussed it in the days following the Commonwealth Games 800m.  This was mid-April which is a few weeks later than I'd ideally like to……but Joe had been injured (recurrence of his thigh troubles) and we wanted to see how he was on the Gold Coast.  He ran particularly well in the heats and made the final which was great. 
I thought I could get him into Hengelo on 3rd June and although the Stockholm Diamond League had a 1000m on 10 June there was to be a strong 800 in the main program.  I know both meet promoters well and those races indeed got locked in quickly.  Joe was the last guy selected for Hengelo 800, he was in fact the slowest on paper in the field, so it was a great opportunity for him.  Some months before I'd sent the YouTube clip to (Hengelo athlete co-ordinator) Ellen Van Langen of his breakthrough solo run in the Australian B champs.  She'd heard me talk of Joe in the last couple of years, was happy to give a chance to a new young talent.
So, the program takes shape although Bydgoszcz in late May was full and I never heard back from the Madrid organiser.  Originally, I thought he could run Bydgoszcz, Hengelo, Stockholm, Madrid and Sollentuna.  The impressive second place 1:44.97 in Hengelo opened a few doors and over a glass of red that night in Hengelo the Paris DL organiser gave him a place.  That's how it goes sometimes, that's life on the circuit.
Pete was training in Flagstaff.  To be honest I was a bit confused I thought someone was looking for his races.  It was four days before Stockholm, Joe and I were at dinner in Leuven and we were talking of Pete and how he was getting on.  When it became apparent no-one really, I told Joe I was pretty confident of getting him also into Stockholm, would Pete change his plans (and ticket) and come over tomorrow?!  Joe's eyes lit up; in the next couple hours we spoke to the Stockholm organiser, Justin and Pete.  Justin sorted out flights overnight our time and Pete was on the plane the next day.  The rest as they say is history (Pete Bol won Stockholm in 1:44.56 PB with Joe a close second in 1:44.61 PB).
The boys sure made a great impression.  Over the next week I was able to also get Pete in Paris.  And both in Monaco on 20 July.  Some great races coming up, great opportunities. And the boys are on the up……
Pete and Joe are great together.  Pete's a really good guy also. They train really well together and are such mates off the track.  They're on the up and it's a happy place right now.
RT: If you had to guess who will break the Australian 800m record first, who would your money be on?
JT:  Either! Well I guess Pete has won both races and Joe second so you might say Pete but it won't necessarily go that way.  Paris and Monaco will most likely be fast races and both look ready to run 1:43. Let's see….. 
RT: Other than Peter Bol. Any other new athletes under management?
JT:   No others. I'm still looking after Bernard Lagat and Augustine Choge.  Both are making their marathon debuts this year (unfortunately I can't say where yet, deals are locked in but the organisers haven't announced yet).  I'm going to really enjoy those two marathons.  Lagat just shy of 44, Choge with a bright future over marathon we hope.  So, it's just the four athletes at the moment, two on the track and two on the roads.
RT: What does managing Peter Bol and Joseph Deng entail? Is it all getting them into races and taking care of sponsorship deals?  How much day-to-day interaction with them do you have?
JT:  You're asking at a time when we're together for eight weeks straight. Just about every day, most meals…..time relaxing in a local cafe and now the World Cup is underway there's plenty of football we're watching.

They're training well.  I'm at the track with them, following some of the forest sessions on the bike. Justin sends over the programs, it's all good stuff.  We're having fun and I try to give them a bit of space too. Much as I hate to admit it, I'm conscious of a generation gap! 
RT: I heard Bol lost his Puma sponsorship.  Have Deng and Bol both signed with new brands yet or are they free agents? 
JT:   Watch this space. Yes, they're both free agents.  There's a bit of interest in them, there are of course discussions behind the scenes that I can't really go into.  It's important to find the right company and the right deal.  I'd like to have them together, I think it makes sense to have these two exciting Aussie 800 runners stand out a bit from the crowd. Paris is probably too early however, maybe they're kitted out differently in Monaco on 20 July.
RT: So, the rest of the country understands how this works.  Do you mind telling us how guys like Bol and Deng pay for their costs.  Are all their flights and hotel costs paid by sponsors or by race directors, or are they paying a lot of these costs themselves?
JT:   Race directors cover all flights and hotels to/from races.  In Leuven I've got covered the training base.  A shoe deal will ultimately cover some travel and base. 
RT: Are you still staying away from the coaching side of things?
JT:   I'm still doing what I've done for twenty years.  The buzz of the circuit is addictive, I love the close interaction with the athletes, enjoy working as a team with Justin.  It seems tight and we're 'on it'. 
RT: I know a few athletes who have approached you over the years.  What is your criteria for saying yes to a certain athlete over another? Is it purely based off whether they are Olympic final material?
JT:  That's a good question.  I've always had a very small group, never more than six or seven at a time.  Elite guys yes.  Notwithstanding twenty great years with Lagat over the full range of distances, I've always gravitated to the 800.  If I can be a bit indulgent I'm most proud of the following list:
1:40.91  David Rudisha 2012
1:42.69  Japheth Kimutai 1999
1:42.81  Patrick Nduwimana 2001
1:42.95  Boaz Lalang 2010
1:44.56  Benjamin Kipkirui 1999
1:44.56  Peter Bol 2018
1:44.61   Joe Deng 2018
1:44.86  Augustine Choge 2009 
At the time of writing, 37 athletes have run under 1:43.  I'm fairly proud to have looked after four of them.  I'll be even prouder if these two young Aussies make that six.  I should say 'when' not if, that's certainly the talent I see in them…..
RT: How are the huge names like Rudisha going?  
JT:   After a dozen years together, Rudisha and I reached what seemed like our natural conclusion last year.  He's had a few problems this year, it doesn't get easier as you come towards your mid-thirties……

RT: Any thoughts on Kiprop?
JT:  I was disappointed and upset.  Kiprop has been a great athlete, a great talent over many years.  We all know of the Kenyan positives in recent years, not much has been said about them being largely female marathoners.  
There's a number of reasons for this, too many to go into detail here but it's been a disgrace what little has been done to clamp down on those marathon camps.  A couple of years locked up for the unscrupulous Kenyan doctors and pharmacists peddling banned substances would be a nice start.  You'd think the Kenyan government would act because unfortunately it taints all its runners and is embarrassing for the country.  Unfortunately, while there's been a bit of hot air there's been few meaningful steps.  

The positive of Kiprop is pretty much the first significant male track guy (800-5000). We've seen hundreds of Kenyan world class athletes, many dozens on the blood passport scheme for up to a decade (the same scheme that caught roughly 35% of cheating Russian elite middle distance runners over the last decade). 
In the sixteen months leading up to Rio, Rudisha was tested 23 times in Kenya and around the world (including five blood tests).  Kiprop would have been very similar.  With all the science the Russians put into cheating their positives show its very hard to beat the passport system.  I would never vouch for everyone but I stand by the vast majority of Kenyan male elite track runners.
RT:  Awesome to have you on Runner's Tribe again. 
JT:  Any time! Cheers