Brussels 2000m – An Analysis Of One Of the Great Races of the Year And A Brief History Of A Rarely-Run Event:
By Brett Davies
The distance running world has been turned on its head in 2023. It has, by any measure, been one of the most incredible years in the history of the sport, with 12 records – so far – having been broken from 1500m to 100km. This includes men's and women's world records and world bests over distance races on indoor and outdoor tracks and in officially sanctioned road race events.
Ethiopian Tigst Assefa's marathon record of 2.11.53 in Berlin – where she took over 2 minutes off the existing record – was a the standout performance and Faith Kipyegon, already one of the all-time greats, had what was probably her best year ever, with double gold in Budapest and three world records (1500m/mile/5000m).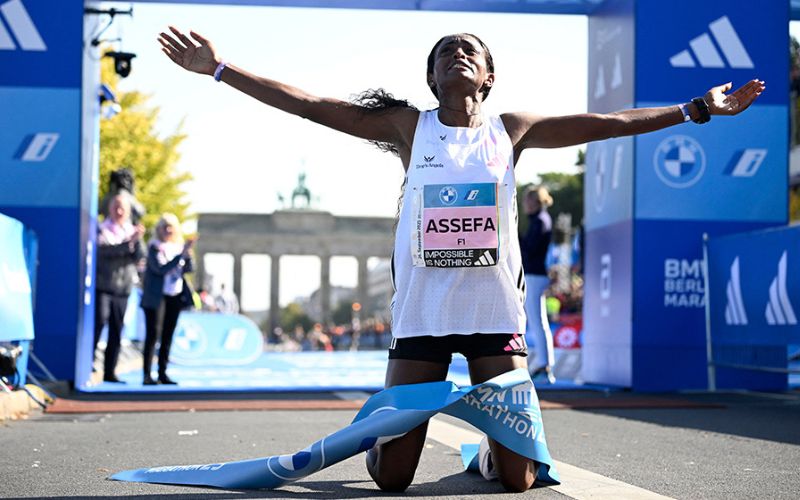 It was also another spectacularly successful year for Norwegian superstar Jakob Ingebrigtsen. He smashed Daniel Komen's 2 mile record by 4 seconds and successfully defended his world 5000m title and was narrowly beaten in the 1500m at the same event. He also produced perhaps the greatest two day middle distance double of all time at the Diamond League final last month, when he was within a few seconds tenths of a second of the world mile record (3.43.73), beating Yared Nuguse (USA) by a metre and backed up with another of the fastest 3000m races of all time, winning by 0.01 over Yomif Kejelcha (ETH) in 7.23.63.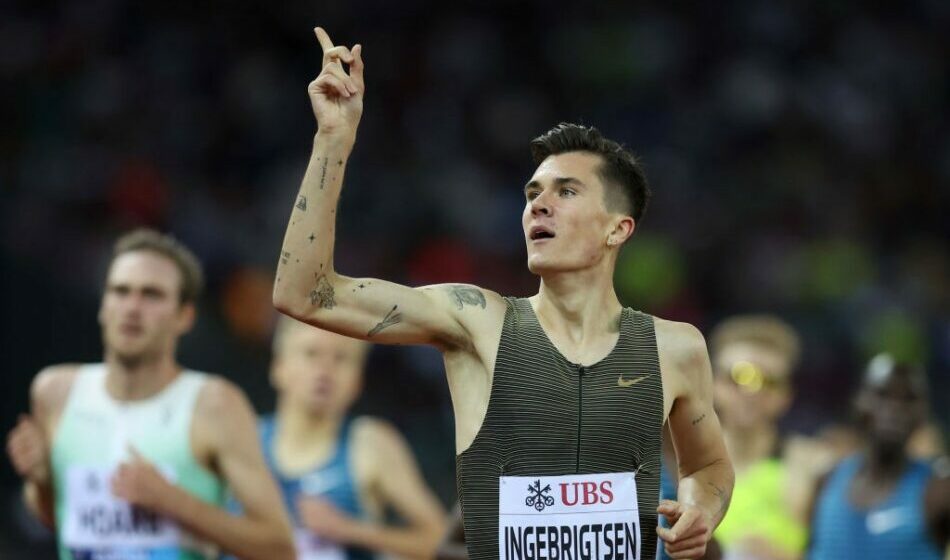 Ingebrigtsen produced another highlight in Brussels on the 8th of September, when he ran 4.43.13 over 2000m and took a second and a half off Hicham El Guerrouj's world record (4.44.79)). It was one of the greatest moments in middle distance running. Not only did he break one of the toughest and longest-standing records on the books, but dragged the chasing pack to several personal bests and national and continental records. It was, in terms of depth, an absolutely phenomenal race – one for the ages.
The 2000m is rarely scheduled on any athletics program, yet it is a race which is fascinating to watch – particularly at the highest level. This race promised much and it certainly delivered.
Ingebrigsten put on a masterclass. It was a perfectly judged race, though much of the credit should go to the pacers, who were excellent. Looking at the splits, we can see that it was fairly evenly-paced throughout.
The pacers reached 400m in 56.4 and 800m in 1.53.5. Jakob (1.54.1) was content to hang back, leaving something in the tank for the final couple of laps. The halfway split was 2.22.28 – right on schedule. With 600m to go, Ingebrigtsen was alone, the field strung out behind him. A fierce battle was brewing for the minor places. Aussie Stewart McSweyn was in the thick of it, running one of the best races of his career and Reynold Cheruiyot (KEN), Mario Garcia (ESP) and 18 year-old Dutchman Niels Laros were also hanging on to the brutal pace, though this group of runners were gradually losing touch with the Norwegian.
Ingebrigtsen went through 1500m in just under 3.34 and the mile in about 3.49.5. Ingebrigtsen picked up the pace into the final lap and McSweyn led the chasers into the final 250m, though it was at this point that Jakob turned on the afterburners, extending his lead.
View this post on Instagram

Clocking just over 55 seconds for the final circuit, Ingebrigtsen won by about 35 metres in a phenomenal 4.43.13 – approximately 3.47.8 mile pace. Behind Ingebrigtsen, there was an array of personal bests and national and continental records. This was one of the greatest races in terms of depth that we have ever seen in middle distance running history.
Cheruiyot reeled in McSweyn in the home straight to crack John Kibowen's 25 year-old Kenyan record, finishing second in 4.48.14. McSweyn took almost 2 seconds off Craig Mottram's Oceanian record in third with 4.48.77. Young Laros smashed the Dutch record with 4.49.68 in fourth, while Garcia was 5th (4.49.85), beating Jose Abascal's 37 year-old national record by two and a half seconds. Ingebrigsen's compatriot, the World Championships 1500m bronze medallist, Narve Gilje Nordas, moved to 12th on the all time list with his 4.50.64 sixth place finish, marginally ahead of Abel Kipsang (KEN), who ran a huge PB of 4.50.68 in seventh.
There was a breakthrough performance from 32 year-old Canadian journeyman Charles Philbert-Thiboutot. The Quebecois athlete took American Jim Spivey's 36 year-old North American record, running 4.51.54 in eighth. In ninth place, Ruben Verheyden destroyed the Belgian record with 4.52.37 and Sam Tanner was tenth, with an impressive 4.53.09, moving to second on the New Zealand all time list behind Sir John Walker's former world record  time (4.51.52).
Four of the first five finishers moved into the all time top ten and five men broke 4.50, something that nobody had done until Algerian Noureddine Morceli (4.47.88) broke the world record in 1995.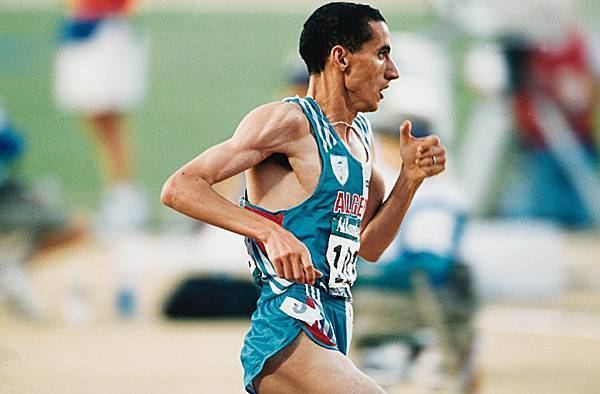 Though it is rarely scheduled at athletics meetings, the 2000m has a fairly long history. John Zander (SWE) ran a world record of 5.30.4 in 1918 and since then, many of the sport's middle distance legends have broken the world record. German Harald Norpoth was the first to break 5 minutes (4.57.8 in 1966) and Michel Jazy – who ran 4.56.2 a month later – held the world record for a decade until Walker's epic 4.51.52 in Oslo in 1976. It was another nine years before Steve Cram (GBR) snuck under Walker's record (4.51.39) and Said Aouita (MAR) chipped about half a second (4.50.81) from the time a couple of years later. After Morceli's run in '95, the legendary El Guerrouj broke the record in 1999 and that record lasted for almost a quarter of a century before Ingebrigtsen's run in Brussels.
The 2000m for women was virtually unheard of until the mid-'80s. Tatyana Kazankina (URS) was the first to crack 5.30 (5.28.72 in 1984) Marcicica Puica (ROM) marginally improved on the time (5.28.69) in 1986. Irish legend (and honorary Aussie) Sonia O'Sullivan dropped a 5.25.36 in London in 1994 to smash the record and this remained the record until Burundian Francine Niyonsaba's 5.21.56 two years ago (though Ethiopia's Genzebe Dibaba ran 5.23.75 indoors in 2017).
A fast time for the 2000m tends to be a good indicator of a middle/long distance runner's preparation coming into a championship race. In the 5000m, it is generally in the final five laps at a World Champs or Olympics, that the race tends to heat up, so an athlete's speed and ability to maintain that speed will come into play. Fans will recall Kenenisa Bekele's 4.56.97 final 2km at the 2008 Beijing Olympic 5000m final, where his sustained long run for home blew away a class field and secured his 5000m/10,000m double and third Olympic gold.
John Walker's win in the Montreal Olympic 1500m final came on the back of his world record in the 2000m, which was his last big race before the Games, where he won gold in a closely-fought tactical race. The record over 2000m is regarded by the man himself as his finest run and it gave him the self assurance to stamp his authority on the Olympic final and come home victorious. German Thomas Wessinghage's 4.52.20 2000m – within a second of Walker's then world record – was a huge run just a couple of weeks prior to his gold at the European 5000m in 1982 and gave Dr Wessinghage an edge in confidence in his showdown with world record-holder Dave Moorcroft (GBR), who he defeated convincingly in what was a huge upset win.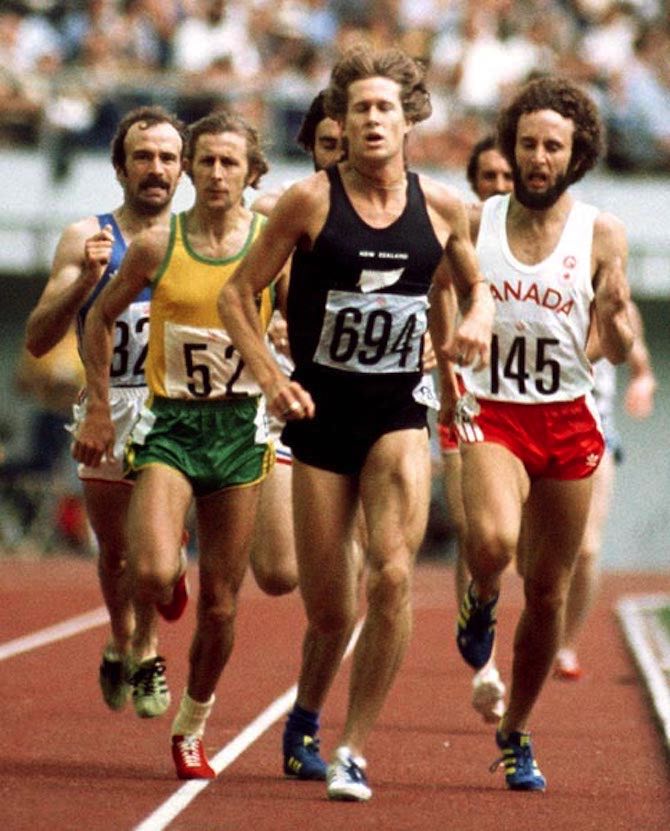 Craig 'Buster' Mottram broke Walker's then 30 year-old Oceanian record for the 2000m, when he ran 4.50.76 at Melbourne's Olympic Park, just ten days before his silver medal-winning performance at the Commonwealth Games in 2006, where he was outkicked by teenager Augustine Choge, but threw everything at the young Kenyan over the last few laps, roared on by the huge MCG crowd and lost by 10 metres, but ran one of his career-best times (12.58.19).
Pacing for the 2000m is a challenge. Much like distances such as the 300m, 600m and 1000m, which are also rarely scheduled on a track program, athletes often struggle with either going out too slowly, or too fast. In the 2000m, a handy rule of thumb would be to add two seconds per lap to your 1500m pace and attempt to hold that pace. Alternatively, if you're more of a distance athlete, you might try to run 2 seconds per lap faster than your 3000m pace or 4 seconds faster than your 5000m pace. A teenager or less well-trained amateur may want to be a little more conservative and add an extra second to their 1500m pace.
An example of a world-class elite 1500m runner (PB of 3.30 or 56 seconds a lap) looking for a fast 2000m would be looking for a pace of around 58 seconds per lap. This would lead to a projected time of around 4.50 for the full distance.An elite woman (A 3.56 1500m PB, or around 63 seconds per lap) might try to average close to 65 seconds, which would lead to a time of 5.25 give-or-take, depending on fluctuations in pacing, or difficult weather conditions etc.
Looking at a few male athletes who are high on the all-time lists for 2000m, we see that the data generally supports the 2 second theory when we look at their other PBs. Ingebrigtsen's PBs for the 1500m/2000m/3000m are: 3.27.14/ 4.43.13/ 7.23.63. The corresponding pace per lap for each distance is as follows: 55.24/ 56.62/ 59.15. Number 8 is Stewart McSweyn: 3.29.51/ 4.48.77/ 7.28.02 (55.87/ 57.75/ 59.74). Said Aouita is 15th: 3.29.46/ 4.50.81/ 7.29.45 (55.85/ 58.16/ 59.93).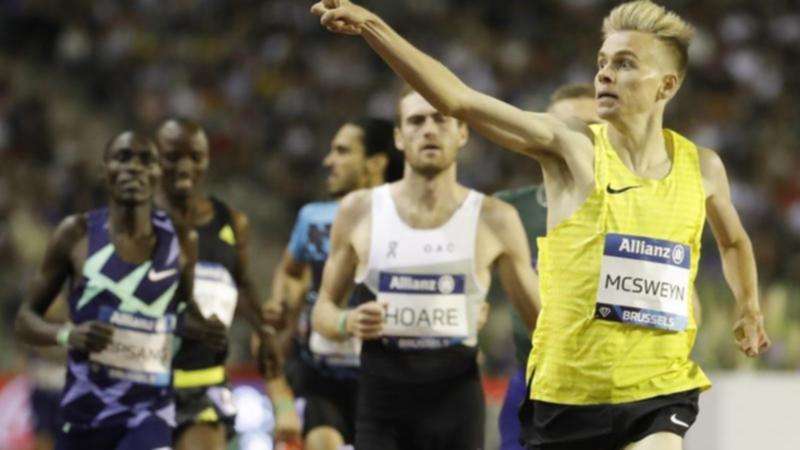 The 2000m in Brussels was special for Australian fans, who saw an encouraging return to top form from Stewart McSweyn. McSweyn had endured a tough couple of years since the Tokyo Olympics. The Tasmanian had a debilitating bout of COVID-19, plus a few injury setbacks. His 13th in the World Championship 5000m, may have been a little disappointing, but he's done remarkably well, given what he's been through. The Brussels run was an amazing performance, especially considering what the man's had to deal with of late. There are encouraging signs for McSweyn coming into an Olympic year next year.
Ingebrigtsen was on another level in Brussels. It was arguably his best run during a season of almost unparalleled excellence and consistency, the only real hiccup being his silver in the World Championship 1500m final. The world records for the 1500m, mile and 3000m appear to be on borrowed time and the Norwegian looks like being the global face of middle-distance running for some years to come.
Brussels Diamond League – Memorial Van Damme 2023 Men's 2000m:
Jakob Ingebrigtsen NOR 4.43.13 WR
Reynold Cheruiyot KEN 4.48.14 NR
Stewart McSweyn AUS 4.48.77 AR
Niels Laros NED 4.49.68 NR
Mario Garica ESP 4.49.85 NR
Narve Gilje Nordas NOR 4.50.64 PB
Abel Kipsang KEN 4.50.68
Charles Philbert-Thiboutot CAN 4.51.54 AR
Ruben Verheyden BEL 4.52.37 NR
 Sam Tanner NZL 4.53.09 PB
Jochem Vermeulen BEL 5.03.24 SB

The author would like to thank World Athletics.org, The BBC, Athletics Weekly, Dagbladet Norway, the Herald Sun and eurosport.com