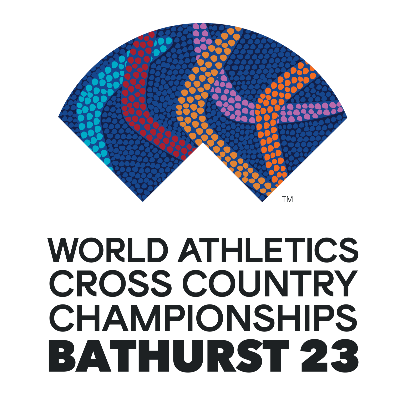 Prior to the World Cross Country Championship in Bathurst, RT will unveil a comprehensive, 10-part series, composed by Len Johnson, that delves into the historical narrative of Australia's participation in World XC.
Part 10 of 10 – Written by Len Johnson
With Bathurst '23 rapidly closing in, it is time to press 'pause' on the history of Australia at the world cross-country. The past may well be another country; so, too, is the future.
After the high of Brussels 2004, Benita Willis winning the women's long race, Steve Moneghetti, at 41, getting a Craig Mottram-led men's team together which was once more competitive with almost any team in the world, there was inevitably a letdown. An individual gold medal and both senior teams in the top six was always going to be a hard act to follow.
In one sense, the only way from Brussels was down. It was a time of change for both world cross-country and Australia's participation in it. Within a few years the IAAF would pounce upon one discussion option from its own cross-country committee and move the championships to biannual, rather than annual, timing. The aim was to enable a more intense focus on the championships. It is questionable whether that goal has been achieved.
The past decade and more has also seen the championships staged in a more international selection of venues. The 11 venues since Brussels have included two in East Africa – Mombasa in 2007 (a sea level venue in high-altitude Kenya!) and Kampala in 2017; two is Asia – Fukuoka in 2006, Guiyang in 2015 and Amman in Jordan and now the event comes to Australia. There have still been six of those 11 staged in Europe, but the most recent, Aarhus in 2019, saw several innovative changes which took cross-country back to its more traditional roots. Bathurst aims to continue that trend.
Brussels also brought a reversion to Australia's traditional approach to the championships. During Said Aouita's brief and turbulent period ass national distance coach, the emphasis changed to chasing success at middle-distance and, in Aouita's view, that meant concentrating on the newly introduced short course race rather than the traditional distance. Fortunately, the IAAF changed course on that one, reverting to one, longer distance race in 2007 (just in time for the sweltering heat and humidity of Mombasa, but that's another story!).
Neuchatel in 2005 saw Willis finish seventh in defence of her long-course title, her second-highest placing in the event. The ever-reliable Anna Thompson was sixteenth, but the talent remained split between the two races, Sarah Jamieson finishing thirteenth in the short-course race. The women's junior race saw the debut of another talent in Madeline Heiner, who finished sixteenth.
On to Fukuoka in 2006, the south Japan port city best known internationally for its men's international marathon on the first Sunday in December. The first day was staged in fine spring weather the weekend after the Melbourne Commonwealth Games; on the second, gale force winds buffeted the seaside course.
No matter to Benita Willis. She was fourth in the long race on Saturday then came back on windy Sunday to again finish fourth in the short race. The women's team was likewise fourth on day one, but Willis led it to a bronze medal on day two, Australia's first in the world cross-country. Again Madeline Heiner stood out at the U20 level, this time finishing eighteenth.
Mombasa was pretty much a disaster, with the heat and humidity extracting a high toll, especially on Australia's men's U20 team. With one distance only, Anna Thompson was again prominent in eighteenth place. The greatest sensation was the defeat of Kenenisa Bekele in the men's 12km by Zersenay Tadese after five successive 'doubles' in the short race/long race format.
Edinburgh 2008 saw Willis rise above a series of personal crises to somehow finish eleventh. With Lisa Weightman rounding out the top 20, Melissa Rollison and Thompson 26 and 27, the two W's led Australia to another bronze medal. Ryan Gregson and Emily Birchaek debuted in the U20 races.
Gregson again ran the U20 race in Amman in 2009 where he was joined by another soon to make his mark over a wide range of distances – Brett Robinson, who finished 46th. Lisa Weightman was the best Aussie senior overall, finishing seventeenth.
The Polish city of Bydgoszcz staged two world cross-countries, 2010 and 2013. The former saw the last appearance of Benita Willis who again defied indifferent lead-up form to finish seventeenth. The cross-country careers of Willis and Mottram had always been pretty much in lockstep and the following year Punta Umbria saw Mottram's final appearance. He finished 21st in the men's race.
The second Bydgoszcz championships marked the start of the two-year cycle. In 2010, the combination of a late winter dump of snow and an early thaw produced a mud-heap; 2013 was more a case of 'dashing through the snow'. Collis Birmingham did a very good imitation of a reindeer, finishing eighth, Australia's highest individual men's result since Steve Moneghetti's sixth in Boston in 1992 (coincidentally, also through the snow). Future Olympians Morgan McDonald, Stewart McSweyn and Amy Cashin ran the U20 races.
The trend of emerging juniors continued in Guiyang two years later as the championships came to China. Jessica Hull, Matthew Ramsden and Charlie Hunter all made their international debuts.
Back to Africa in 2017, to Kampala in Uganda. Patrick Tiernan had already won an NCAA title and a Zatopek 10,000. Now he produced a strong run to finish thirteenth in one of the world's toughest races.
Fittingly, Aarhus in 2019 produced not only a tough course and an enhanced spectator experience, but also saw the best Australian results in depth since Brussels 2004. Three of the four teams were top eight, the senior women fifth, U20 women and senior men, eighth, while the men's U20 team finished ninth out of 16. Without a standout performer, Melissa Duncan (26), Paige Cambell (29), Emily Brichacek (35) and Marnie Ponton (44) packed in solidly in the women's race.
Abbey Caldwell was a very modest performer in the women's U20 race, as she had been in the world U20 championships the previous year. She has obviously built on those experiences, as we saw in this year's senior national 1500 and the bronze medal in the Commonwealth 1500 in Birmingham.
Next chapter: Bathurst 23.