Steve Prefontaine: A runners' runner
A Column By Mark Tucker
Steve Roland "Pre" Prefontaine (January 25, 1951 – May 30, 1975)
"A lot of people run a race to see who is fastest. I run to see who has the most guts, who can punish himself into exhausting pace, and then at the end, punish himself even more."
The above is classic Steve Prefontaine or 'Pre' as he was affectionately known – a running legend famous for his intensity, determination and guts – his relentless front running, extraordinary results, prodigious talent and work ethic.
"Pre was a runners' runner"
Most running fans know the story of Pre: Prefontaine (1997) and Without limits (1998) are both movies about Pre's life and premature death that are especially popular with distance runners. When he died at the age of 24 he held an incredible seven American records from 2000m to the 10,000m and had just three years previously challenged for the Olympic gold medal in the 5000m at Munich, where he put it all on the line to agonisingly just fall short and finish 4th behind the unstoppable Lasse Viren.
I've watched both movies many times, along with Fire on the track (see video below or click here for cinema view) a documentary showing career highlights, rarely seen footage and interviews with friends, family and fellow runners. I was truly inspired each time I watched them and still clearly remember quotes such as the following:
"How does a kid from Coos Bay, with one leg longer than the other win races? All my life people have been telling me, 'You're too small Pre', 'You're not fast enough Pre', 'Give up your foolish dream Steve'.
"But they forgot something, I HAVE TO WIN"
Pre has many memorable and inspiring quotes that have been attributed to him – a measure of his influence on athletics, even to this day.
Nevertheless, the reason I was prompted to write about Pre was because of a short passage I read from the excellent book written by Tom Jordan, titled 'PRE: The story of America's Greatest Running Legend'.
"An alert was broadcast, warning people with respiratory problems to stay indoors. It was not a day to run an all-out mile. But then there were those thousand fans, waiting expectantly."Pre ran 3.58.3, and coughed blood afterward."
Amazing to think a thousand fans turned up for what was a one mile time trial (with the pacing assistance of some teammates). Unfortunately, this was a session that Pre later regretted doing – it negatively impacted on his next couple of races (resulting in the only DNF of his career) and he was finally diagnosed as having torn muscle fibres under his rib cage that had resulted from running that hard mile in the smoke filled air.
This got me thinking: firstly, our 'strength' (determination, bravery, taking things to an extreme etc) can sometimes also be our 'weakness' (that same determination, bravery and extremeness can turn into a foolish decision that can impact negatively on us and others). Going on from this, there are probably numerous occasions where we have made dubious decisions in our running careers that have come back to bite us.
One of my own that comes to mind was when I ran in a Word Junior Cross Country trial in the mid to late nineties, despite just getting over Chickenpox and feeling rather weak and unfit because of it. From memory I finished last. If I had not started that trial and instead had told the selectors of my situation, I would have had a much better chance of being selected for that team (my results all season had been strong). I ruined my chance by stubbornly racing the trial despite all logic.
Still, mistakes are inevitable – there are going to be poor decisions made, especially considering the extreme nature of most distance runners, particularly at the elite level (again, that extremeness is probably a major factor in the elite runners' success and, unfortunately, also one of their weaknesses). Anyway, it is best just to be aware of all this and to remember that there is sometimes a very fine line between bravery and foolishness.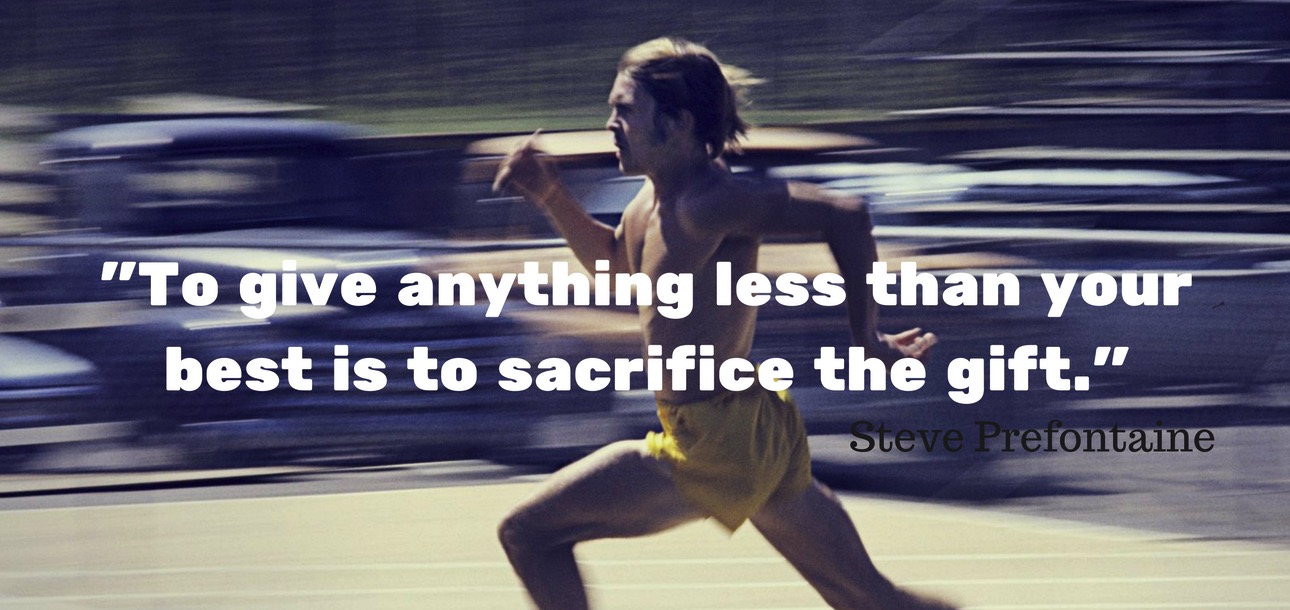 To finish, I will leave you with some classic Pre quotes from a legendary man and runner – a man we can all find inspiration from:
"Some people create with words or with music or with a brush and paints. I like to make something beautiful when I run. I like to make people stop and say, 'I've never seen anyone run like that before.'
"It's more than just a race, it's a style."
"It's doing something better than anyone else. It's being creative."
"To give anything less than your best is to sacrifice the gift."
"Somebody may beat me, but they are going to have to bleed to do it."
END
Happy birthday to the legend, Steve Prefontaine. #GoDucks #GoPre pic.twitter.com/MgwmVdSDP0

— Oregon Track & Field (@OregonTF) January 25, 2017
Legend then, Legend now, Legend forever.

Happy Birthday Steve Prefontaine. pic.twitter.com/XTstnzURuD

— Cross Country Probs (@CrossProb) January 25, 2017
"Something inside of me just said 'Hey, wait a minute, I want to beat him,' and I just took off." – Steve Prefontaine pic.twitter.com/JRk1ccyRJk

— Cross Country Probs (@CrossProb) January 25, 2017
About the Author: Mark Tucker has represented Australia numerous times through World XC, to the World Championships Marathon (2009). Tucker was known for is toughness in training and races and consequently had many top wins. He finished 4th at the NCAA National XC representing Butler in 2002. He has broken the 4 minute mile with 3:58.37 in Auckland. He is a talented writer and a highly valued member of the Runner's Tribe team.