By Chris Lotsbom, @ChrisLotsbom
(c) 2016 Race Results Weekly, all rights reserved
(25-Jan) — It was the fall of 2010, and Ford Palmer was grinding out intervals at the Monmouth University track in West Long Branch, N.J., preparing for the upcoming track season. Little did he know that steps away a future NFL football player was honing his skills, and would one day play for a Super Bowl title. The football player was fellow New Jersey product and future New England Patriot Chris Hogan.
"Besides dodging field goals they'd kick during track practice, I didn't overlap too much with the football team," Palmer, 26, told Race Results Weekly by phone. "But I did know of Chris Hogan. I do remember him well."
Now a member of the HOKA ONE ONE New Jersey/New York Track Club and a devout football fan, Palmer proudly boasts that Hogan –a star wide receiver for the Super Bowl-bound Patriots– once shared the same athletic complex at Monmouth University.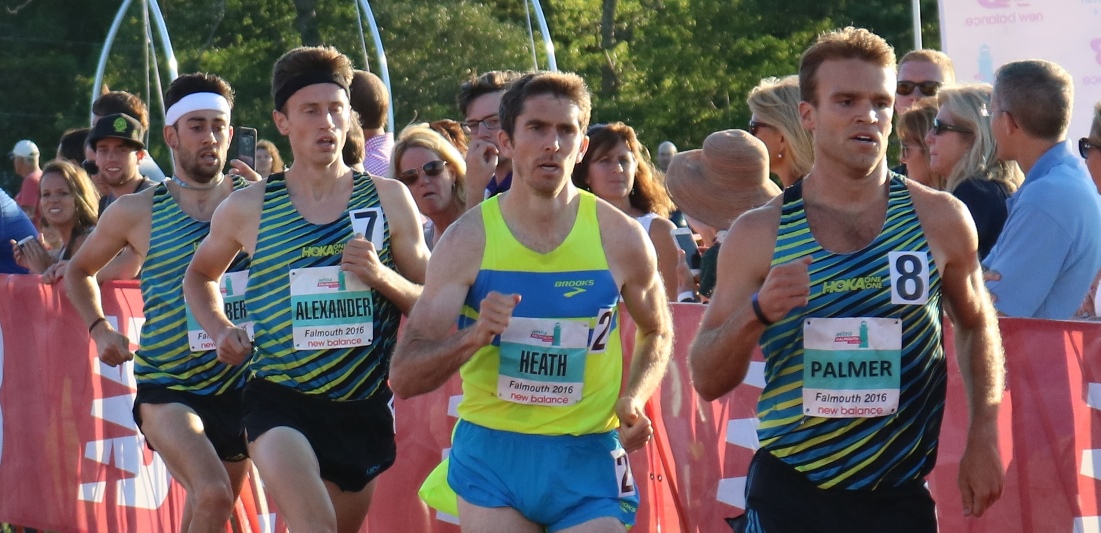 On the surface, the 6'1″, 210-pound Hogan and 5'11", 160-pound Palmer don't seem to have too much in common other than their alma mater. One just caught nine passes for 180 yards and two touchdowns in the AFC Championship Game to become an NFL sensation overnight. The other is a sub-four minute miler training with hopes of donning the USA kit internationally. Yet the pair are connected in more ways than just their shared time at Monmouth's Kessler Field.
For starters, Palmer played football at Absegami High School in Galloway, N.J., ruling the field as a middle linebacker. He only transitioned to track after suffering four concussions heading into his senior year of high school. While still muscular, Palmer slimmed down and soon became a force on the track, setting school records at Monmouth and forging an unconventional path to post-collegiate running.
Hogan also triumphed in two sports: first, he spent three years playing lacrosse at Penn State for the Nittany Lions. He once scored a goal against Rutgers, a team that included future Patriots safeties coach Steve Belichick, the son of Patriots head coach Bill Belichick. Hogan was passionate about football in high school, and only returned to the sport with his lone season of eligibility in 2010 when he transferred to Monmouth.
It is at Monmouth University that Palmer and Hogan's paths crossed. Palmer roomed with members of the football team throughout college, including the team's kicker, tight end, and safeties. He'd hear rumblings about Hogan's talent.
"Our football team wasn't that great," Palmer began. "We're you're typical Division I football team where you go in having high hopes and it doesn't work out the way you want it to. I think because of that [Hogan] kind of went under the radar, because he was more concerned about the team. I definitely saw glimpses of him when he played. I definitely remember it; he played both ways too [offense and defense, recording three touchdowns and three interceptions]. We also had some other receivers that shined, but he was particularly good and I remember him a bit. I couldn't have predicted how well he'd do on the Patriots this past weekend in the NFL."
In last Sunday's 36-17 AFC Championship win over the Pittsburgh Steelers, Hogan broke through with a memorable game that included a 34-yard flea flicker touchdown. While his teammates hailed from typical football powers like Michigan and Oregon, Hogan stood out being from little Monmouth (total enrollment 6,570, or 10-percent the capacity of the Patriots' Gillette Stadium).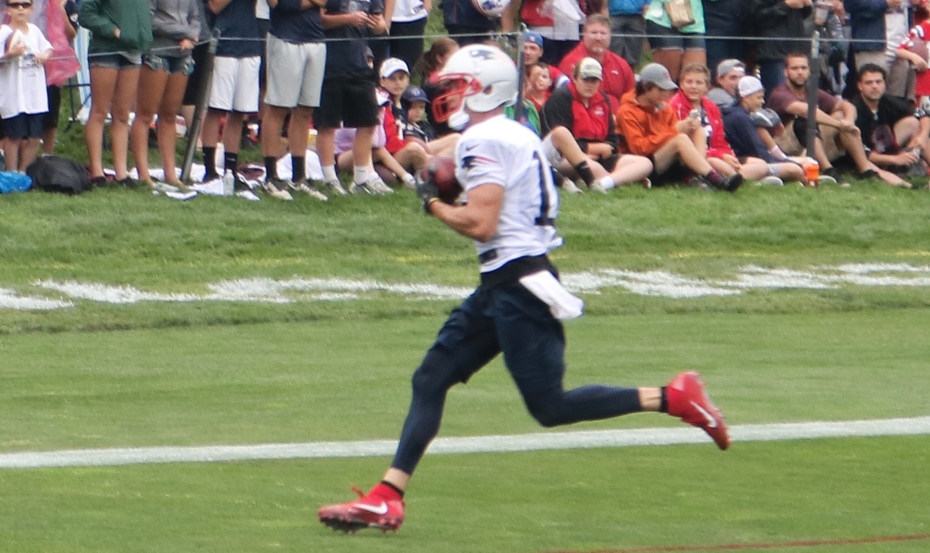 "Monmouth is by far not a football school, but I love when there is a Monmouth football player playing in a prime-time game and the announcers call it Monmouth College. There is a Monmouth College, but it's in Illinois!" Palmer said, laughing. "With Monmouth University, they never get it right! Before Chris Hogan blew up last night, people would have thought of Monmouth as the school I went to if they are a track fan, or the school with the basketball team dancing on the bench [from last NCAA basketball season]. Now it's Chris Hogan."
After graduating from Monmouth, Palmer turned his focus to the professional ranks with the goal of breaking four minutes for the mile. Time and time again he'd come close, though couldn't quite crack the barrier. That all changed in August, 2014, when he ran 3:57.61 to become America's 424th sub-four miler. Now he boasts a national class PB of 3:55.60.
Hogan has a similar story of determination, only attending Monmouth to give football one last chance before graduating. Like Palmer on his sub-four quest, Hogan didn't want to relinquish the dream of one day playing in the NFL. Hogan wound up impressing scouts enough to be signed as a free agent by the San Francisco 49ers in 2011. He soon was released, bounced around with the New York Giants, then spent training camp with the Miami Dolphins where he developed the nickname "7/11" for his work ethic and ability to always stay open down field (playing off the convenience store chain of the same name that's always open). After time with Miami, he'd be signed by the Buffalo Bills then wound up in New England at the start of this season. In New England –working with four-time Super Bowl champion Tom Brady– Hogan found his stride.
"He fought tooth and nail," Palmer mused. "It just shows what kind of person he is to continue to try as hard as he has over the years to finally make it on the national level in playoff prime-time like he did this past Sunday."
Being a proud Monmouth alum and fellow two-sport athlete, Palmer can relate to Hogan and his journey to the elite level of his favored sport.
"That never-quit attitude and the confidence to continue to throw yourself forward until you hit your goal," Palmer said. "He's not done. He obviously wants to win a Super Bowl and make a lot of money in the upcoming years. I'm proud of him. Both [of us] being a two sport athlete, you have to have a tenacity to perform at a high level and a bunch of skills to do that."
If Hogan was a track runner, Palmer believes he'd be able to run 4:50 for the mile off of football shape. "I think he could definitely break 55 in the 400! Maybe run a 52. Two minutes in the 800m would be very tough, I think he could run a 2:15." If famed New Jersey/New York Track Club coach Frank Gagliano was coaching, then Palmer believes Hogan would reach an even higher level. "He would definitely be under 2:00 then!"
The astute Palmer has already analyzed the outcome of Super Bowl LI, when Hogan's Patriots face the Atlanta Falcons on Sunday, February 5.
"I'll be honest – I am an anti-Patriots fan," said Palmer, a religious Philadelphia Eagles fan who still holds a grudge against the Patriots for defeating the Eagles in Super Bowl XXXIX. "You have to root against the Patriots just because how successful they've been over the years. I believe that Atlanta not at home is the underdog, so I'll root for the underdog but at the same time I wouldn't mind if the Patriots won mainly because of how well Chris has been playing. I wish him the best because he's a great guy and I hope he does well."
Asked for a score, Palmer prognosticated a 24 to 21 Patriots win. As for Hogan's stat line, he sees six catches for 92 yards and a touchdown, "a solid game."
Palmer said he'll try to channel a little of Hogan's Monmouth magic when he opens his indoor season over 3000m this coming Saturday at the Columbia East-West Challenge meet in New York City. Can we expect a Hogan-like breakthrough performance by Palmer?
"How about we postpone that until a week later when I run the mile [at the Armory Invitational]," Palmer joked. Ironically, that race will be on the eve of Super Bowl LI.