Hi everyone, my name is Joe Burgess and I'm a steeplechaser/mid-distance/distance runner from Sydney. It's a privilege to be asked to contribute to Runners Tribe and to be able to share a snapshot of my training. Hopefully, I can help educate and inspire a number of you to improve and enjoy your running in a healthy and sustainable manner.
Growing up, I was a keen Little Athlete at the Manly-Warringah Little Athletics Centre, where I was actually more focused on High Jump than distance running. When I reached 14 or 15, I started performing a little better over the distance carnivals at school level and started running seriously at 15 with my first coach, Nick Bromley. Nick helped introduce me to the world of structured training and started the fire of my love for running. Since then, I have been fortunate enough to work with Olympic level coaches Lindsay Watson and James Fitzgerald, who assisted my transition from junior to senior competition and taught me a great deal about coaching philosophies and how to develop as an athlete. This was followed by a period of self-coaching, which was an exciting journey that helped me add to my own coaching toolkit and learn a lot about myself. Ultimately, I learned that guidance was required to stop me from over-doing my training and so I am now very fortunate to be working with Shaun Creighton. Shaun needs no introduction- he is a high calibre coach, one of Australia's greatest ever athletes and one of the nicest blokes you will find anywhere in the world. Working with Shaun has provided a great balance of guidance and ownership of my program and the workouts below are the product of this.
Aside from my coaching relationships, I am lucky to have met a number of people who are very important to me through running, and I would encourage all youngsters reading this to ensure that you focus as much on the social side of athletics as your performance at meets. The fun side of athletics is important at any level from grassroots to high performance. I was really lucky to meet my partner, Sarah, through Athletics. We have recently moved in together and have a pet rabbit, Charlie, who we have a great time with. Meeting Sarah and Charlie is definitely my biggest athletics achievement!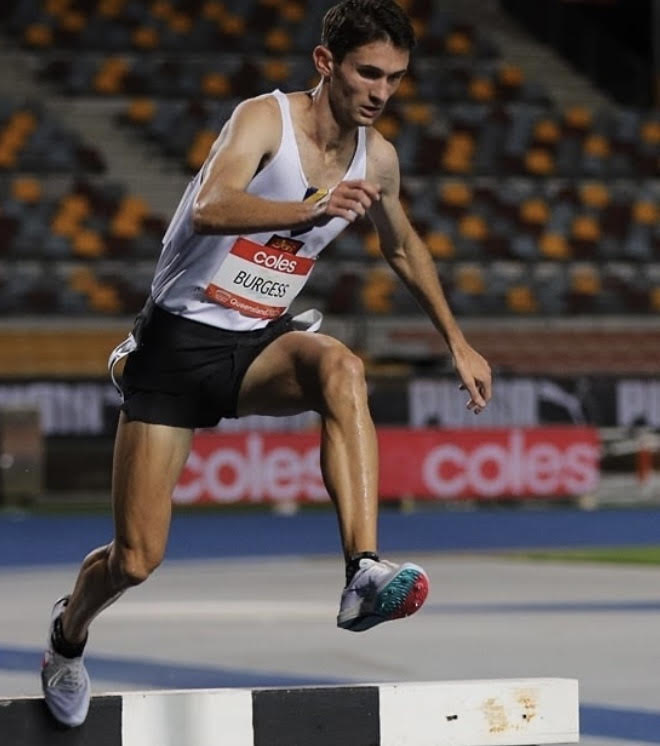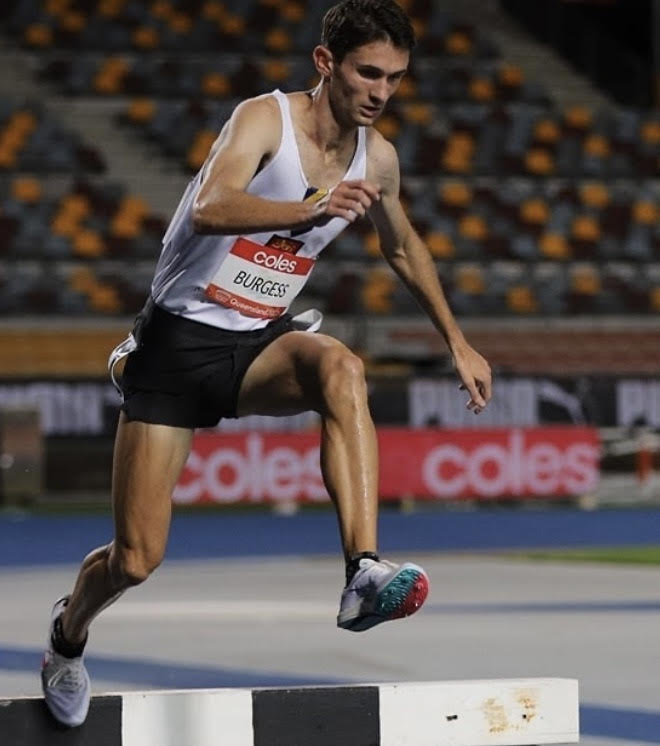 When it comes to my training, I have found over the years that the key is being sensible in building up your mileage and doing appropriate training for your age. It has taken me years to build up to the 100-mile weeks I am doing now, and am only there because I had sensible coaches who did not rush my progression and helped me build from 60 to 160km a week over a 7 year period. Through this, I have been able to stay uninjured and continue to steadily build base and strength, which has meant that I have been able to build up to completing the sessions below. I have tried to cover a workout with 4 different focal points- each of aerobic tempo work, anaerobic Fartlek style work, speed work and hurdle work. These are quite high volume or intensity workouts, so definitely make sure you consider the appropriateness of this kind of workout to you before attempting!
1- 5k, 3k off 200m jog.
This is a favourite of mine to help balance my longer winter tempo work and give me a break from the staple 30 min tempo. This can be a really tough one to do at the start of winter when you're still building base, but it is awesome when you build up a bit and can handle the float recovery! I try to use this as a bit of an indicator session and would look to be nailing this sort of workout towards the end of cross country season.
As with most of my tempos, I try to just run to feel and don't look at my watch. I get in to a nice rhythm and try and run smoothly during the 5k. The 3k off 200 float (typically 45 seconds) is a real stinger and so I am really trying my best to give this a solid nudge. I know I am doing well when I can run about 15:30 for the 5k, and under 9:20 for the 3k. However, so far I have only managed this once!
2- Mona Fartlek.
No program would be complete without the Mona Fartlek. It has been a staple of Australian distance training for a generation and is something that Shaun insists is a crucial component of the program. I do these sessions for about 9 months of the year pretty much every fortnight, and try and make sure I vary the terrain I do it over based on the phase of training I am in. During a heavy base phase, I will do this over much hillier terrain than during September or October when I am winding down to start focusing on more anaerobic workouts. Obviously, the pace will vary as a result of the terrain and period of training that I am in, but typically I will average 3:05 pace for a flat Mona. The crucial thing is making sure your floats do not drop too much. I try to float at around 3:15 pace and keep a variation of about 20 seconds per km between on and off speeds. This helps build that 5000m strength that will delay blowup on the pointy end of a race.
3- 600, 2×300, 3×200, 7min tempo all off 90 seconds rest.
This is a bit of a weird one I came up with to work on my 1500/3000m speed. I'd done things like this with Jimbo before but ordinarily the tempo would come first and the faster reps last. Of course, I see the value in trying to work on speed once already tired but I moved the tempo to the end of this set to mimic the back end of a 3000m when you're already super lactic. It worked a charm, as I ran my 3000m PB of 8:05.41 just 9 days after doing this for the first time.
I try and do this set at about 1500m pace or even slightly quicker. For me, that's about 1:30 for the 600, 44-45 for the 300s and 28 for the 200s. The real issue is getting in a decent tempo after this as usually this is the worst aspect of the session when you're full of lactic!
4- 2x5x400m off 1', 2' with the first set over 5 hurdles and the second flat.
This is another staple of Shaun's. When he explained it to me, he said there was a bit of conjecture about whether to do the first or second set over hurdles, but doing the second set over hurdles when you're tired encourages bad steeple technique in his mind so one should do the hurdles first.
This is a pretty basic session for any steeplechaser and should be one utilised in the December-February period when you've already done some hurdle drills and longer hurdle sets for a few months and are comfortable that your form is in a good place. I try so do the hurdles in 65-66 and the flat in 63-64. Not super fast but enough to keep me ticking over.
I wanted to thank Runners Tribe once again for the opportunity to share a bit about my story and my training. I hope you've all found it enjoyable and useful. Happy running!