Thanks to Athletics Australia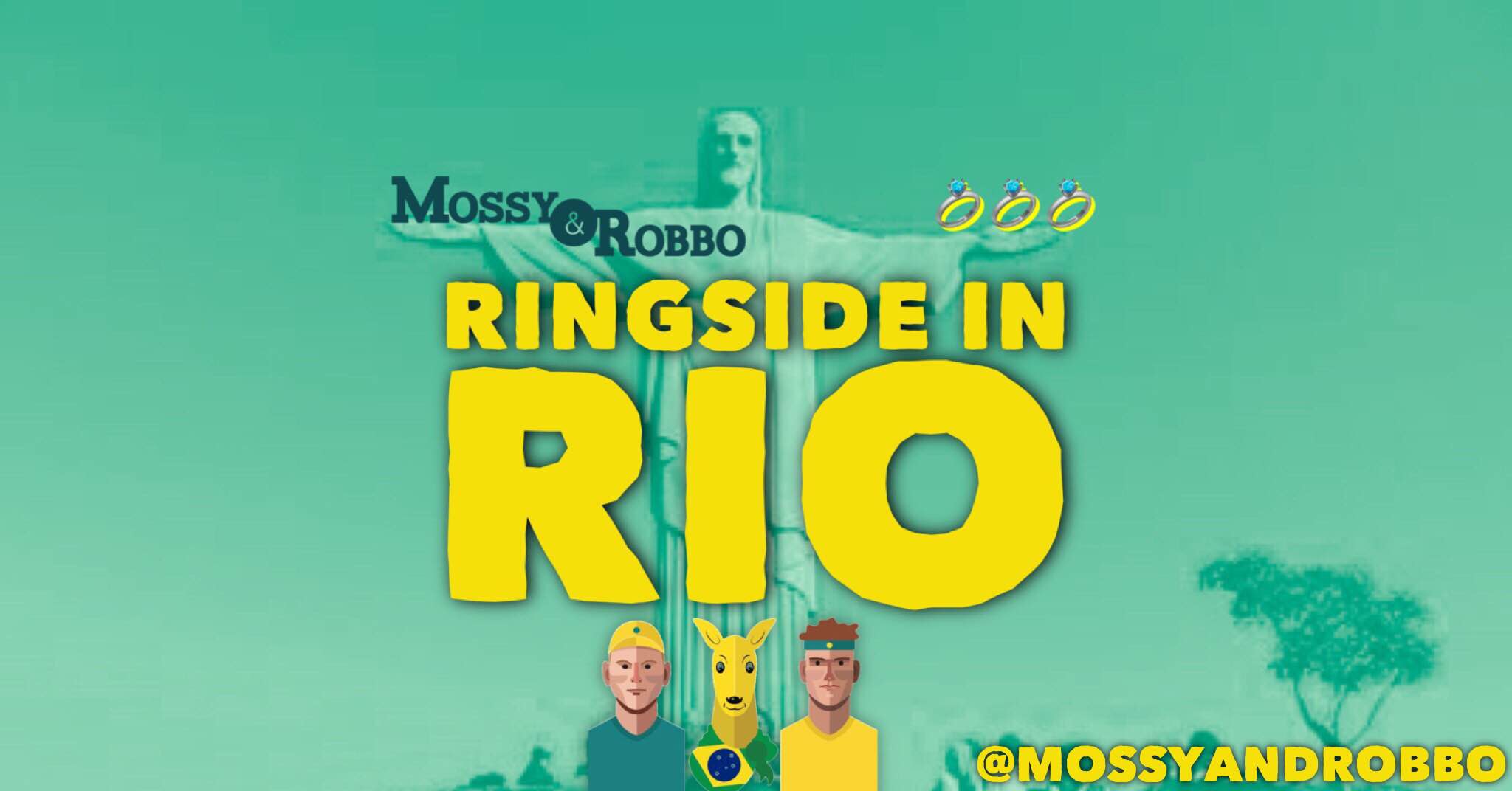 Day 8 Rio Olympic Aussie Athletics Wrap
Three-time Olympian, Alana Boyd (Qld) jumped 4.80m in the women's pole vault final to finish in fourth position.
She finished on the same height as the bronze medallist, New Zealander Eliza McCartney, although Boyd's clearance came on the second attempt and McCartney's on the first. A tight finish that put Boyd agonisingly close to the podium.
Congratulations @_AlanaBoyd on your fourth place finish!https://t.co/34WGmidkhl#OneTeam pic.twitter.com/Jqv3VmudsU

— AUS Olympic Team (@AUSOlympicTeam) August 20, 2016
The two-time Commonwealth champion who hails from Queensland and an excellent family gene pool, had a tough final lead in to the Games after aggravating an ankle injury soon after setting the new Australian record of 4.81m in July.
She said of her interrupted lead in, "I think I showed tonight that I'm capable of jumping high, and I think I'm capable of jumping higher than I did tonight. I just lacked that little bit of jumping."
"I don't even know what to say," Boyd continued.
"4.80m, one centimetre lower than my PB, fourth at the Olympic Games, after the month I've had. I toughed it out and did everything I could tonight and I left it out there and that was the result," the 32-year-old surmised.
The popular team member has two siblings who have also represented Australia internationally, as well as Olympian parents – her mother Denise (nee Robertson) won Commonwealth gold in 1978 in the 200m, and ran in two Olympic finals. Her father Ray, who coaches her, was also a Commonwealth champion and dual Olympic pole-vaulter. Interestingly, Ray jumped the same height as his daughter, 4.80m at the 1972 Olympics.
You could hear the screams down under when the Australian women's 4x400m relay team in Rio realised they had made it through to the Olympic final.
The young team, made up of Jess Thornton (NSW), Caitlin Sargent-Jones (QLD), and individual 400m representatives Morgan Mitchell (Vic) and Anneliese Rubie (NSW) placed fourth in their heat, and progressed to the final in eighth place based on their time of 3:25.71.
It is the sixth fastest time in Australian history, and the fastest time run by an Australian team in in fourteen years. It also breaks the sixteen year drought since Australia has had a women's 4x400m relay team into the Olympic final. Interestingly, that team in 2000 consisted of the more experienced Nova Peris, Tamsyn Lewis, Melinda Gainsford-Taylor and Cathy Freeman who finished fifth in the Olympic final at the peak of their careers.
That awesome moment when you just find out you've made the Olympic final. #Rio2016 pic.twitter.com/g7nqy78BDD

— 7Olympics (@7olympics) August 20, 2016
Our rising star team are hot on the heels of emulating the success of their idols and will be ready for the race of their young lives on Sunday morning, 11.00am AEST.
The youngest on the team, 18-year-old teenager Jess Thornton who comes to the Games just weeks after she set a new PB and fourth place finish at the world under 20 championships, realised her dream of participating in the Olympics (click here to see the short video of a young Jess).
Eloise Wellings (NSW), Madeline Hills (NSW) and Genevieve LaCaze (Vic) have again shone on the biggest stage of all, with all three of them delivering the greatest performances by any Australian females in the 5000m at the Olympics.
Wellings was the first Australian across the line in a season best time of 15:01.59 in ninth – her best time in 10 years. Hills was right behind her in tenth, with a seven second personal best time of 15:04.05. LaCaze was in shortly after with a massive ten second personal best of 15:10.35 for twelfth place. Capping off an incredible season for LaCaze, we have actually lost count of the extraordinary number of PBs that she has delivered this season!
It's an exciting time for Australian women's distance running, with the three athletes already having delivered top ten finishes at the Games – Wellings in the 10,000m (10th) and Hills (7th) and LaCaze (9th) in the 3000m steeplechase.
The event was won in an Olympic record time of 14:26.17 by Kenyan Vivian Jepkemoi Cheruiyot.
And they're off in the women's 5000m final. #AUS @GenGen_LaCaze, @Elzywellings and @madheinerhills all in the race! https://t.co/vZ5jN0mSv1

— 7Olympics (@7olympics) August 20, 2016
"Be tough & test your limits" so I did. 12th+10sec PB in the 5km Olympic final. It hurt,a lot & I loved every step?? pic.twitter.com/I8RrQmEQfE

— Genevieve LaCaze (@GenGen_LaCaze) August 20, 2016
The day concluded with sensational finals including the men's and women's 4x100m, where Usain Bolt created history achieving the triple-triple of Olympic golds.
Tallent walks into history books
Jared Tallent (SA) has created Australian athletics history by winning the Olympic silver medal in the 50km walkovernight.
Tallent has achieved the three consecuative podium finishes in the 50km event at the Olympics – with silver in Beijing in 2008, gold in London in 2012 and silver in Rio in 2016. Add to that the bronze medal he won in Beijing in the men's 20km walk, and Tallent is now the most decorated Australian male athletics Olympian of all time.
In a courageous effort, Tallent chased the golden dream in the event and looked good in the later stages when he broke away to lead with ten kilometres to go. However it was not to be, with the 2015 world champion Matej Toth(SVK) charging home strongly to win his first Olympic medal in 3:40:58, at his fourth time of trying.
Tallent dug deep and worked hard through the final lap to hold on to silver, finishing in 3:41:16, ahead of Hirooki Arai (JPN) in 3:41:24. Physically spent at the conclusion of the race, Tallent's determination was obvious.
"I really wanted it, I thought I had it," Tallent said of the gold medal.
"I probably got a bit too excited. I was feeling really good. I was patient all throughout the race and just when I needed to be a little bit more patient I went for it and took off at 40km and I really thought I had it but I just ran out of legs with about four k's to go.
"I saw Matej coming and I was trying to do everything I could to hold on. I really wanted to come down to that finish line in first place. I gave it everything I just had nothing left".
Tallent, who is coached by his wife Claire, had no regrets.
"I'm proud of the way I performed. Three Olympics in a row I've been able to medal in this event. It would have meant so much to hold on a get the gold here and be Olympic champion for more than a few months but I couldn't do it unfortunately.
"Matej trains really hard and he's a really good guy so if anyone was going to beat me he's one of the nicest guys," Tallent said,
In his best ever international performance, veteran Chris Erickson (Vic) finished tenth in a personal best time of 3:48:40, at his third straight Games. His protégé and Olympic debutant Brendon Reading (ACT) finished a credible 40th in 4:13:02 in the large field of 79 starters.
Australia also had a full contingent in the women's 20km walk, with Regan Lamble (Vic) first across the line in 9th with 1:30.28. It was the third best Australian result at the Olympics by an Australian in this event. Tanya Holliday(SA) finished in 26th and Rachel Tallent (Vic), after a struggle to get to the start line, did well to finish in 40th. In a show of family support, Rachel's older brother and coach Jared was on hand to assist at the drinks table just hours after his own event concluded.