By Len Johnson
In the lead-up to this year's New York Marathon Orlando Pizzolato presented a pair of his running shoes to the Museum of World Athletics.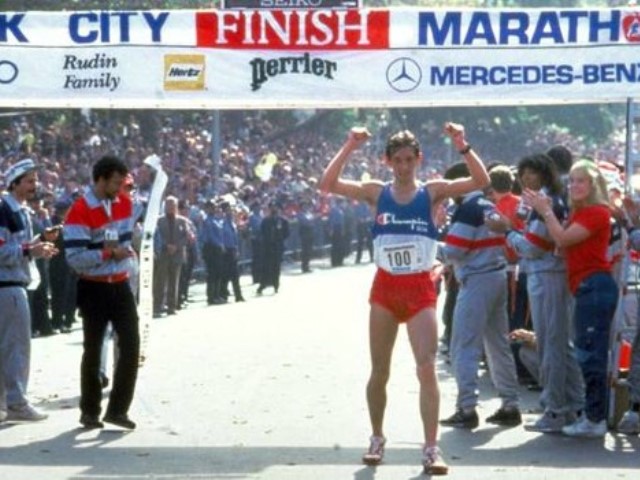 Now I know Orlando Pizzolato mainly as the Italian guy who finished third in New York in 1986 as a better-known Italian, Gianni Poli, defeated our own Rob de Castella for the win. What I didn't know, was that he had won New York two years earlier, sneaking under the radar on a warmer-than-usual New York autumn day, despite stopping several times over the hilly closing stages around the through Central Park.
That win came in the wake of two other de Castella races which possibly distracted most of us. First there was the Los Angeles Olympic marathon, in which 'Deek' started favourite but finished fifth behind Carlos Lopes and then the Chicago marathon in which a fresh Steve Jones stunned Lopes and de Castella to win in a world best 2:08:05.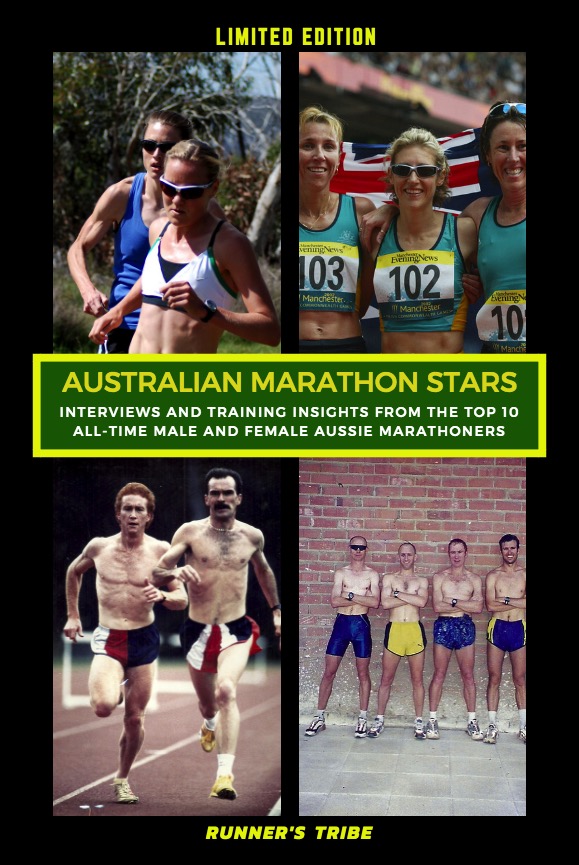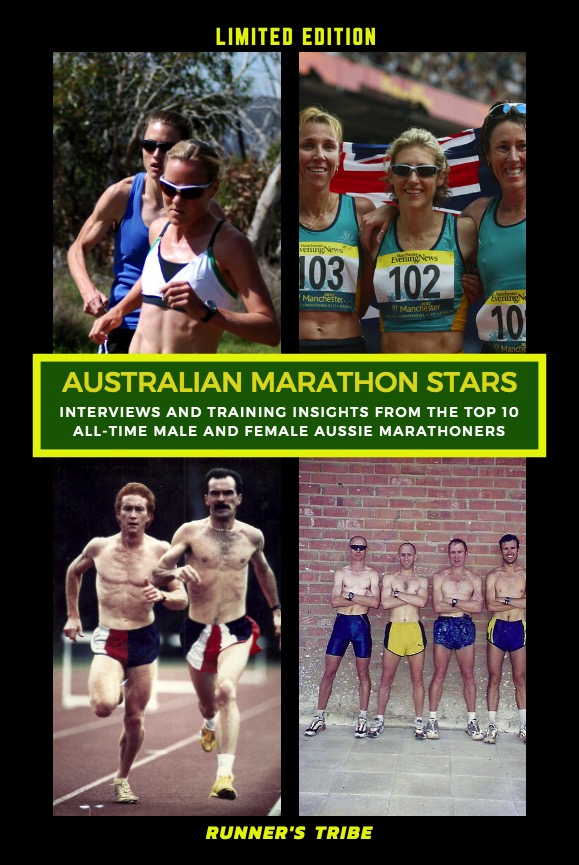 Our minds may have been otherwise engaged, then, when New York came around almost right on Chicago's heels, so to speak. It was unseasonally hot as the field assembled on the Narrows Bridge, By mid-race the temperature rose into the mid-20s with the humidity shooting up towards 100 percent..
Pizzolato was not favoured but when Marty Liquori, joining Bill Rodgers as an expert commentator for the network television coverage, said the conditions might be conducive to an upset, anchorman Jim McKay summarised presciently: "Yes, look out for the man you do not know."
Cometh the hour, cometh the unknown Italian. Despite his late race problems, Pizzolato held on to record a famous win in 2:14:53. He commented later that the three biggest stories in Italy the next day were "the Pope, then Ronald Reagan's election. Then it was me."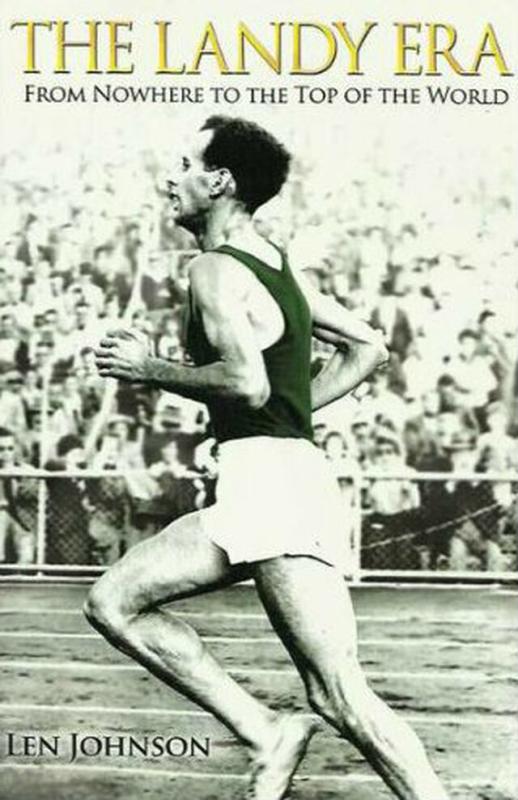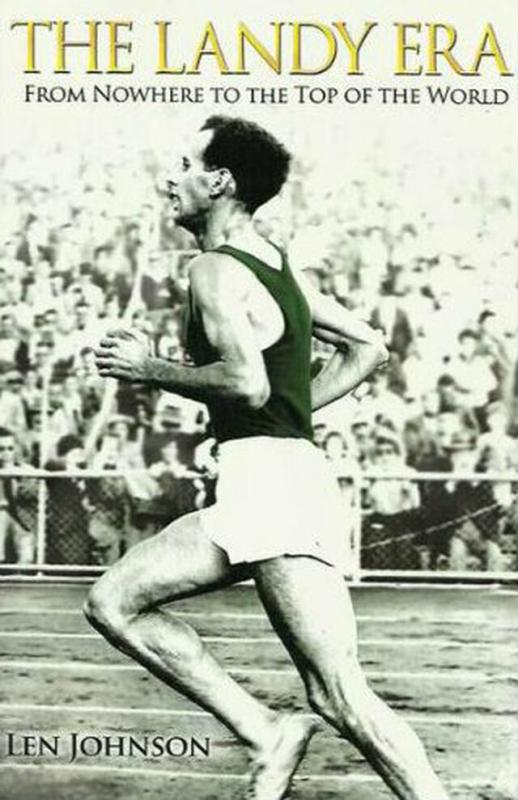 Hence the shoes. It was also all about the shoes, apparently: a well-worn, battered even, pair of red and white Nike racers. You can find a picture of them on the World Athletics web page. It's also about the feat, too, not of the pedal extremity variety but the feet of the runner wearing the shoes.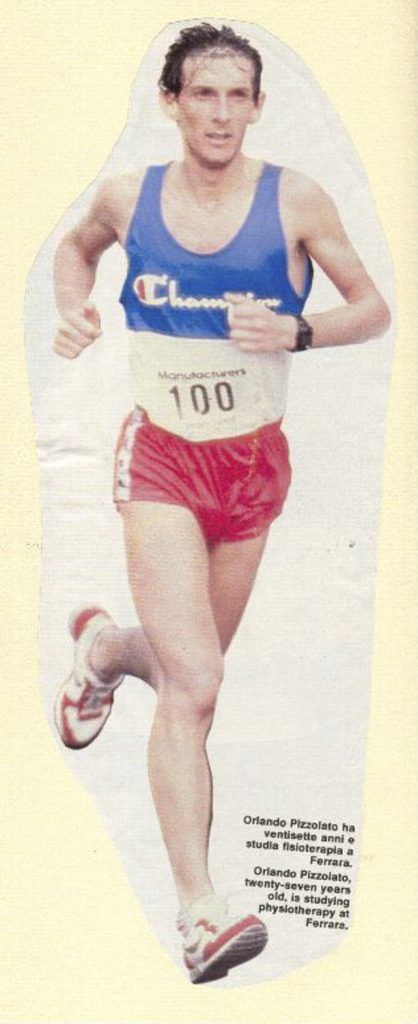 It's safe to say the combined value of the shoes worn by the women's lead pack in New York last weekend – even adjusted for inflation – would have been many times that of Pizzolato's shoes (just as his would have been way above those worn by Emil Zatopek and Jim Peters).
Yet at most of the race proceeded at a pace not beyond that of the average club runner, it seemed that Boston winner and world or Olympic track, road and cross-country champion Hellen Obiri, former world record holder Brigid Kosgei, Letesenbet Gidey and defending champion Sharon Lokedi were more worried about wearing their fancy shoes out than running fast in them. Even when there was a semblance of a move, a brief surge was followed by an abrupt easing of the pace. Eventually, that pace slowed to plus six-minute miles.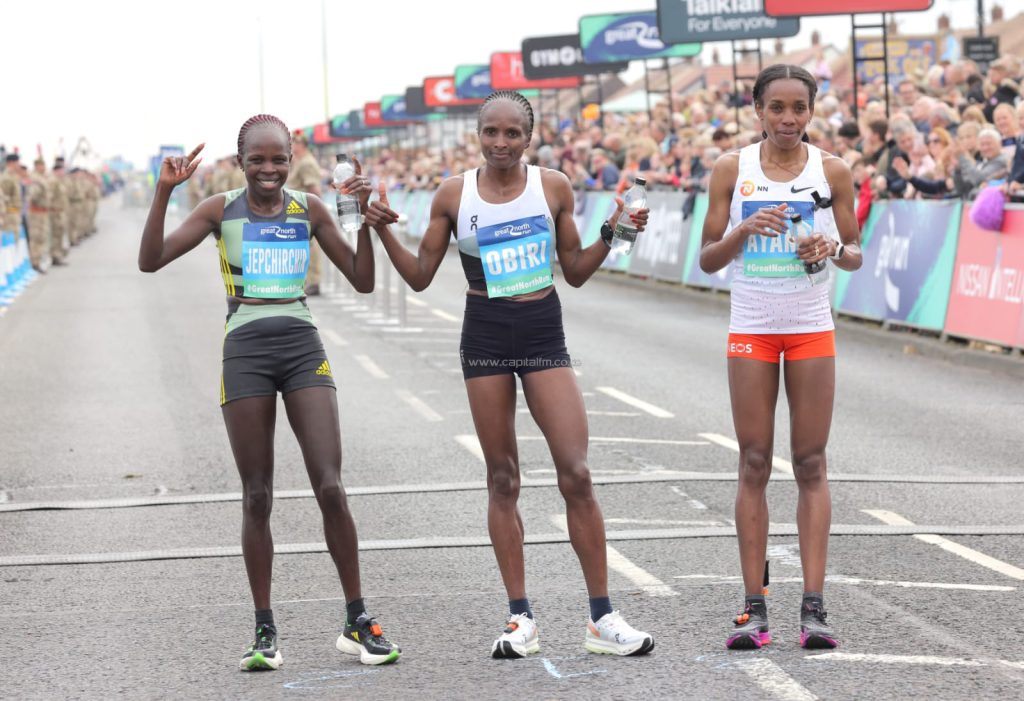 Nobody can keep that sort of pace up forever – fortunately. Lokedi moved first, then Obiri followed by Gidey. The six-plus pace became five and then sub-five. Obiri edged out Gidey by six seconds in 2:27:23. Some punchline from a race which had threatened to become a joke.
There was nothing funny about Tamirat Tola's victory in the men's race. Tola won the world championships gold medal in Eugene last year but was a 'dnf' in his defence of his title in Budapest just weeks before New York.
Back on North American soil Tola soon found his feet again. Although New York's 'no pacemakers' policy saw a moderate first half of just under 63 minutes – 'moderate' only by pacemaker standards, that is – Tola was able to surge off that pace in the second half to an almost even-paced win in 2:04:58.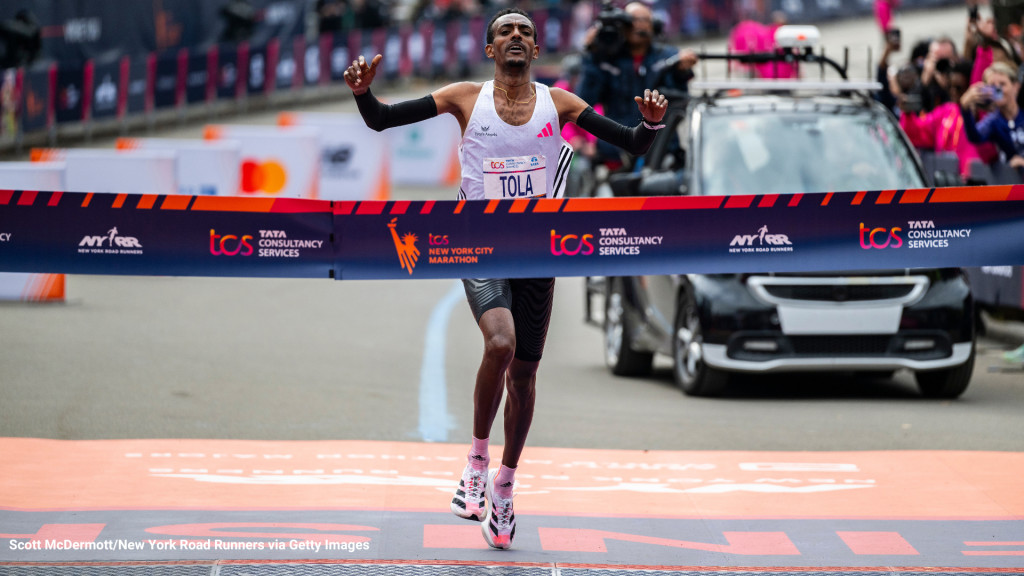 Given New York's sting is mostly in the closing stages around Central Park this was pretty impressive running from Tola. He sliced eight seconds off the previous course record set by Geoffrey Mutai in New York in 2011. 
Given the nature of the New York course, Mutai's run at the time was considered comparable to Patrick Makau's world record 2:03:38. So, we can reckon Tola's run to be worth around 2:03 on a friendlier course.
As I wrote last week, however, New York is not a marathon to be judged by normal standards. Regardless of what shoes you're wearing, winning the race around New York's five boroughs is a mighty impressive feat. Under-estimate Tamirat Tola or Hellen Obiri at Paris24 next year at your peril.