At the Payton Jordan Invitational, Linden Hall ran a brilliant world-leading time of 4:04.47 in the 1500m – an Olympic qualifier and six second personal best. A month later she competed in the Pre Classic, Eugene, and continued her outstanding form with a time of 4:01.78. over the distance, improving her PB once again. RT caught up with Linden for this Q and A.
Note: The Women's 1500m Round 1 begins Sat., 13 Aug., 9:30 am

What does it mean to you to be making your Olympic debut for Australia in Rio?
It's always hard to find words strong enough to answer this question. It's something that, like many athletes, I've dreamed about for years. The realization of this dream I still almost find hard to believe, I've honestly lost count of the amount of times I've laid in bed at night and thought "Oh My God, I'm going to the actual Olympic Games. I am going to be an Olympian." There are so many emotions attached to that statement – it's scary, exciting, unbelievable, and comes with such a huge sense of achievement.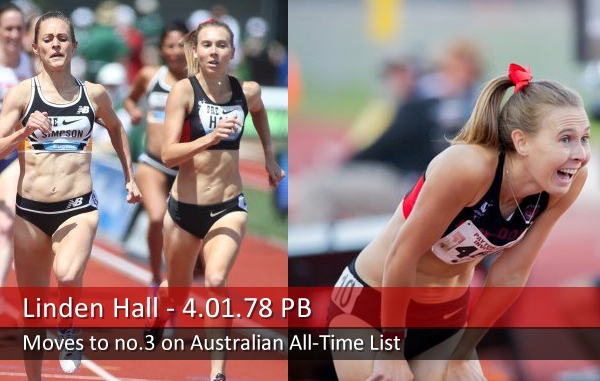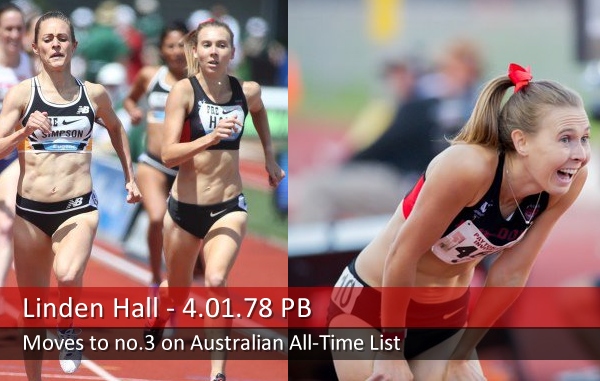 How are your preparations going for the 1500m in Rio?
A big thing I'm focusing on is trying not to be blown away by the spectacle of the Olympic Games. Making sure I'm treating it like any other race, after all, it's still three and three-quarter laps of the track. I think the experience I gained in my first two Diamond League meetings provided invaluable lessons in racing on the big stage. London was by far the biggest stadium I have raced in, complete with the biggest, loudest crowd. It really was a great test run ahead of the big dance.
Can you talk us through a basic weeks training there and what level of taper do you do before race day?
I'm trying to keep it as much like a regular training week as possible. That means usual session days Tuesday and Thursday with easy runs in between. The closer we get to race day, the shorter both of these will typically become.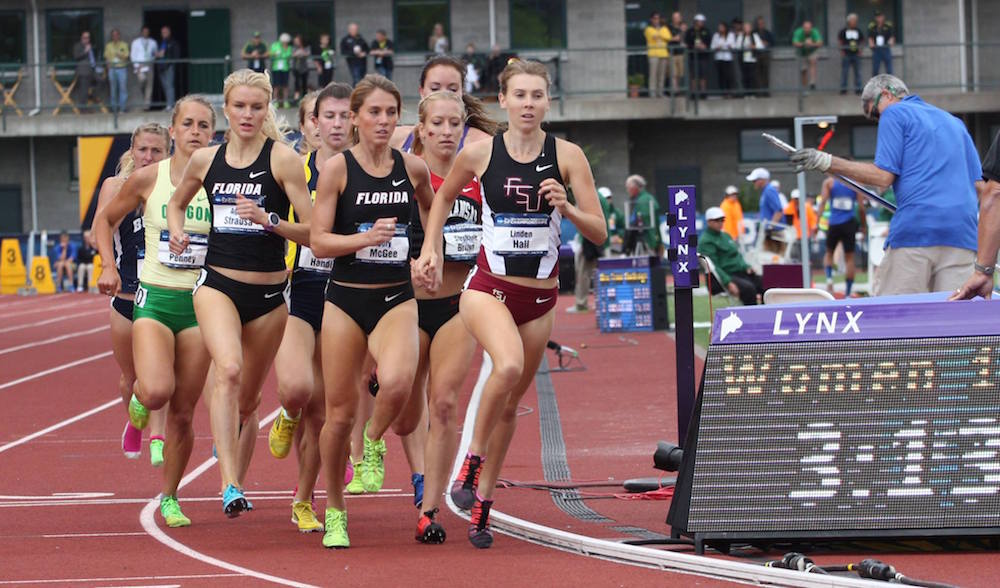 What are some of the things you'd like to take away from this Olympic experience?
I want to leave Rio knowing that I threw everything I possibly could at it, and I'm excited to see what that means against the best 1500m runners in the world. I already get the feeling I'll leave very eager to come back for more!
What are your basic race plans/goals for the 1500m?
At this stage, my plans are to take each race as it comes – hopefully, I'll be lucky enough to get 3 races at the games. I don't like to script things too much, a championship 1500m race can go so many ways being one of the more tactical events on the program. Once the heat sheets are released, I'll have a bit of a look at the names, which might help me predict how it could go. But at the end of the day, whoever is in the race the aim is the same – beat as many people over the line.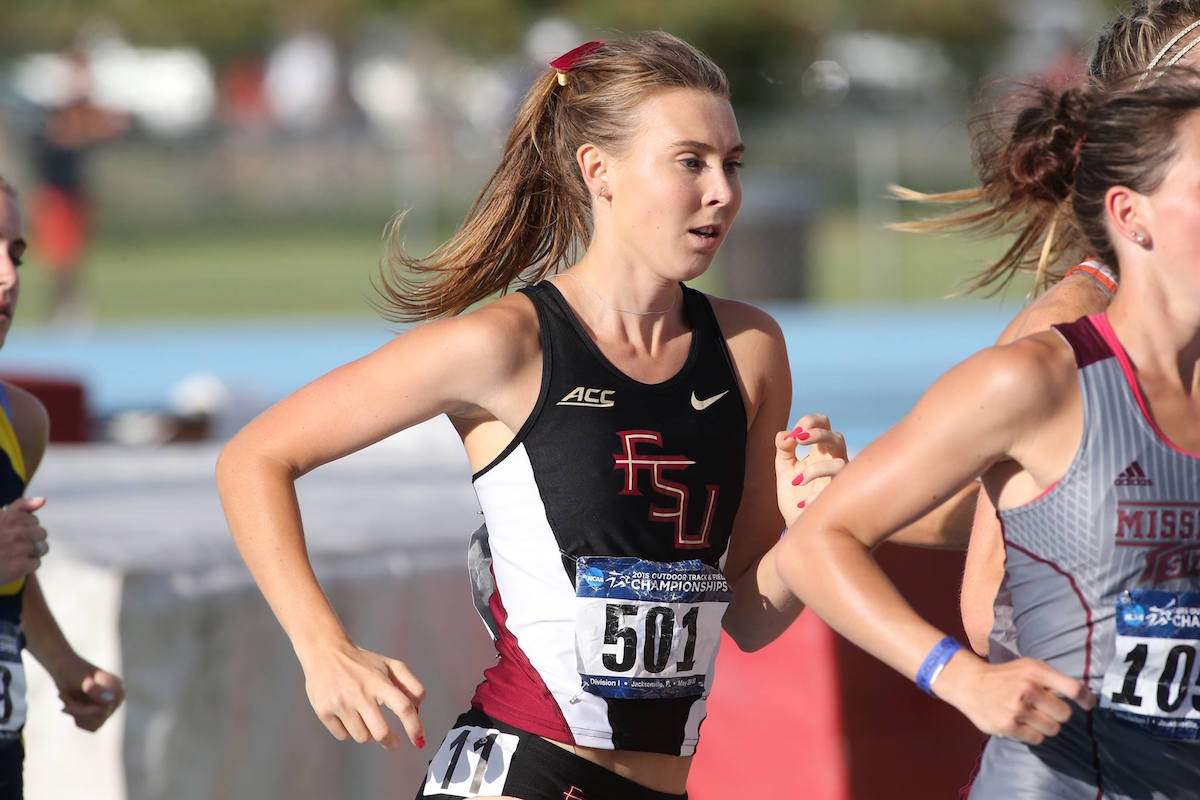 Who have been some of your pioneering supporters/team members over the years and why?
This could be a huge list, but we'll give it a crack! First up has to be my family and fiance, partly because they put up with so much and partly because they don't get a say in the matter. My Current coach, Bruce Scriven, as well as all the other coaches I've worked with in both Australia and the US. Without all of them I wouldn't have gotten very far! My whole training group back in Melbourne, despite being a part of the group for just under a year, I've made some amazing friends in my little running family and the amount of support I've received from them all throughout this crazy year of racing overseas has been almost overwhelming. My club, Athletics Essendon, I've been running for Essendon since I started running at 12 years old and they too have been great supporters throughout. Everybody I worked with at Florida State University Athletics, coaches, medical staff, administrators, and teammates. They gave me the opportunity to spend time in the US and come such a long way as an athlete, and are still great supporters of my athletics career after graduating. My doctor, who always finds time for me when and has done so much to help keep me in one piece for the past 10 years. Nicky Frey at Athletics Australia, I feel has always looked out for me, through all my junior years right up to today being on the Olympic team together. Lucky last, Sarah Jamieson, as a junior athlete she was someone I idolized and over the past few years someone I've come to know quite well. She has been a great mentor to me over recent years, which has been pretty special. I feel pretty lucky to have so many amazing people on my team and being part of this big adventure.
Favorite Quote?
"Run like the wind bulls-eye"
Current favorite song?
Chvrches – Make them Gold
Thank you!
Check out more top reads in our Road to Rio interview series.