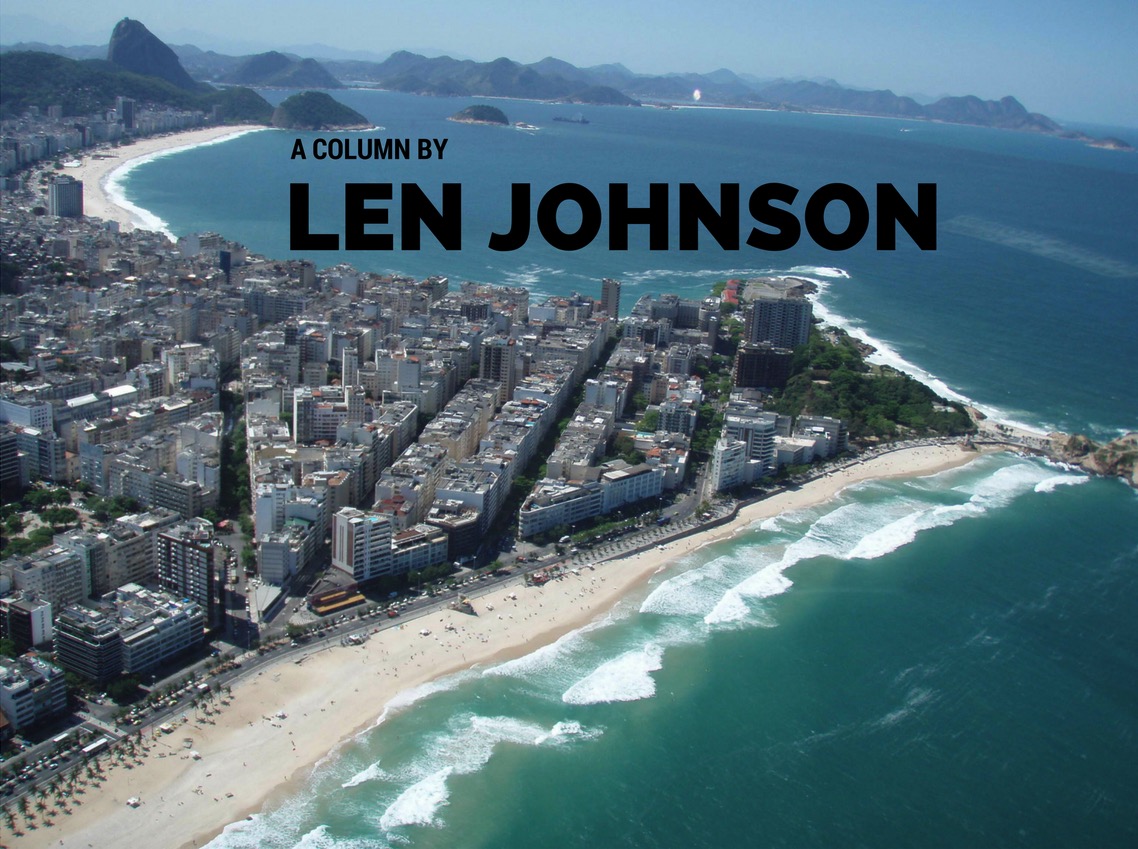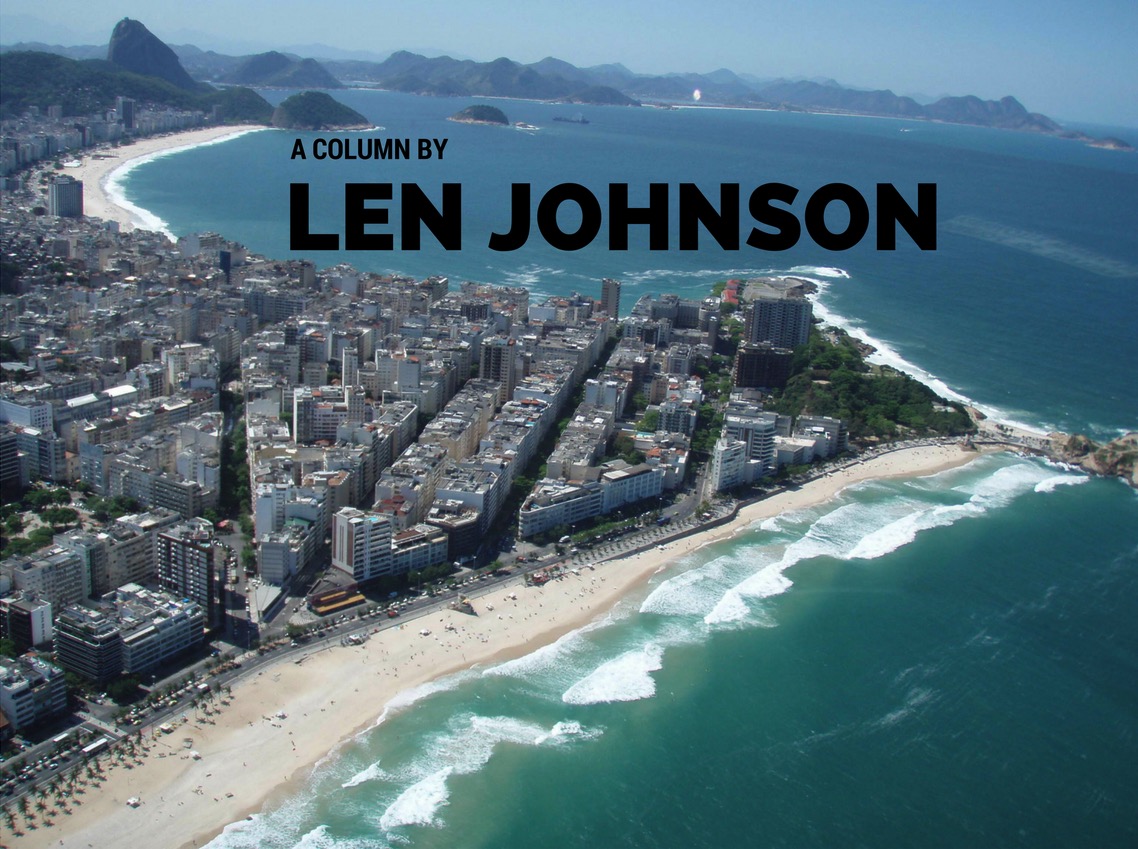 Len Johnson is currently in Rio, Brazil covering the games as he see's them.
Please remember, these people are our guests | A Column By Len Johnson
Went for our first run today in the Olympic city. A beach run it was, from Ipanema to Copacabana and back.
A number of Olympic nations have set up off-Village bases in the hotels dotting Rio's most famous beach strip – Canada, Holland and Russia, too, it would seem from the numbers sporting Russian track suits.
I wasn't quite sure what the current politically correct behaviour is. Should we perhaps have treated these Russian athletes and supporters as pariahs, shouting at them: "Get out of the way, rotten drug cheats." Or maybe pointedly ignored them, which would have been difficult on the narrow, crowded two-way path.
Fortunately, I am more aware of my current state of fitness than I am of the current Olympic protocols. Seeing I can out-run fewer and fewer other runners these days, I'm better off keeping my thoughts to myself.
Others not so much. Since the Games opened a week ago, it seems a new event – taking a pot shot at Russia, Russians and "drug cheats" in general – has been added to Olympic shooting. It has boiled down to a two-way contest for the gold medal between Australia and the USA.
New Olympic 400-meter freestyle champion Mack Horton started it with some choice words directed at the man he beat, China's Sun Yang who had served a three-month ban after testing positive to a stimulant in 2014.
Then Team USA's Lilly King ramped things up to another level, almost another planet, by virtually refusing even to acknowledge Russian silver medallist Yulia Efimova after winning the gold medal in the 200-metres breaststroke. She then roundly disparaged the Russian swimmer at the medals media conference. Efimova's crime is twofold – she has previously served a 16-month ban for a doping offence and she successfully got a ruling in her favour from the Court of Arbitration for Sport that stayed a ban for a meldonium positive.
(Aaahh CAS, don't you just love 'em. But that's another matter altogether.)
Michael Phelps, who now has almost enough gold medals to give everyone else one and still have some left, then ramped up his comments from a general lament pre-Games that he believed he had never competed in a totally clean sport to more specific criticisms.
It was all a bit different to the views expressed by Conor Dwyer, the American swimmer who took the bronze medal behind Sun Yang in the 200 freestyle. Whatever he may think privately, Dwyer congratulated Sun and praised him as one of the best freestylers around.
The angst of clean athletes when they see themselves, or fellow athletes victim of those who have been the beneficiaries of systematic doping is understandable. That doesn't mean that all expressions of it are either right, or appropriate.
There are a lot of counter-points to consider, even if you generally support the views expressed by Horton, King, Phelps and any number of others. For one thing, the only basis the bystander has for accepting that any athlete is clean is that they have not failed a doping test.
Australians all rejoice in the rapid emergence of a new star like Kyle Chalmers. We have had a production line of young Australian talent graduate from low expectations to world champions over many years. Yet when we see such rapid development from other nations' sports people we are often among the first to cast aspersions.
We all want totally clean sport, although the realists among us suspect that, like other Olympian ideals, it may be an aspirational target. We also have to wonder why the war-on-drugs approach currently holding sway will work in sport when it has never been shown to work anywhere else.
Whatever the case, I cannot see the point of demonising someone in Efimova's position. Effectively she has been made the scapegoat for at least two reasons – her own earlier transgression and her assumed second one, despite the genuine doubts over meldonium and the incompetent handling of its banning by WADA.
All that has been missing from the barrage of criticism has been a chorus of "cheats never prosper."
The unfortunate reality is that we are no further advanced in the struggle for clean sport than we were when battle was first joined. There is still doping, some of it – in states like Russia, in nations riven by corruption, incompetence, or both, with corporate involvement like Balco and Tour de France – systemic.
The abuse puts me in mind of the story from the 5000 metres race at the 1932 Los Angeles Olympics. Lauri Lehtinen, one of the second-generation Flying Finns, ran wide in the final straight, impeding the USA's Ralph Hill's efforts to get past. He was booed with such vigour that the stadium announcer was moved to plead: "Ladies and gentlemen, let us not forget that these people are our guests."
Maybe we needed someone to express similar sentiments at the Rio swimming pool this week.