Kiwi track star Olivia Burne takes on the Rotorua Marathon and comes out strong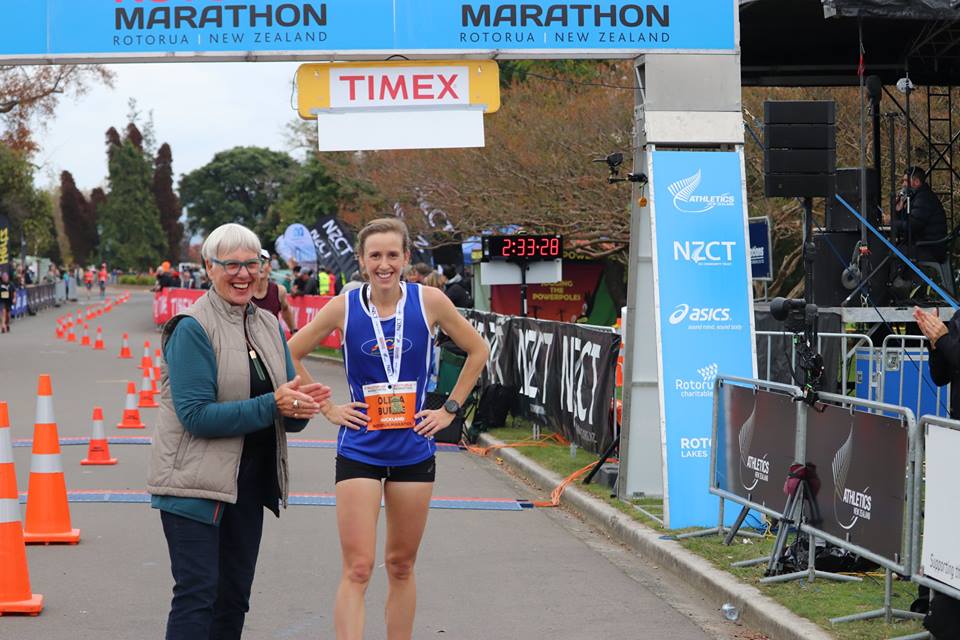 Find out how the young runner tackled her first marathon
It was an exciting race to the finish at the Rotorua Marathon. It was even more exciting for Olivia Burne, the Kiwi half marathon champion who was taking on the marathon distance for the first time.
Fresh off winning national titles in 5000m and 3000m track, 26-year old Burne came second in the 2018 event, six minutes behind first-place winner Dr Alice Mason, who finished with an impressive time of 2:46:44, just shy of her personal best.
This year's Rotorua Marathon marked its 54th year and the women's course record stands at 2:37:37, held by Nyla Carroll since 1994.
Burne has been a long-time favourite in the half-marathon, having won last year's race in 1:25:06, a substantial eight minutes ahead of second place-getter, Erin Furness. Last year, Burne was ranked number one in New Zealand for the half marathon and this year was her first attempt at the full.
The gruelling course boasts one of the most scenic marathons in the world, but is also known for it's tough, hilly terrain. Mason and Burne ran together for the first half of the race, but as the defending champion, Mason's strength came through at the hills and it was at the 19km mark where she sped ahead on Burne.
"I realised that if I wanted to finish in good shape, I'd need to run my own race," says Burne. "I pulled back from Alice over the hills and she surged ahead, which was quite a mental relief. It meant I could concentrate on feeling each section of the marathon."
"I went through all sorts of emotions during the race," Burne recalls. "From nervous energy, to confidence, to intense exhaustion, and then on to elation as I rounded the corner onto the home straight and realising it was almost over! It was one of the most emotional and satisfying races I've been in."
Finding running success at an early age
For Burne, success on the track started early on in her life.
As a teenager, she won championship titles in Cross Country and 3000m in the NZ Secondary Schools competitions. She then took up a US scholarship to compete for the Stony Brook University in New York. During that time, she competed in Cross Country at the National Champs.
Returning to New Zealand, she went on to become a triple national champion in distance running, competing in the Half-Marathon, Cross Country, Road and Track races. In 2016, she won her first NZ title at the Christchurch half marathon with a personal best of 1:15:31. That same year she also won the Auckland half marathon and returned in 2017 to once again take home the top prize.
A passion that runs in the family
Running has been a part of Burne's life since a young age, having started running competitively at the age of 14. For her, it wouldn't have happened without her parents.
"I'd say my pathway into running competitively was forged by my parents," says Burne. "Both Mum and Dad were runners, with my Dad training and racing competitively through most of his high school years and early twenties."
Running the Rotorua Marathon was a particularly special experience for Burne. "My parents both ran the Rotorua Marathon in their twenties. My Mum completed it in 1981, and my Dad ran it five years in a row."
"Dad really encouraged me in my training during the early years," say Burne. "We used to spend hours together on Saturday mornings, heading out to the Tararua Ranges for a long two-hour run. Eventually it got to the point where Dad would cycle alongside while I ran – those are very fond and precious memories for me."
The inspiration to get out on the track
If you'd asked Burne a few years ago if she was a runner, she probably would have said no. "For a long time, I didn't consider myself to be much of a runner. I had a distinct fear that I was wasting my time, not achieving my Olympic dreams – I thought I'd retire at 23!"
The support from her parents and coach has helped push her past the doubts and across the finish line. "I realised that to run was a part of my vocation. It helped my mental health and it gave me goals and a drive to be better."
Despite the success, Burne would tell you that she's pretty similar to most runners. "I find that running can be liberating, therapeutic, exciting and satisfying," she says. "It can also be exhausting and a daily grind."
"I draw on a number of motivators to keep me moving. I know that I've been given a gift, or a skill that I want to use. Some people are wired towards certain professions, for me it's running and I find it exciting and satisfying to try to use this gift to its full potential."
For Burne, it's often the little things that make running so enjoyable. "It's incredibly satisfying to start or finish your day with a run, it's almost like you've accomplished something simply by lacing up your shoes and heading out the door."
Having been involved in the running world since a young age, Burne also finds inspiration in the people around her.
"I'm inspired by the people of all ages and abilities who give me a fresh perspective on how rewarding this sport can be. Especially when I know how many barriers some people overcome simply to train and compete."
Lessons learned along her running journey
"I think one of the key lessons for any runner, no matter what age or experience, is that you never run complacent," Burne says. "There's always somebody who can surprise you in a race, no matter how much you think you've got it in the bag."
"My coach tells me to treat the marathon like a rattlesnake: approach it with caution because it can bite you."
So how does the young athlete deal with challenges along the way?
"Always work, always keep trying, and trust your fitness," she tells us. "There's been a lot of races I've wanted to pull out of, but trusting your legs and the miles that you've put into them is key."
Running towards Olympic gold
So what's the future got in store for Burne?
With the Rotorua marathon, half-marathon and national titles already under her belt, the future is a promising one.
Competing at the international level has always been the dream. "Representing New Zealand at an international competition like the Commonwealth Games or the Olympics – that's a dream of mine."
So can we expect to see Burne competing in the Queenstown marathon or Auckland marathon this year? For now, she's happy to take each step at a time. "Finishing a full marathon was the first stepping stone for me. The next goal is to just keep pushing to improve my time."
This post is possible thanks to ASICS New Zealand. ASICS offers performance Womens Running Shoes and Clothing and Mens Running Shoes and Clothing to help you get the most out of your training.