Jakob Ingebrigtsen has moved to number 6 on the all-time men's 1500m list, winning the Bislett Games in Oslo clocking 3:27.95.  The first time under 3:28 for this amazing Norwegian.
Sitting behind three rabbits, Ingebrigtsen covered the 800m split in 1:51.69, before crushing the final 500m to beat home a star studded field that included Katir, Hoare, Nuguse and Cheruiyot.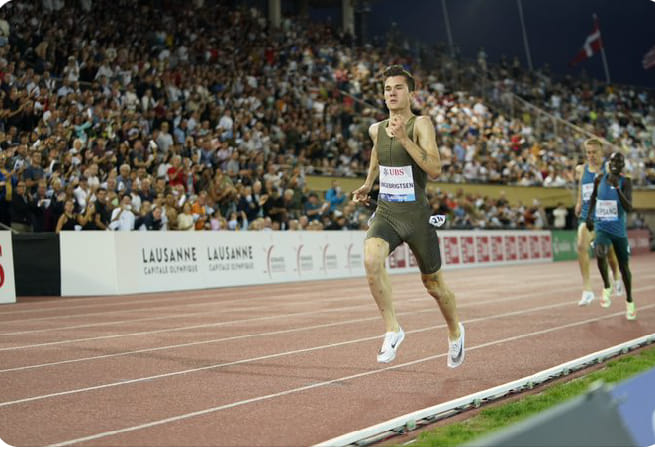 There has been talk about Ingebrigtsen going after the 1500m world record owned by the great Hicham El Guerrouj.  That famous mark of 3:26.00 still seems quite a way off, but Ingebrigtsen now finds himself as one of a select few in history with the talent to perhaps be the first man to run sub-3:26.
2023 Oslo Bislett Games Men's 1500m Results
INGEBRIGTSEN Jakob:  3:27.95.  

AR,

MR,

WL,

PB

KATIR Mohamed: 3:28.89
NUGUSE Yared: 3:29.02
CHERUIYOT Timothy: 3:29.08
GARCÍA Mario: 3:29.18
HABZ Azeddine: 3:29.26
HOARE Oliver: 3:29.41.

AR,

PB

NORDÅS Narve Gilje: 3:29.47
KERR Josh: 3:30.07
GOURLEY Neil: 3:30.88
KIPSANG Abel: 3:31.76
ALMGREN Andreas: 3:32.00
LEMI Teddese: 3:32.24
GRETHEN Charles: 3:36.27
AKBACHE Mounir: DNF
INGEBRIGTSEN Filip: DNF
KIPRUGUT Boaz: DNF
Australian Record for Olli Hoare
Hoare, the 2022 Commonwealth Games 1500m champion, is now the fastest Australian in history over 1500m, bettering Stewart McSweyn's old mark by just 0.10 of a second. McSweyn held the record for just under two years (2021 Monaco Diamond League).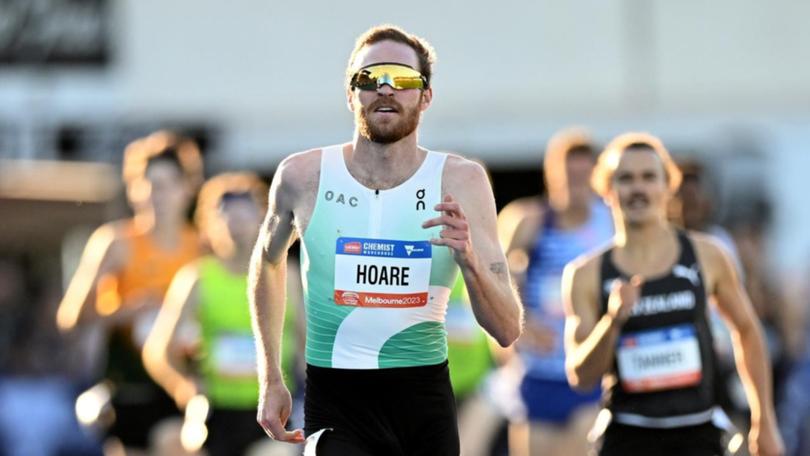 Hoare as usual, ran aggressively, sticking to the pace and hanging on. Hoare is already the Australian one-mile record holder, and it now without a doubt Australia's best 1500m runner, and perhaps on his way to becoming Australia's best 1500m runner of all-time.
Australian Men's 1500m All-Time Rankings List – Top 10 (as of June 15th 2023)
Oliver Hoare: 3:29.41
Stewart McSweyn: 3:29.51
Ryan Gregson: 3.31.06
Simon Doyle: 3.31.96
Jeff Riseley: 3.32.93
Jye Edwards: 3:33.23
Mike Hillardt: 3.33.39
Mark Fountain 3.33.68
Craig Mottram: 3.33.97
Matthew Ramsden: 3:34.08