RT Interview with Chris Erickson | Olympics three ways
Chris recently secured automatic nomination for selection to the Australian Olympic Team after winning the national 50km race walk title in Melbourne (Vic)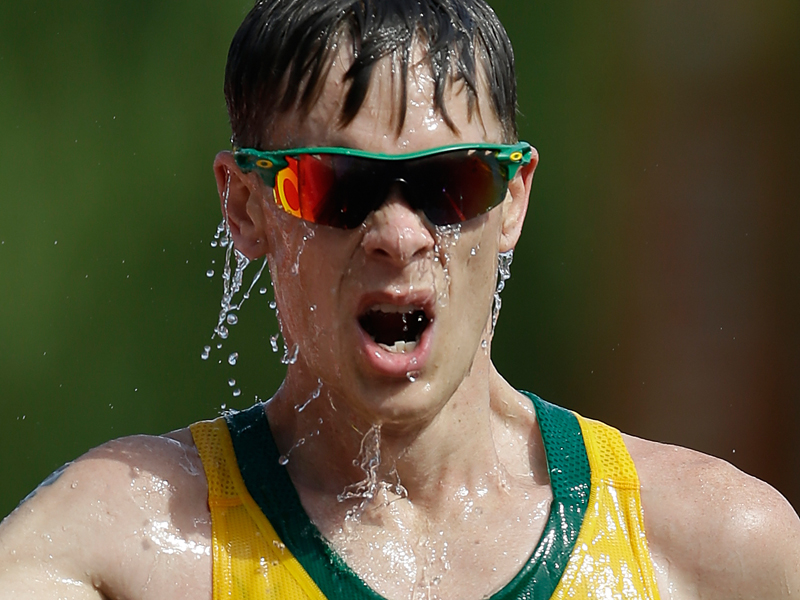 After missing out on the 50km at the last two Olympics, how does it feel to have finally booked your spot to race the 50km in Rio?
Relieved, excited, and like I'm going to my first Olympics again! The 50km has always been the better event for me and to finally have the opportunity to stand on the start line of an Olympic 50km will be a dream come true and a culmination of many years of hard work and dedication. I recall being shattered after both previous Olympic 50km trials and being left wondering if I'd ever get the opportunity and now that I have, I'll be leaving no stone left unturned over the next 8 months.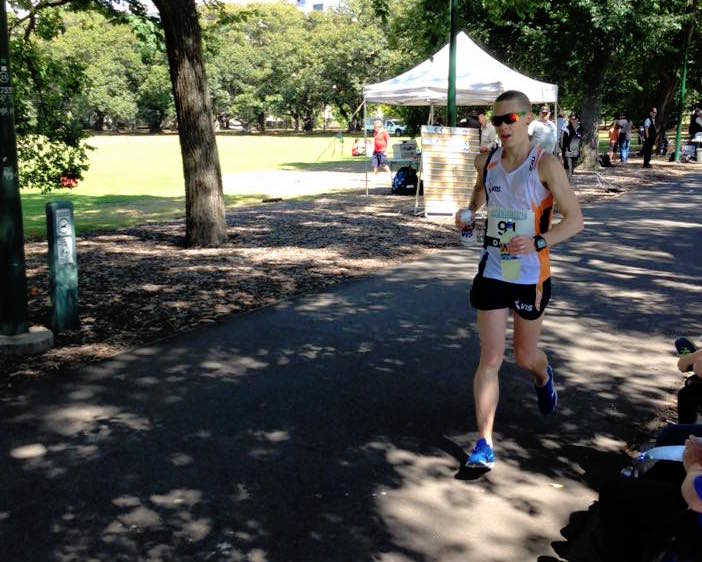 Such has been the depth of the 50km walk in Australia that for 2008 I was 5th across the line in the Olympic trail, inside the A qualifier, but as Nathan Deakes was preselected it left me 6th on the rankings. Then for 2012 Nathan and I raced the trial for the last remaining spot and despite walking at PB of 3:51:57 I missed out again. In a way I guess I'm lucky that as a walker I have the chance to race 20km and 50km, as I'll now be heading to my 3rd Olympics rather than my first. In 2008 I'd effectively given up hope of qualifying for the 20km as I'd placed 4th in the 20km trial and the 3rd spot in the team was effectively left open for Deakesy. However after Deakesy picked up an injury on the eve of the World Walking Cup in May, I changed my events at World Cup from the 50km to 20km 10 days out and walked a PB to dip 5 seconds under the qualifying time and claim the spot at the last possible moment. It was without doubt a very special moment knowing that I'd made an Olympics from seemingly having no hope.
Fast forward four years and I was in a very similar situation in missing the 50km to then claim the 20km spot at that last possible chance again at World Walking Cup. Both of those World Cups had similarities being in Russia (showing that you can compete clean in Russia!). One of the disadvantages though of claiming my spot so late was that as I'd spent the whole year chasing a qualifier by the time I got to the Olympics I struggled to maintain my form and fitness. I think this ultimately contributed to being disqualified in Beijing (my first DQ ever) and fading in London to finish 38th (after coming 20th at World Cup three months earlier in a similar strength field). My great advantage this Olympics is having secured my selection at the earliest possible moment rather than the latest, I will be able to do a full preparation over the next 8 months and be at top shape come August. As my coach Brent says time and time again "Qualify early, qualify often!"
Out of a total of 100% how much do each of these factors contribute to your success; raw talent, commitment and consistency to training, your coach (Brent Vallance) and finally luck? And why so?
I'm always reminded of the quote "Hard work beats talent when talent doesn't work hard". There is no doubt that a level of natural talent is essential in being an elite athlete but that is only one small piece of the puzzle. Commitment and consistency to training, the correct daily training environment, and the right coach are greater factors to contribute to success. I'm one who's never had much issue with my commitment, sure at times I've struggled to get up and out the door on a cold morning but I know I'll be more disappointed in myself if I don't get out and train.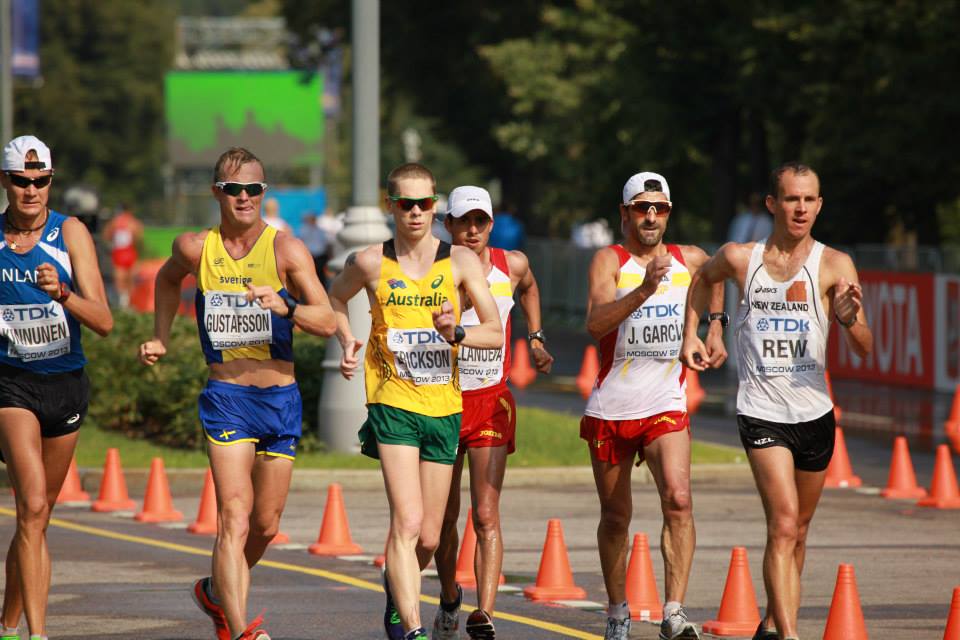 Much of what I've achieved wouldn't have been possible had I not taken the decision to move to the Australian Institute of Sport in 2007. Prior to this my Dad Tim had guided my walking and he was the perfect coach and I am proud of what we managed to achieve together, winning a medal at the 2006 Commonwealth Games. But the opportunity to move into a training environment such as the AIS was too good an opportunity not to take up. Training in a squad that pushed you every session, being around and learning from elite athletes in other sports, working with experts in nutrition, strength and conditioning, physiology, was invaluable. The AIS Track and Field program, expertly lead by Tudor Bidder, remains the best athletics program Australian has ever had and the number of top 8 performances it produced is remarkable. I for one like many was disappointed to see it's demise as a result of the Winning Edge program and hold grave fears for our next generation of race walkers in particular and their transition from junior to senior ranks.
If clothes maketh the man, then coaches maketh the athlete. In my probably somewhat biased view, my coach Brent Vallance is one of, if not the, best track and field coach in Australia across all disciplines. Four Olympic medals is proof enough of this. His technical knowledge of the sport, be it biomechanically or physiological, his methodically programming and historically knowledge of the sport is remarkable. If Australian wishes to become a powerhouse in Athletics once again then we must start investing in our coaches and allowing them to develop their skills and technical knowledge. I am lucky that I have a coach such as Brent and undoubtedly much of my success is down to his guidance.
If you ask me to rank out of 100% I estimate: 10% raw talent, 60% commitment and consistence to training, 40% coaching, 0% luck (you maketh your own luck!)
Earlier this year you placed 13th with 3:51:26 at the Beijing 2015 IAAF World Championships for the 50km. In retrospect how do you feel about this experience?
I left Beijing feeling satisfied but not satisfied. My aim going into the Championships was to finish 6th – 12th and improve on my PB to edge closer to the 3:45:00 mark. I knew having finished 13th in 3:51 I'd probably done enough to warrant selection for the Olympics and was pleased to know baring something unforeseen I'd finally get my crack at an Olympic 50km. However looking back now I feel I let split an opportunity to finish top 10 and really pronounce myself as a contender. I faded over the last 10km race and when the Garcia train (evergreen Spaniard Jesus Garcia competing at his 12th World Championships) came past at 30km I held on for as long as I could but just couldn't stick with it. This preparation I'll be focussing on building up my strength for the last 10km of the race to make sure my last 10km is my fastest of the race.
Can you describe the impact Jared Tallent has had on your career?
It's been a privilege to have had my career coincide with Jared and I'd like to think we've both had positive impacts on each other careers. Being training partners for 5 years under the guidance of Brent Vallance, we've walked countless km's side by side (well to be honest a lot of that I was hanging on for dear life) . When I moved to the AIS in 2007, Jared, myself and Adam Rutter formed a great training squad that pushed each of us to improve and become better athletes. Chasing Jared everyday in training certainly fast tracked my development as a 20km athlete in particular, if I wasn't in that environment I very much doubt I would have qualified for the Olympics in the 20km in 2008. Jared gave me a good yardstick to measure myself against everyday at training and much of what I put into place in training today is a by product of what I learnt watching Jared.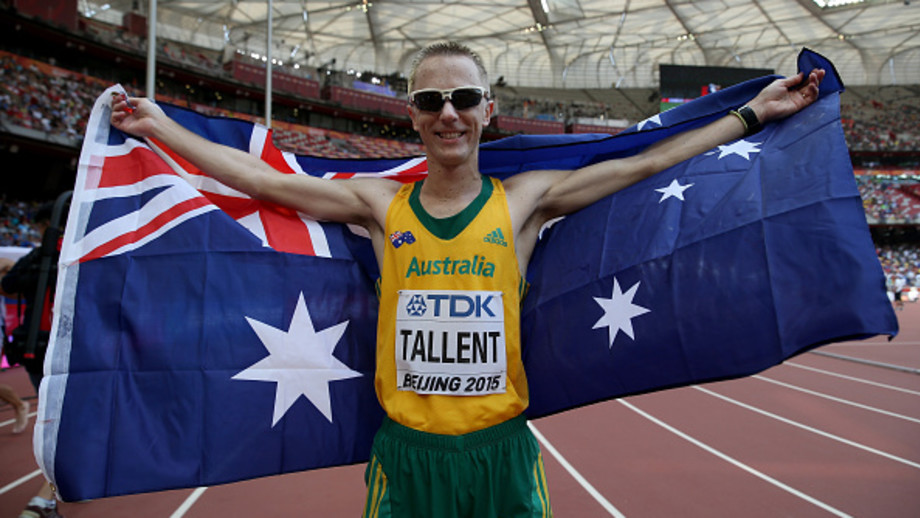 Whilst no longer training partners and living in different parts of the country Jared still remains a great friend and an athlete I draw inspiration from. His ability to produce time and time again on the international stage is phenomenal and I'm looking forward to linking up for a few training stints together in the lead up to Olympics. Like many I eagerly await the outcome of the CAS case against Sergei Kirdyapkin and co. and when Jared is finally awarded his gold medal from London 2012 I will be there front and centre to cheer him on!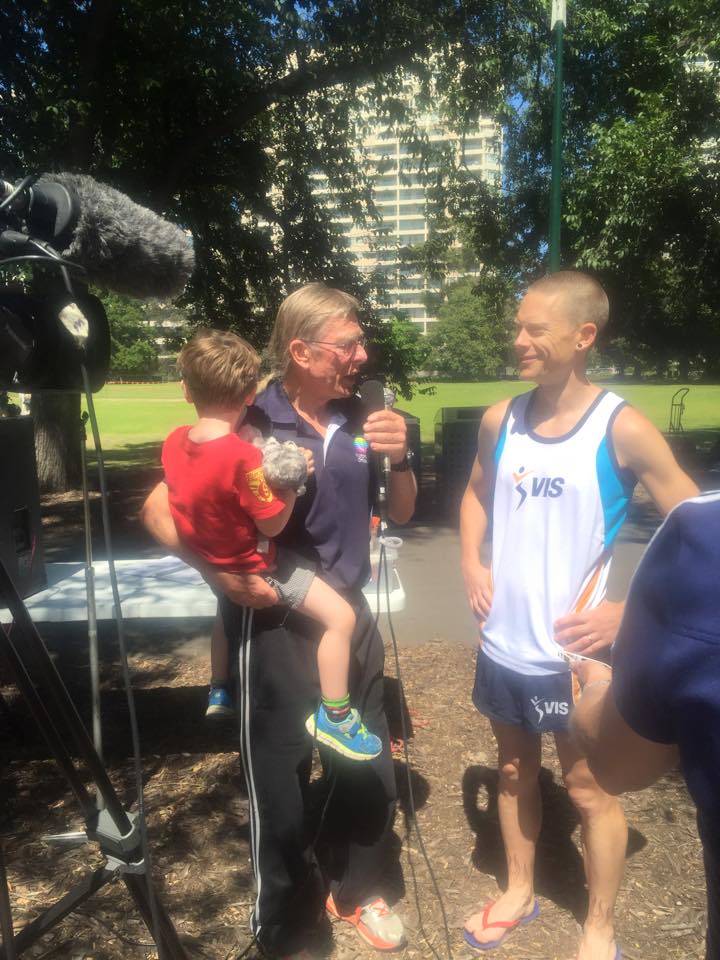 How did becoming a dad a few years back affect your training and racing process?
Becoming a Dad is, as everyone always says, a life changing experience and one for the better. Priorities change once you start a family and it's great to know that no matter whether you have a great race or the worse race of your life your kids love you no matter what. Time becomes a factor so I've become less focussed on my overall km's every week and more focussed on the quality of my sessions. One positive result of this is my weekly long walk has become a lot faster than in the past and this has definitely helped my overall economy. I'm also working part time so I fit my training in and around everything going on in our life which generally means some early morning starts a few days a week and jumping on the treadmill late evenings once the kids go to sleep. I have a hugely supportive and understanding wife Rachel and I wouldn't be able to achieve half of what I have as an athlete without her.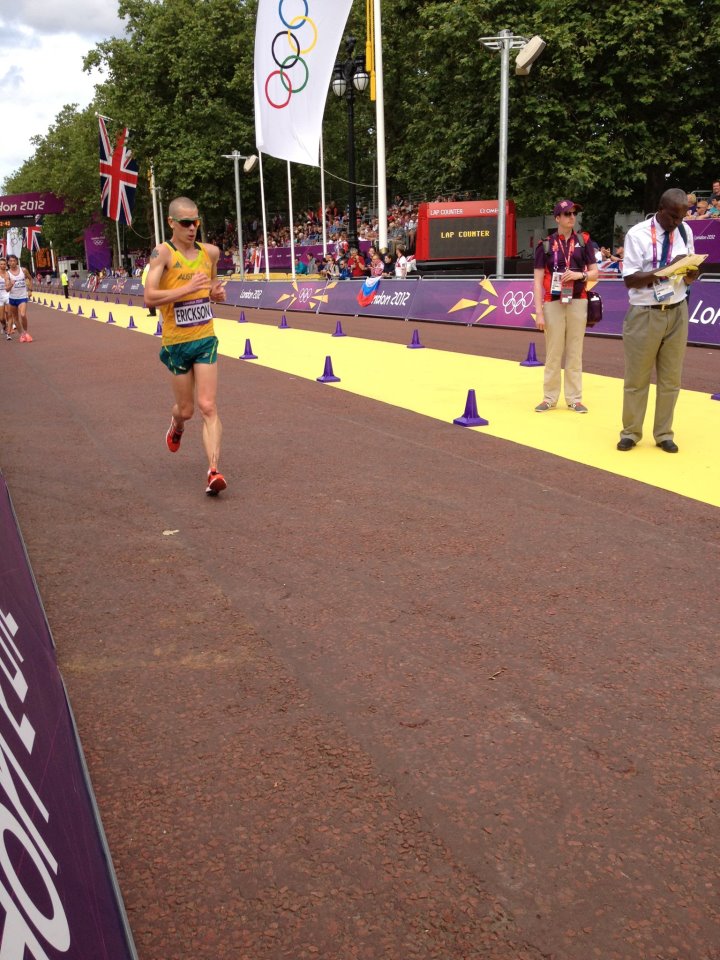 What is your career highlight so far and what is your ultimate goal/vision regarding your journey with race walking?
Representing Australia at two Olympic Games has been a career highlight even though my performances weren't what I hoped. Now that I headed to my third Olympics I'm hoping my career highlight will come in Rio. My focus since London 2012 has been the 50km and putting myself in a position to challenge for a top 8 result. I feel I am still on that trajectory and have the confidence and belief in myself that I can produce a performance to be proud of. I'm also proud of my longevity in the sport and haven't ruled out an attempt on the Tokyo 2016 Olympics, if there is one thing better than going to three Olympics then it's going to four!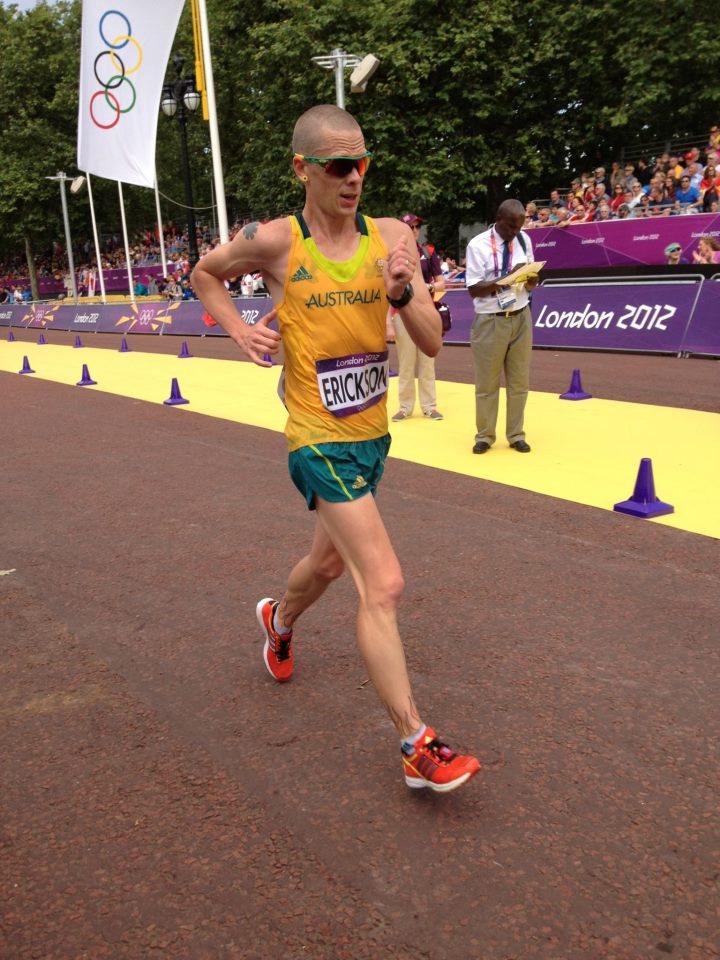 I've dipped my toe in coaching and probably came away for the Australian 50km Championships more excited for my athlete Brendon Reading's result that my own. Brendon and I have been working together since 2010 and even though I'm no longer in Canberra our athlete-coach relationships has remained strong. Brendon had a breakthrough performance at Fawkner Park in his 2nd ever 50km, walking a 24min PB, finishing 2nd Australia and smashing the IAAF qualifier to go a long way to claiming the 3rd spot in the 50km for Rio. If he is lucky enough to be nominated I will be extremely proud of his effort and that I'll be going to Olympics as an athlete but also a personal coach. It will add an extra dynamic but one that I'm really looking forward to should it eventuate.
If you could go pro in any other sport than your own, what would it be?
I'd love for there to be enough money in walks to be able to go pro but if I had to choose another sport I'd say cycling. Even though the drugs issue in the sport have left a sore taste in the mouth I'll never forget the late nights in 2011 watching Cadel Evans win the Tour.
Thanks Chris and all the best
Cheers