Gusman Records Impressive Sub 4 Minute Mile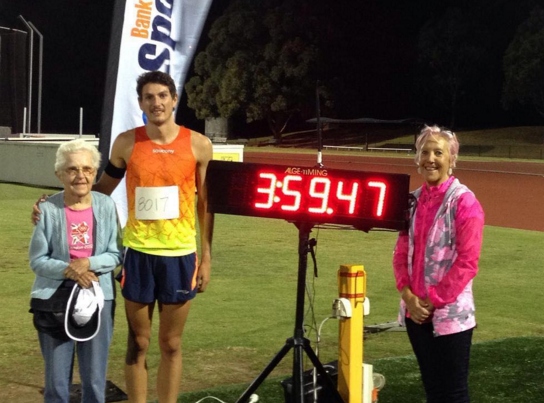 An emotionally charged mile in Sydney started off what was a very interesting couple of days of athletics from around the country. The Albie Thomas meeting in Bankstown was the perfect opportunity for Jordan Gusman to produce his very first sub 4 minute mile, and he didn't let his fans down.
Wearing a black arm band in memory of his mate on and off the track, Harry Scouller, the 21 year-old Gusman pushed hard over the concluding stages to take a big win in 3.59.47. It was even more impressive considering he had food poisoning leading into the race.
In 7th place was 16 year-old Josh Torley, who again rewrote the record books with a NSW U/18 record for the mile. He broke James Kaan's 2007 record of 4.09.22.
Full results and vision of the race can be seen by clicking here The post race interview can be found here
1st Gusman, Jordan 21 Athletics NSW 3:59.47
2nd Stapleton, Jack 20 U.T.S. North 4:00.53
3rd Johnson, Joshua 23 Athletics NSW 4:00.83
4th Batt, Kevin 24 Athletics NSW 4:01.70
5th Roff, Jeremy 32 Randwick Bot 4:06.13
6th West, Jared 27 Athletics NSW 4:07.62
7th Torley, Joshua 16 Athletics NSW 4:07.90
In the women's race Brittany McGowan (4.42.74) took the win over Bridey Delaney (4.43.98).
Gregson, Patterson Make 3 Sub 4 Minute Miles in 3 Days
It's always hard to predict what's going to occur over the upcoming summer season of athletics, although it was hard not to be excited by an early season sizzler from Ryan Gregson over the mile.
Competing at the Geelong Steigen Spectacular, Gregson again showed why he is the Australian record holder over the 1500m with a devastating final 200m to take the win in 3.56.67.
To put the time in some perspective it was just outside his best for 2015 (a 3.54.88 when 9th in Oslo), and it was only the 10th time in his career that he had run the mile in under 3.57.00. Although it was well short of his PB of 3.52.24, we are talking about a performance that took place in December – a period for 'track testing' after a heavy period of training at Falls Creek.
With Gregson pushing for a fast time it was the perfect race for the rest of the field to also produce fast times, and Zac Patterson took full advantage of the opportunity laid out before him. A 3.59.56 not only secured yet another sub 4 minute mile in Australia, it also has him looking for bigger and better things over the coming months in the 1500m.
20 year-old Patterson has never been under 3.40.00 for the 1500m (PB of 3.40.73 in Belgium this year), but is the next wave of juniors turned seniors that Australian middle distance running is looking for. He joins the likes of Jordan Williamsz, Gusman, Luke Matthews and Jack Stapleton as athletes to keep a close eye on over the upcoming summer.
Results of the men's mile in Geelong
Ryan Gregson 3:56.67
Zac Patterson 3:59.56
Brenton Rowe 4:01.99
Mitchel Brown 4:05.77
Ryan Geard 4:06.84
Martin Mashford 4:07.29
Isaac Hockey 4:08.00 (also a WJQ for 1500m, 3.48.00 conversion)
In the women's 1500m it was an easy win for Genevieve LaCaze in 4.20.37 (8th fastest time of career).
Sprinters Enjoy Perfect Conditions in Sydney
The question on many people's lips had been – where has Jarrod Geddes been hiding? Well he hasn't really been hiding at all, just a very frustrating period on the sidelines after a very serious hamstring injury just after the 2014 Commonwealth Games in Glasgow.
We saw the first glimpse of Geddes at the NSW State Relay Championships, but then on Saturday we saw for the first time in just under 18 months the return of the exceptionally talented sprinter. Running in the 100m at the Treloar Shield meeting, Geddes showed a glimpse of what he is capable of with a very tidy 10.36s (+3.0) performance.
In the end it was only good enough for second, beaten to the line by Mitchell Williams-Swain (10.32s), while Jin Su Jung placed 3rd in 10.36s.
The windy conditions also were in play in the men's 200m (+2.6), where Josh Clarke stormed home for an impressive 20.83s victory. In the women's 200m the winds were more accommodating, with Abbie Taddeo taking the win in a PB of 23.91 (+0.2), with junior Gabrielle O'Grady producing a WJQ time of 24.07s to take second. Taddeo also took out the 100m hurdles in 13.48s (+0.0).
In other highlights from the meeting:
Nicholas Andrews ran just outside the WJQ time of 10.55s in the 100m (10.65s);
Zachary Lanigan ran 1.50.45 in the 800m, also just outside the WJQ time (1.49.50);
Nicholas Hough opened his season with 14.27s (+1.2) 110m Hurdles;
Ben Cox jumped a PB 15.63m in the triple jump while
Lora Storey ran a 2.05.84 in the 800m (a week after running a 58.56s 400m hurdles)
In other performances from around Australia:
In Canberra Melissa Breen produced an early season best of 11.54s in the 100m, while in the long jump Tay-Leiha Clark produced a PB of 6.06m – just outside the WJQ of 6.20m.
In Perth Marc See ran 3.44.97 to take out the men's 1500m, defeating home impressive junior Matthew Ramsden – who recorded yet another WJQ (also has a 5000m qualifier), but his first in the 1500m of 3.46.23. Another junior, Ben Chamberlain, just missed the mark with a 3.48.91.
Finally at the pole vault meeting in Brisbane, Alana Boyd continued her solid early season form with a 4.41m win in the women's pole vault.