This is our second ever review for Under Armour, not a brand that many runners consider in their daily line-up, but they make legit shoes, and seem to busting some big moves. In the USA recently, they have announced the sponsorship of a new distance training squad, the 'UA Dark Sky Distance Team'. Let's hope the same programs roll out across Australia as well. Cash UA, our athletes' need cash.
But to be fair, the stock listed brand also support Luke Mathews, one of Australia's best 800/1500m runners, and Morgan McDonald (that Aussie who won four NCAA titles). Kudos to UA.
View this post on Instagram
The UA HOVR Phantom 2 is a high mileage everyday training shoe. Think Pegasus, Nimbus, Clifton, Triumph etc. This shoe feels good, looks good, and rivals all of those.
We took our pair through 140km of road and trails.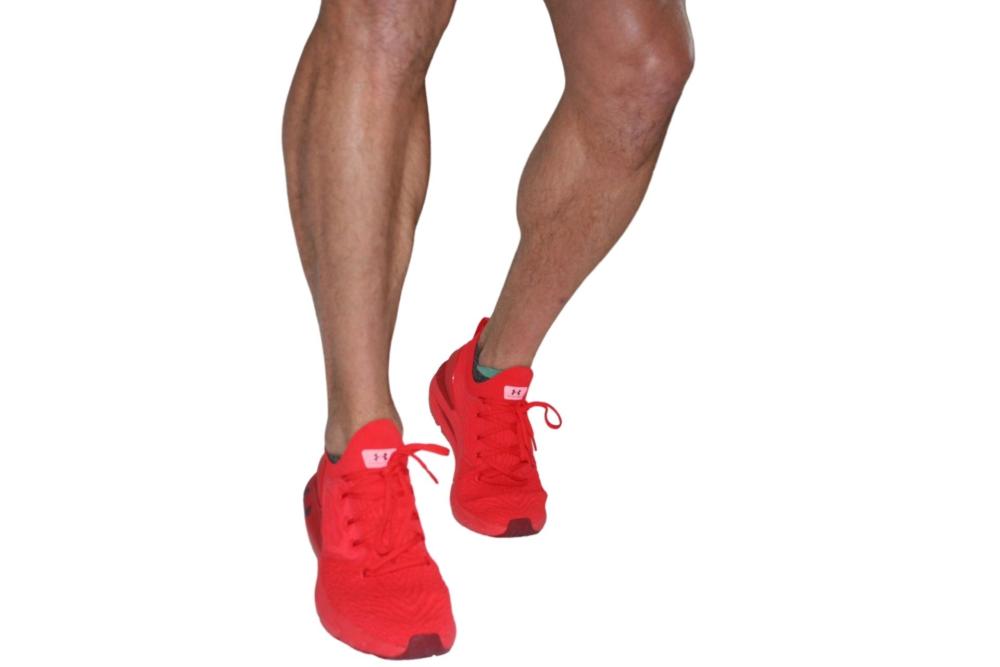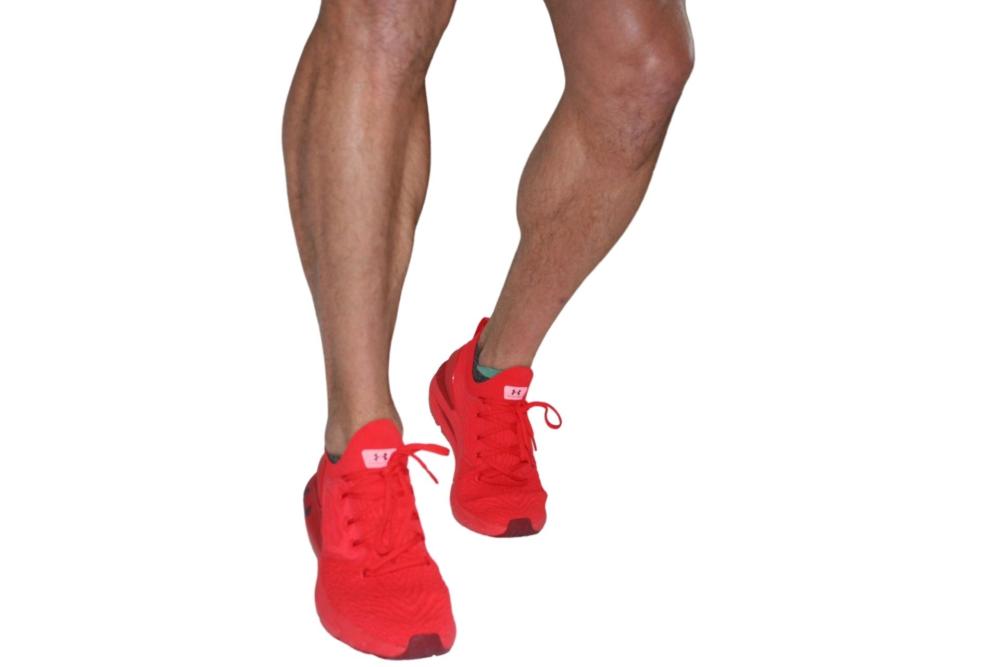 Specs
Distance tested: 140km
Surface: Road, mild-moderate trails.
Pronation: Neutral.
Stack Height: 26.5mm heel, 16.5mm forefoot (Pegasus 37 is 28mm (heel) and 18mm (forefoot).
Heel-to-toe-drop: 9mm.
Colours: A bunch to choose from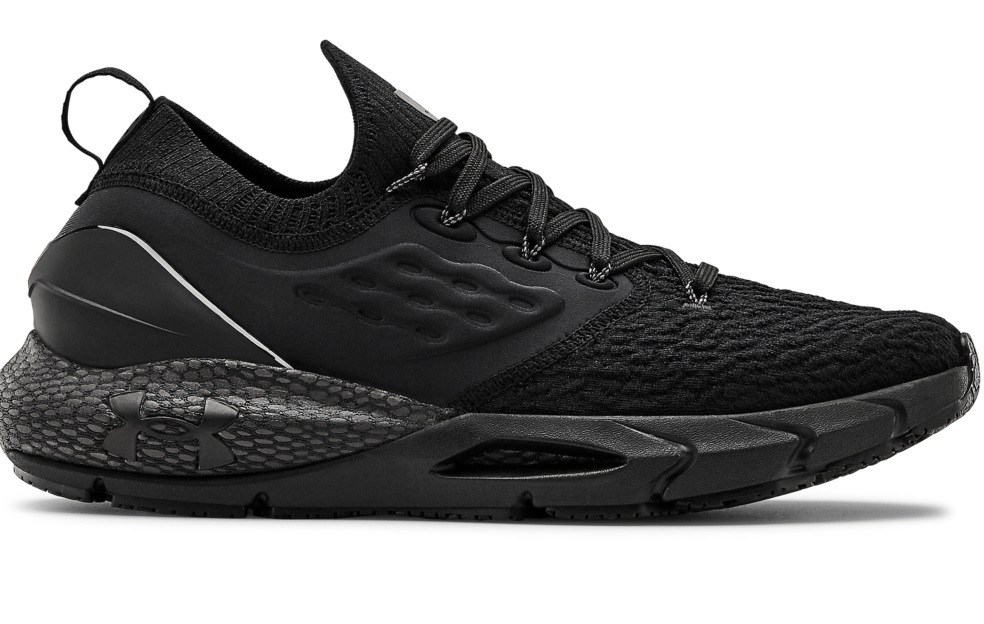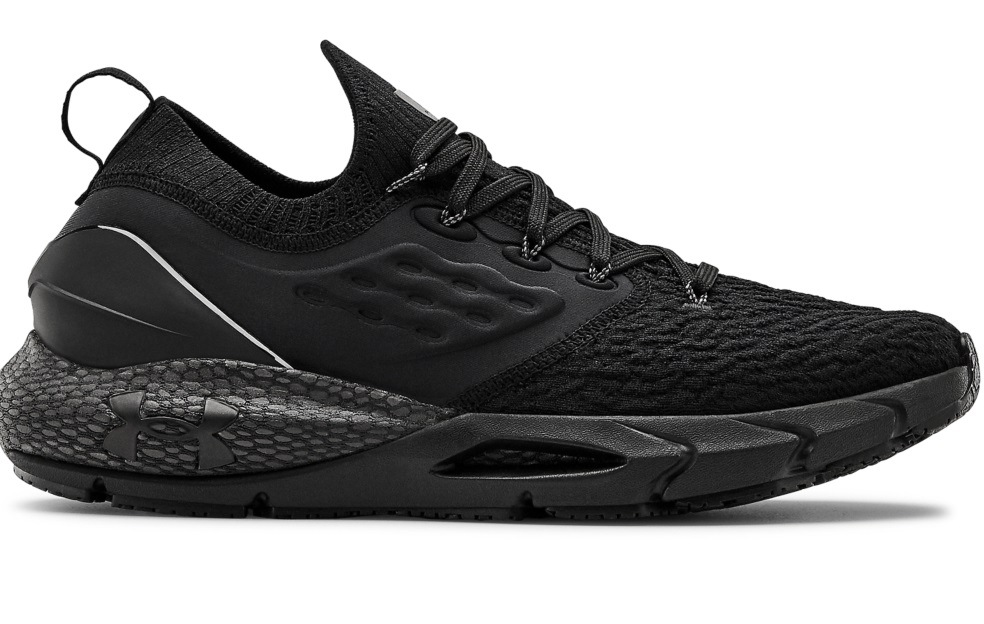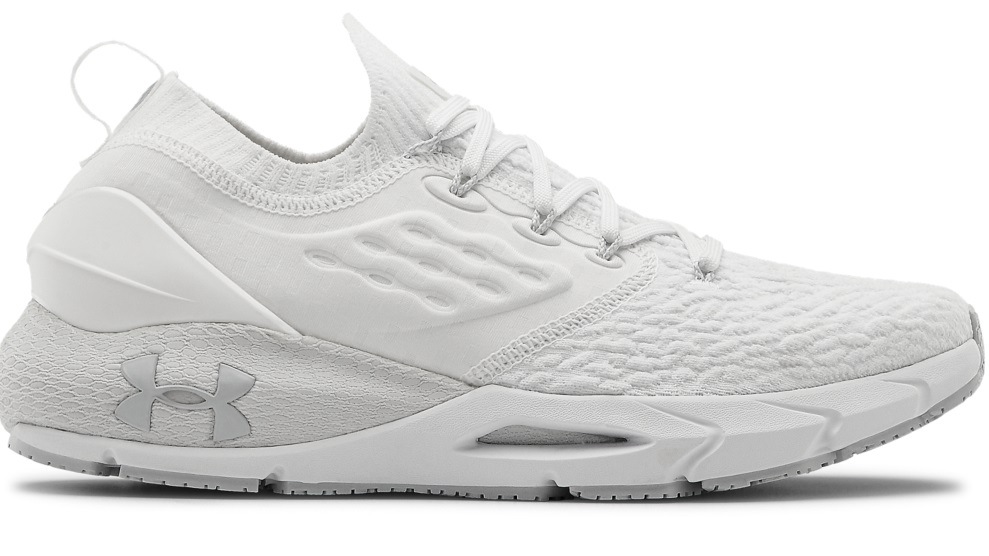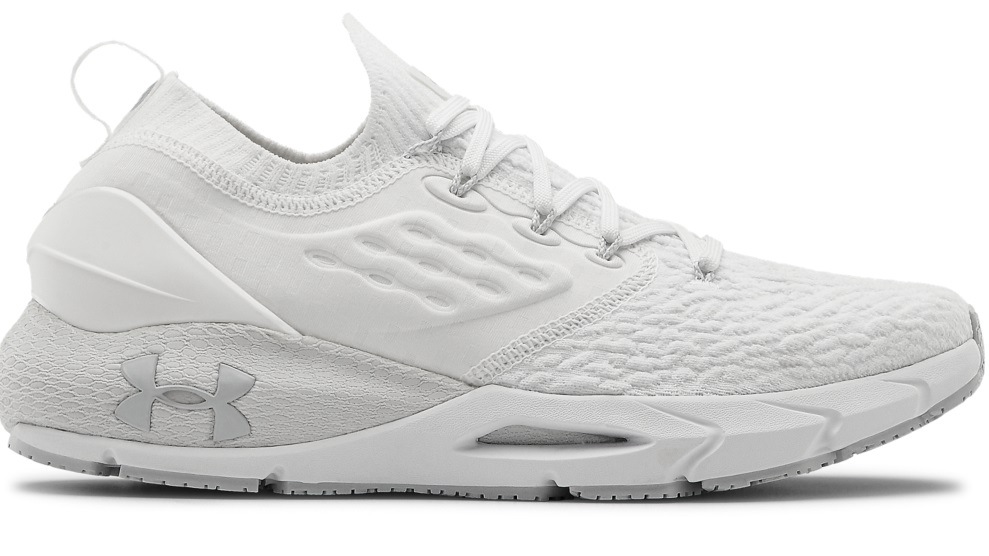 Weight: Kinda heavy.

Men size 9US: 327 grams (11.54oz).
Women size 7US: 262 grams (9.24 oz).
Men size 11US: 354 grams (12.52oz).

Midsole: UA call it 'HOVR cushioning'. According to the company it involves 'a full-length, soft HOVR surrounded by a mesh 'Energy Web ' that creates a zero-gravity feel and energy return.'  Wow – zero-gravity feel!!!
In English: The HOVR midsole is a new proprietary foam compound, made in partnership with Dow Chemical. HOVR is infused with Olefin,  a wax-like synthetic material, which is incredibly strong and resilient. It is soft and feels like a pillow.  The soft HOVR midsole has a cage around it made of soft EVA foam, the cage brings some structure and support to the shoe, and in some ways acts like a spring.
The HOVR foam is incredibly soft. It is probably the softness foam on the market. However, it is enclosed in a cage (wall of harder EVA foam) so a lot of the softness gets lost.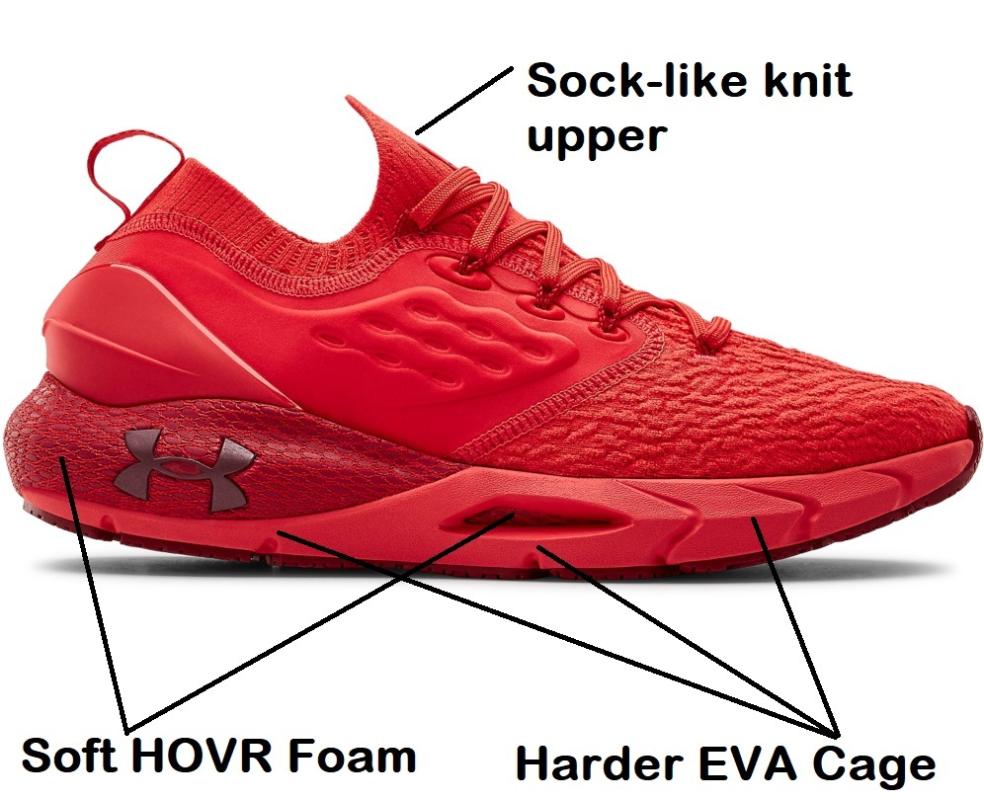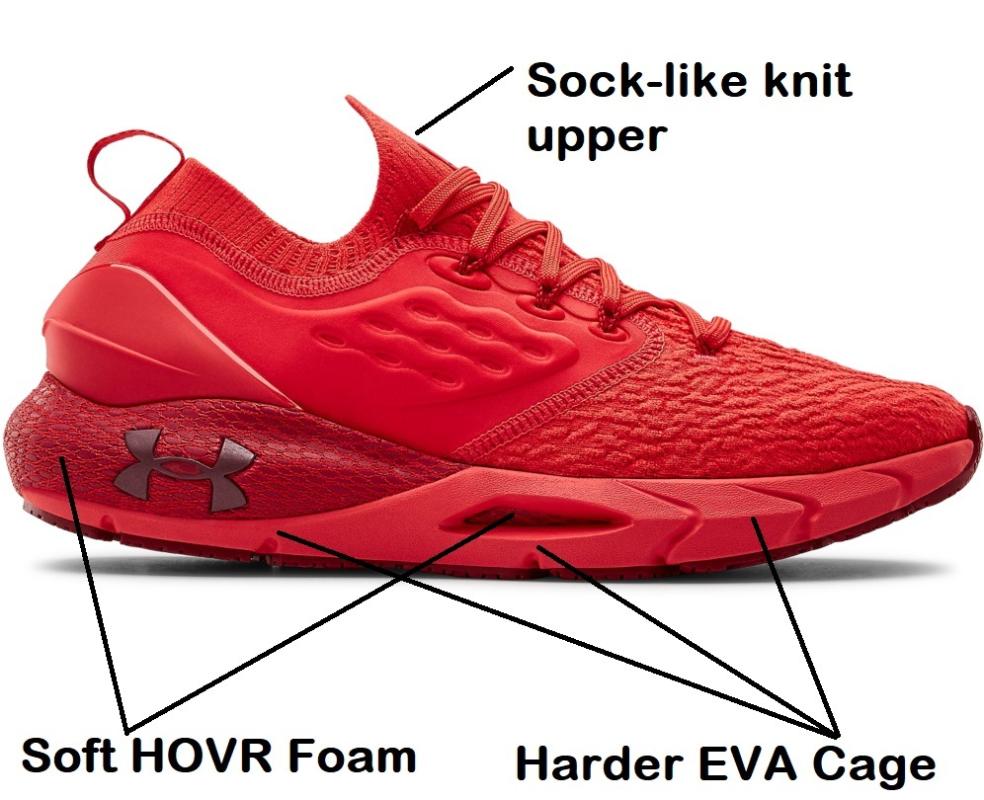 Outsole: Full length rubber outsole. Very grippy.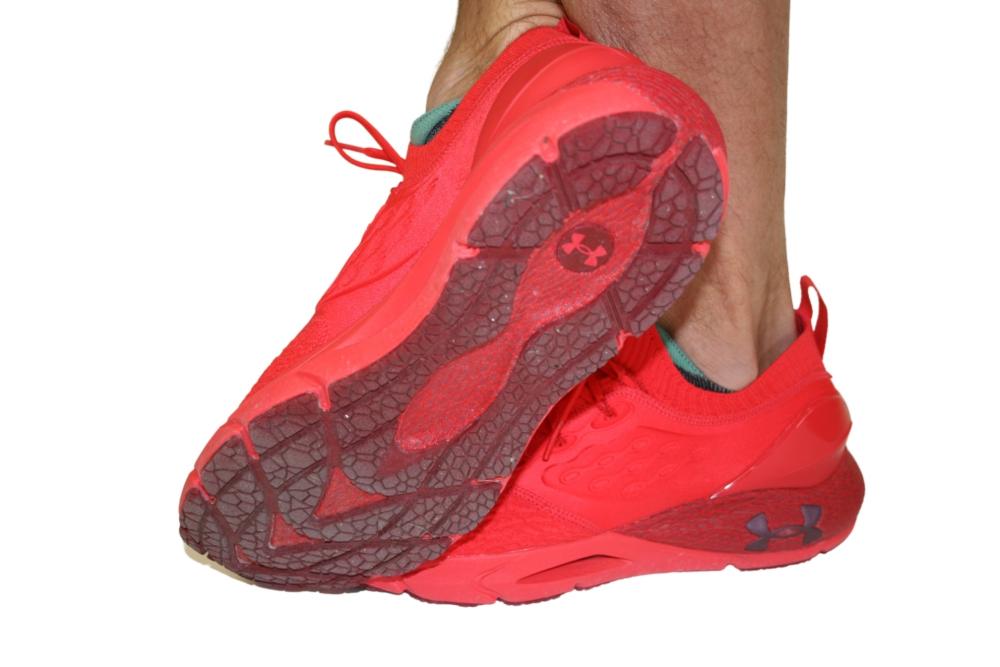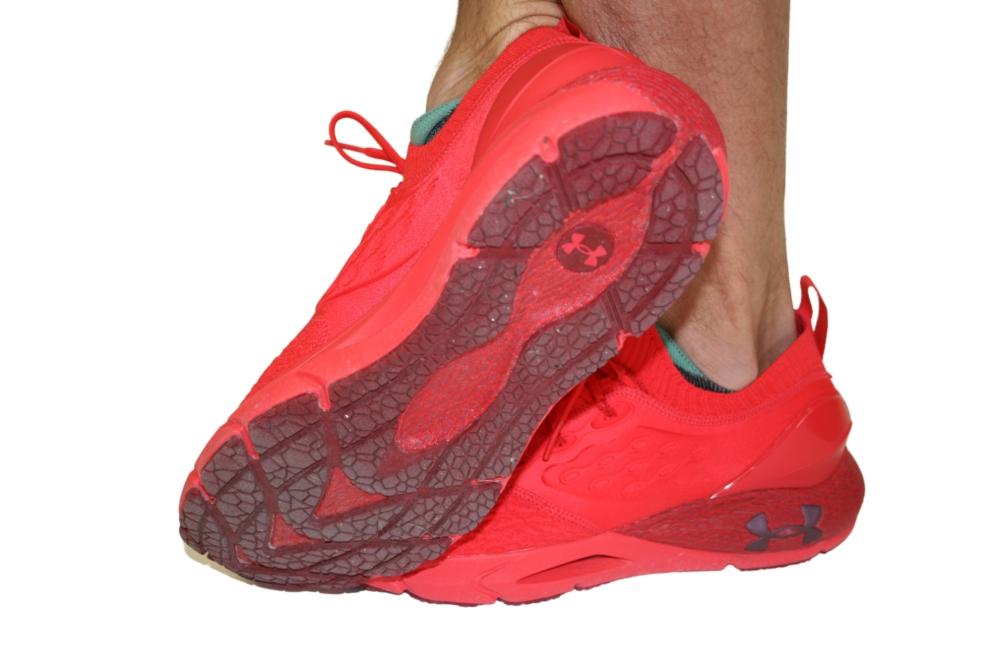 Upper: Partial knit upper that is really soft and sock-like. Hugs your feet well. Has a mesh overlay from the eyestay (laces) down to the heel.
Heel Counter: External plastic heel counter for support and structure. There is quite a lot of plush cushioning on the inside of the heel providing a soft feeling for the back of your heels.
Flexibility: Standard, easy to bend and twist, without being too flimsy. Very standard stiffness for a running shoe with such stack heights.
Heel cushioning: Soft.
Footbed:  There is no removable footbed/insert. There is simply a very soft inbuilt bed to rest your feet on. It's nice.
Eyestay/laces: They look like Flywire cables found in many Nike shoes, but they are thinner.
Fits: To size.
Marketing Hype: Low.
Does it live up to the hype: 100%.
Price: $220 AUD at UA Australia.
Against some rivals
| | | | |
| --- | --- | --- | --- |
| Shoe (all size US 9 Men) | Weight (grams) | Drop(MM) | Stack Heights (heel/foefoot cushioning) |
| Saucony Triumph 17 | 305grams | 8mm | 33mm/25mm |
| UA HOVR Phantom 2 | 327grams | 9mm | 26.5mm/17.5mm |
| Hoka Clifton 7 | 255grams | 5mm | 29mm/24mm |
| Nike Vomero | 281grams | 10mm | 27mm/17mm |
| Nike Pegasus 37 | 272grams | 10mm | 28mm/18mm |
| Adidas Solar Boost | 301grams | 10mm | 28mm/18mm |
| Asics Nimbus | 315grams | 10mm | 31mm/21mm |
| New Balance 1080 | 283 grams | 8mm | 30mm/22mm |
| Mizuno Wave Rider | 289 grams | 12mm | 32mm/20mm |
| Brooks Glycerin | 309 grams | 10mm | 32mm/22mm |
| Hoka Bondi 7 | 303grams | 4mm | 33mm/29mm |
| Nike Infinity React | 273grams | 8mm | 33mm/24mm |
The HOVR Phantom 2 is definitely one of the heaviest high mileage trainers on the market
Cool things about this shoe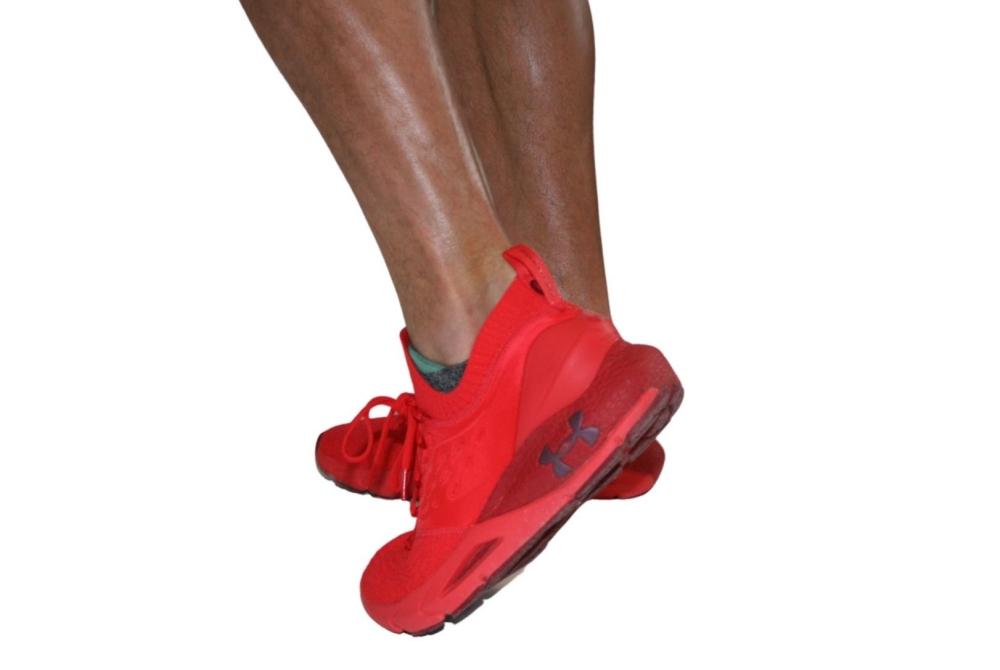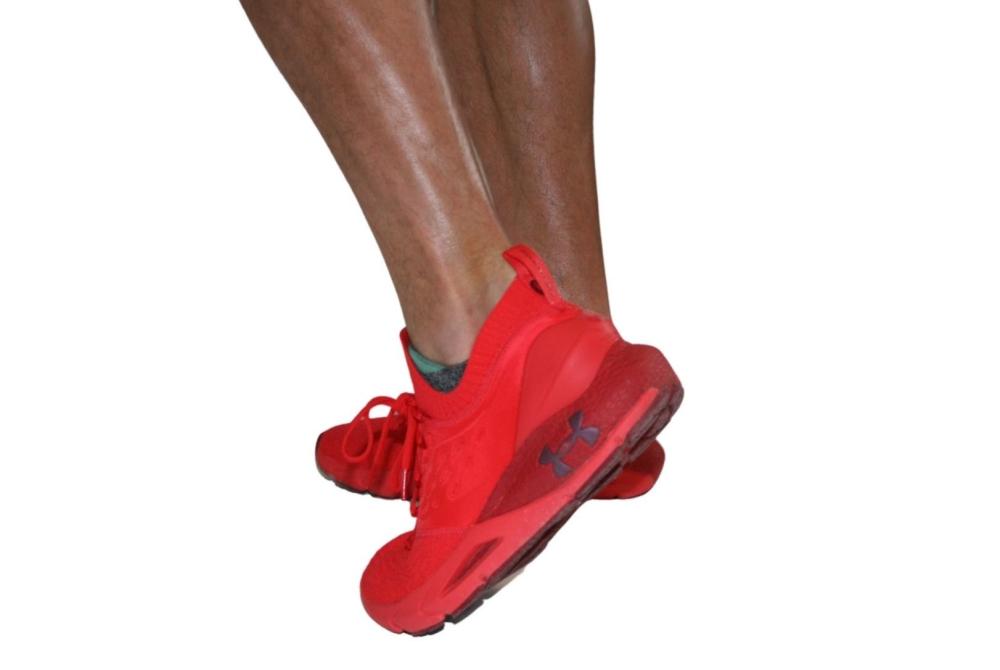 Smooth Ride: The shoes feel nice to run in. Responsive, a little bit soft without being too mushy, fast and comfortable.
Nice and Cosy Sock Like Fit: If you are a fan of knit uppers, this is brilliant. It hugs your feet well. Easy enough to just slip on/off without undoing the laces every time.
Outsole: Plenty of rubber provides for ample traction. The rubber seems durable and high quality. After 140km mainly on the road there is no wear that I can see.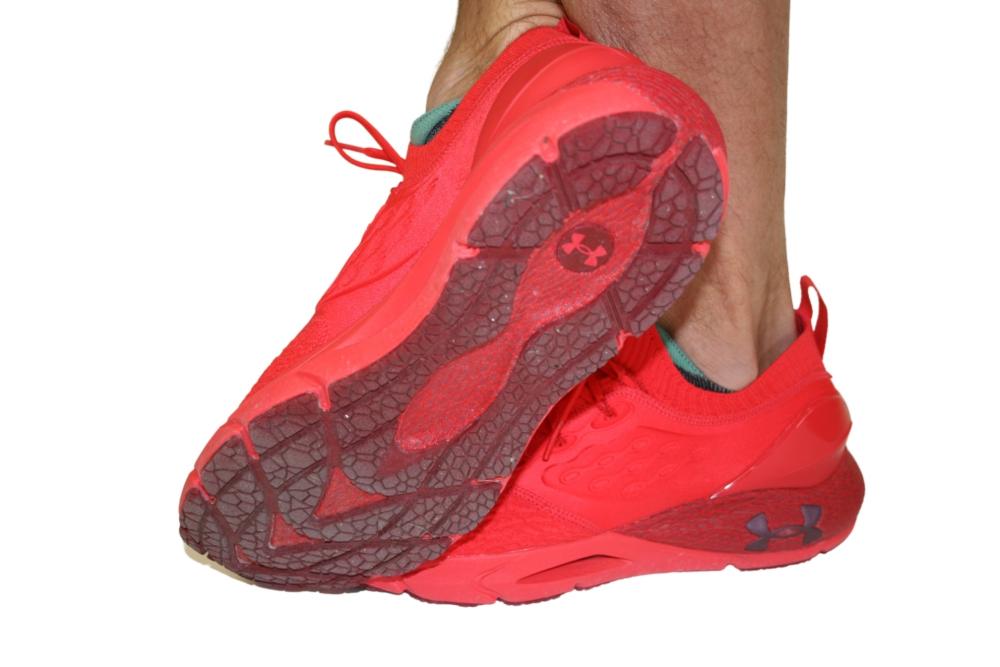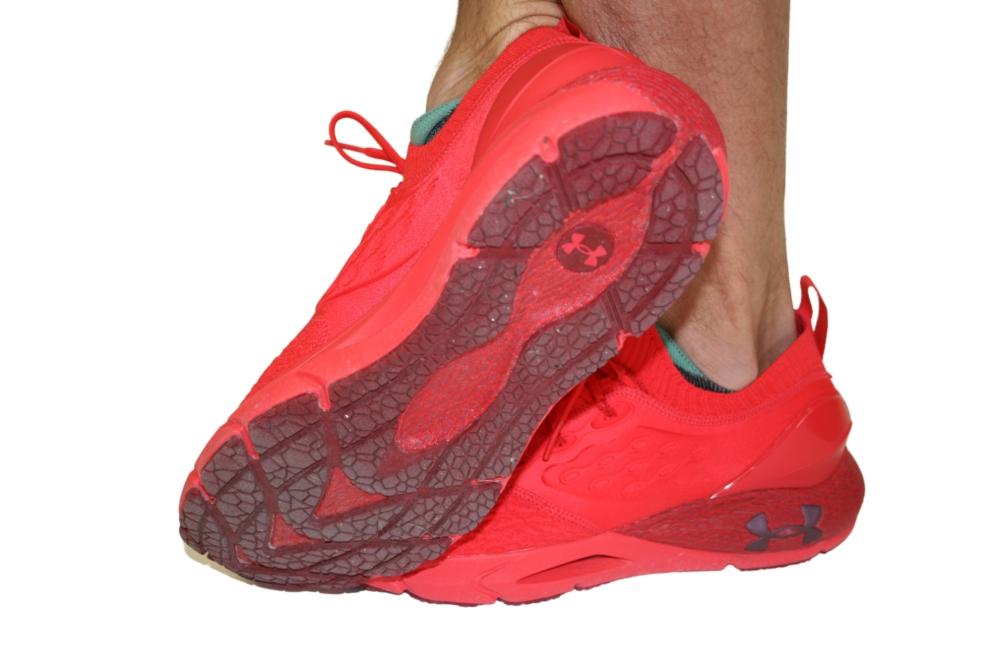 HOVR Foam: It is not a hugely soft ride. The Pegasus 37 and Clifton 7; they are both way softer. But you can definitely feel the softness of the HOVR Foam, especially if you are a heel striker. It is an incredibly responsive shoe, fine for long runs or shorter tempo efforts.
Uncool things about this shoe
Narrow in the Forefoot: It is a tight fit and my feet are far from fat. If you have big toes or a broader forefoot, they will not be good.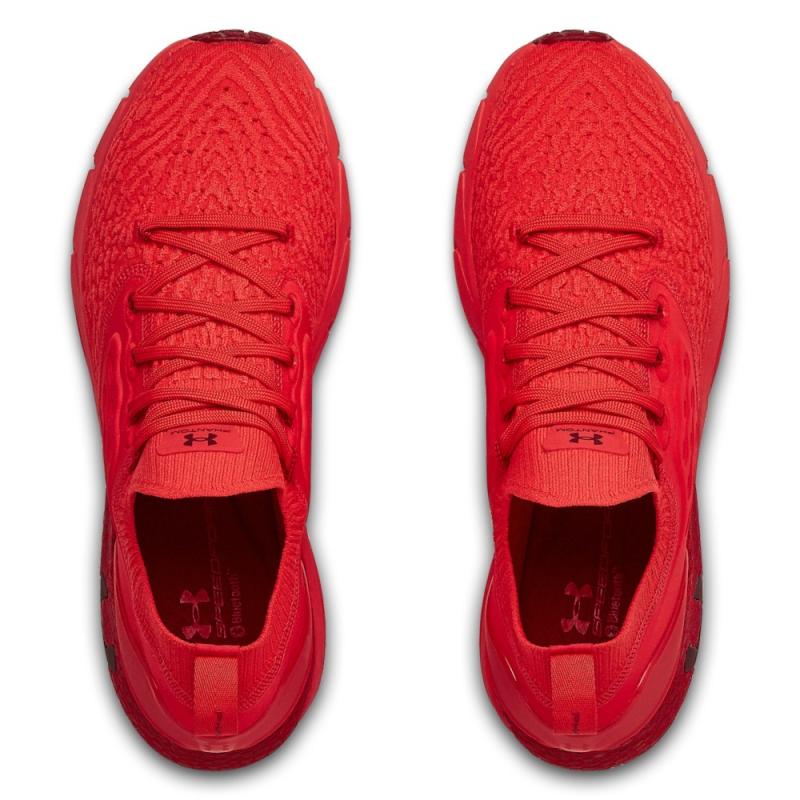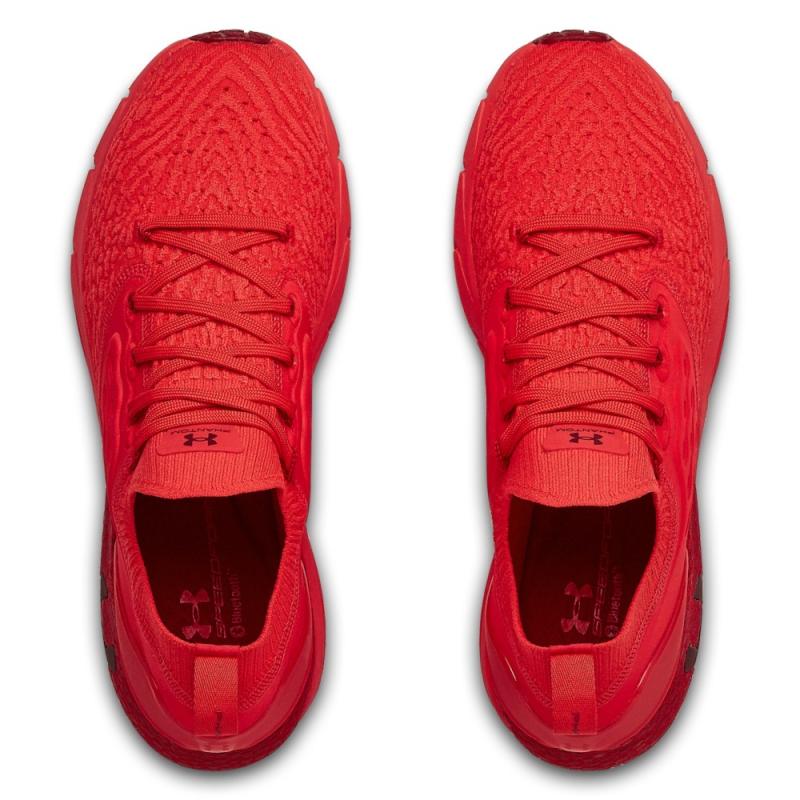 Heavy: The table above does not lie; they are significantly heavier that many of their competitors. It is all a trade-off though, their midsole foam and their thick full-length outsole rubber is heavy, but it also adds to its durability. However, to be honest, I did not really notice the extra weight when out running.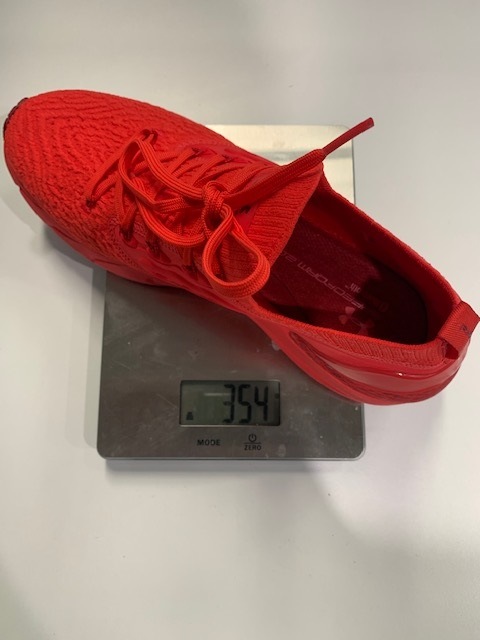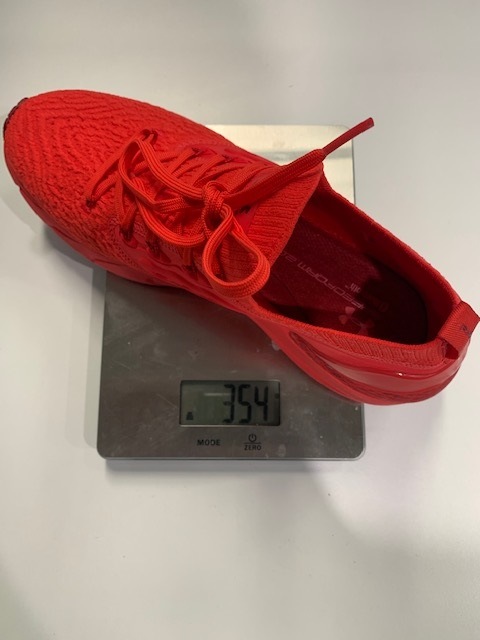 Summary
The HOVR Phantom 2 is an awesome running shoe. Looks great, very responsive and fast, yet durable. If you don't mind a few extra grams, then go for it.
Written and tested by Sam Burke for Runner's Tribe.
Disclaimer: Runner's Tribe were given a pair of Phantom 2 by UA for free, but we were not paid.