(c) Runner's Tribe, 2021
If there is one shoe that HOKA is known for, it would have to be the Clifton. HOKA'S go-to every day neutral trainer, it is worn by thousands across the globe. Hell, even the Australian 1500m champion trains in them…BTW calling out for the big dogs at HOKA to extend Jye a fat paid contract, he is the third fastest miler in Australian history….
View this post on Instagram
We reviewed the Clifton 7 last year, and there has been some subtle improvements for this season's model. A highly cushioned, neutral high mileage trainer. HOKA argue the Clifton 8 delivers an even softer ride than its predecessor, of this we cannot argue.
A nice, soft, lightweight, cushioned ride. The major improvement for the 8th edition is the weight of the midsole has decreased by 15%. HOKA says it 'virtually disappears underfoot' – not sure about that, but we can confirm it is super light for a high-stacked neutral trainer.
There are a few other minor updates too, such as a bulkier more plush tongue, a tiny bit more room in the toe box, and a more reinforced eyelet.
Runner's Tribe took these shoes through 229km of mostly road and light trail running, and below is our analysis.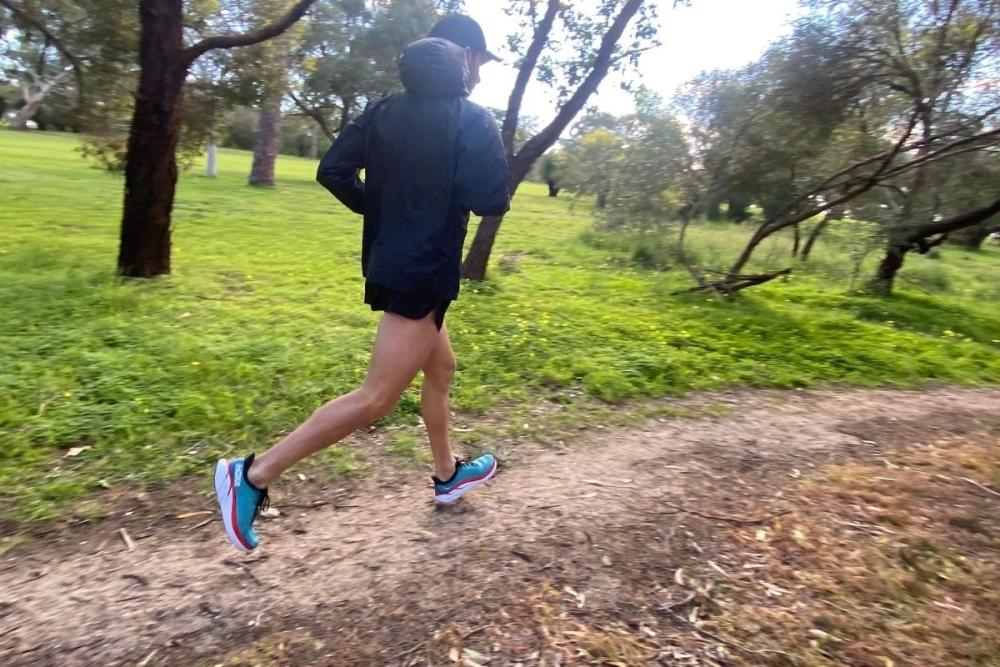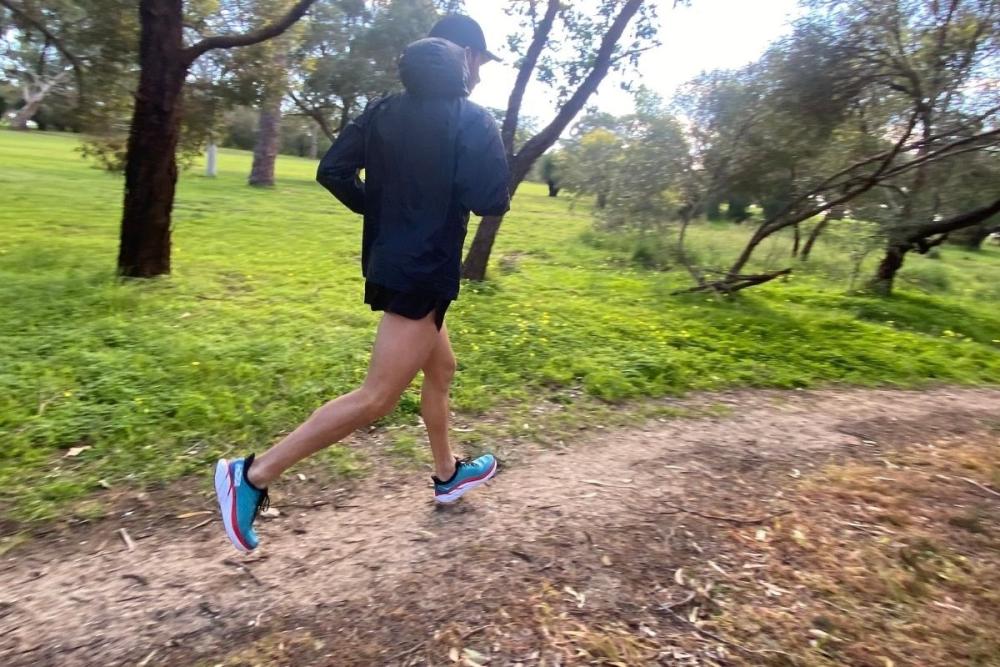 Specs
Km's run during testing process: 229.
Testers: Two road/track runners.
Surface: Road or very light trails.
Purpose:  Everyday high mileage trainer. Good for warm-ups and warm downs. Good for easy runs or long runs.  Not a super fast racing shoe. For a faster shoe try the HOKA RINCON...
Pronation: Neutral.
Heel-to-toe-drop/pitch: 5mm men, 4mm women.
Stack Height:

Men: Running Warehouse USA measure them at 37mm (heel) and 32mm (forefoot).  This includes the removable sockliner/insert and the height of the outsole rubber. We can confirm these measurements.
Women: 37mm heel, 32mm forefoot.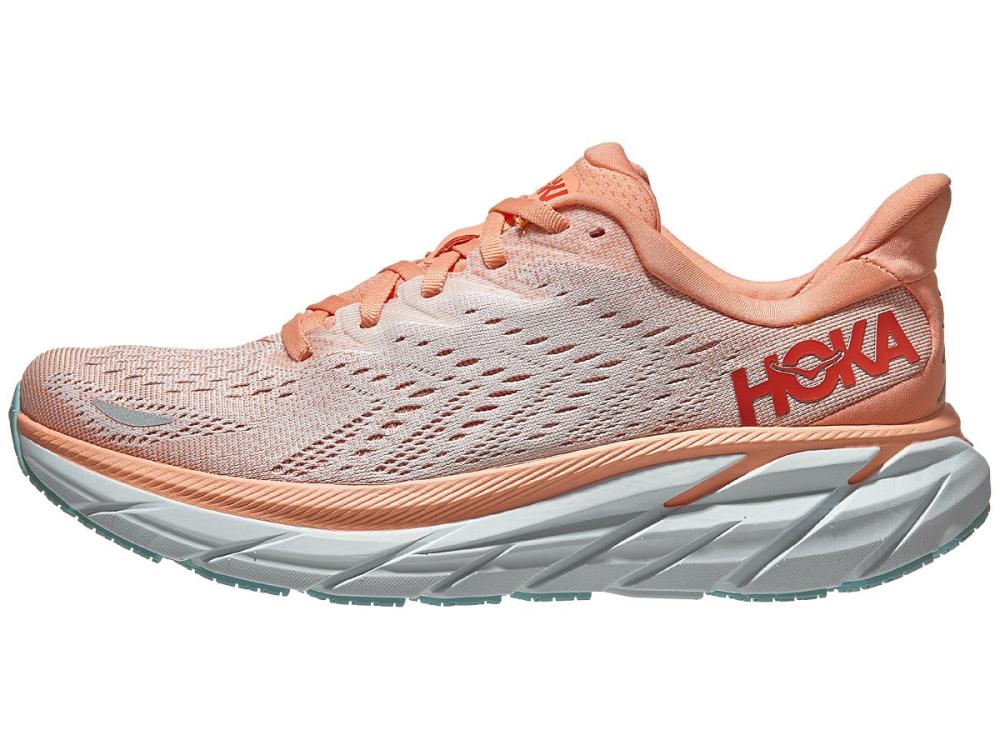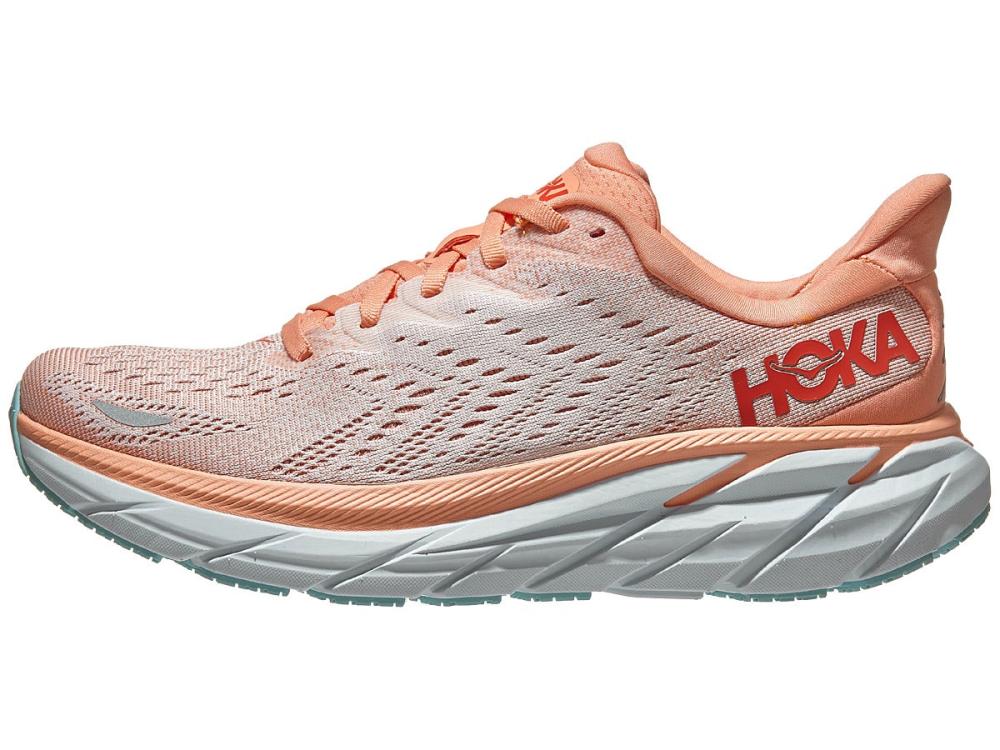 Weight: Very light (see the below table for brand comparisons)

Men: 9 US:  252g (6 grams lighter than the Clifton 7).
Women: 8 US: 227g.
Men: 11 US: 280 grams (5 grams lighter than the Clifton 7).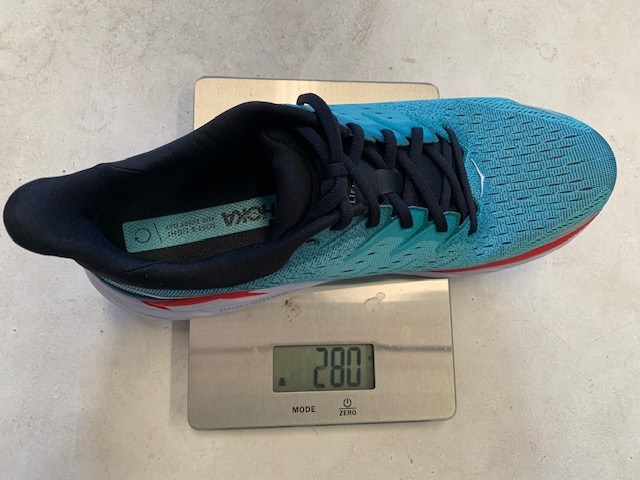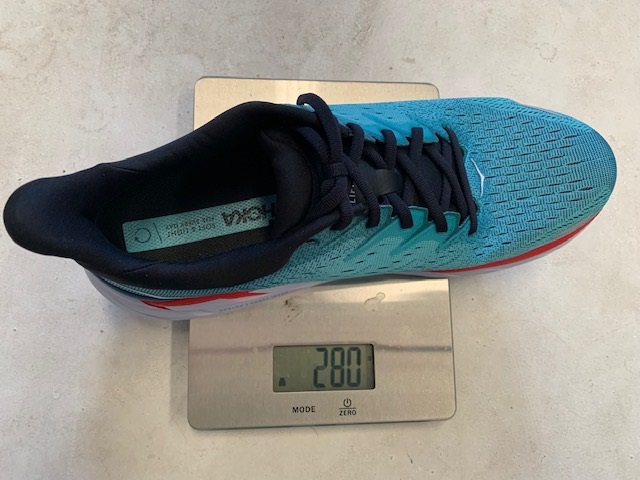 Midsole: Soft lightweight EVA foam.
Upper: Engineered mesh upper with many ventilation holes.
Outsole: Exposed EVA foam and strategic rubber under high impact areas.
Flexibility: Very hard to bend out of the box. Takes about 20km to break in. More stiff than the Clifton 7.
Toe Box:  Slightly wider than the Clifton 7, but still relatively narrow.
Durability: Average to good. The outsole rubber and exposed outsole EVA are soft and therefore wear quick than shoes with hard outsoles. It's all a compromise; Hoka's soft ride is why people love their shoes, but the trade off is that the outsoles do show wear quicker than shoes with a hard outsole/midsole.
Density of midsole: Soft.
Heel cushioning: Soft with very smooth fabric used. Smoother than the Clifton 7.
Forefoot cushioning: Soft.
Heel counter: Hard/rigid, doesn't collapse easily. A flared heel counter to take pressure off the Achilles tendon. No heel tag.
Fits: Runs true to size.
Marketing Hype: Low.
Does it live up to the hype: Yes.
Price: $239.95 AUD at Hoka Australia.
Buy from

Against some rivals
| | | | |
| --- | --- | --- | --- |
| Shoe (all size US 9 Men | Weight (grams) | Drop(MM) | Stack Heights (heel/forefoot cushioning) |
| Hoka Clifton 8 | 252grams | 5mm | 37mm/32mm |
| Nike Vomero | 281grams | 10mm | 27mm/17mm |
| Nike Pegasus | 266grams | 10mm | 28mm/18mm |
| Adidas Solar Boost | 301grams | 10mm | 28mm/18mm |
| Asics Nimbus | 315grams | 10mm | 31mm/21mm |
| New Balance 1080 | 283 grams | 8mm | 30mm/22mm |
| Mizuno Wave Rider | 289 grams | 12mm | 32mm/20mm |
| Brooks Glycerin | 309 grams | 10mm | 32mm/22mm |
| Brooks Ghost | 286grams | 12mm | 29mm/17mm |
| New Balance More V3 | 306grams | 4mm | 38mm/34mm |

Cool things about this shoe
Weight: For such a high stack height shoe, the Clifton 8 is amazingly light. Their proprietary EVA foam is just so so light. A huge but light shoe is what makes HOKA.
Flared heel counter: The heel counter on the 8 feels perhaps a little more flared than the 7. It makes the shoe slip on very easily and it really does alleviate pressure from high up on the Achilles tendon.
Soft midsole: Soft is what HOKA do best, and this Clifton is as soft as foams come.
Great upper: The upper is soft, comfortable and breathable. The tongue is very padded and cozy.
Perfect for easy runs: The shoe isn't fast, but it is a soft cruisy ride that is easy on your legs. For those casual warm-ups and warm-downs, or for easy runs or long runs, the shoes provide a soft ride that feels great.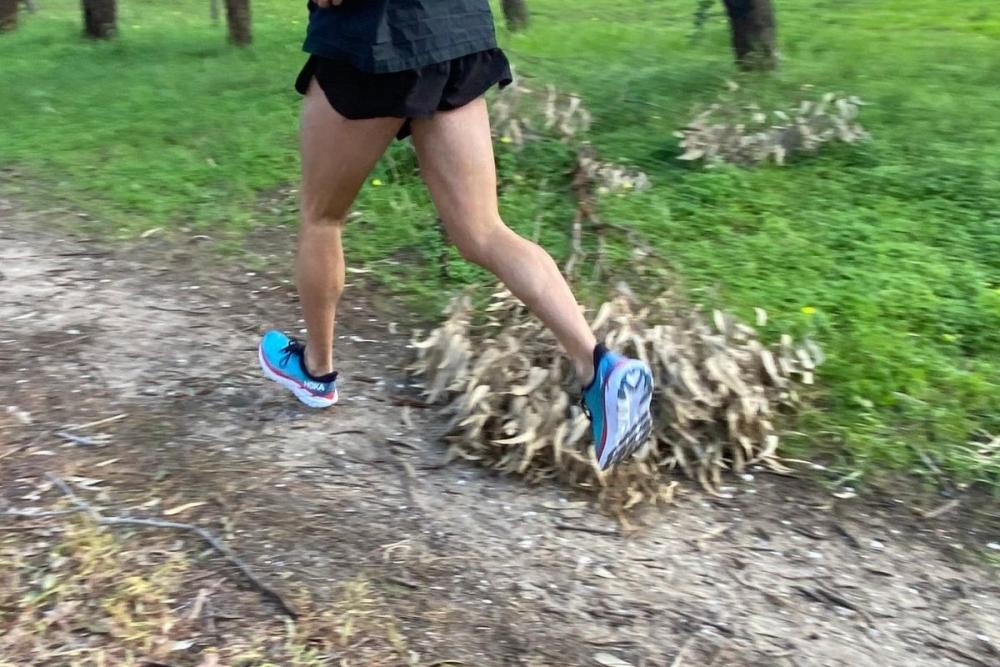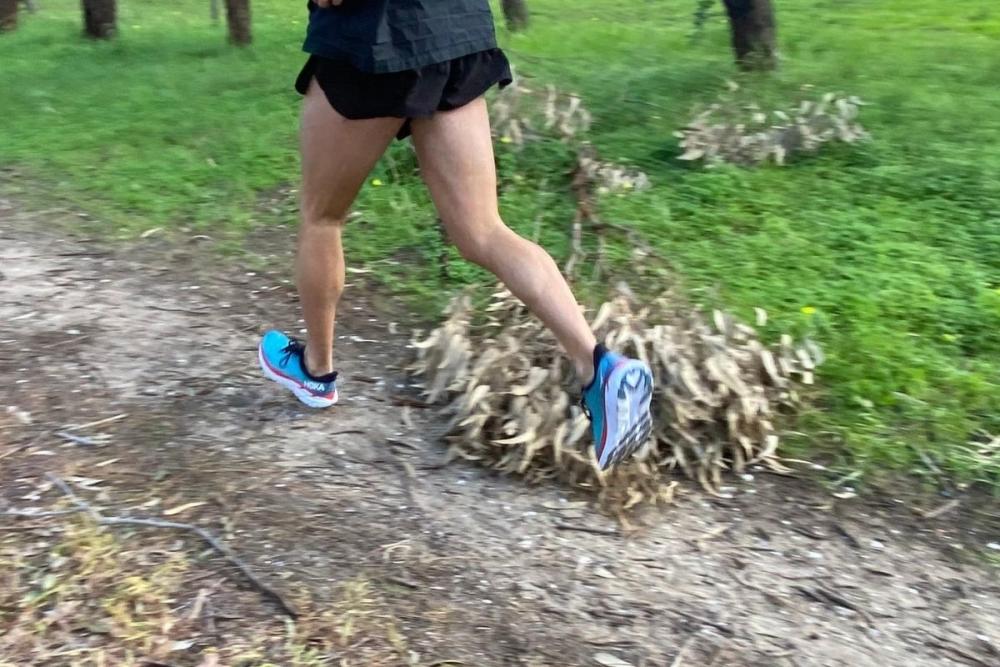 Neutral ponderings
EVA Midsole: HOKA still use traditional EVA foam for all of their shoes. In an age where most major brands are moving away from EVA, HOKA are holding firm.  The EVA foam works for HOKA, as they have figured out how to make it lighter and lighter.  But many argue the EVA foam flattens out way quicker than many new-age formulations. On the one hand is hard to argue with this. But on the other hand, HOKA are crazy popular, so if it ain't broke…  There is also the arugment that HOKA needs to evolve away from pure EVA midsoles, in order to create shoes with better energy return. Whether or not they will remains to be seen, but if they do it will most likely come at the cost of some added weight.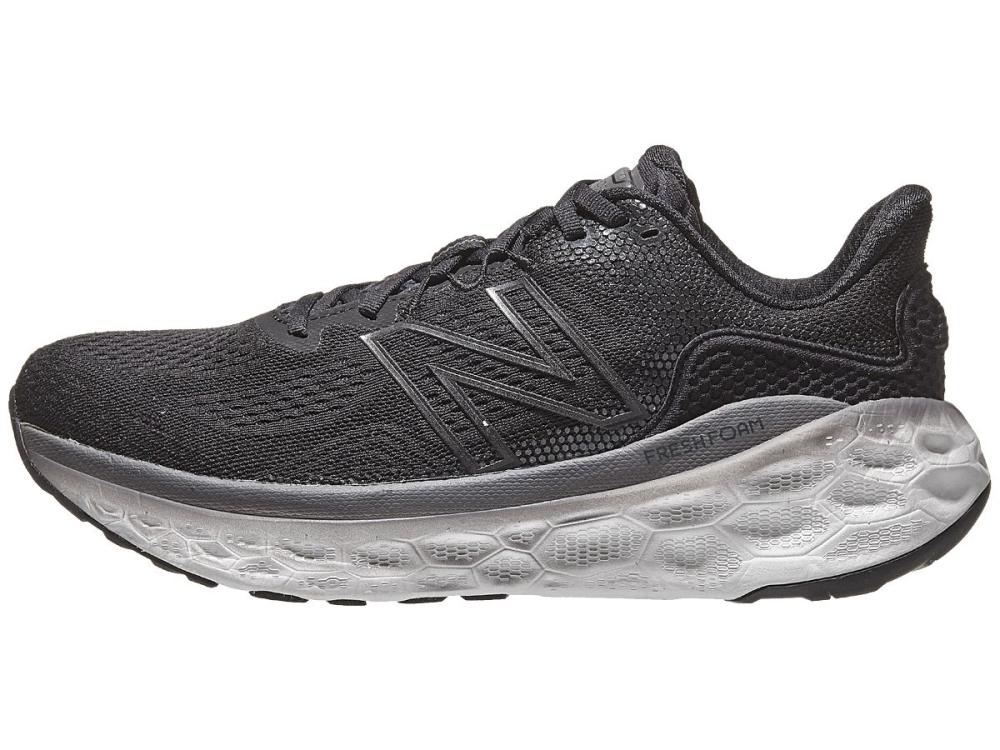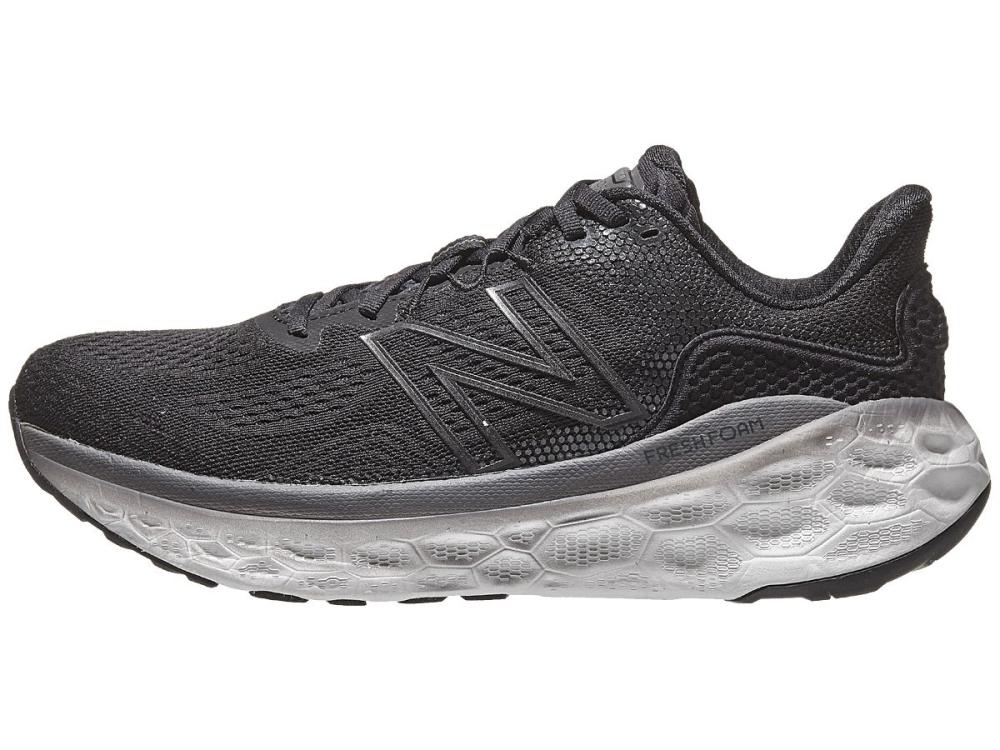 To buy or not to buy?
The Hoka Clifton 8  is perfect for long runs, easy runs, warm-ups and warm downs.  For those who enjoy high stack-height shoes, it is still the leader.
Disclaimer:  Runner's Tribe were given a pair of Clifton 8  for free.
Written and tested by Sam Burke for Runner's Tribe.