(c) Runner's Tribe
We first reviewed the Hoka Rincon two years ago, and we are back with a deep dive into the Rincon 3.
For those who are still to learn about Hoka, the Rincon is a sleeker version of the Hoka Clifton (the brand's best-selling high mileage neutral trainer). The main differences is the Rincon is slightly cut back making it lighter and faster. The Rincon is more versatile than the Clifton, it can used for long training runs, but is also suitable for speedy thresholds or even a faster session/interval type of a workout. It can be classed as a lightweight neutral everyday trainer.
The Rincon of course comes with all the things that have made Hoka famous;  a lot of plush cushion, surprisingly light,  and with a metarocker design to help propel you forward.
Runner's Tribe took these shoes through 210km of mostly road and light trail running.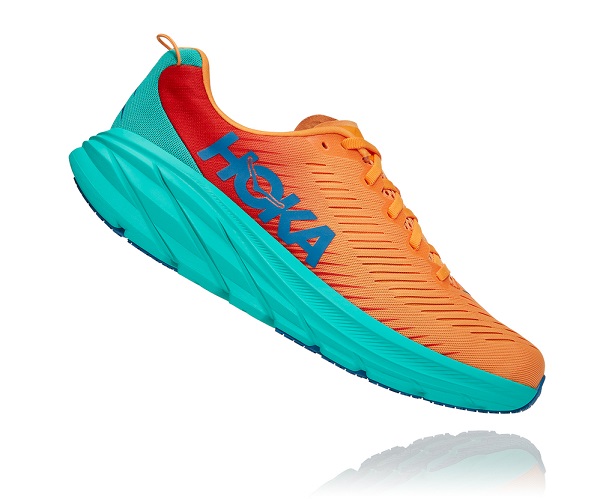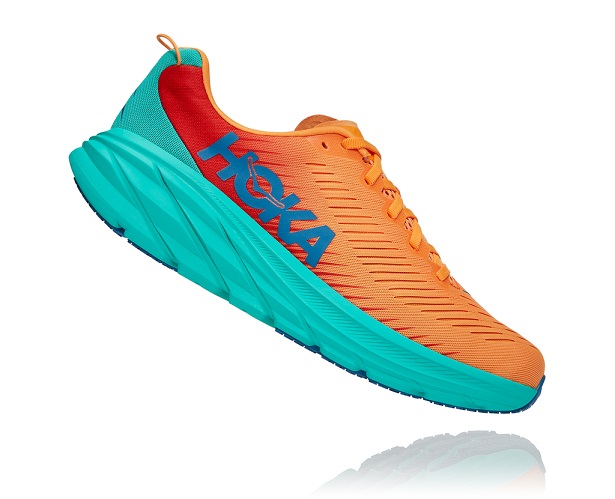 Specs
Km's run during testing process: 210k
Testers: Two road/track runners.
Surface: Road or very light trails.
Purpose:  Everyday versatile trainer. Good for either long runs or shorter faster runs. Fine for race day too for those not keen on carbon fibre plated racing shoes.
Pronation: Neutral.
Stack Height: 29mm heel. 24mm forefoot.  These stack heights were verified by Hoka Australia. See the table below for brand comparisons.
Heel-to-toe-drop/pitch: 5mm.
Weight: Very light (see the below table for brand comparisons)

Men: 9 US: 210g, US men's 11 is 233 grams.

Midsole: lightweight EVA foam.
Upper: High-quality thin and well-ventilated mesh. The tongue is very thin.
Outsole: Exposed rubberised EVA foam and strategically placed rubber under high impact areas.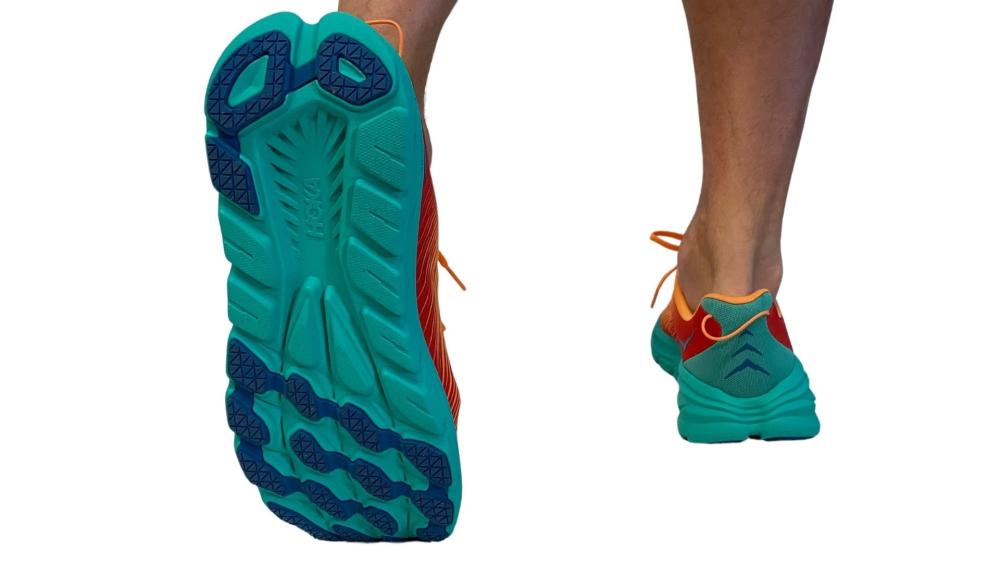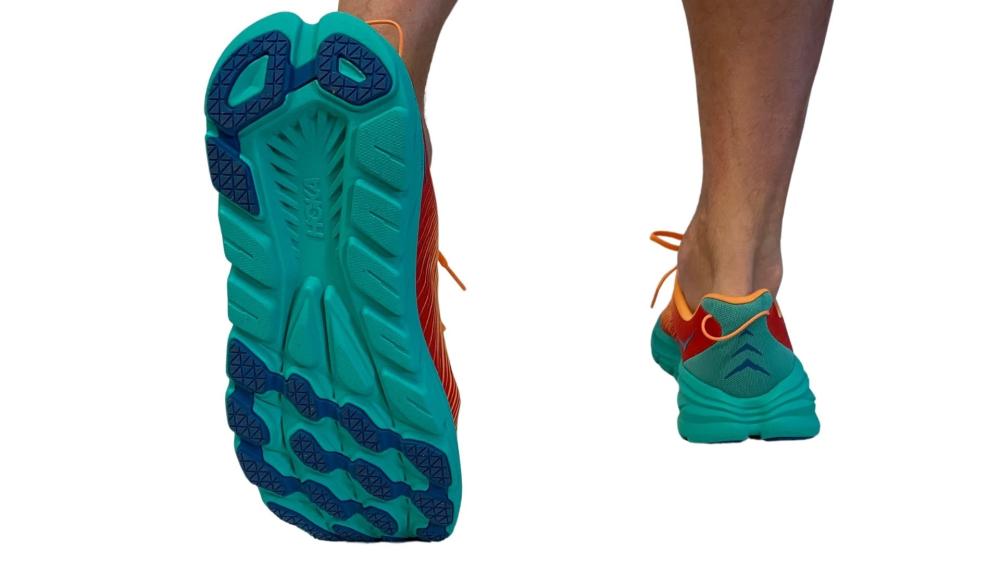 Flexibility: Moderate. Way more flexible than a pair of Cliftons out of the box, a pair of Rincons can be easily flexed, for those who like that. They also are 'broken-in' after say 20-30km and flex a lot easier than straight out of the box.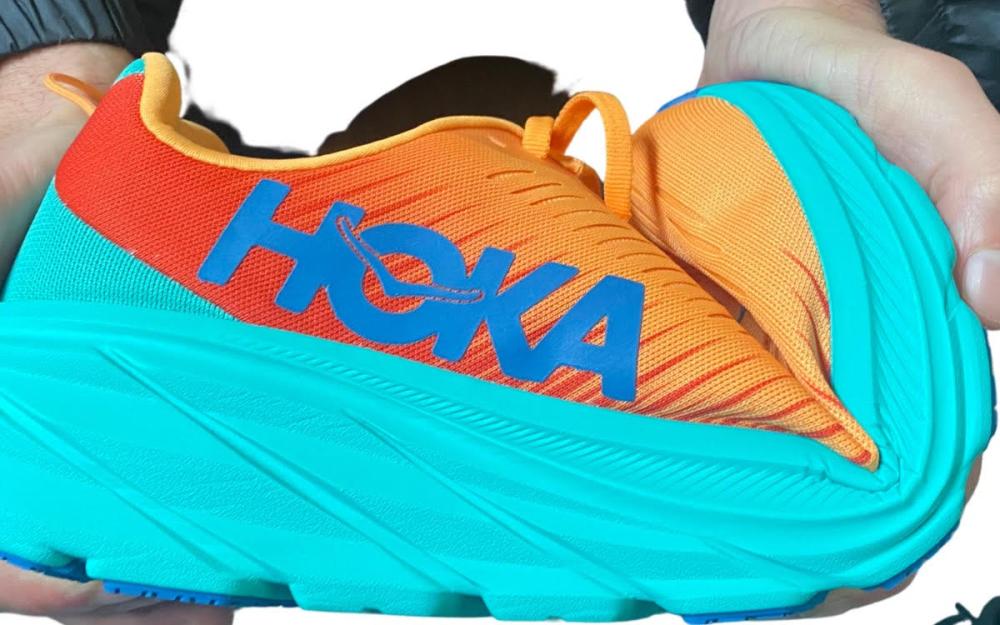 Toe Box:  Standard Hoka toe box. If you love a wide toe box, then Hoka isn't really for you. But if you have wide feet in general, the Rincon does indeed come in a wide option too.
Durability: Moderate.  Hoka's EVA foam isn't as durable as other products out there, and the Rincon is built to be fast and light, not incredibly durable.
Density of midsole: Moderate.
Heel cushioning: Soft.
Forefoot cushioning: Soft.
Heel counter: Moderate, it is less built-up than the Clifton and you can flex/bend the heel counter quite easily.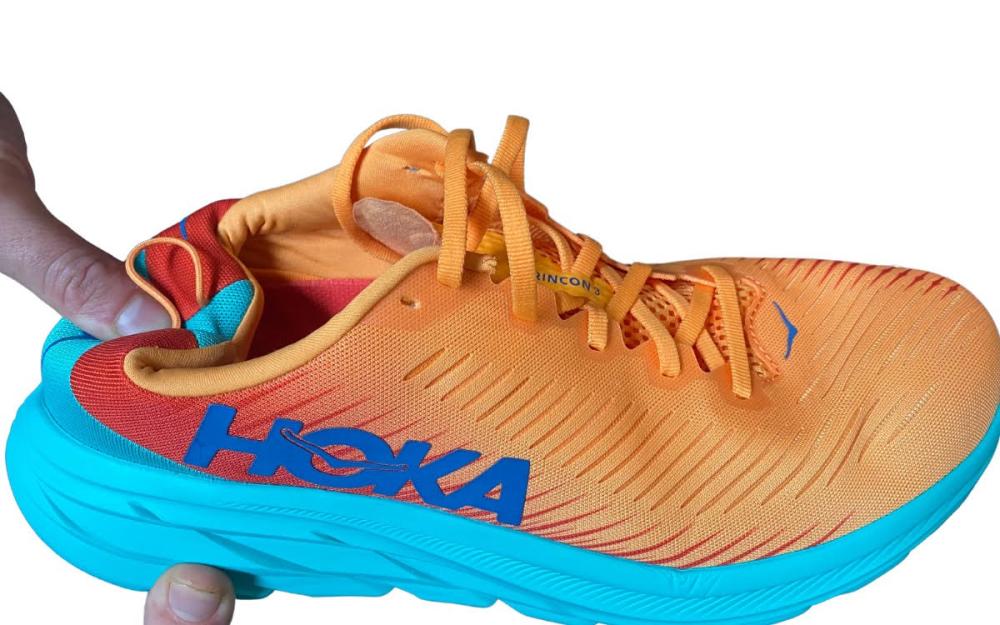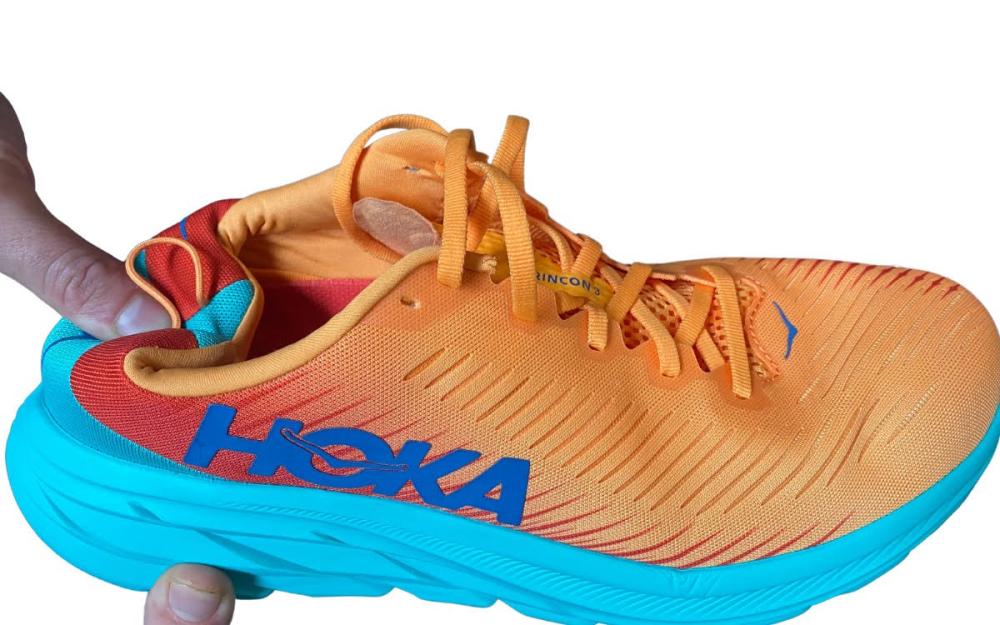 Fits: Runs true to size.
Marketing Hype: Low.
Does it live up to the hype: Definitely.
Price:
View this post on Instagram
Against some rivals
How light is the Rincon !!
| | | | | |
| --- | --- | --- | --- | --- |
| Shoe (all size US 9 Men) | Weight (grams) | Drop (mm) | Stack Heights | Price (AUD) |
| Hoka Rincon 3 | 210grams | 5mm | 29mm/24mm | $199.95 |
| Hoka Clifton | 255grams | 5mm | 32mm/27mm | $239.95 |
| Saucony Kinvara | 212grams | 4mm | 28mm/24mm | $199.99 |
| Hoka Mach 4 | 227grams | 5mm | 29mm/24mm | $259.95 |
| Brooks Launch 8 | 244grams | 10mm | 26mm/16mm | $199.95 |
| On Cloudflow | 232grams | 6mm | 22mm/16mm | $229.95 |
| Nike Peg Turbo | 215grams | 10mm | 28mm/18mm | $250.00 |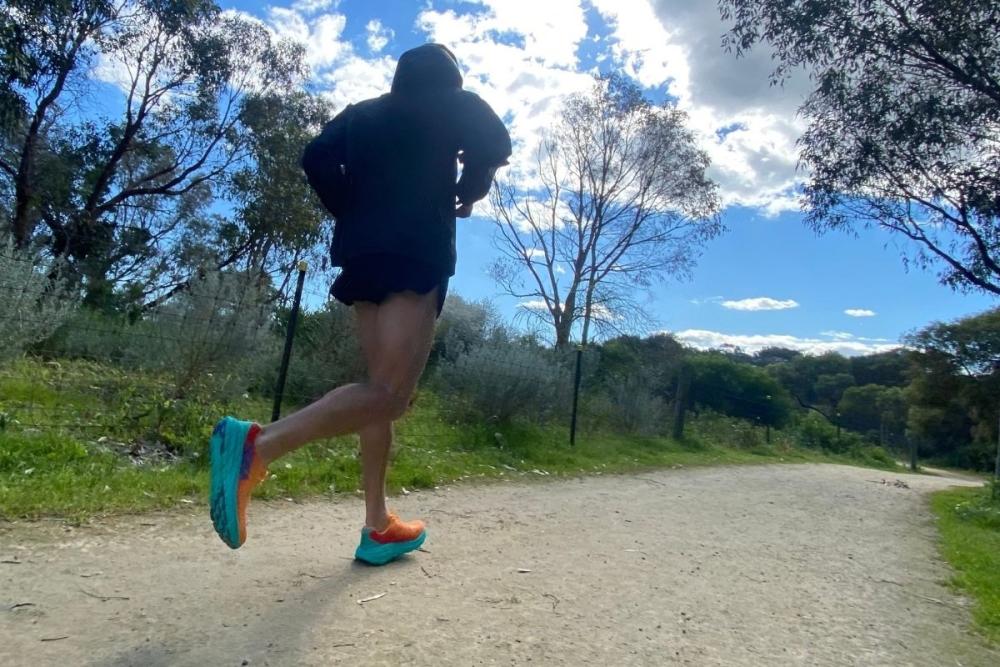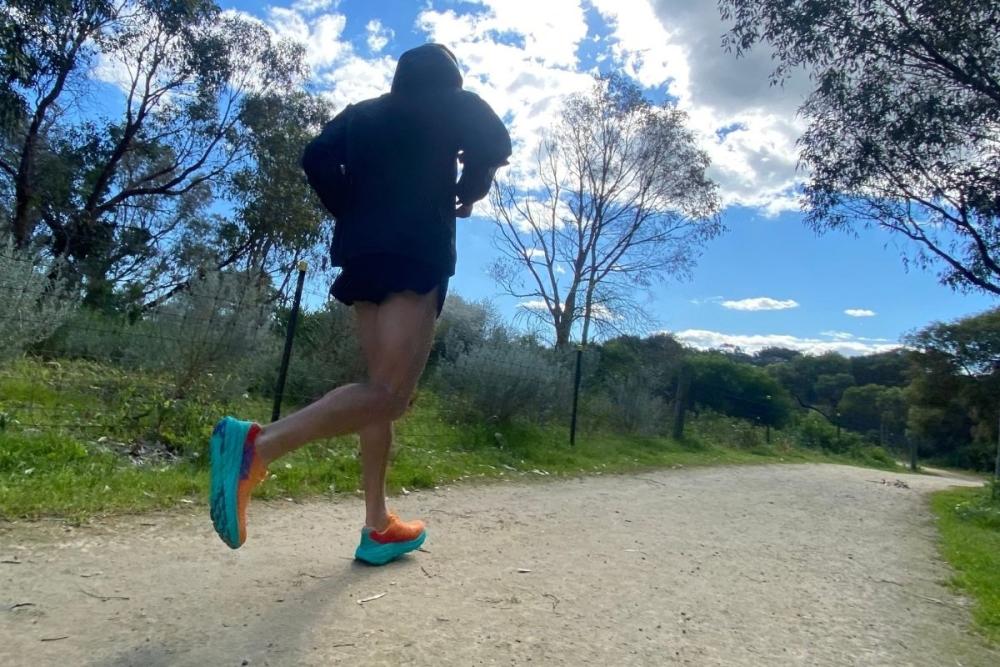 Cool things about this shoe
Weight: Once again the Rincon has delivered on weight. For a shoe that can totally handle a 30km long run, the weight is superb.
Speed and versatility: Sure, the Rincon isn't built as a racnig shoe, but it is far from slow. Ideal for that long run where you know the pace will be on. Or for that session in which you feel like you just want that tiny bit of extra cushion, without taking away from your speed.
Price: In a time when the price of most high-end shoes is pushing over the $300 mark, the Rincon at $199.95 is a pleasant surprise.
Consistency: The Rincon has won many fans and Hoka are staying true to the Rincon lineage. You know what you get with the Rincon, and any changes Hoka make from season to season tends to be minor.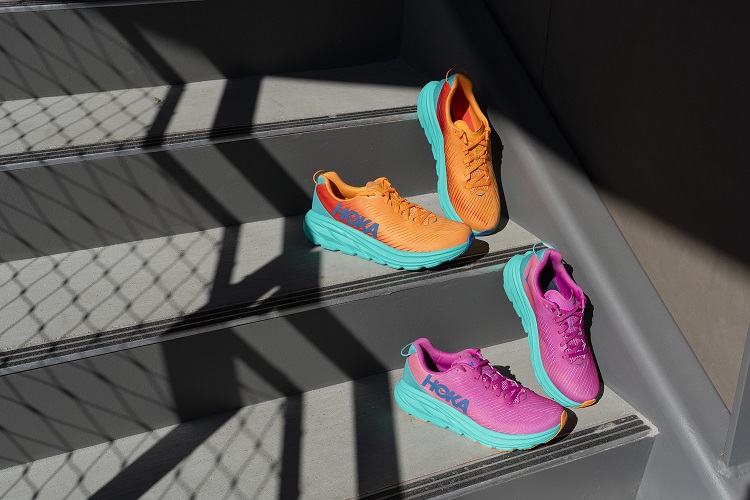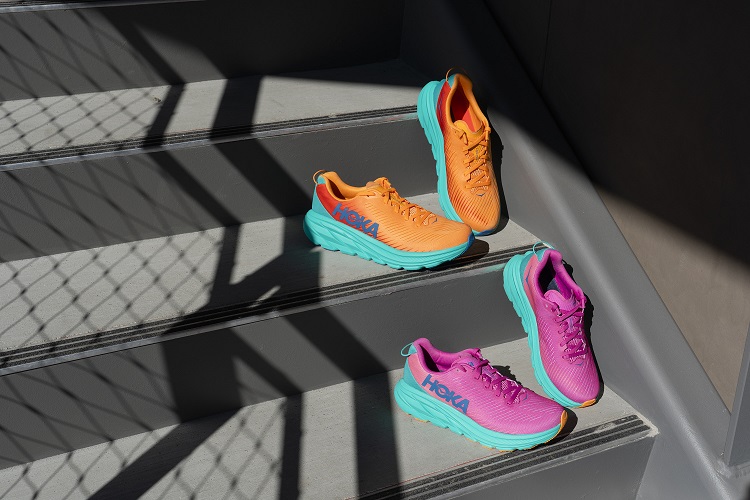 Neutral ponderings
Toe Box:  Our tester got a nasty blister on the inside of his big toe (not all that uncommon for Hoka users) and it got us thinking about the Toe Box.  Hoka's designers face a predicament. With so much midsole foam and a wide-base, they need to save weight in other areas, and we can't help but think the toe box got the short straw.  It is a bit reminiscent of many old-school  Nike, Asics, Adidas shoes, with a narrow toe box that really limits the ability of your toes to splay. More toe room would be nice, but the trade-off would be added weight.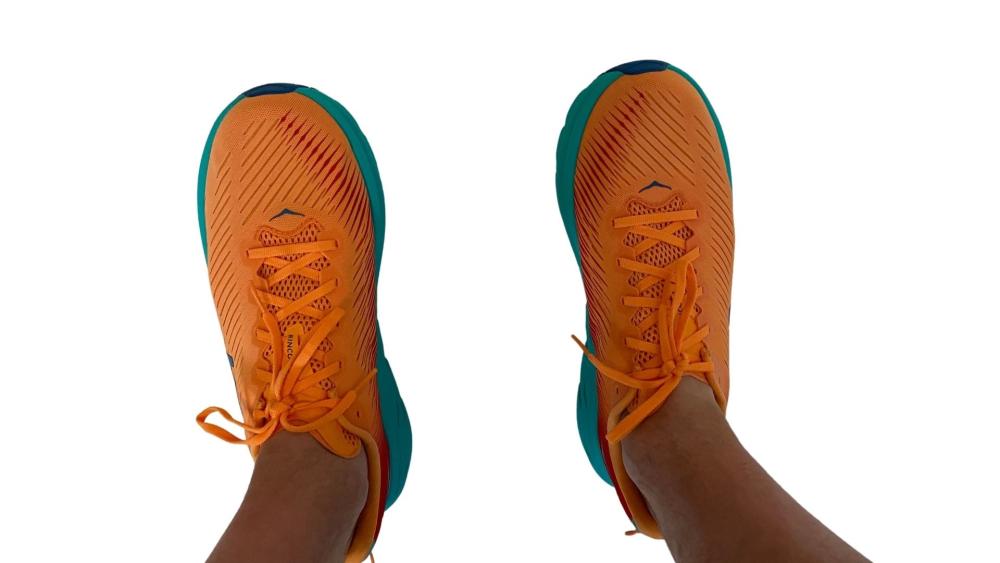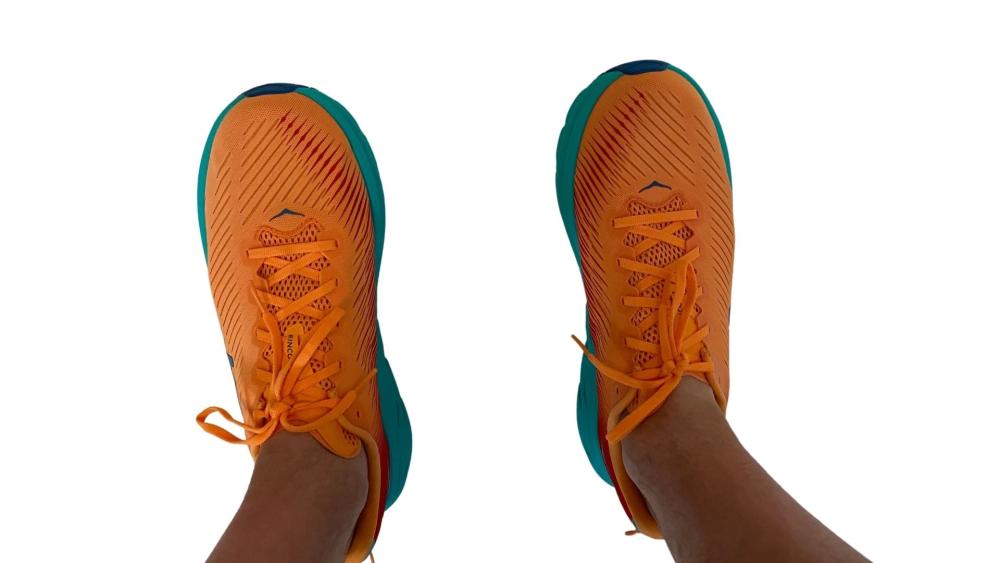 Durability: The Rincon saves a great deal of weight simply because the EVA midsole foam used is incredibly light. The only way Hoka can get away with having so much foam, is of course by using foam that is super light. The general issue with light products, is that they breakdown under friction a lot faster than heavier, tougher substances.  This runs just as true for say the Nike Pebax foam used in the Alphafly and Next% shoes, as it does for many of Hoka's lightweight shoes.  Customers can't have the best of both worlds (yet). The Rincon is crazy light and ticks a lot of boxes, but the lightness comes with the minor trade-off of being slightly less durable than say the Clifton or many other heavier shoes.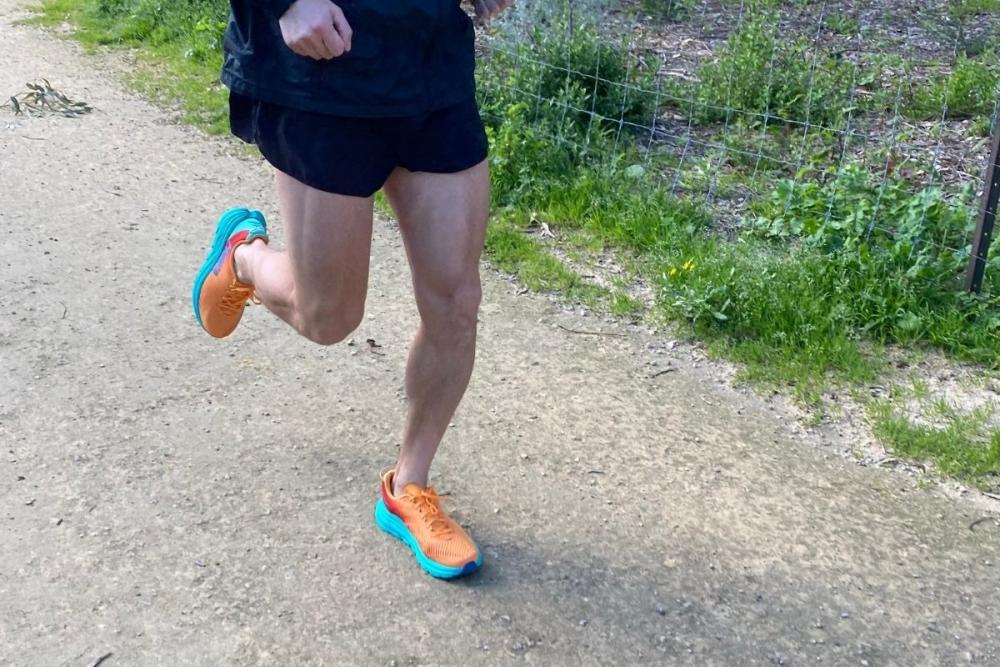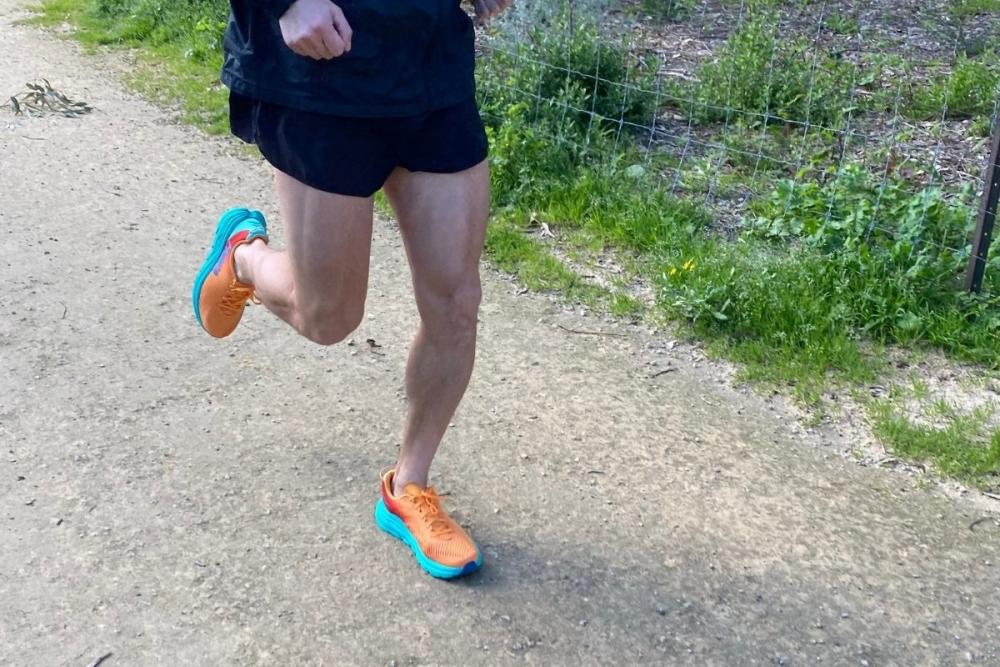 A Buy?
The Rincon is as versatile and light as they come. Depending on the day, it can serve as a trusty shoe for a long run, or a speedy workout shoe. It is suited for the road or for very safe and easy trails. For only $199.95, it offers both great value for money as well as being a very fun shoe to run in.
Tested by Ross Johnson for Runner's Tribe.