Target 60 – Countdown to Rio Continues
Our hope is that the final number of Australian athletes for Rio will total around 60 individuals, and there are continued signs that this number can be achieved as we approach the final cut off date of July 12 (note: Nominations by AA must be received by the AOC by 5pm AEST on Tuesday 12 July 2016).
As we did in the first of the 'All Roads Lead to Rio'series have the following sections:
Rio Flame Still Burning – a look at all of our Australian athletes still looking to make the final team for Rio, hoping to find those all important qualifying marks in the upcoming months.
Going for Gold in Rio – a close look at our already qualified athletes, as they work their way through their preparations in the lead up to the Olympic Games in August. Includes any interesting updates from international athletes in specific events that will be of great interest to Australian fans (such as the women's 100m hurdles).
US College Stars – in the lead up the NCAA Championships in the United States (Eugene, June 8–11), we will be updating you on results from all our major Australian College athletes competing at the NCAA Division 1 level.
All Roads Lead to Rio – Update #2
Rio Flame Still Burning
There have been four important meetings that have taken place over the past 7 days:
Payton Jordan Invitational in Stanford, CA USA
IAAF Diamond League in Doha, QTR
IAAF Race Walking Team Championships in Rome, ITA and
Golden Grand Prix 2016 in Kawasaki, JPN
Payton Jordan Invitational
You can read a full report of the meeting by clicking here. It was a magical meeting for Linden Hall, who literally assured herself of a berth on the Australian team for Rio with a scintillating PB of 4.04.47. The great interest now centres around which Australian will take the third spot on the team for Rio, with both Zoe Buckman (who does own an OQ) and Heidi See both looking for big performances over the coming two months.
In Stanford we also saw an OQ performance from Sam McEntee (13.20.72, PB) in the men's 5000m, while both Lora Storey (2.01.67) and Patrick Tiernan (13.25.78) just missed OQ in the women's 800m and men's 5000m respectively.
IAAF Diamond League – Doha, Qatar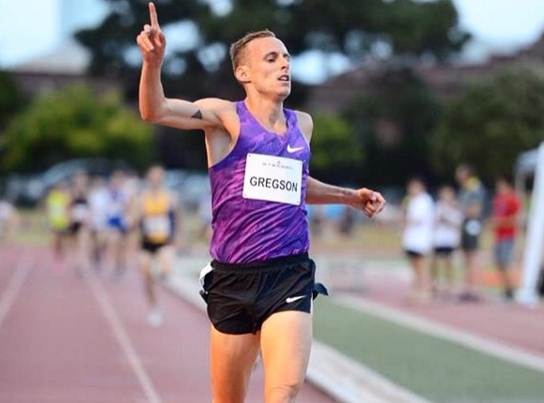 The big watch was on Ryan Gregson in the men's 1500m, who had shown great form over the domestic season and was looking for the perfect race to produce the required OQ time of 3.36.20. Put simply it simply didn't go to plan, with a fall at the start of the race ruining any chance of the result he was after (ed. disappointing to add that officials should have called for a re-start of the race but chose not to).
An interesting report by letsrun.com on the incident:
Quick Take #3: Should there have been a restart?
After the gun was fired, Aussie Ryan Gregson engaged in some handfighting for position with Bahrain's Alsadik Mikhou and Gregson fell almost immediately and another gun was fired, indicating a restart. But the field kept racing and the race continued without a restart. We've never seen anything like it. A tough break for Gregson, who, to his credit, got up and ran 3:40.69 for last place.
The problem for Gregson is he is trying to hit the Olympic qualifying time for Australia. Nick Willis agrees with this tweet that Gregson got screwed:
"@RyanGregson25 flies all the way from California to Doha, and gets his Olympic qualifying chance ruined by officiating".
— Nick Willis (@nickwillis) May 6, 2016
Gregon on Twitter: Disappointing result, but part of racing. I've been lucky that this was my first fall, but probably won't be the last either. Move on.
Gregson went onto finish the race with a time of 3.40.69 for 12th, but will surely have the chance to shine on the track sooner rather than later as he continues to race throughout Europe in May/June.
The best Australian result in Doha came from Kathryn Mitchell who continues on with her great form. Currently placed 5th on the world ranking list for 2016 (64.37m), Mitchell again through well to place second with a best throw of 63.25m – achieved with her final throw of the event. She explained that she felt "rusty' throughout the competition, keeping in mind that her last competition took place back on March 12 in Perth (where she threw 63.95m).
In the men's discus throw Benn Harradine also returned to the ring after a lengthy lay off due to injury, with the 33 year-old throwing 61.04m. While in the women's 3000m Madeline Hills finished in 8.59.34, well below her own expectations for the race but ready to fight another day.
IAAF Race Walking Team Championships – Rome, Italy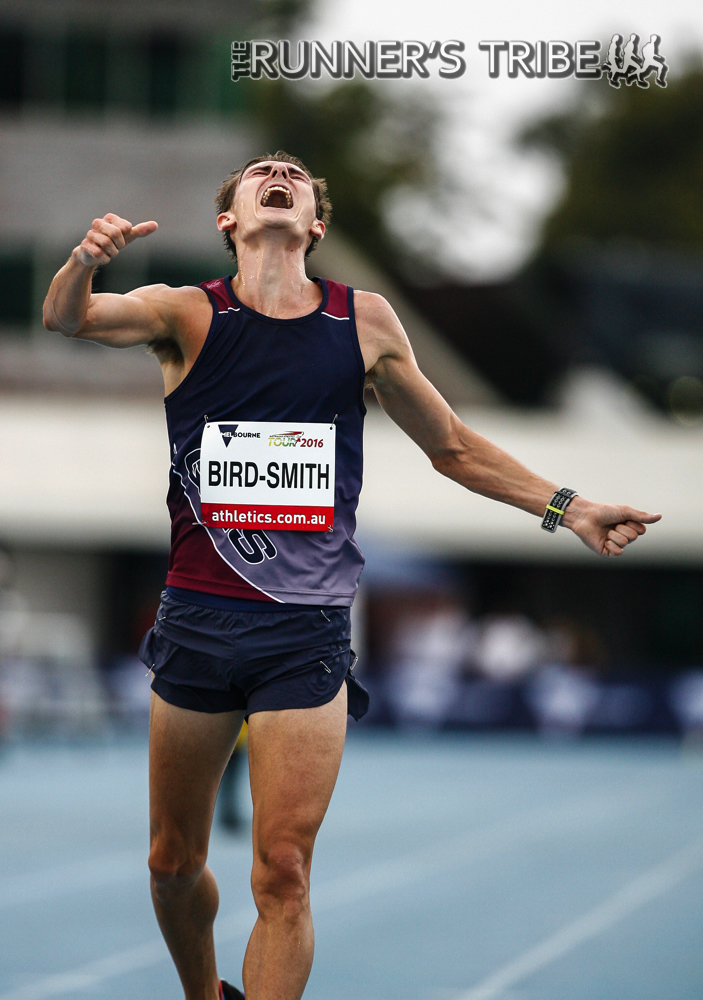 This was a big meeting for many of our walkers looking at making it to Rio, with spots up for grabs in both the men's and women's 20km walk events. With the nominations for Rio to be announced in May 30 (in the 20km walk), it now looks like the following athletes are in the box seat after their performances in Rome:
Rhydian Cowley – finished in 39th place with a time of 1:23:21. Certainly wasn't his best performance (PB of 1:22:07 was recorded in Adelaide back in February), but should be good enough for Rio selection after another hopeful, Michael Hosking, had to withdraw from the Rome event just prior to the start. If Jared Tallent (who recently walked a SB of 1:21:50 in China) decides to complete the 20km/50km double in Rio then the team would be Cowley, Tallent and Dane Bird-Smith (who placed 4th in Rome in a PB of 1:19:38).
Regan Lamble – finished in 12th place with a time of 1:29:33 PB. Has been in excellent form in 2016 and will surely joining the already selected Rachel Tallent (who finished in 41st place in 1:34:16 after an interrupted lead into the race).
Beki Smith – finished in 15th place with a time of 1:29:49 PB. Smith beat home Tanya Holliday (1:29:56 PB) in what was likely the battle for the final spot on the Australian team for Rio. Holliday couldn't have done much more, but will unfortunately be in a similar position that Ian Rayson found himself in the men's 50km walk – missing out by only 14 seconds after close to a four hour battle with Brendon Reading in Melbourne last December.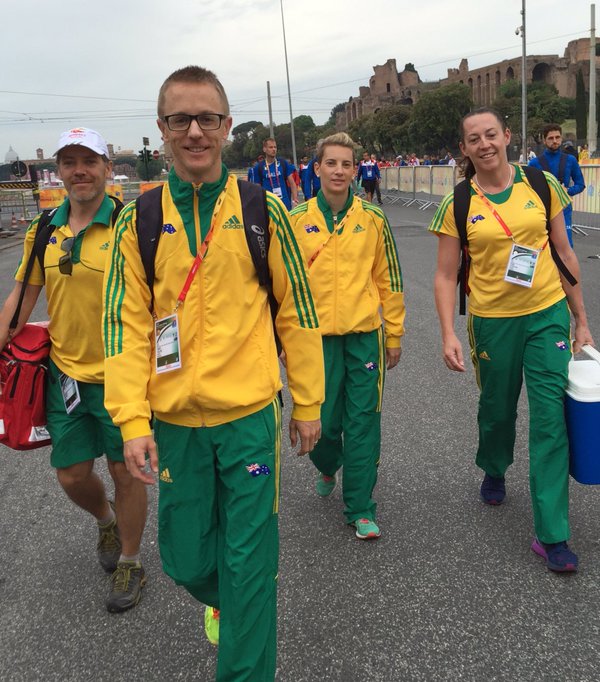 The Australian all-time list for the women's 20km has seen some big changes from the results from Rome. Lamble moves up to no.3 on the list (now only behind Jane Saville 1:27:44 and Claire Tallent 1:28:53), while Smith moves to #6 and Holliday to #7.
The most exciting part of the Rome meeting was the medals won in both the women's U/20 teams event (bronze behind China and Mexico) and the women's 20km team event (silver behind China). There was also the big breakthrough from Bird-Smith in the men's 20km event (surely now challenging for a medal in Rio!) and Jared Tallent's fantastic effort in the men's 50km event – finishing with a gold (sorry silver) medal (3:42:36) in an event won by Italian drug cheat Alex Schwazer (3:39:00). Just one of the responses on Twitter after the event:
Congrats to @JaredTallent on another exemplary performance – the rightful winner of @iaaforg World RW Team Champs! #No2Doping #Schwazer* – Inaki Gomez from Canada – 7th in the men's 20km walk in Rome.
Note: Bird-Smith hasn't moved up on the Australian all-time rankings (remains at no. 6), but is hunting down the likes of Nick A'Hern (1:19:33) and his own father's (Dave Smith) PB of 1:19:22. Nathan Deakes leads the way with the AR of 1:17:33.
Golden Grand Prix – Kawasaki, Japan
This was also an important meeting for many of our Rio hopefuls – we take a look at each of these athletes:
James Gurr (1.46.74) / Josh Ralph (1.47.43) (Men's 800m) – both were chasing the OQ time of 1.46.00, and the winner did run under that mark (Erik Sowinski USA 1:45.92), but unfortunately both Gurr and Ralph couldn't quite stay with the American.
Hamish Peacock (83.53m OQ, PB by 22cm) (Men's Javelin) – how many times could he throw within 30cm's of the OQ in one season! Peacock was fast becoming known as the 'almost made it to Rio man', but he now can sleep easier with the knowledge that he will be selected for Rio, with two throws in Japan over the magical 83.00m mark. He finished in 4th place in a high quality event, with the winner throwing 86.76m – Jakub Vadlejch (CZE).
Melissa Breen (11.85s, -1.7) (Women's 100m) – after encouraging signs in Mito on May 5 (where she ran 11.43s, +1.0) the winds were again not kind to our 100m champion and she will now return to Australia to search for faster times. Breen summed up her Japan tour on Twitter by saying: "…….my Japan Tour has been a big failure, disappointed with conditions and to not have run faster". Breen's next meeting will be in Canberra on May 29, and then she will venture up to Townsville, QLD in early June in search of warm conditions and fast times.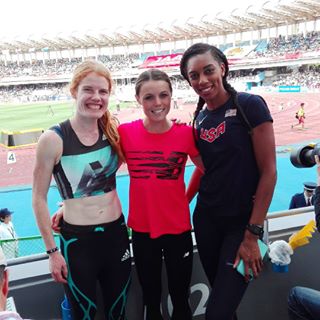 Brittany McGowan (2.01.64) (Women's 800m) – it was like deja vu, with McGowan following in the footsteps of Lora Storey (2.01.67 in Stanford last Monday) and closing in within 0.14s of the OQ time of 2.01.50. The most impressive part is the fact that she has now improved by close to 4 seconds since her first race of 2016 – a 2.05.30 for 4th at the Adelaide Track Classic in February. Since then she has taken out the National title (2.04.13) and more recently finished first in Fukuroi, JPN (2.02.83) on May 3. In Kawasaki she took the scalp of Angie Petty (NZ) – third in 2.01.70, with the winner running 2.00.66 (Tigst Assefa of Ethiopia)
Jessica Penney (6.35m, +1.9) (Women's Long Jump) – in a competition where Brooke Stratton finished in second with a best jump of 6.55m (-1.7), Penney struggled with the conditions and only managed one jump over 6.30m. Still looking for the 6.70m that would see her on the plane to Rio, with her current PB standing at 6.60m – when second to Stratton at this years National Championships.
Stewart McSweyn continued to impress with a 5th placed finished and new Tasmanian record in the men's 3000m with 7:57.34. McSwyen became the first Tassie athlete to break 8.00.00 for the 'flat' 3000m.
Overall the meeting saw some solid results from our Australian contingent, with the top performances coming from Peacock in the men's javelin (finally managing the OQ), Stratton's excellent second place in the women's long jump (second only to World Champion Tianna Bartoletta, 6.61m) and Lauren Wells (55.23s in the 400m hurdles), which was the second fastest time of her career, bettered only by a PB of 55.08s set back in 2013.
Wells on her top class run in Japan: Happily surprised with my 400H win 55.23 ?Kawasaki GGP 2nd fastest time in 6yrs! ? Thank you @jaaf_official for a great meet!! ?
It was a timely boost of confidence for the champion hurdler, who had a best time over the past 3 years of 55.65s (when running her heat at last years World Championships).
Going for Gold in Rio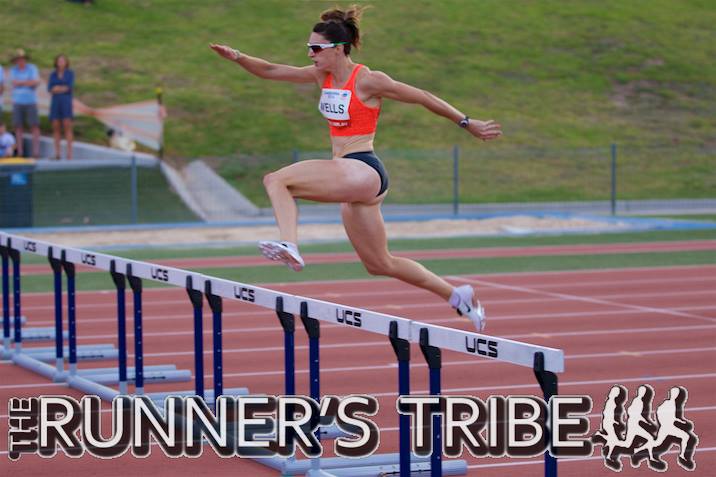 As detailed above it was all about the fantastic efforts of Jared Tallent (silver in Rome) and Dane Bird-Smith (4th in Rome), while we also saw encouraging results from Lauren Wells (pictured right) in Japan (55.23s) over the 400m hurdles.
In Sydney we also saw the recently Rio selected Milly Clark (marathon) win the Sydney:10 title with a comfortable 33:33 over the 10km course. Full report on the event can be found at ANSW click here.
US College Stars
The most impressive performance again came in the women's 3000m steeple.
Burlington, Vermont USA – May 7
Laura (Rosie) Donegan (New Hampshire) ran a super impressive 9.49.16 PB in the 3000m steeplechase, smashing her previous PB of 9.58.95 set in 2015. Although we have a full contingent for the Rio Olympics (lead by Madeline Hills and Genevieve LaCaze), Donegan was amazingly within 4.16sec of an Olympic qualifier.
RT Results Portal
Don't forget to stay up to date with all the latest Aussie results by clicking here. Please be patient as we update all the results over the weekend over the coming few days.