By Chris Lotsbom, @chris lotsbom and David Monti, @d9monti
(c) 2015 Race Results Weekly, all rights reserved
LOUISVILLE, KY (21-Nov) — The fairy tale season for the Orange of Syracuse University came to a spectacular close here today when Coach Chris Fox's squad edged defending champion Colorado by just nine points to win their first team title at these NCAA Division I Cross Country Championships in 64 years. On the women's side, the number one-ranked Lobos of the University of New Mexico dominated their race, also winning their first team title here by a whopping 80 points over second place Colorado.  The individual titles were won convincingly by Oregon's Edward Cheserek, who became the first man ever to win three in a row, and Notre Dame's Molly Seidel, who became the first ever women's champion from the Fighting Irish.
SYRACUSE WIN EPIC BOUT WITH COLORADO; CHESEREK GETS TITLE NO. 9
With the clouds turning a dark gray and rain fast approaching, the men's championship race took off and quickly manifested into astorm all its own. In a state known for dramatic horse racing and close finishes, this would be a back and forth fight among thoroughbreds, only one individual and team able to be crowned the winner.
From the gun, two-time defending champion Edward Cheserek of Oregon and Patrick Tiernan of Villanova asserted themselves at the front. Tiernan, who finished 18th at these championships last year, said he'd been thinking of this moment for the last twelve months, and knew he wanted to go out very hard. Hitting the mile in 4:29, two miles in 9:03, and three miles in 13:55, the pair were only joined by Syracuse sophomore Justyn Knight and UTEP freshman Jonah Koech.
Knight had more than just his individual race on his mind.  Having not won an NCAA Cross Country team title since 1951, this was Syracuse's best shot at returning to the top of the podium. All year Coach Chris Fox had tested and praised his squad, referring to them as professionals and disciplined young men. Standing in their way, however, was Colorado, the two-time defending national champions on the precipice of a triple crown and dynasty.
Ranked first in the USTFCCCA polls all year long, Colorado had been the favorite. But Syracuse had momentum and a slew of loyal supporters on their side. Arriving before dawn this morning, Syracuse alums, student-athletes, and family members had set up a large tent along the course complete with tailgating grills, banners, and more. If this was Syracuse's day, no one wanted to miss the moment.
Early on, it looked like the Orange may run away with the team title. As Cheserek and Tiernan began to gap the field, Syracuse established a fearsome trio in the top ten. Knight held onto third, with teammates Colin Bennie and Martin Hehir running steps from one another fewer than 25 seconds back. The only Colorado runner in the mix was senior Pierce Murphy.
Kilometer after kilometer, the plot continued to thicken. Knight began feeling a cramp and was ultimately passed by Murphy for third. Colorado's first, second, fourth, and fifth runners all moved up through the pack with precision, as they'd done in the last two years. And at 8-kilometers, the video board showed a tie score: 99 points a piece.
"I knew it was going to be a close race and if we wanted to take down the Buffaloes, I needed to give it all my effort," said Knight, a sophomore from Canada who placed 143rd last year.
While the team competition was heating up and becoming a chess match, the individual title was already being decided. Entering the course's final undulating section with 2-K to go, Tiernan and Cheserek were nearly a minute up on the chasers. Ignoring the fatigue building in his tall frame, Tiernan kept pushing while Cheserek ran a foot off his shoulder. It was now or never for the Aussie.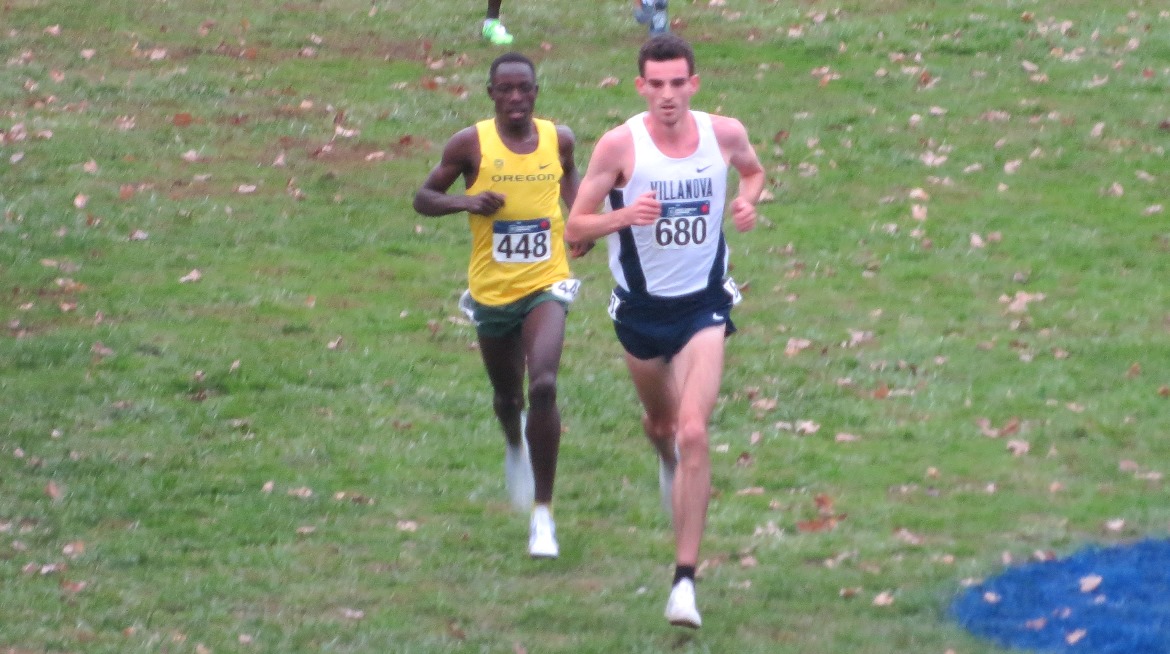 "I was just thinking 'keep rolling, keep going.' And then he broke me just at the top of the hill [with a mile to go], and he broke me pretty bad," said Tiernan, chuckling at the thought of Cheserek's ability to surge. "I give credit to him."
From there, Cheserek coasted to victory. He celebrated in the homestretch, a la Mo Farah, raising his hands frequently to pump up the crowd. Cheserek's time for the 10-K course was 28:45.8 to Tiernan's runner-up mark of 29:11.1.
"I was mentally prepared," said Cheserek, the first three-time men's individual champion in meet history. "[Tiernan] did exactly what I wanted to do today, actually. Even though it was too quick –the first mile was 4:27, 4:28. I was like, wow, too quick. So, I hang there until maybe the last 2-K to go; I made my move."
While Cheserek's history-making race was impressive, it served as the undercard for the main event: Syracuse vs. Colorado, No. 2 vs. No 1.
The first blow was served by the Buffaloes' Murphy, finishing third overall a spot up on Knight (29:37.0 to 29:46.1). Knight turned back after crossing the line only to see two Orange teammates –Bennie and Hehir– finish eighth and ninth.
It would be an agonizing 30 seconds until the next Orange athlete (Philo Germano) crossed the line in 39th (29th for scoring athletes). Before Germano, though, Colorado had put their second through fifth scorers through the chutes: Morgan Pearson (25th/scoring 20 points); John Dressel (26th/21); Ben Saarel (31st/23); and Connor Winter (33rd/25). Like a typical Mark Wetmore-coached bunch, Colorado had moved up and seemed to secure victory with 91 points.
Yet the Orange's fifth man — Joel Hubbard– placed 47th to score 35, capping their point total at 82. For the first time since Harry S. Truman was in the White House and Nat King Cole topped the charts, the Syracuse Orange were NCAA Cross Country National Champions.
Minutes after leaving the athlete recovery area and entering the mixed zone, the Orange found out their fate and erupted with cheers and hugs. The aforementioned five scorers were joined by teammates Dan Lennon and Joe Kush, as well as by Coach Fox.
"Flotrack said we needed a four and five to go to the market.  We got four, five, six and seven.  They need to be more professional.  I have the best teammates in the world.  I have the best coaches in the world, and I couldn't ask for anything else," said Syracuse's Joel Hubbard.
Motivated to leave here with a trophy, Hehir –the heart and soul of the team as a fifth year graduate student– said this was the best moment he could have ever imagined.
"I'm done, this was my last race in a Syracuse uniform, and I couldn't be more happier," said Hehir, unable to stand still. "This is it! This is it, what we talked about since the day we got to Syracuse in August. And here we are."
Showing commendable sportsmanship despite the loss, Colorado stood feet away as Syracuse celebrated. The Buffaloes waited for the right moment to shake their fierce foes hands, congratulating them on the victory. One Buffalo cried, while the others looked on in disbelief.
"We always knew we had a shot. This race never goes perfect for anybody, but I kind of think it went perfect for us today. It couldn't have gone any better," said Fox. "Been since 1951 and I think a million years since someone on this side of the Mississippi [won]."
Indeed, it's the first time a team East of the Mississippi River won the team title since Villanova did so in 1970. By the time Syracuse's celebration left the media tent and joined the hundreds of Orange faithful in attendance, individual champion Cheserek was already out and about. His performance today was his ninth individual NCAA title, tying Arkansas legends Mike Conley and Robert Howard for fourth all-time.
"It means a lot to me, man," he said. "You know, I've been trying to follow those famous guys, like Rono and Prefontaine, Lindgren and all those famous people. I've been training so hard and doing a good job with my coaches and my teammates up there."
He continued: "Today was tougher [than the other cross country titles] because of the weather. My freshman year was really tough, a little bit. Those boys were really tough, and I was a freshman coming in."
Cheserek conserved as much energy as he could in today's early stages, then attacked Tiernan with a fierce surge knowing his opponent was undefeated.
"I was actually like saving my energy. I didn't want to go, like, too quick with him," said Cheserek. "I just relaxed behind him all the time. I tried to save the energy I can for the last 2-K or mile to go, and just go from there."
Stanford was the third place team with 151 points, led by sixth and seventh place finishers Jim Rosa and Sean McGorty. Highly touted freshman Grant Fisher was 17th in his debut 10-K cross country race.
Other notable finishers included Virgina Tech's Thomas Curtin in 22nd; Colorado's Ammar Mousa in 42nd; Oregon's Matthew Maton in 85th; and Stanford's Joe Rosa in 97th.
BIG WIN FOR SEIDEL IN LAST COLLEGIATE CROSS COUNTRY RACE
Reigning NCAA 10,000m champion Seidel knew that the 6-kilometer distance didn't play to her favor.  Arkansas's Dominique Scott and North Dakota State's Erin Teschuk, among others, have big kicks, so she didn't want too many other women hanging around in the final kilometer.  Seidel is a grinder.
"What I kind of do is just go and try to make it hurt," Seidel explained.  "You just start squeezing that pace down.  Like I said before, I just don't want to leave anything to chance on that.  When someone's going to beat me, I'm going to try to make them bleed to do it."
Seidel, her teammate Anna Roher, Arkansas's Scott, Boise State's Allie Ostrander, Providence's Sarah Collins, Michigan's Erin Finn, and Oregon's Waverly Neer were all in a huge lead pack of about 20 who passed through the 2-kilometer mark in 6:40.  Finn was the first to fall out of contention when, clipped from behind, she lost both of her shoes in the third kilometer and was afraid her coach, Mike McGuire, was going to tell her to drop out.
"The only thing I really heard was Mike yelling at me to get on the gravel between three and four-K," Finn told Race Results Weekly.  "Becca (volunteer assistant coach Rebecca Addison) just whispered to him, 'She doesn't have any shoes.' And then I was really scared he was going to tell me to drop out."
Up ahead, early in the fifth kilometer, Seidel broke up the race, taking Ostrander and Scott with her.  She began to think about the end game.
"I think with 2-K to go we started moving a little bit," Seidel told reporters.  "We had a nice little group going.  But then right after we got past that motocross area up there (with about a mile to go) I just knew it was time… to start kicking into that next gear.  Just knowing the amount of talent that both Dom and Allie O. have, I knew that I was going to have to try and make my move early because you never know what two girls who have that much talent are going to be able to do on that final kick."
Seidel appeared first at the top of the long finish straight and had about a 10 meter gap on Ostrander, and another 10 meters on Scott.  It looked like she had the race sewn up, but Seidel wasn't so sure.
"Truth be told, for some reason I always think there are people right behind me," Seidel admitted.  "That whole final stretch I was just gunning as fast as I could.  Until you cross the line, you never know.  So, you have to push all the way through."
Seidel crossed the finish line in 19:28.6, just off the 2012 course and championships record of 19:27.9 set by Iowa State's Betsy Saina here in 2012.  With her victory, Seidel became the first woman since Sally Kipyego in 2007 to win the NCAA 10,000m and cross country titles in the same calendar year.  Ostrander, just a freshman, was a clear second (19:33.6) and Scott, a senior, nabbed third (19:40.9).  Seidel said she was particularly proud to win for Notre Dame especially after Irish alum Molly Huddle –who had never won at these championships– had won the overall USA road running title last Sunday in Alexandria, Va.
"It's just enormous stepping up to the line in the 'ND' monogram," Seidel gushed.  "It's just like nothing else.  These past four years have been an amazing experience."
Finn, who lost the shoes, finished 19th (14th scoring position), helping Michigan get sixth in the team standings.  She was initially left out of the results because her scoring chips were still on her missing shoes.
"I guess I just don't know how to give up," she told Race Results Weekly.
Behind the top-3 women, the Lobos of New Mexico finished fourth, fifth, 13th, 15th and 24th, respectively, to take the team title for coach Joe Franklin.  They had been the number one-ranked team all season.  Wearing their special turquoise national championships uniforms (they traditionally wear all red), they fulfilled their destiny, led by fifth-year senior Courtney Frerichs.
"It seemed like everyone played a role," said Frerichs standing arm-in-arm with her teammates.  "Rhona (Auckland) got to the outside for us which helped us through the bumps because that was kind of our plan, and that really helped us out. And Molly (Renfer) and Alice (Wright), everyone, just did an amazing job. We couldn't have done it without each other."
The always low-key Franklin –who admitted he listened to music by Robin Schulz through headphones during the race– was clearly pleased for his team.
"This one will be seared into their memory for the rest of their lives," Franklin told reporters. "And that's what makes sport wonderful."

PHOTO: The women of the University of New Mexico (left to right): Whitney Thornburg, Calli Thackery, Alice Wright, Courtney Frerichs, Molly Renfer, Heleene Tambet, and Rhona Auckland (photo by David Monti for Race Results Weekly)
PHOTO: Molly Seidel of Notre Dame just before claiming the 2015 NCAA Division I Cross Country Championships title in Louisville, KY on Nov. 21 (photo by David Monti for Race Results Weekly)
PHOTO: Edward Cheserek of Oregon and Patrick Tiernan of Villanova at the halfway point of the 2015 NCAA Division I Cross Country Championships in Louisville, KY on Nov. 21 (photo by Chris Lotsbom for Race Results Weekly)
PHOTO: The Syracuse University men's team leading the 2015 NCAA Division I Cross Country Championships in Louisville, KY, on Nov. 21. From left to right, Martin Hehir, Philo Germano (partially obscured), Dan Lennon, Justyn Knight, and Colin Bennie (photo by Chris Lotsbom for Race Results Weekly)