By Chris Lotsbom, @ChrisLotsbom
(c) 2016 Race Results Weekly, all rights reserved
BOSTON (26-Jun) — On a picture-perfect summer day, Massachusetts native Shalane Flanagan cruised to a North American record at the sixth annual B.A.A. 10-K, presented by Brigham and Women's Hospital. Preparing for the Olympic Marathon in August, Flanagan motored to a time of 30:52, shattering both her own continental record of 31:03 and the event record 31:04.
"There's just nothing better than hearing the chants of 'Go USA!'" said Flanagan, describing what it meant to set a national record in her home city. "There's just nothing better than running at home before we go and represent our country in Rio.
"Doing it here, on my own streets, my town, my home, today is a day for sure I will remember for a really long time," she continued. "I've had a lot of great highlights in my career, but today will be certainly one of them."
Flanagan –who lives in Portland, Ore., but grew up in nearby Marblehead, Mass.– was poised to become the first American ever to win this race after she entered only a week ago. Training with Olympic teammate Amy Cragg, the pair took off from the start determined to finish on the podium.
Blasting through the mile in 4:53 and two miles in 9:51, Flanagan led a robust group of women that included Cragg, defending B.A.A. 10-K champion Mary Wacera, and former Abbott World Marathon Majors champion Edna Kiplagat. Behind them, reigning Boston Marathon champion Atsede Baysa did her best to maintain contact.
Flanagan appeared to be a metronome on the streets of Back Bay. Hitting the turnaround near Boston University and passing the halfway mark in 15:26, the four-time Olympian dug deep and began to pull away from the field.
Using the large crowds and hometown cheers to her advantage, Flanagan pushed on and gained a step's edge over the trailing Kiplagat at 8 kilometers (24:44). From there, the gap would widen as the picturesque Boston Public Garden and Boston Common came into view.
Making the final turn onto Charles Street, Flanagan had one thing on her mind: her North American record of 31:03, which she set last September in Tilburg, Netherlands.  Powering through the finish with 30:52, she broke it by 11 seconds. Kiplagat maintained second in 31:06, followed by Cragg in third in 31:31; both women set career best times.
"You have to really seize these kind of moments," said Flanagan, reflecting on the day's performance. "Here I am at home, my dad's out here, I have family around, and it just seemed like a really special way to do my last race right before Rio. It kind of gives me chills just thinking about it. From here, it's just really meaningful."
Interestingly, Flanagan even split the race to the dot. When told by coach Jerry Schumacher that she ran 15:26 on the front end and 15:26 on the back, Flanagan shook her head. "I was doubting myself at two miles," she admitted. Flanagan and Cragg only took two easy days before the race, and will resume training at around 115 miles per week. Flanagan hit the Charles River for a post-race 45-minute run with father Steve, who biked alongside, and Cragg.
While Flanagan got asked most questions post-race, Cragg was over the moon with her new PB. She could barely contain herself when asked her thoughts.
"I am absolutely thrilled. For a shorter road race, that was the most competitive I've felt in an international field," added Cragg. "I felt incredibly strong, and I train with the best girl that just broke the American record. That's a big boost of confidence as well. I couldn't be happier."
Reigning B.A.A. 10-K and B.A.A. Distance Medley champion Wacera wound up fourth in 32:03, while Baysa was a distant 14th in 33:59.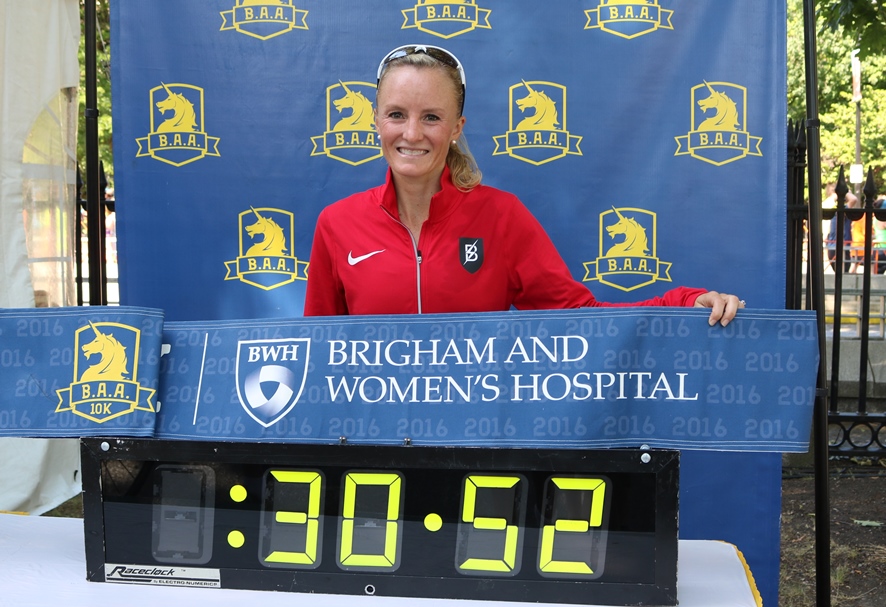 The men's race was a battle all the way until the final turn, when Kenya's Daniel Chebii took off from countrymen Philip Langat and Daniel Salel. A very large pack raced through the heart of downtown Boston, with American Olympian Dathan Ritzenhein mixing it up alongside reigning champion Salel, Chebii, Langat, and Kenyan Silas Kipruto.
After passing three miles in 13:39, the hammer would be thrown down with a 4:27 fourth mile. However, the pack remained tight with all five still in contention.
Leading into the race, Chebii said he wanted to make his move after halfway. Ultimately, the deciding move would come much later, as he was side-by-side with Langat through 8 kilometers in 22:25. Salel kept pace two seconds back, followed by Ritzenhein.
"My tactics were successful, because I was able to go with the guys until 5K, and after 5K we were running down a pace that was comfortable to me," he said. "When I was in something like 8K, I knew totally that I was going to win. When I reached 9K, I started to push it."
Wanting to make his first trip to the United States worthwhile, Chebii unleashed a furious sprint with 500 meters remaining. The decisive surge dropped Langat and Salel, and Chebii dashed down Charles Street steps in front.
Becoming the sixth consecutive Kenyan man to win the B.A.A. 10-K, Chebii broke the finisher's tape in 27:55, seven seconds ahead of Langat (28:02). Salel was third in 28:08, while American Ritzenhein was fourth in 28:12.
"I am happy to be champion. The race was very good, everything was very nice!" said Chebii. "My first time to the United States, and I get the victory today, become the champion of Boston."
"I have to come back next year to defend my title again," he said. "I like Boston."
For Ritzenhein, the race was a nice chance to return to racing fast and competing on the roads.
"I was pretty happy to get out and race again, get excited again and push the pace," said Ritzenhein, the top American finisher at the 2015 Boston Marathon. "I was so close to third, I just kept trying to catch the pace… Running 28:12, close to my road PR, I'm very happy with how my training's been and how it went."
Fellow American Abdi Abdirahman finished eighth in 28:39. Pleased, Abdirahman wondered what his time would equate to on the track; he bypassed a chance to attempt to make his fifth Olympic team on the track at 10,000m. Next up he'll race at the AJC Peachtree Road Race on the Fourth of July.
Many athletes completed the B.A.A. 10K as part of the Brigham and Women's Hospital team, raising money for their life.giving.breakthroughs program. On hand supporting them were Sue Rapple, Chief Development Officer of Brigham and Women's Hospital, as well as Spike, a new unicorn mascot for the event.
B.A.A. Executive Director Tom Grilk said the sixth annual B.A.A. 10K, presented by Brigham and Women's Hospital, was a grand success on all fronts. Between the postcard-like weather, record-setting times, memorable post-race ceremony, and an event-record number of finishers, Grilk was near speechless.
"Magnificent. Today was a day that one dreams about," he said. "A wonderful day to run for everyone, and an emotional lift for everybody simply having our two Olympic marathoners here to run. To have them perform how they did, with Amy setting a personal best and Shalane running a personal best, course record and American record, made it a very, very inspiring day.
In total, 7,805 runners finished this year's B.A.A. 10-K, the largest in event history. The B.A.A. 10-K, presented by Brigham and Women's Hospital, is an IAAF Bronze Label road race.