Bill Cooksey, a 102-year-old World War II veteran, has achieved a remarkable feat by becoming the oldest person to complete a half marathon. He accomplished this incredible milestone at the AJ Bell Great North Run on a rainy Sunday, finishing the 13.1-mile race in just over five hours and 40 minutes. Guided by his friend Gavin Iceton, Cooksey's determination and resilience were on full display as he persevered through torrential thunderstorms.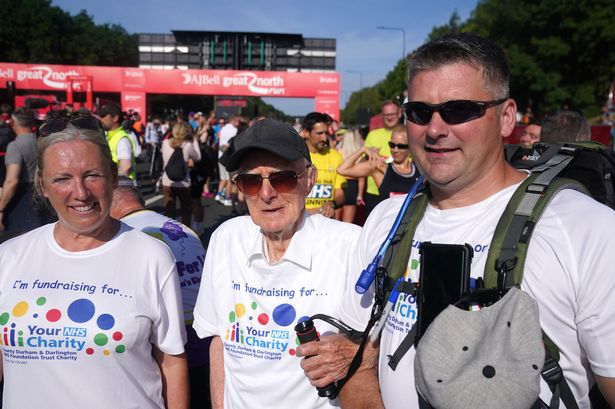 Cooksey's journey to this historic accomplishment is a testament to his unwavering spirit and dedication to charitable causes. Notably, he raised funds for the County Durham and Darlington NHS Trust, an organization close to his heart. His motivation for participating in the Great North Run stemmed from both personal desire and the opportunity to support the NHS. In his own words, "I've always wanted to do it. I've been up here 30 years and always walked, and when I heard about the Great North Run, I thought, 'I'll be able to do that surely,' because there's the additional impetus of the NHS."
This incredible achievement adds to Cooksey's list of accomplishments in his later years. For his 100th birthday, he completed a challenge of walking 10 miles a day for 10 days. On his 101st birthday, he biked an astonishing 1,000 miles. Now, at the age of 102, he has set a world record by conquering the half marathon.
Pat Chambers, the charity development manager for the County Durham and Darlington NHS Trust, lauded Cooksey's heroism, emphasizing his determination and resilience. Cooksey's fundraising efforts have been instrumental in supporting the trust's charitable initiatives, providing valuable resources to enhance the hospital experience for patients.
Bill Cooksey's remarkable life journey includes a distinguished military career, with four years of service in the Middle East and roles such as working on an air-sea rescue flight supporting the 8th Army in Benghazi during World War II. His enduring commitment to charitable causes and his recent triumph at the Great North Run solidify his status as an inspirational figure, not just for his generation but for all generations to come.