Every year, on the third Monday in April, Hopkinton, Massachusetts, becomes a buzzing hub of excitement as thousands of dedicated runners gather at the starting line, ready to embark on the prestigious Boston Marathon. For these athletes, this event represents the culmination of an incredible journey—a goal achieved by only the most committed amateur runners: securing a Boston Marathon qualifying time.
What sets the Boston Marathon apart from its counterparts is its distinctive qualification process. Over two-thirds of the available entries are reserved for those who have demonstrated their prowess on certified marathon courses, setting it apart from other illustrious Abbott World Marathon Majors that rely largely on randomized lotteries.
If you aspire to join the ranks of Boston Marathon runners, here's a roadmap to guide you toward your objective. The registration window for the 2024 race is scheduled to open from Monday, September 11, 2023, at 10 am EDT and close on Friday, September 15, 2023, at 5 pm EDT.
Qualifying for the Boston Marathon hinges on age, gender, and meeting the specified qualifying times. All entrants must be 18 years or older on race day. It's worth noting that the Boston Athletic Association (BAA) is actively working on refining its qualifying criteria to be inclusive of non-binary runners.
To be eligible for a coveted spot, you must meet or surpass the stipulated qualifying standard for your age and gender. These benchmarks vary, ranging from 3 hours for men in the 18-34 age group to 5 hours and 20 minutes for individuals aged 80 and above.
However, achieving these qualifying times is only the initial step; it doesn't guarantee entry. Given the limited number of slots and growing interest, the Boston Marathon enforces cut-off times, which can change from year to year. Thus, staying informed about announcements and developments on social media is essential.
View this post on Instagram
To increase your chances of acceptance, the most straightforward advice is to aim for a faster qualifying time. Given the intensifying competition, runners must strive to exceed the cut-off time. In recent years, this cut-off time has been set at zero, requiring runners to meet their qualifying standard precisely. For instance, a 3-hour, 29-minute, 59-second marathon was the minimum requirement for a 3-hour, 30-minute qualifying standard.
The qualifying window for the 128th Boston Marathon, slated for April 15, 2024, opened on September 1, 2022, and will remain open until September 15, 2023. This period provides runners ample time to chase their qualifying time and secure their coveted spot.
But what if reaching a Boston qualifying time seems like an insurmountable challenge? There are alternative avenues to embrace the spirit of the Boston Marathon. Charitable organizations offer a limited number of entries, typically requiring participants to raise a substantial sum, often around $5,000. Convincing a non-profit to select you can be a fulfilling yet demanding endeavor.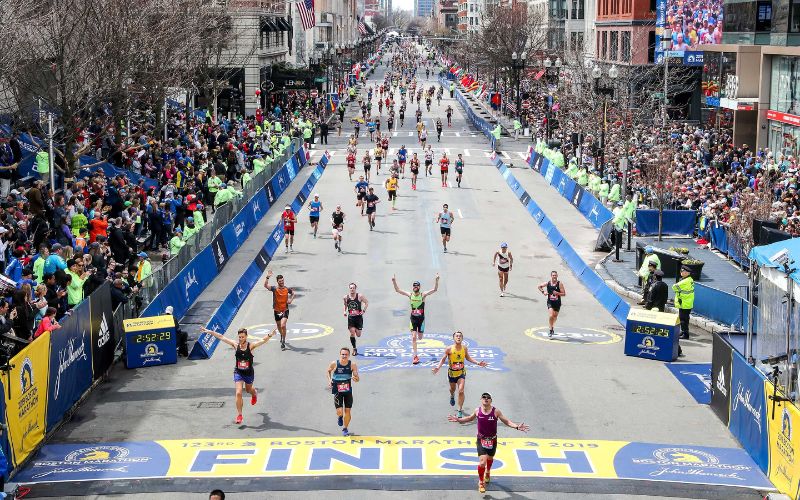 For international participants or those seeking a comprehensive race experience, tour operators offer packages that include race entry, accommodations, and local transportation. However, be prepared for the higher costs associated with this option.
If the dream of qualifying feels distant, remember that qualifying times become more attainable with age. While it may take years, dedication and persistence can eventually lead you to that iconic starting line.
The Boston Marathon embodies more than just a race; it encapsulates the spirit of determination and the relentless pursuit of excellence. Whether you achieve a qualifying time or explore alternative paths, crossing the finish line in Boston is an accomplishment that will resonate with you for a lifetime.