By Chris Lotsbom, @ChrisLotsbom
(c) 2017 Race Results Weekly, all rights reserved
CAPE ELIZABETH, MAINE, USA (04-Aug) — Behind a pair of chic Nike sunglasses, one could tell that Joan Benoit Samuelson was beginning to tear up. The day was finally here, when four generations of America's top marathoners would congregate here in her hometown, population 9,015, for her very own race. Samuelson wasn't giddy, nervous, or overly excited.
The marathon legend was moved.
Samuelson had invited American marathon record holder Deena Kastor, Olympic silver medalist Shalane Flanagan, and U.S. marathon debut record holder Jordan Hasay for the 20th edition of the TD Beach to Beacon 10-K. Three generations of America's top marathoners (past, present, and future) had accepted the offer to join Samuelson –the doyenne of elite women's marathoning– here for 6.2-miles.


"I saw it on paper. But when you see it in reality, it's amazing," Samuelson said of the gathering, speaking one-on-one with Race Results Weekly after a memorable press conference adjacent to Casco Bay. "Right after the press conference adjourned I wanted to get the photo that included Deena and Shalane and Jordan and Mary [Keitany, the all-women's marathon world record holder]. I wanted to be in their presence, because it was a gathering of some of the most inspirational women in the history of marathoning. It spans generations. I was excited on paper, but I was moved emotionally when I was able to be in that cluster."
Hasay grew up watching Flanagan, who grew up idolizing Kastor, who was driven to achieve greatness by Samuelson. Seeing the quartet together, their beaming smiles and high-pitched laughs reverberating from a circle, was priceless.
Flanagan has hoped to win this race since she first ran it as a high schooler. Three years ago she lost by three-tenths of a second to Britain's Gemma Steel in a memorable sprint to the top of Fort Williams. In her post-race interview Flanagan held back tears, frustrated that such a meaningful win had slipped from her grasp. Now, she's prepared to fight for the title not just for herself, but for Joanie and Deena and Jordan and the future of American running.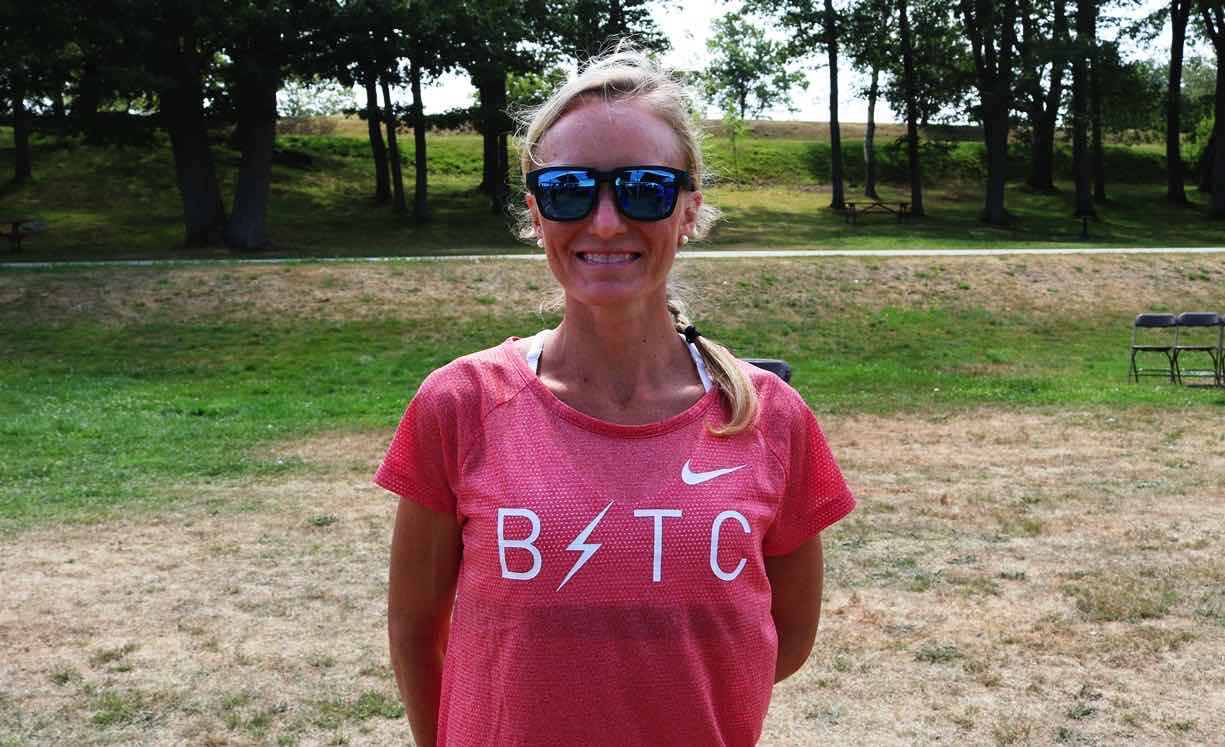 "I've been pointing towards this as kind of like my World Championships in a sense since I didn't make the team for London this summer. I'm excited to face some of the best road racers in the world tomorrow," Flanagan began, her tone a mix of determination and anticipation. "This race has been a bucket list race to try to win. Along with a few others, this is one of them. I came so close to winning I believe in 2014. It's been on my mind, how I can come back and win this race. It'll be no easy feat. If I were to win tomorrow that would be for sure a highlight of my career just because of the meaning behind it, and because of the field that has been assembled."
After taking ten weeks off to recover from a stress fracture in her back, Flanagan has returned to racing with a renewed mindset. At 36, she was reminded that rebounding from injury isn't always easy. Yet the road back served to re-ignite her fire and competitive nature: She still has unfinished business on the roads, at distances from 10K to the marathon. "I feel very rejuvenated because of that break. I feel like I needed it."
Flanagan is perhaps America's best shot at a win here, but she'll have to deal with the aforementioned Keitany, winner of this race last year in a course record 30:45. And then there is Hasay, third at April's Boston Marathon in a U.S. debut record 2:23:00. Hasay made her professional road racing debut here in 2014 (placing fourth), then returned in 2016 to finish seventh. Now, just like Flanagan, she wants more.
"It's an honor. It's really cool that all four of us are here. I think Joanie started it all and inspired us, so it's sweet knowing it's her race. We're all trying to follow in her footsteps. Being the youngest, I'm shooting for everything they've all done," said Hasay. "It's neat to chat with them and get advice. Joanie's been a huge advisor of mine over the years… It's a great place to be."
If Samuelson had it her way, she'd be able to watch the women's race up front while at the same time run down Route 77 to the finish at Fort Williams. She'll be running alongside Kastor mid-pack, chomping at the bit to hear how Flanagan and Hasay and the rest of the Americans finished (on the men's side she's pulling for Maine native Ben True, winner here last year). No U.S. woman has ever won this race.
"In some ways I wish I was watching the race. But to be still running this many years later, almost 40 since Boston '79, I'm blessed. And I'm blessed to call them friends," Samuelson said.
But it's not just about the race. It's about the gathering of generations, a family reunion of sorts decades in the making. Yes, there are incredible athletes like Samuelson, Kastor, Flanagan, and Hasay who have gathered. But also others in the running movement have come here to celebrate Joan and all she's created at this race in the past twenty years. Eighteen countries and 43 states (plus Washington, D.C.) will be represented in the field. Bill Rodgers, Joanie's counterpart in history on the men's side, is here as well. And then there are those who made waves off the race course, like Gloria Ratti, Vice President of the Boston Athletic Association, a woman who has been influential in the growth of women's athletics (always with a smile on her face). They have come to Cape Elizabeth to join Joan and be part of this running tradition.
"Only Joan can pull that off," Kastor said of bringing so many people together. "When Joan asked if I would run this race with her in the 20th anniversary, I felt so honored. I'm in the middle of a book deadline, but I think she's the only one that could ask me to do something that I felt obligated to say yes to. To be here and to see the depth of the field, it's just incredible. It's a testament to this race. A small quaint town in Maine can welcome the best of the world and do it in such a rich and hospitable way… It's rare that I just feel happy to be somewhere, but this is one of those weekends where I just feel honored and privileged to be in a sport that offers this, and to be part of Joan's life… She has touched so many lives."
The growth of American running can in some ways be measured by times and medals and top finishes at championships. But it's impossible to quantify the impact Joanie has had on the sport.
"You talk about American history, and it's all right here," said elite athlete coordinator Larry Barthlow. "We're pretty lucky here at home."