HAJ Hannover Marathon on 9th April: Kenyans challenge April and Gabius
Course record holder and defending champion Lusapho April of South Africa will duel with German record holder Arne Gabius in the HAJ Hannover Marathon on 9th April. However there are three Kenyans in the race with superior personal bests who could upset the two prominent runners. The women's race will have a German favourite: Former Ethiopian Fate Tola targets Hannover's course record of 2:27:07. The HAJ Hannover Marathon is an IAAF Silver Label Road Race. Entry for the event is still possible at: www.marathon-hannover.de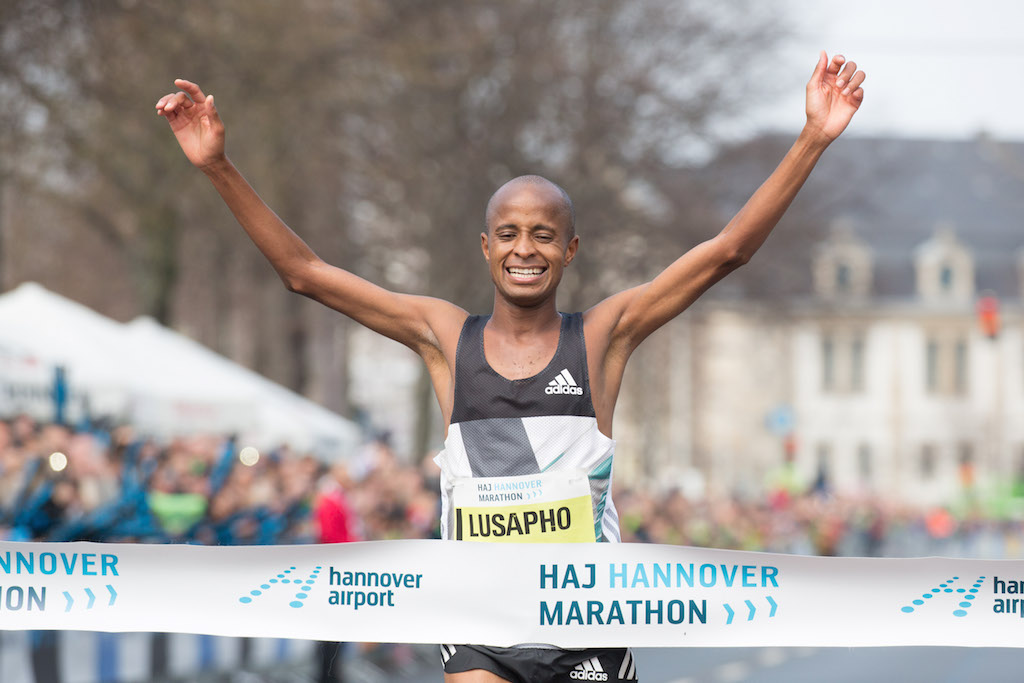 Lusapho April is almost treated as a local hero in Hannover. There is no marathon race where the 34 year-old has competed as often as in this one. It will be the sixth HAJ Hannover Marathon for Lusapho April on 9th April. He is the record men's winner of the event with three victories – 2011, 2013, 2016 – and established the current course record of 2:08:32 four years ago. Last year he secured Olympic selection with his 2:11:27 performance. In Rio the South African then placed 24th. "Hannover has become my second home for running. I have shown my best performances and celebrated my biggest wins here," said Lusapho April, who also finished third in New York in 2013.
Looking solely at their personal bests a great duel could be on the cards when Lusapho April meets Arne Gabius. The German broke the 27 year-old national record in Frankfurt in 2015 with a time of 2:08:33, improving his personal best to within a second of Lusapho April's Hannover course record and PB.
However organisers announced that three Kenyans have been entered who will make it tough for April and Gabius. Philipp Kimutai has a personal best of 2:06:07 while Nicholas Kamakya and Cheshari Jacob have run 2:06:34 and 2:07:46 respectively. Kimutai was supposed to challenge April already a year ago in Hannover. However due to visa problems he had to cancel his start at the last moment. Now the Kenyan heads the entry list once again. He clocked his personal best back in 2011 when he was fourth in Frankfurt. Kamakya's PB is six years old as well. However he showed fine form when taking second in Cologne last autumn with 2:10:22. Jacob is a former Hannover champion. He won the race in 2015 with 2:09:32. Two years earlier he ran his PB of 2:07:46 in Frankfurt.
"On this occasion we don't think too much about the course record. We simply hope to create a thrilling contest. If it should become a very fast race as well then it would be even better – but it is not a priority," said Christoph Kopp, who is responsible for the elite field in Hannover.
It will be different regarding the women's race. Fate Tola is the favourite and she intends to go for the course record. "I always set myself ambitious goals and then fully concentrate on reaching them," said Fate Tola, who currently prepares in Ethiopia for the HAJ Hannover Marathon. She was unlucky last summer when she received German citizenship two weeks too late to gain selection for the Olympic Games. However she bounced back with a second place in Frankfurt with 2:25:42. The two-time Vienna City Marathon champion (2011 and 2012) came close to her PB of 2:25:14 and will now hope to show a similar performance on the flat course in Hannover. Ukraine's Olena Burkovska ran the current course record of 2:27:07 in 2013.
While there will be more additions to the women's field in the coming weeks at the moment Ethiopia's Ayelu Lemma Geda looks to be the strongest rival for Fate Tola. The Ethiopian has a PB of 2:29:49 from Milan in 2015 where she was second. She is the Rome Marathon champion from 2014.
More information about the HAJ Marathon Hannover is available at: www.marathon-hannover.de